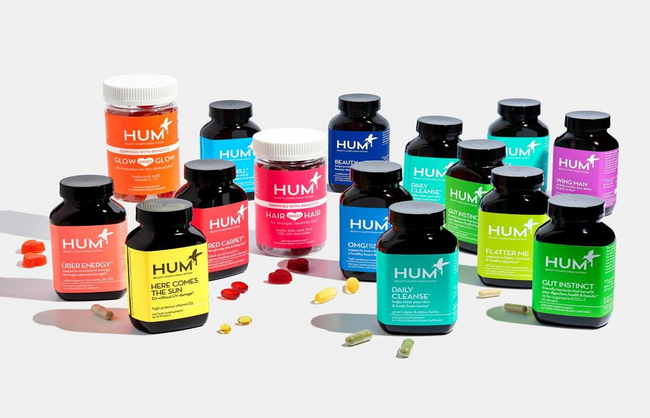 What is Hum Nutrition?
The human body needs specific vitamins every day, but you may not get everything you need from food alone. Hum Nutrition helps you choose the right combination of vitamins based on your personalized needs. You start with a short quiz that takes only three minutes to complete and then get a list of products that suit you. Hum Nutrition has acquired more than 340,000 followers on its social media pages since the company launched and has appeared in dozens of websites and magazines.
Walter Faulstroh tried many products to cope with his frequent breakouts but found no success. It was only after he looked at the connection between nutrition and health that he could help his breakouts. The success he had in his private life led to him creating Hum Nutrition as a way to help others. You can choose from products designed for your hair and skin or your body and mood. There are also vegan and immunity products, which we'll look at in our Hum Nutrition review.
Some Curology products work on chronic or persistent acne.
PROS
Safe for those on keto and vegan diets
Features a quiz to identify the best products for you
Shoppers who spend more qualify for discounts
You can save on all products with a subscription plan
Supplements can improve your skin, hair, body, and mood
CONS
Does not have FDA approval
Supplements are expensive compared to others
Hum Nutrition charges a fee if you cancel your subscription
BOTTOMLINE
Get help balancing your health and mood using Hum Nutrition. Once you take a quiz, you are able to view the best supplements for you, which you can then buy on their own or as part of a subscription plan.

iReviews Shopping Assistant
Find the best prices for this and many other products with our chrome extension
Product Features
Vegan: Some
Subscription Plans: Monthly or every three months
Cost: $10+ per product
Shipping: Free if you spend $50 or more
Discounts: New customers, referrals
Customer Service: Daily from 7 am to 6 pm, PST
Our Experience
In my own experience, I have struggled to find a vitamin/supplement brand that fits all of my needs. I have read about the importance of remaining consistent with one brand for vitamins as different companies have different ingredients, processes, etc.
But I have yet to find a company that offers everything I want.
I know that I do not get all the vitamins I need in my diet due to my busy work schedule, budget, and more. In the past I have been mainly purchasing from Olly at Target. They have a wide variety of vitamins but they are very expensive and do not last very long. Furthermore, living in LA, I do not always have the time to drive to a full sized Target that has all the vitamin options.
I also found that Olly does not have everything I need. I have had to order cranberry supplements and biotin from Amazon which leaves me relying on three different brands for my daily vitamins.
I was excited to take Hum's quiz and see which products were recommended for my lifestyle. After answering some questions about what I eat, my health, and what I currently take, Hum curated these results for me: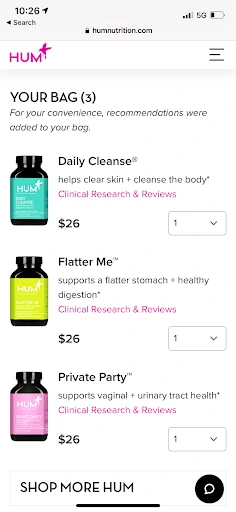 I was excited to see that the top three recommended products for me were a combination of things I was looking for. The price was also comparable to Olly but more cost effective due to the decreased amount of supplements and vitamins I would need to take.
When my package from Hum arrived it was in a cute colorful package that was size efficient. Upon opening the package, I found the three bottles as well as little info sheets to go along with each one.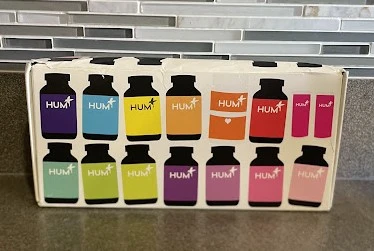 My Hum package felt personal to me and as if the products represented my own values, rather than what a company believes my values should be. Although I am aware that there are likely other vitamins I should be taking, the things that are most important to me right now are clearing up my skin, obtaining gut health, and urinary tract health. I loved that Hum did not try and change my health values, but instead catered to them.
Hum Unboxing
When viewing the products, it reminded me of a lot of packages I have received from an essential oil company called Young Living. In similarity, their products also came with little informational cards associated with each bottle. I like this a lot more than one combined information sheet because it is less information overload.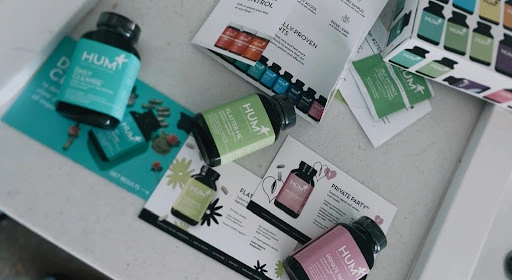 The bottles were not even close to being full, but that is very common for vitamins and supplements, so I was not shocked. The pills themselves were in clear capsules which allowed me to see the green shades in the "Flatter Me" capsules, and the red cranberry tones in the "Private Party" capsules.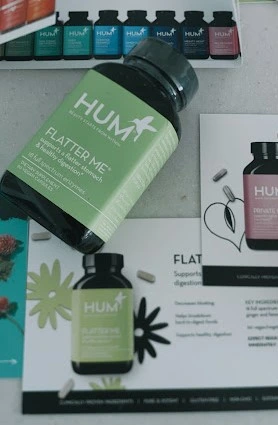 After taking the capsules daily for about a week, I did notice slightly less bloating and that my skin was changing a bit. Typically skin gets worse before it gets better and adjusts to new products, so my skin needed a bit more moisture than normal, but has slightly less acne as well.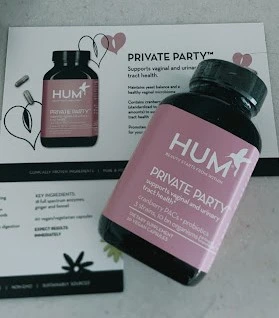 Overall, I really like that I am able to get all the products I want from one brand and take similar capsules to remain consistent. Hum is very personalized and saves so much time compared to shopping on Amazon or in store for supplements. I love that I can subscribe and never have to worry about running out. I will certainly be subscribing to this brand.
Hum Nutrition Products for Your Body
You can choose from multiple Hum Nutrition products that help your body, such as, Got Calcium, which is a play on the old Got Milk ad campaign. Each bottle holds 60 vegan capsules. You can take one capsule twice a day to add more calcium to your diet. These tablets can help you maintain a healthy weight and improve your teeth and bones.
With B12 Turbo, vegans can get the vitamin boost that they need. Though some think that vegan diets are healthier than traditional diets, some vegans do not get as much protein as they need. B12 Turbo is a supplement that works great as part of a vegan diet and can make your skin look better.
Raw Beauty is another product that we love. It comes in a Vanilla and Berry option that tastes delicious. You use the included scoop to measure a serving and mix it with water. Raw Beauty gives you more energy and boosts your metabolism while also improving the health of your skin.
If you want to get in shape and need help with muscle mass, try Core Strength. This is a vanilla bean powder that provides the protein that your muscles need. You'll find even more products from Hum Nutrition that can improve your skin.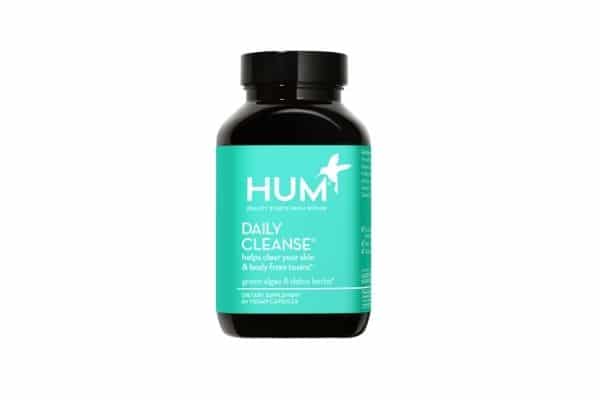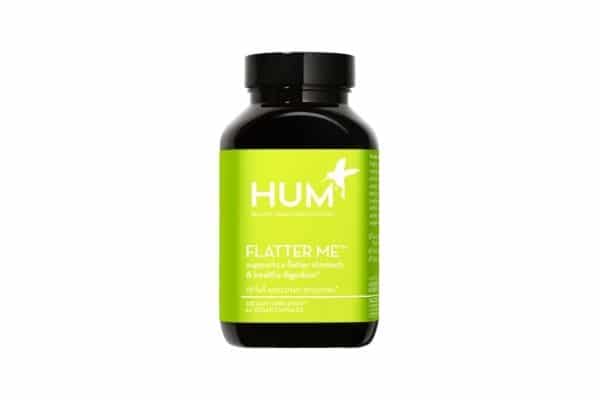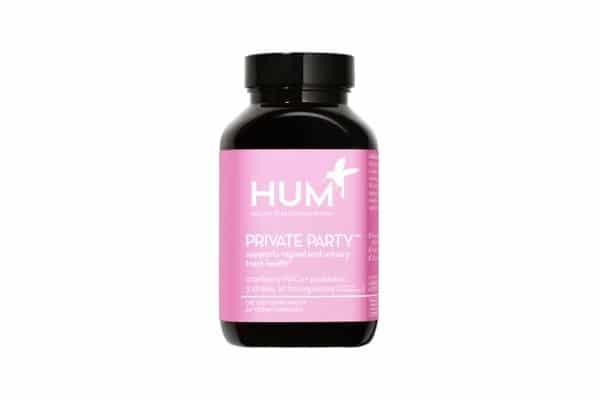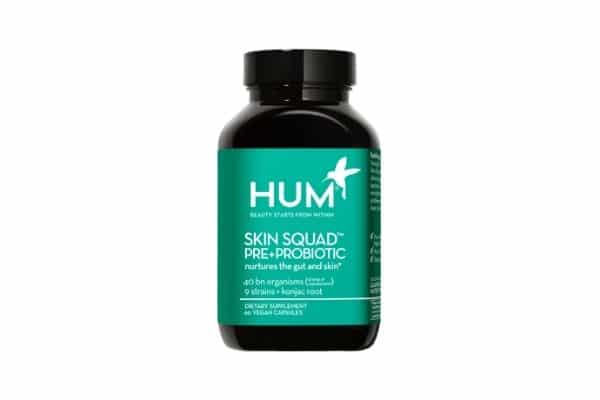 How Can You Use Hum Nutrition?
To use Hum Nutrition, you need to take the quiz that the site offers. You can click on the "Get Started" button on any page or click here to load the quiz. It consists of multiple questions about your lifestyle to find the right supplements for you. The first question asks about the foods that you usually eat and includes options such as low fat or vegan.
You'll then respond to how many fruits and vegetables you usually eat. The quiz also wants to know what types of protein you consume and what you consider your favorite snacks. You will also need to talk about the concerns that you have and what your skin looks like. Though the quiz is quite detailed, it should only take about three minutes to finish. The site will then pair you with a nutritionist and list three initial recommendations of products you can try. When we took the quiz, Hum Nutrition paired us with a nutritionist named Jessica.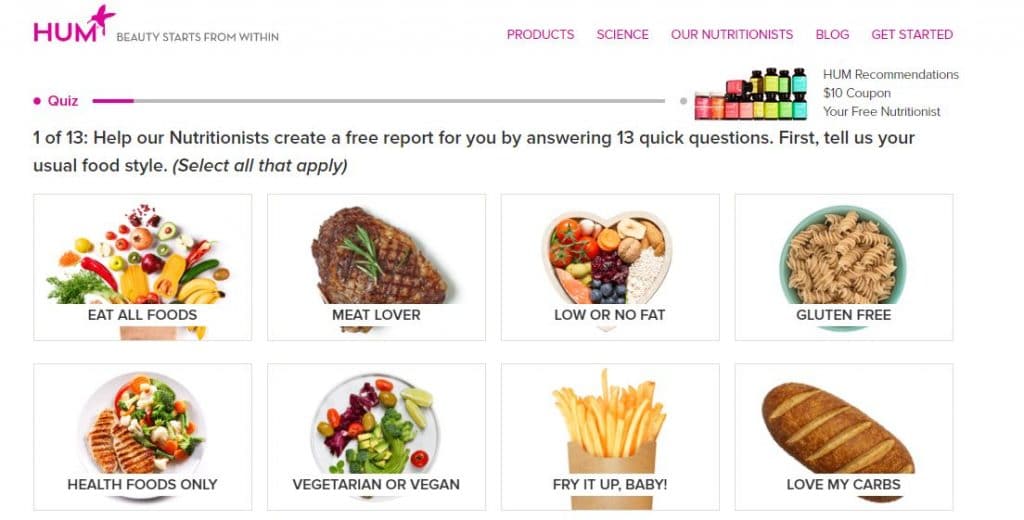 The Hum Nutrition quiz asks a variety of questions to find the best products for your overall needs.
Immunity Supplements from Hum Nutrition
Many of the top products from this company are supplements designed to boost your immune system such as Boost Sweet Boost. This is a gummy vitamin that uses natural ingredients and is safe for vegans. Gut Instinct is another popular immune supplement that features a probiotic designed to improve your digestion and increase your natural bacteria.
Other options from Hum Nutrition include:
Air Patrol
Base Control
Base Control – Iron Free
Base Control is a supplement that contains all of the vitamins and nutrients that you need every day. Air Patrol is good for those who work around or are exposed to pollution because it can improve your lung function. Though some of these supplements retail for just $10 per bottle, others cost upwards of $20. You can use promo codes to save on the cost.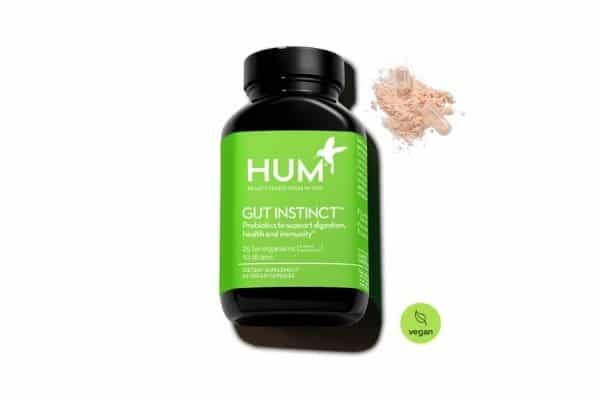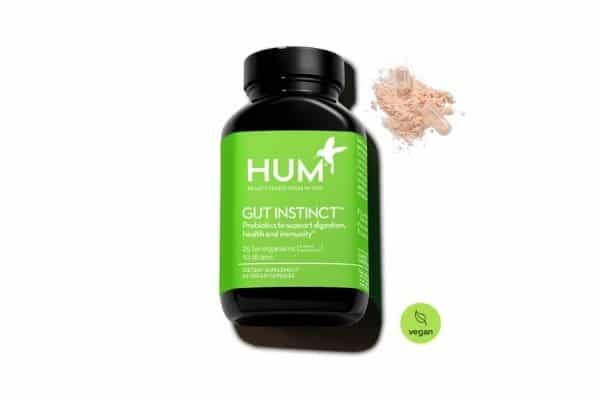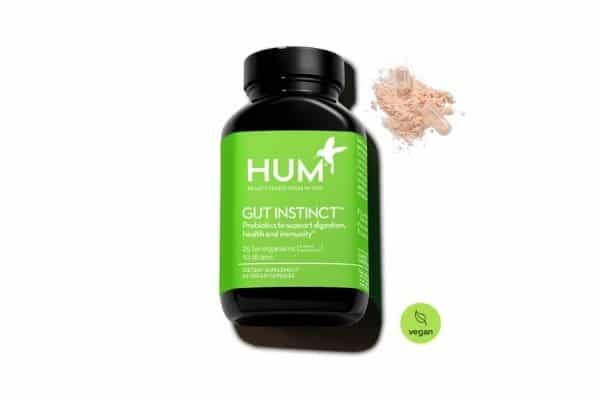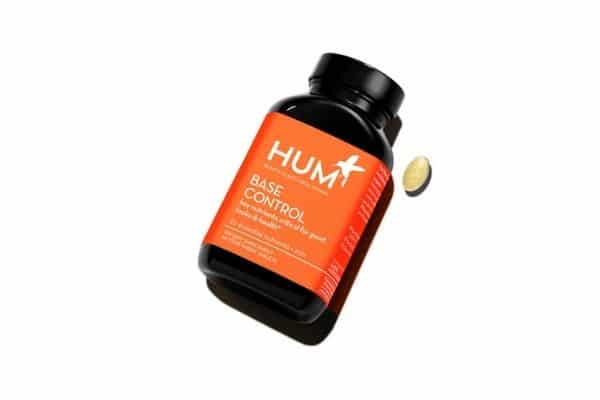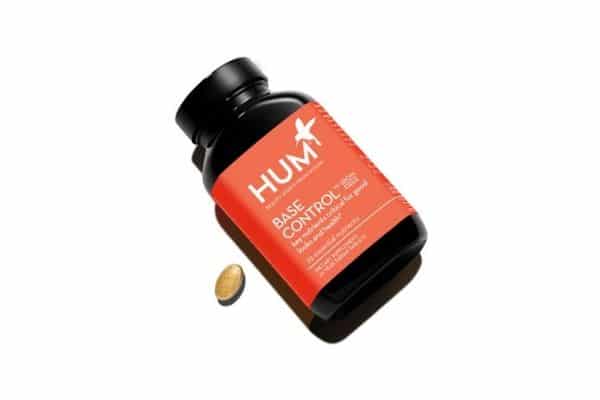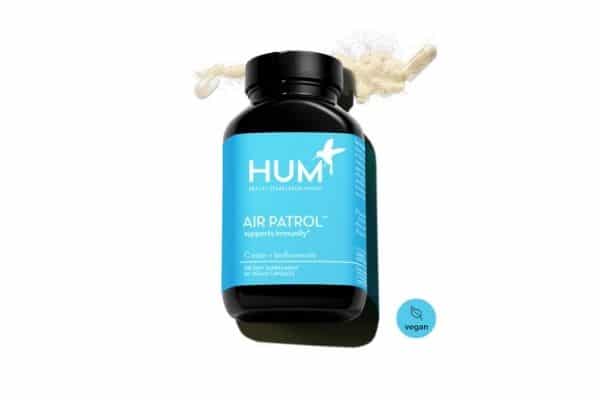 Where Can You Use Hum Nutrition?
Before you sign up for a Hum Nutrition subscription plan, it's helpful to think about the areas you want to improve. The skin products are suitable for those dealing with fine lines and age spots along with wrinkles and other signs of aging such as a loss of natural elasticity. If you have thinning hair or hair that isn't quite as thick and luxurious as it once was, you might try the hair supplements.
You should also consider whether you prefer taking a traditional supplement or chewing a gummy vitamin. Gummy vitamins are great for those on the go, but can melt when exposed to direct sunlight or high temperatures. No matter which products you choose, you'll find that you can take and use the supplements anywhere.

The amount of food that you eat daily plays a key role in which supplements are right for you.
Hum Nutrition Hair Supplements
You may suffer from common hair problems if you do not get enough vitamins in your diet or you use the wrong products. Hum Nutrition can help you get the hair that you've always wanted with products such as Runway Ready. Runway Ready uses black currant seed oil and vitamin E along with other ingredients that improve your hair, nails, and skin.
Another option is Hair Sweet Hair, which is a vegan gummy vitamin. You get 60 gummies inside each bottle and can take two per day. These gummies use biotin, which encourages your body to produce healthier hair and nails. The formula also uses zinc, which can help with hair loss. Red Carpet is another product that is suitable for those who want better hair. Not only can it give you shiny hair, but the supplement can improve your skin. Many of these supplements sell for $20-30.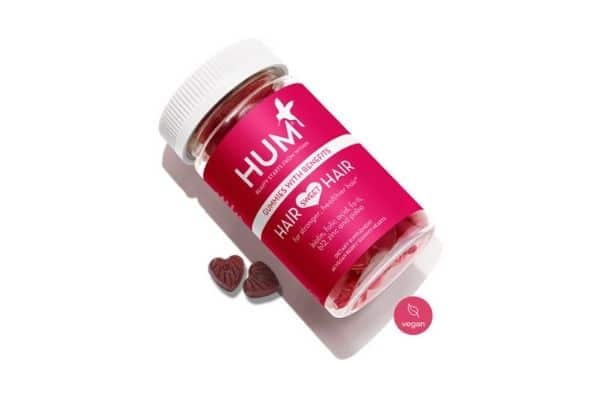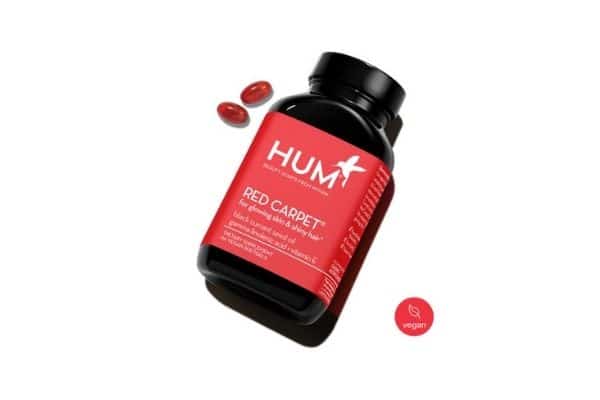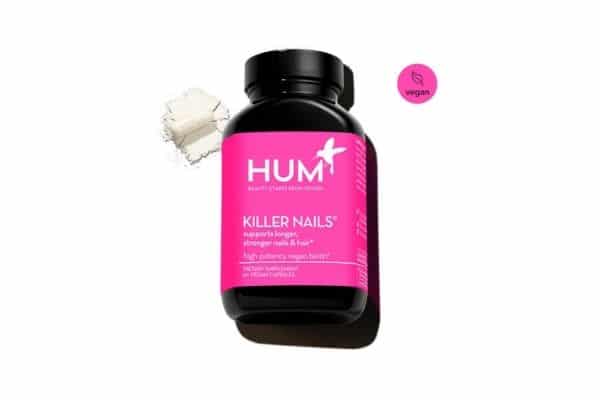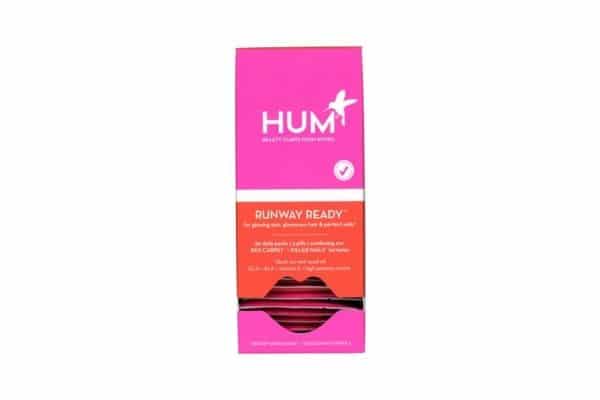 Who's This For?
Making major changes to your diet can affect your mood and cause mood swings as well as leave you with serious cravings. Though you can pick up supplements from any grocery store, you likely don't know what you need or which ones are right for you. Hum Nutrition takes all the guesswork out of choosing new supplements. You simply take a quiz and receive a list of products that are right for you.
We also think that this is a good company for those who don't want to head to the store every week or month to buy new supplements. When you sign up for a Hum Nutrition subscription plan, you can ask that the site deliver your orders once a month. If you sign up and pay for three months in advance, you get a discount on the total price. Hum Nutrition will also take 15% off your order as long as you buy a minimum of three products.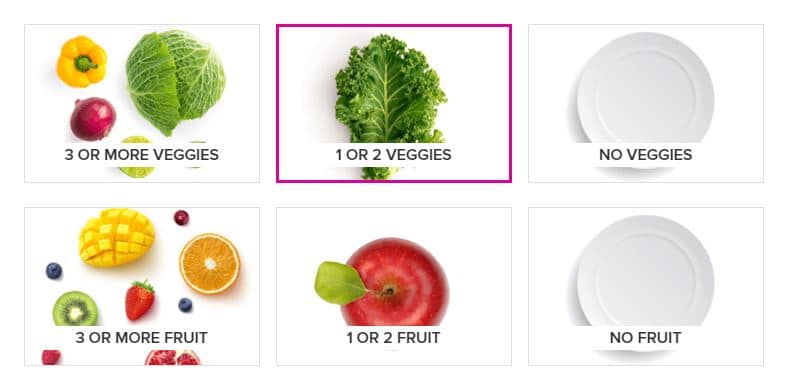 Hum Nutrition makes products for those who follow a healthy diet and those who rarely eat fresh fruits and vegetables.
Hum Nutrition for Your Skin
Your skin will change as you age, but Hum Nutrition makes products that can help you fight back against the common signs of aging. Other products are suitable for those who have bags or dark circles under their eyes and those struggling with adult acne. One option is Daily Cleanse, which serves as a detox for your whole body. It removes the toxins and impurities that can make you sick and change the look of your skin.
With Skin Squad Pre+Probiotic, you get a detox product that clears your gut and improves your digestion at the same time that it removes the toxins that affect your skin. If you want to improve your skin tone and help your heart, try OMG! Omega the Great.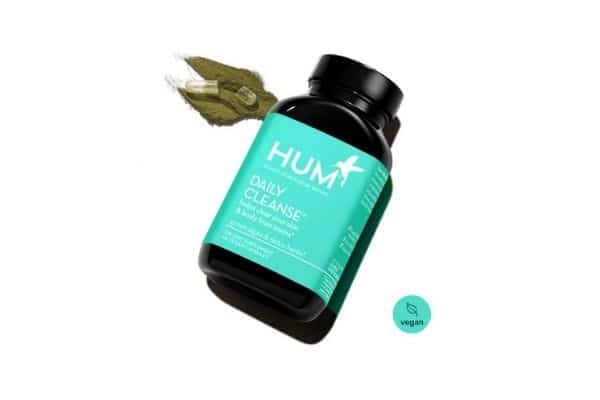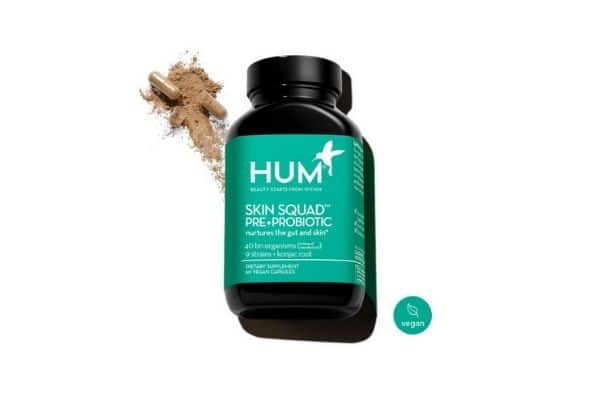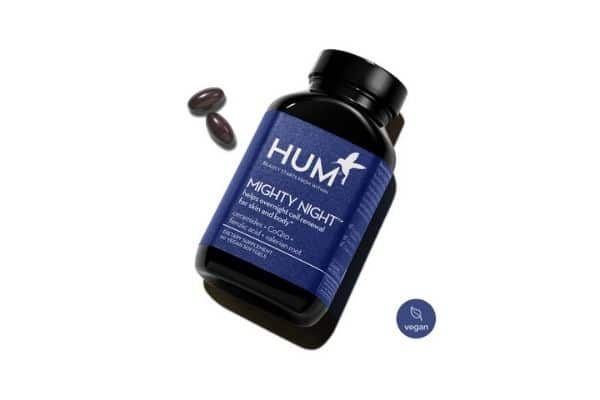 Who Would Benefit from Hum Nutrition?
Some of the supplements that grocery stores sell contain ingredients that may cause a negative reaction. Hum Nutrition is perfect for those with food allergies because the company is upfront about the ingredients used in all products.It is also a smart choice for those who want to save money. Not only do you qualify for a discount on your first order, but you get deals when you buy three or more products and if you sign up for a subscription plan.
Others who we think would benefit from Hum Nutrition products include:
Customers who want to improve the overall health of their bodies.
Those dealing with frequent or constant mood swings who want some help.
Shoppers who struggle with the signs of aging or have other skin conditions such as acne and dark circles under their eyes.
Customers looking for an easy way to get healthy supplements delivered to them on a set schedule.
Anyone who needs help choosing the right supplements and wants to work with a nutritionist.

Hum Nutrition offers options for those who eat a lot of protein or need more protein.
Improve Your Mood with Hum Nutrition
PMS is one of the leading causes of mood swings among women. In the days and weeks leading to your cycle, you might find that you feel angry or burst into tears for no reason. Mood swings can also happen when you suffer from stress at work and home. No matter why you need to improve your mood, Hum Nutrition can help.
Moody Bird is one of the best products for women because it uses dong quai root and chaste berry. These ingredients can regulate your hormones and help you cope with your mood changes. With Big Chill, you get a supplement that uses natural ingredients to help you better handle stress and calm your mind.
Some of the other products from Hum Nutrition that you can use to get more energy and improve your mood include:
Calm Sweet Calm
Beauty zzZz
Here Comes the Sun
Keep in mind that Hum Nutrition may not recommend all of these products when you take the quiz. You'll need to check the site and add them to your cart.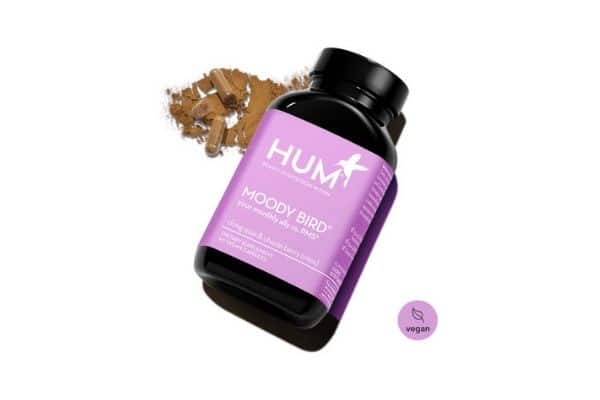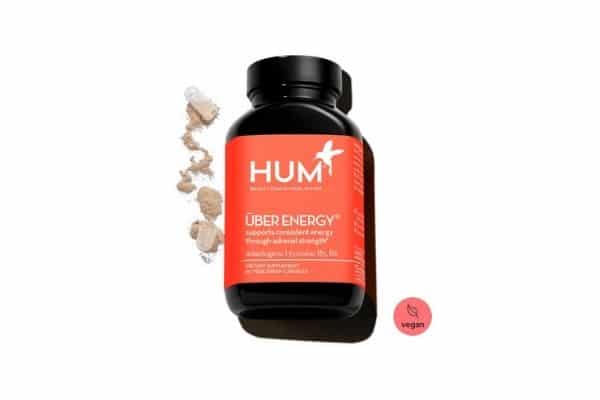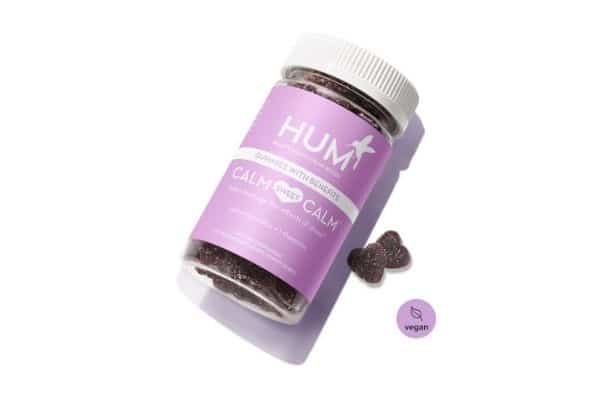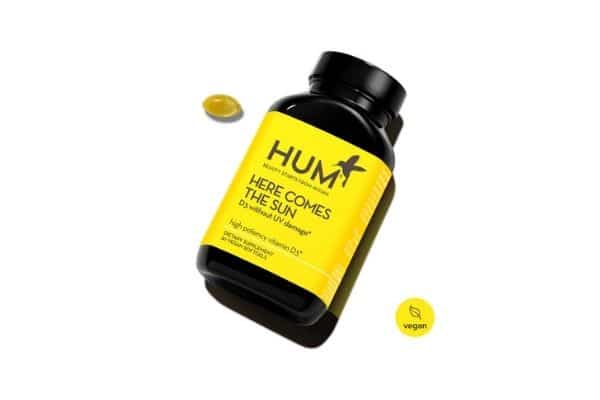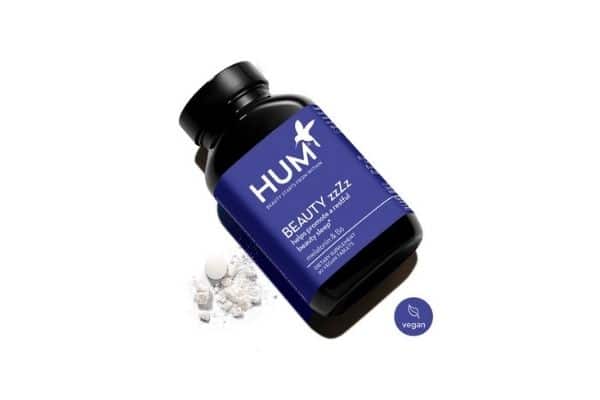 Should You Buy It?
Find out all of the reasons why we think you should buy Hum Nutrition supplements in our list of the top things about the brand below:
Discounts: Hum Nutrition takes 15% off when you buy a minimum of three products and gives you $10 off when you complete the quiz. Choosing the three-month subscription plan helps you save 25% off.
Customized Products: Though you might use some of the same products that other customers do, the brand customizes your plan based on what it determines are your top needs. You can adjust your plan whenever you want and add new products to your next delivery.
Safe for Everyone: No matter what type of diet you follow, you'll find products that you can use. When you click on the Vegan option, you'll see all vegan products. Some supplements are also gluten-free.
Easy to Take: You can choose supplements and other products that are easy to take. The capsules and tablets are perfect for taking with a glass of water or another drink, but you'll also find powdered mixes that provide the nutrients you need when you mix them with water.
RDN Help: We also like that Hum Nutrition lets you work with a Registered Dietitian Nutritionist. The RDN can answer any questions you have and recommend changes to your plan as your life or concerns change.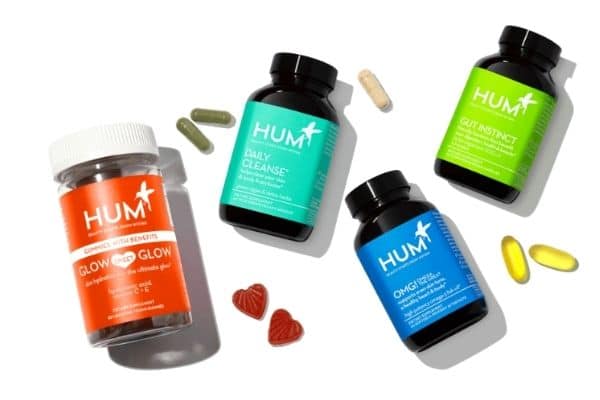 Hum Nutrition offers both capsules and gummy vitamins along with drink mixes.
Cons to Consider
We always recommend that our readers check any negative issues before buying from a new brand, which is why we created this section on the cons of Hum Nutrition. The brand does not have approval from the FDA, as the FDA does not approve any supplements.
A big con of Hum Nutrition is the sheer cost. It can cost $26 or more for a bottle of supplements that will only last one month. You can often buy larger bottles that last longer and use similar ingredients for much less. Most brands that offer custom or personalized vitamin packs charge similar prices.
Another thing to keep in mind is the cancellation policy. Once you take the Hum quiz, you'll find that the site asks you to sign up for a subscription plan. It's difficult to find where you can buy the products without becoming a subscriber. If you decide to cancel your plan, you need to pay a cancellation fee. Hum Nutrition will not refund this fee for any reason. Some customers also found that they didn't like that the supplements came in bottles.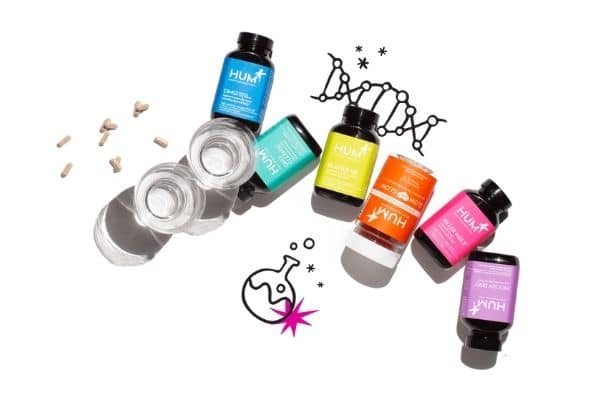 Hum Nutrition works with qualified nutritionists to create custom vitamin sets.
Where to Buy
When it comes to buying Hum Nutrition supplements and products, you should click here to visit the official website. You won't find these healthy products available anywhere else online because the company requires that you take its quiz first. When we took the quiz, Hum Nutrition recommended Uber Energy and Moody Bird along with Here Comes the Sun. You also get a discount that takes $10 off your first order.
The Hum Nutrition website also lets you choose between a monthly subscription plan and a three-month plan. When you choose a three-month subscription, you'll save 20% off your total order. Hum Nutrition will send the products that you picked once a month. Hum Nutrition lets you shop for specific products or view the most popular choices. As a bonus, if you spend a minimum of $50 on your order, the site will waive the shipping fee.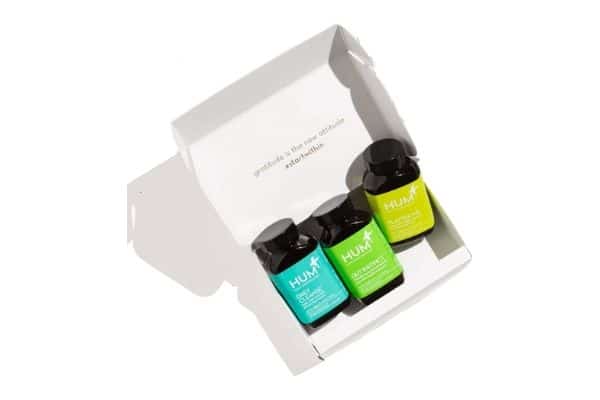 You can easily save when you buy three or more products from Hum Nutrition.
The Competition
Hum Nutrition is not the only option for those looking for vitamin subscription plans or custom vitamins. You can look at some of the competitors of this brand below.
Persona
One of the biggest competitors to Hum Nutrition is Persona, which offers subscription plans for all types of customers. You take a quiz that nutritionists and pharmacists then look over to determine the vitamins that you need. The brand will make custom blends that include all of the vitamins and supplements that you need in small packs. You'll receive a box at the beginning of the month that includes packets for every day. The Persona app lets you write reviews of the products and explain how you feel, which the pros will use to adjust your packs as needed before your next delivery.
care/of
Hum Nutrition is similar to care/of, which asks you to take a quiz before you sign up. This quiz covers many of the same questions that the Hum Nutrition quiz asks to make sure that you get everything you need. As a new customer, care/of will take 50% off your first box. The company understands that your needs might change, which is why care/of recommends that you log in once a month and describe anything that recently changed. You will then get a new box. This site has an app that you can use to track your progress, too.
vitaminlab
Another company that you might find helpful is vitaminlab, which offers custom vitamin plans based on your DNA. When you sign up, you need to take a short nutrition quiz to identify your needs. If you already know what vitamins you need, you can create a custom blend for as little as $49. You can also upload the raw data from a DNA test and let vitaminlab use the results to determine what you need. Also called the NutraHacker, the DNA option allows experts to analyze your DNA and discover what it says about your health along with which vitamins you need.
CustomVite
There's also CustomVite, which offers custom daily vitamin packs. This brand has such a long history of success that hundreds of doctors from around the world now recommend it to their patients. You must take a quiz to tell the site about your history and lifestyle before you can become a subscriber. CustomVite makes formulas designed for each individual customer, with no two customers getting the same packs. You receive marked packs at the beginning of the month that shows you when to take them. These vitamins can help with your hair and nails as well as your overall health and mood.
Final Verdict
Customers love that they can pick and choose from dozens of products and get recommendations based on their needs. Though you do need to take the Hum quiz, you just need to answer questions honestly about what you need. Hum Nutrition works with nutritionists who create a personalized vitamin regimen for you. You can choose different types of supplements such as capsules and tablets or select powdered drink mixes that you mix with water.
We also like that Hum Nutrition gives customers so many ways to save. You get a coupon for $10 off when you complete the quiz and a promo for 15% off as long as you order a minimum of three things. When you pick a subscription plan, you have the option of saving even more money. Get help with your mood swings and stress level along with improving your skin, body and hair through this brand. There are even gluten-free and vegan supplements available. Head back to our "Where to Buy" section to become a Hum Nutrition customer today.