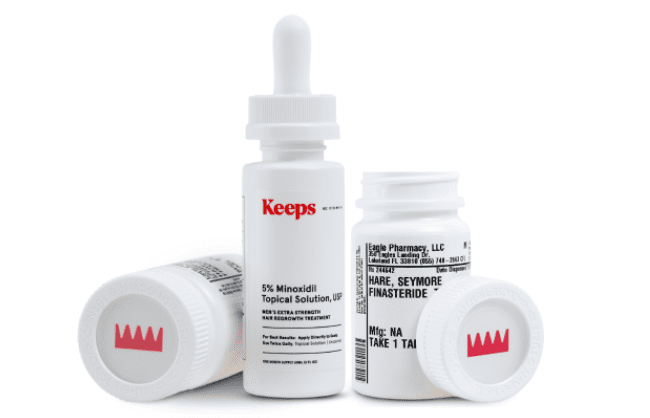 What is Keeps?
Keeps is a new company that claims it can help you retain the hair you already have and make it easier to avoid the hassles of hair loss in the future. Keeps uses a scientific approach and makes products that are more affordable than the competition offers. You get plans approved by the FDA that can help with all types of hair loss.
You can choose a plan based on the type of hair loss that you experience or meet with a telemedicine doctor to go over your options and get help choosing a plan. There is a discount that you qualify for as a new subscriber, which lets you try Keeps and see how it works before signing up for a long-term subscription.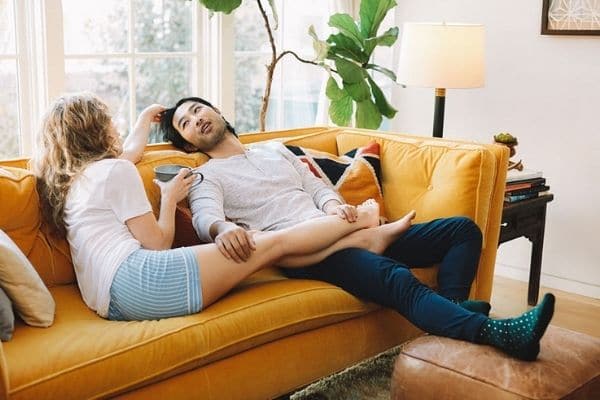 PROS
Approved by the FDA
Less expensive than similar products
Offers free consultations with licensed doctors
Gives you a 90-day supply when you order
Fast response time
CONS
Not suitable for all types of hair loss
Can take a week or longer for your first order to ship
Not available in all states
BOTTOMLINE
Though some states do not allow telemedicine appointments, if you live in a state that does, Keeps can help you prevent hair loss. It offers 90-day subscription plans that are suitable for many types of hair loss and allows you to meet with an online doctor as needed.

iReviews Shopping Assistant
Find the best prices for this and many other products with our chrome extension
Product Features
Cost: $10+ per month
Subscription Options: Every three months, six months, 12 months
Active Ingredients: Finasteride, Minoxidil
Shipping Cost: $3 per order
Products: Tablets, topical solutions, foams, shampoos, conditioners
Discounts: For new and existing shoppers
How Can You Use Keeps?
To use Keeps and sign up as a subscriber, you need to click on the Get Started button, which you'll see on every page. With Keeps, you simply follow a few convenient steps:
Pick a plan that works for you.
Talk with a telemedicine doctor to ensure you picked the right option.
Sign up and select a payment method.
Use the products that arrive to treat your hair loss.
Check your account to keep track of your progress.
Keeps has plans for those with thinning hair, which is its top choice. You can also pick a plan suitable for those with a receding hairline or if you have thinning hair along your crown.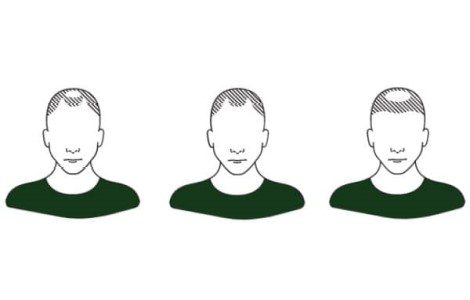 The thinning hair plan is best for men who have thinning hair all over their heads.
Working with a Doctor
Keeps takes a medical approach to hair loss and has doctors who meet with subscribers online. Once you select a plan, you see how much it costs based on the discount that you get along with the products you get. After you finish checking out and paying for your order, Keeps will send you a survey that asks about your hair loss. You then have the chance to talk to a doctor online for free.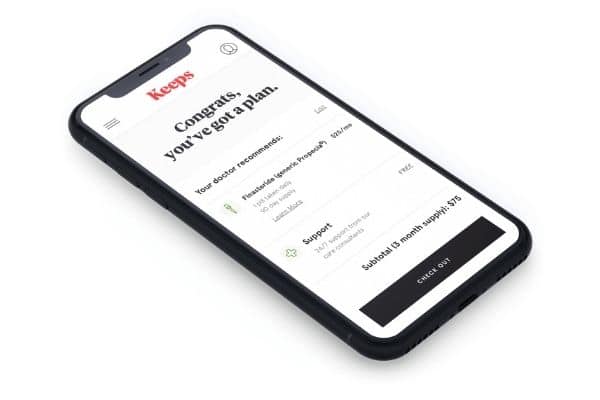 Keeps has telemedicine doctors who can answer any questions or concerns you have.
Where Can You Use Keeps?
The best place to use your Keeps subscription is at home. You can use the shampoo and conditioner every time you take a shower to give your hair more volume and body. All of the other products are safe to use both at home and on the road.
Products from Keeps
The products that you get depend on the type of hair loss that you experience and the subscription that you choose. You can take a look at those products to see how they work and their active ingredients before you buy.
Though I'll go over all of the products in-depth, I wanted to make it clear that you can use these products anywhere.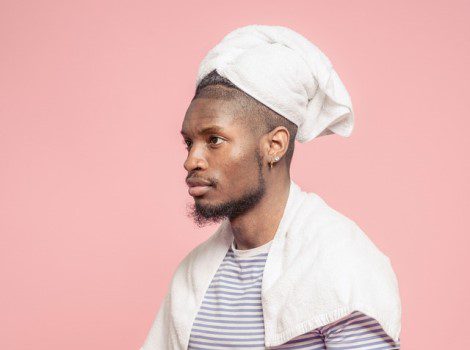 Keeps makes products that are easy to use during or after your shower.
Finasteride Tablets
If you have thinning hair all over, your subscription will come with a prescription for Finasteride. You get a bottle with 90 one mg tablets inside and instructions to take one tablet per day. The tablets promote hair growth along your vertex and crown as well as your hairline. Keeps offers plans for Finasteride users for as little as $25 per month.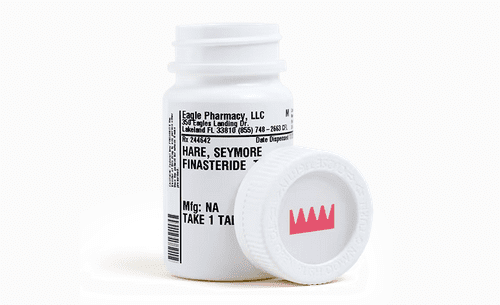 Minoxidil Topical Solution
Minoxidil is a common treatment for male pattern baldness. When used regularly, this solution can slow down your hair loss and help you grow more hair. Some men see results within three to four months. Keeps charges $10 per month for this product, which is only available to subscribers.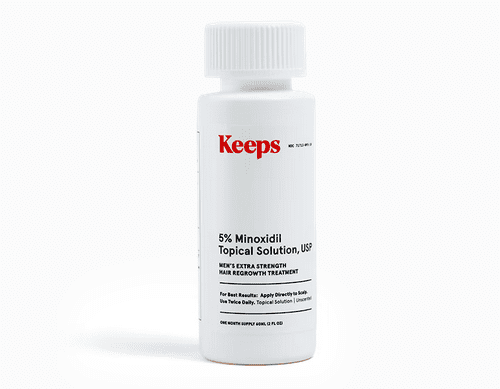 Minoxidil Foam
Another product that you can get as a Keeps subscriber is Minoxidil Foam, which uses 5% Minoxidil. Some men found that they prefer the foam to other products because it is easy to apply. After rubbing the foam evenly between your hands, apply it to your hair. Your subscription lets you buy the foam for only $15 per month.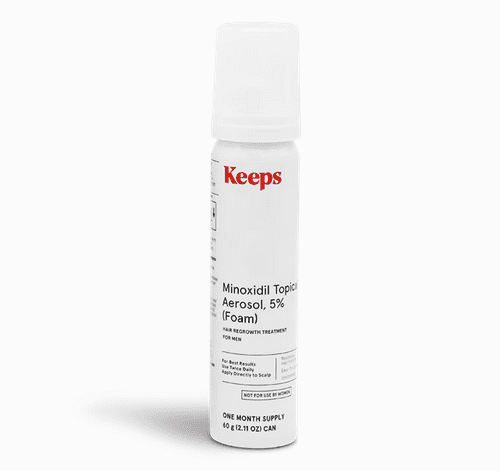 Keeps Ketoconazole Shampoo
Keeps makes two different shampoos. One is the Ketoconazole Shampoo, which is a shampoo that you can only get with a prescription. It contains 2% Ketoconazole and is safe to use up to three times per week. You can buy direct from Keeps for just $10 per bottle.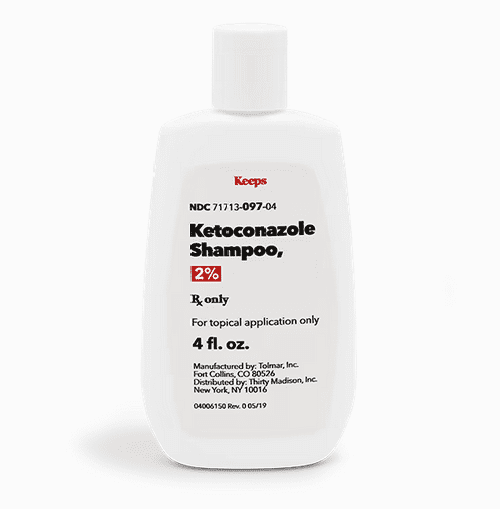 Keeps Thickening Shampoo
Another option is the Keeps Thickening Shampoo designed for men who have thinning hair. It comes in an eight-ounce bottle and sells for $22. It also uses a special formula that makes your hair appear thicker. You can use it on its own or with the matching conditioner in the shower every day for big results.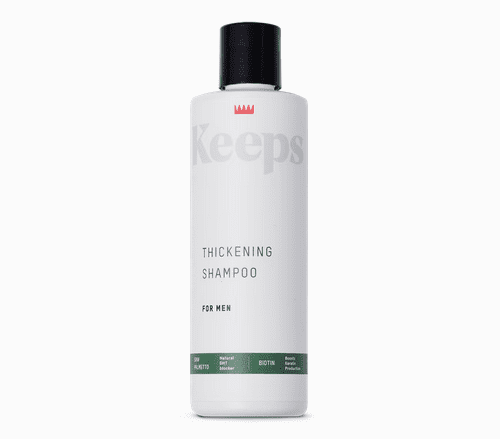 Keeps Thickening Conditioner for Men
Get major results with the Thickening Conditioner for Men. The ingredient list includes caffeine and biotin along with green tea and palmetto, all of which work together to make your hair look and feel thicker than ever. It strengthens the outer layer of your scalp called the cuticle and encourages your scalp to grow hair. An eight-ounce bottle sells for $22 on the website and lasts for a month or longer. We recommend using the thickening shampoo and conditioner together.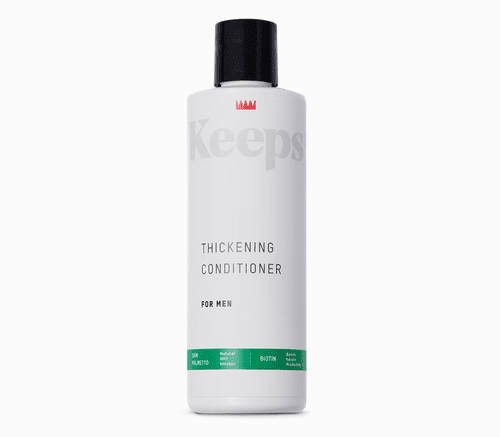 Who's This For?
The products from Keeps are suitable for men of all ages, but teenagers should not use them. Keeps designed these products for men who suffer from male pattern baldness or worry that they may become bald in the future.
We found that Keeps plans are right for many men, including:
Guys who are self-conscious or worried about talking to their doctors about hair loss.
Shoppers looking for a way to get hair loss products delivered to them on a set basis.
Men who notice patches of thinning hair in specific areas and guys with thinning hair all over.
Those who want to order in advance to save money through the site's discounts.
Men who have a receding hairline and want a way to stop it in its tracks.
Customers looking for easy solutions to their hair loss problems and products that help them grow more hair.
Guys who have a family history of male pattern baldness and want to avoid experiencing it.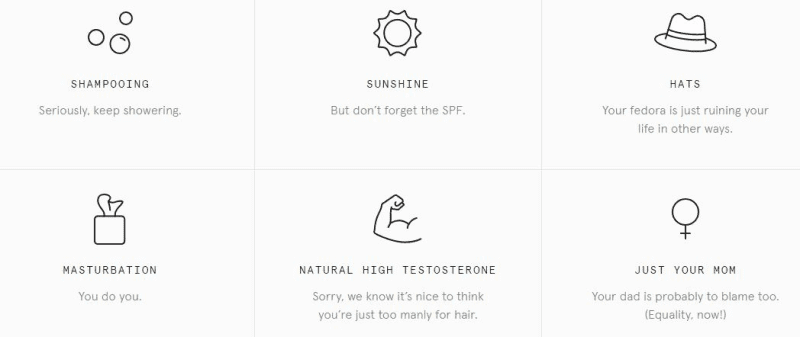 Are There Any Side Effects to Keeps
Both Finasteride and Minoxidil have side effects that you may experience such as a red rash that occurs on or where you use the products and itchiness. Some men experienced dizzy periods that lasted for a few minutes or longer along with trouble breathing.
A small number of men had pain in one or both testicles, which may make it hard for them to urinate. There is also a risk that you may experience some swelling of your tongue or lips as well as other parts of your face. If you experience any side effects, discontinue use right away. There is a small risk that Keeps products may interact with other medications that you take.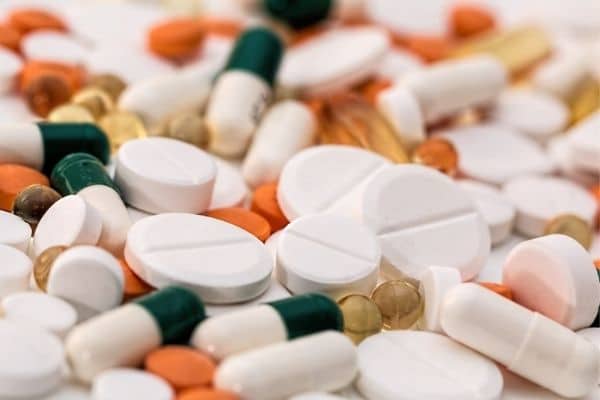 As with other medications, there are side effects associated with Keeps hair loss products.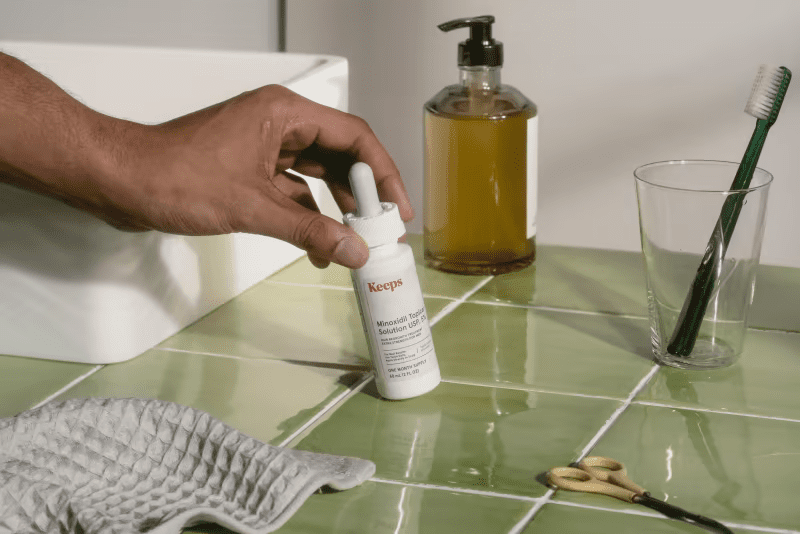 All of the products from Keeps are easy to store and use in your bathroom.
Should You Buy It? – Keeps Pros and Cons
My favorite things about Keeps and reasons why I think the subscriptions are worthwhile include:
You can get a prescription for hair loss remedies from a licensed doctor without leaving your home.
Keeps lets you pick an annual plan or get deliveries every three to six months.
There are loads of discounts when you first join and when you pick a new subscription.
The subscription format encourages you to stick with the program and use the products daily, which can help you see results.
Keeps does not charge for your first appointment, which is helpful if you don't have insurance.
You will continue to see results as long as you keep using your prescribed products.
The site lets you login and chat with a licensed doctor if you want to change your plan or have any questions.
All products use the generic forms of prescription medications to help you save money.
Keeps received approval from the FDA for its hair loss treatments.
You can choose a plan and other products, including shampoo and conditioner.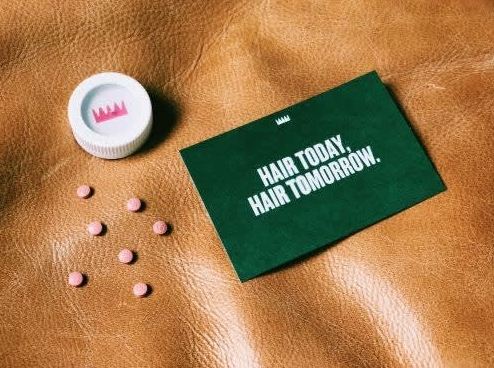 Many men like the convenience of Keeps tablets.
There are also cons associated with Keeps hair loss products, including:
Keeps products are not available in all states. You won't know if you can subscribe until you enter your address.
Many customers found that it took one to two weeks before they got their first orders.
The products do not work for all types of hair loss.
You may experience one or more symptoms after using the products.
Though your first telemedicine appointment is free, you must pay $5 for any other appointments that you make.
Keeps does not offer refunds and will not accept returns after you receive a product as your order requires a prescription.
Women and those assigned female at birth should not handle any of the products, especially if they are breastfeeding or pregnant.
There is no way for you to choose the doctor you want to handle your case.
It can take months or longer before you see any noticeable improvements.
Some ingredients can interact with your prescription medications.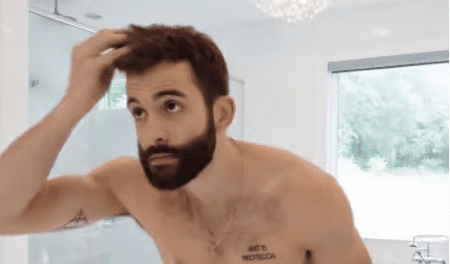 It can take more time than you expected to see results from Keeps.
Where to Buy
Click here to buy Keeps and become a subscriber once you finish our Keeps review. Men with thinning hair at the crown pay $30 for a three-month subscription, while the cost of the plan for men with receding hairlines is $75. If you choose the plan for men with all-over thinning hair, you pay $105 for three months. The Keeps site offers tons of discounts for new customers. One discount takes 8% off your total cost and brings the price down to $20 to $70.
Another discount is available for those who sign up for six months of subscriptions. Keeps will take 14% off your cost and charge you every six months. There is also an annual plan that delivers products on a regular basis and drops your price by 22%. The site also has a FAQ section with dozens of questions asked by Keeps customers in the past.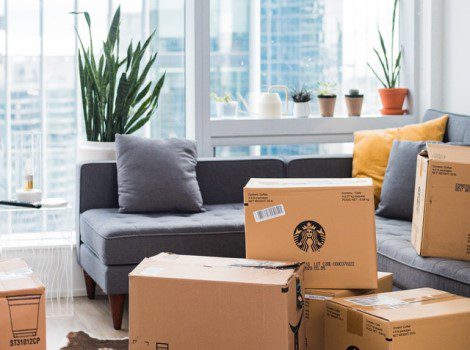 With Keeps, you can easily choose how often you want to pay and how many deliveries you get.
Competition
hims
One option is hims, which offers personalized treatment for hair loss. You can also get help with erectile dysfunction or anxiety as well as depression and skin problems. You must first take a quiz to identify the type of hair loss you have and what results you hope to see. The site will pair you with a doctor to go over your medical history. With hims, you have the choice of using only prescription medications or a combination of treatments.
roman
You likely heard of roman before as it's one of the oldest hair loss through the mail options. The website offers a free consultation to help you go over your needs and wants. Treatment plans start at just $20 per month and include products with ingredients such as Finasteride. As with Keeps, roman has a doctor oversee your treatment and lets you contact your doctor through the website when you need more help or questions.
NUTRAFOL
NUTRAFOL gives you 10% off all products as a new customer and offers other deals to help you save money. Unlike the companies that offer prescription medications, NUTRAFOL offers products made from natural ingredients that work with your biology. There are products for both men and women, too. The men's line costs $79 per month and sends a new delivery every month.
Viviscal Man
Viviscal Man allows you to sign up for a subscription where you get a new box delivered every three months for only $40 per month. You can pick tablets and take just two tablets a day to see results in four months or less. The tablets use natural ingredients and do not require a prescription. You can add a fortifying shampoo to your delivery and get enough cleanser for a month of use or longer. This shampoo helps with both thinning hair and breakage.
Final Verdict
Our final verdict on Keeps is that it's worth the price but only if you consider the pros and cons. This is also a smart choice for shoppers who don't want to worry about picking up the hair loss products that they need. You get a delivery every 90 days that features everything you need.
Keeps reviews from customers are usually positive and highlight how well the products work and the service they received. You should keep in mind that it can take up to four months before you see any improvements. With Keeps, you can shop for a plan and get other products that usually require a prescription for less.