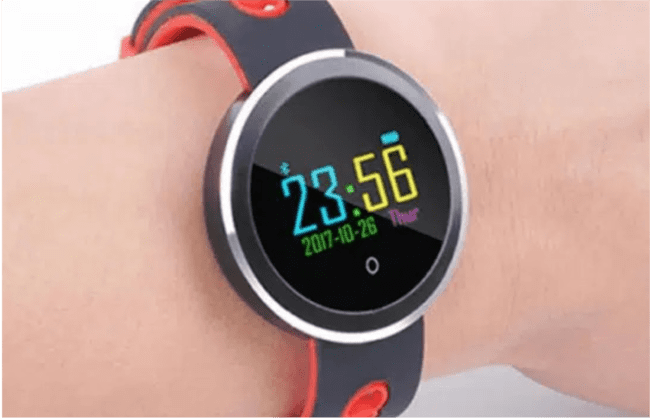 Millions of people wear smartwatch devices every day because they want to track their activity levels and make sure that they stay healthy. Depending on which watch that you choose, you can set reminders when it's time to take prescription medications and use alerts that remind you to get up and get active. These watches can also track your sleep patterns and let you know if you get a good night's sleep. When you sync your watch to your phone, you can check incoming calls, texts, and emails as well.
This watch goes beyond what other smartwatches do to help you actively monitor your health. It can keep track of the steps that you take and calories burned or the distance that you walk. This watch also monitors your blood pressure to let you know when it's too high or too low. You can easily share all that information with your doctor later.
Our HealthWatch review goes into the top features about this smartwatch to help you decide if it's the best smartwatch and activity monitor for you.
Learn more about the HealthWatch in this short video.
PROS
Functions as both a smartwatch and fitness tracker
Tracks your heart rate, blood pressure, and blood oxygen levels
Adjustable band to fit most wrist sizes
Bright OLED touchscreen
CONS
Only available in one design
You can only purchase it online
The band may not fit all users
Some thought it was difficult to use
BOTTOMLINE
The HealthWatch is a fitness tracker that also functions as a smartwatch. It's compatible with both Android phones and iPhones. Though it has some cons, it's one of the best fitness trackers that you can buy on the web today.

iReviews Shopping Assistant
Find the best prices for this and many other products with our chrome extension
What is the HealthWatch?
The HealthWatch takes the simplicity of a fitness tracker and adds new features to help you stay in shape and improve your overall health.
Some of the things that this smartwatch can do include:
Monitor your blood oxygen levels
Track your heart rate
View your blood pressure reading
See how many calories you burned
Count the steps that you took or distance moved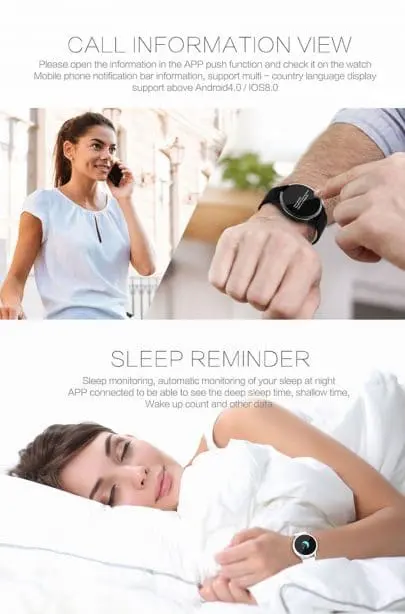 The HealthWatch can monitor your sleep patterns and habits too.
Using the HealthWatch to Beat Stress
Using the HealthWatch is an easy and convenient way to keep an eye on your stress. It alerts you of any increases in your blood pressure and serves as a reminder to keep in touch with your health. The watch can also let you know when it's time to get up and take a walk. Even a short walk around the office or block helps you clear your head and reduce your blood pressure, which can also improve your mood and lower your stress.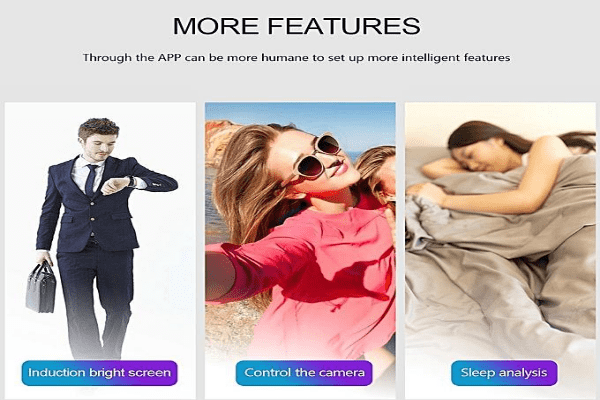 The HealthWatch has features that you can customize based on how you want to use it.
How Do You Know if You Have High Blood Pressure?
Doctors often call high blood pressure the silent killer because by the time that you know you have a problem, it's too late to find a solution. When you wear the HealthWatch every day, you'll know instantly if you need to speak to your doctor. Some of the signs and symptoms of high blood pressure that you may notice include:
Frequent headaches
Feeling out of breath
Changes to your vision
Pain in your chest
Dizziness, especially when you wake up or move from a sitting to standing position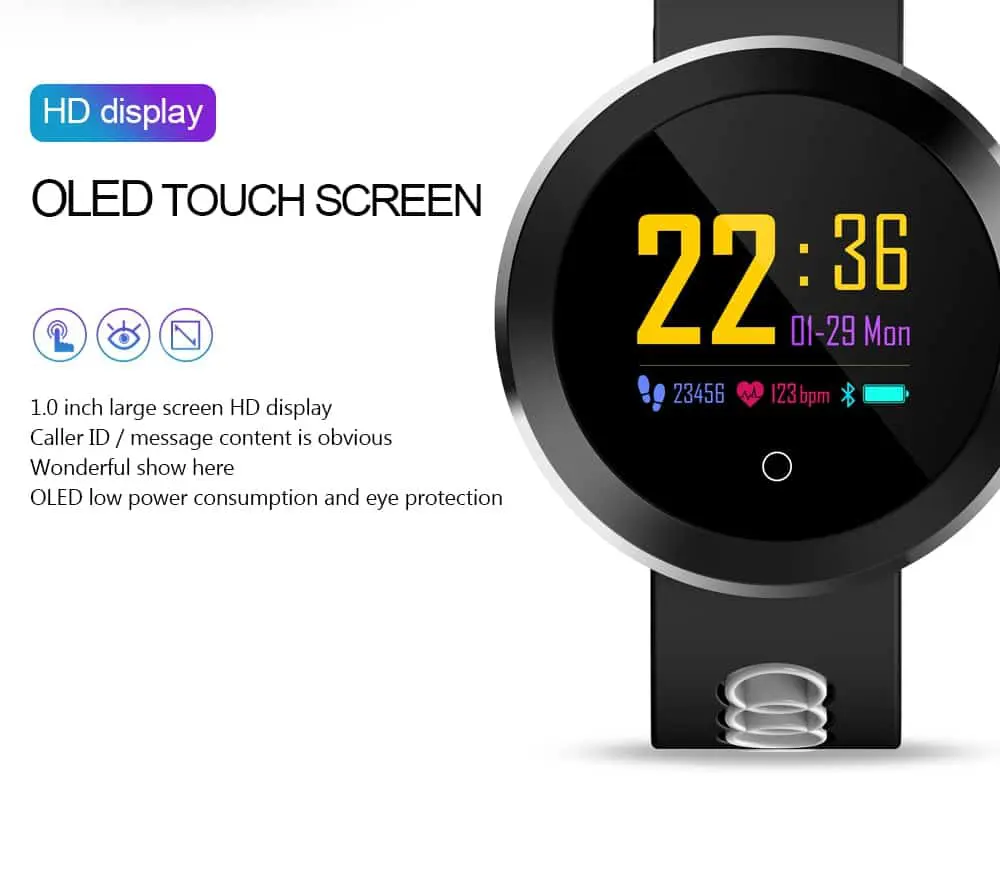 The OLED screen on the HealthWatch makes it easy to view your information in any amount of light.
How Can You Use the HealthWatch?
Thanks to the bright OLED screen, you can easily see the time or any of the info that you want to view with a quick look down to your HealthWatch. The first time that you put it on, you'll find that you can adjust the band to get the fit that you need. As long as it sits tightly on your wrist, it can track your heart rate and other features of your health.
With the HealthWatch, you can sync your phone and view alerts without grabbing your phone. Not only does it show you the name of the person calling, but the watch also lets you read text messages and decide if you want to send one back.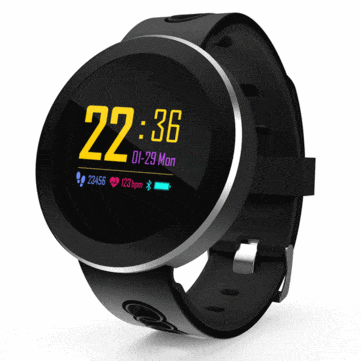 The HealthWatch comes in multiple colors to help you match the watch to your wardrobe.
Where Can You Use the HealthWatch?
You can use and wear the HealthWatch anywhere you might use a fitness tracker or smartphone. It's one of the best gadgets that we found for those who spend a lot of time in the gym. Whether you want to lift weights, go for a dip in the pool or play basketball with friends, it will keep track of how many calories you burned.
The HealthWatch syncs to your phone in seconds, which makes it easy to view the calls that you get. You no longer need to pause to answer the phone or worry about missing an important text message while you're at the gym.
If you worry that your job is too sedentary and that you spend too much time sitting at your desk, you'll love the reminders and alerts that let you know when you've been sitting for too long.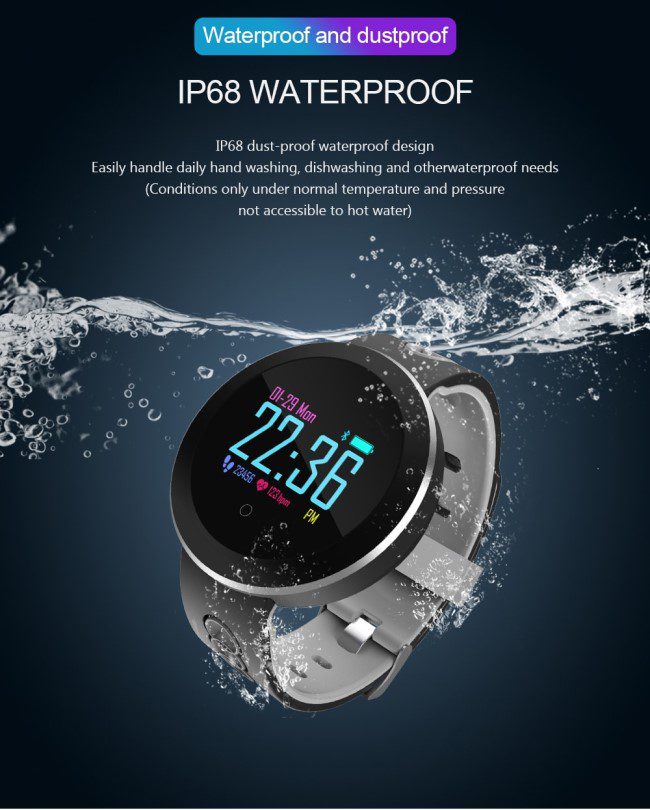 Even if you love swimming in the ocean or fishing on the lake, the HealthWatch is safe to wear due to its waterproof design.
What Can You Do with the HealthWatch?
Some of the different things that you can do with the HealthWatch include:
Monitor your heart rate and keep track of any changes throughout the day
Keep an eye on both your blood oxygen and blood pressure levels
View the total number of calories you burned every day
See how much physical activity you engage in throughout the day
Access music stored on your smartphone
Bring up your camera to take new photos
View incoming calls and text messages
Look at alerts from your linked social media accounts and profiles
Track the distance between two points
Track your sleep at night
The HealthWatch also has a multi-sport mode which allows you to monitor the time that you spend playing sports such as basketball or cycling. You can use it to count the steps that you take during those activities and to view the calories that you burned.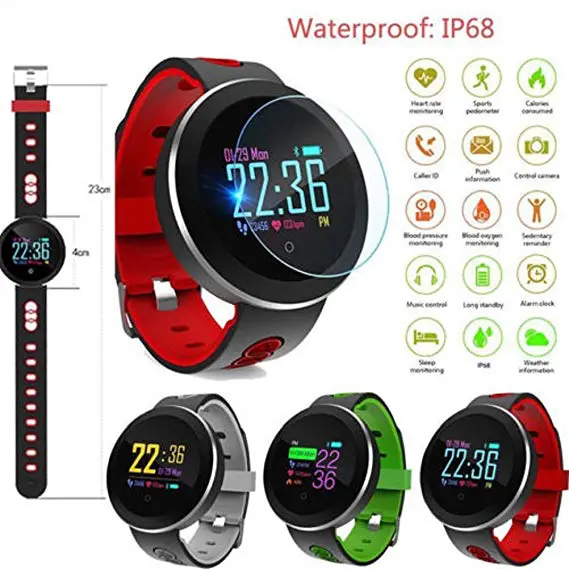 As the HealthWatch is waterproof, it's safe to wear during all types of activities.
Who's This For?
Some people who would benefit from the HealthWatch include those who:
Want to lose weight but need some extra help
Need to track their sleep patterns
Received warnings from their doctors that they have high blood pressure
Like to workout while listening to music
If you want a convenient way to track your activity levels and make sure that you get the exercise that you need, the HealthWatch is the best fitness tracker for you.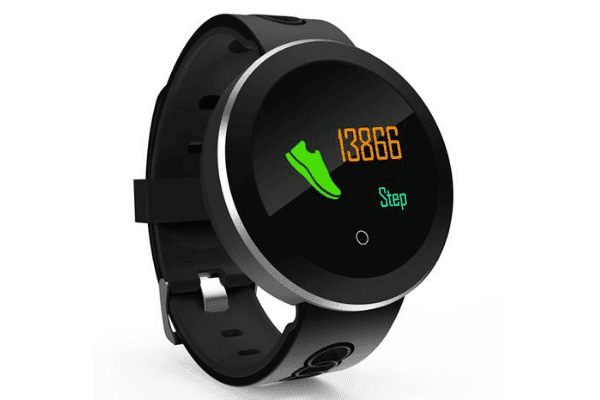 The HealthWatch acts as a pedometer to track the total steps that you take.
Why Should You Use the HealthWatch at Night?
Depending on your health and other factors, you may need as much as eight hours of sleep per night. Not getting enough sleep can have serious effects on your general health, including:
Making you more prone to accidents
Causing a lack of concentration
Interfering with your thought processes
Increasing your risks of suffering from diabetes, high blood pressure, heart failure and other medical conditions
Making your skin look older
It isn't just those who suffer from insomnia that can experience these problems. The HealthWatch monitors your nighttime activities and lets you know if you got enough sleep.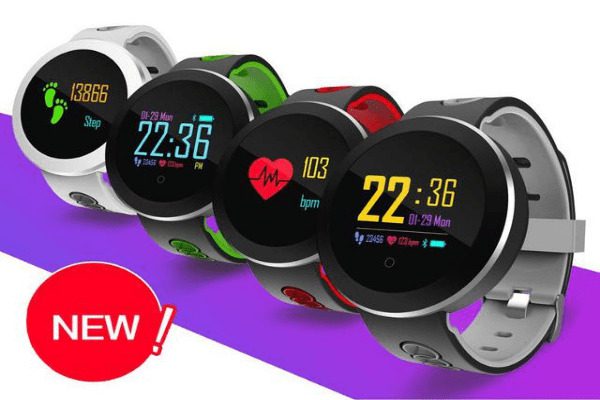 Using the HealthWatch has benefits during the day and the middle of the night.
Should You Buy It?
We think that the HealthWatch is a must-buy for anyone who wants to track their health, lose weight or get in shape. Some of the reasons that we think this include:
It monitors your blood pressure and oxygen levels
You can see how your heart rate changes as you workout or rest
With the tracking option, you can see how much physical activity you get every day
The band/strap adjusts to fit small and large wrist sizes
It comes with a battery that lasts for up to 15 days on standby mode and seven days when using the watch
Thanks to the OLED screen, you have no problem seeing the data on the screen
The touch screen responds quickly to the lightest of taps
It lets you quickly access and control your smartphone camera
You can send the content from the watch directly to your phone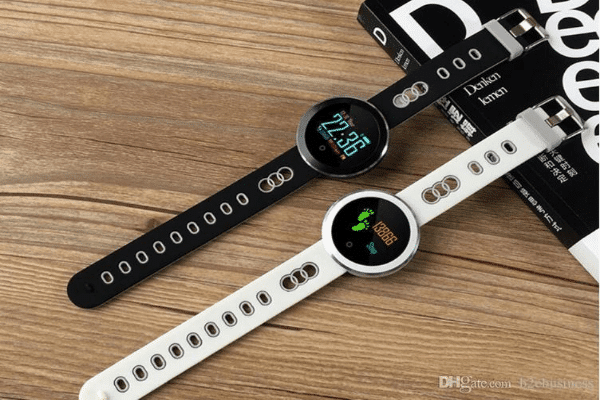 The HealthWatch is stylish enough for everyday wear.
The HealthWatch has a design that you can wear any day of the week. It looks just as nice when you wear it with your workout gear as it does in the office.
Some of the other benefits that we found using the HealthWatch include:
It can alert you about health problems and let you know when to visit your doctor or hit the ER
As long as you keep the battery charged with the included battery, it will work all night and day
With nighttime tracking, the device lets you know if you get the right amount of sleep at night
It sends notifications from your phone that help you decide whether to take a break and reach for your phone
The durable design of the watch ensures that you can wear it everywhere you go, including the beach or the gym
It has a waterproof design that makes it safe to wear around water and as you sweat
You can download the HealthWatch app and create a detailed report with data about your general health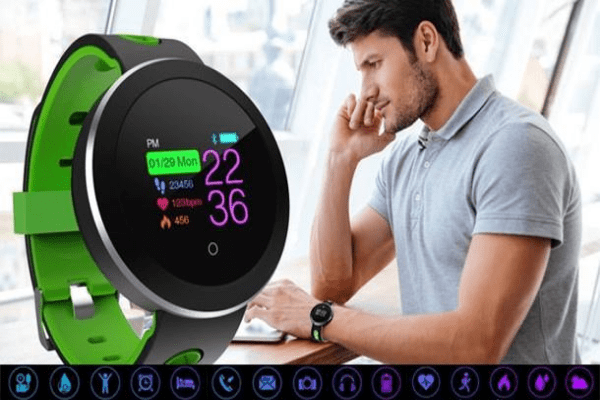 Men and women can benefit from the HealthWatch at work and the gym.
What About the Cons of the HealthWatch?
As much as we like the HealthWatch, we learned that some shoppers didn't enjoy it as much as others. One of their major complaints was that it was hard to use. Even after following the included instructions, they weren't sure how to sync it to their phones or make it track their activities.
Activity monitoring was another problem that some customers had. They found that moving at their desks at work or shifting while sitting on the couch counted in the same way that taking a walk or working in the gym did.
Though the band has an adjustable design, some found that it still didn't fit as well as they wanted. There were also complaints about where HealthWatch is available. Unlike other fitness trackers that you can buy in any big box store, the HealthWatch is only available online.
The link that we gave you allows you to take advantage of low prices and free shipping.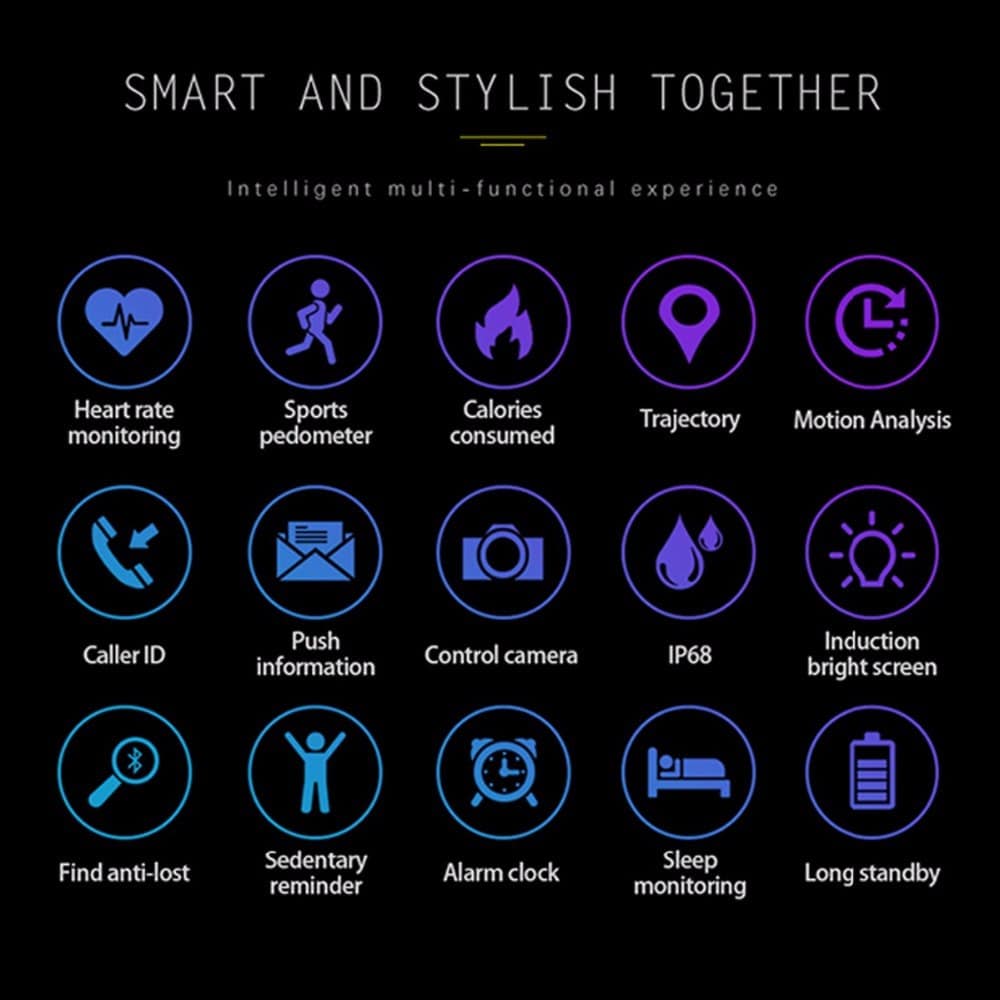 The pros of the HealthWatch far outweigh any of the cons that you might see.
Where to Buy
Though the HealthWatch retails for $178, you can save money when you purchase the fitness tracker right here. Clicking this link takes you to a site when you can buy the tracker for only $89 and qualify for free shipping.
One of the deals available allows you to buy two smartwatches and pay only $177 rather than the retail price. The best deal is for those who purchase three of the watches. This deal drops the price to $267 and lets you pay only $53 per watch. To make sure that you get the most out of your smartwatch, you can pay $14 for the extended 3-year warranty.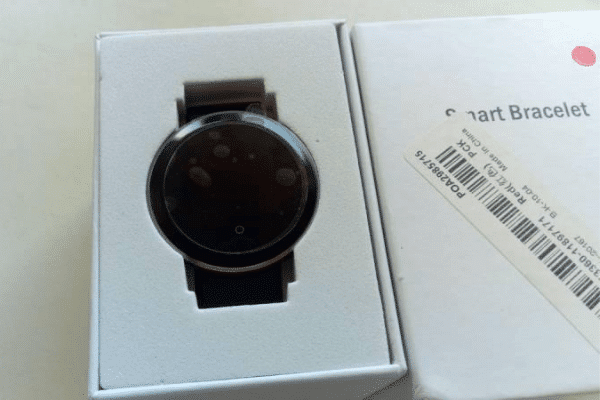 The HealthWatch comes packaged with instructions in the box.
Competition
Fitbit Versa 2
One of the household names in the fitness tracker industry is FitBit. One trackers that the company offers is the Versa 2. It has built-in Alexa to connect to an Amazon device. This allows you to learn about breaking news and do internet searches on the go. Though it also tracks your fitness levels and sleep patterns, the high price is a turn off for many.
Samsung Galaxy Watch
Samsung was one of the first companies to produce a fitness watch, including the Samsung Galaxy Watch. Many shoppers like that it looks more like a traditional watch and less like a smartwatch thanks to the visible gears on the face. It uses Bluetooth to connect to your phone and similar devices. You may like the included charger and two bands that fit all wrist sizes but not be thrilled about the high price.
LETSCOM Fitness Tracker HR
Those looking to save money may choose the LETSCOM Fitness Tracker HR priced at around half the cost of the HealthWatch. You do get what you pay for, as many users complained about connection issues and the internal features. It may not accurately track your steps or the calories you burned. This fitness tracker comes in multiple colors and has a band that fits both men and women, but you may find that the band runs a little small.
Garmin Forerunner 35
With the Garmin Forerunner 35, you get a smartwatch with a large face and an adjustable band. The base model retails for more than $100 and does not include a heart rate monitor. It works with Garmin Connect to help you stay connected. Not only does this let you view text messages and incoming calls, but the feature allows you to respond to incoming messages and decline calls.
Final Verdict
It shouldn't surprise you that we look favorably on HealthWatch. Though our team tried other varieties of fitness trackers in the past, most had some serious flaws. You usually need to choose between an expensive smartwatch that functions as a fitness tracker or a cheaper fitness tracker that lacks some smartwatch features. The HealthWatch is one of the only gadgets that function in both ways.
With the HealthWatch, you can track your steps and activities during the day. It comes in handy at night when you want to see if you entered REM sleep and whether you woke multiple times without knowing it. This tracker also gives you information about your overall health, including heart rate and blood pressure. Anyone looking for a smartwatch and fitness tracker combo will like the HealthWatch.