Knixwear Underwear Review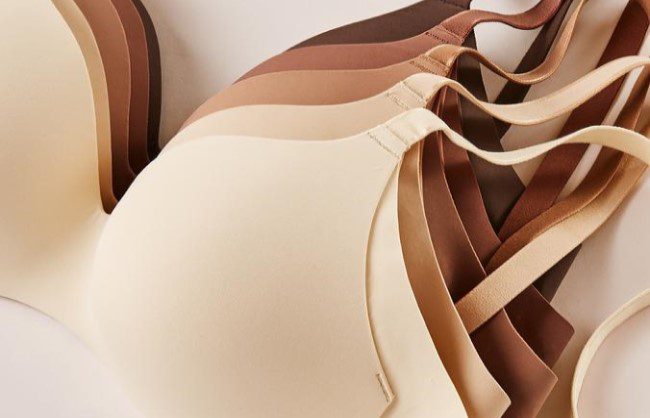 What is Knixwear Underwear?
Is there anything worse than underwear or bras that don't fit right? Some are so tight that they make it hard to breathe, while others are so loose that they offer no support. Knixwear is a lingerie company that wants to help you find great underwear at good prices. You'll find tons of bras such as maternity bras for pregnant women and others designed for breastfeeding women. As a bonus, you can shop for some amazing undies. Leakproof panties help you avoid embarrassing stains when you're on your period.
Joanna Griffiths launched Knixwear with a pair of panties that stopped leaks.
Those panties were so popular that she slowly expanded her line to include different types of panties and bras. Thanks to the wireless bras, you will never again have sharp metal pieces stabbing your chest. Knixwear makes products that are suitable for women who don't want to worry about stains and leaks or any other hassles. Not only can you save 10% off your first order, but you also have the option of a virtual sizing session to help you get the right fit.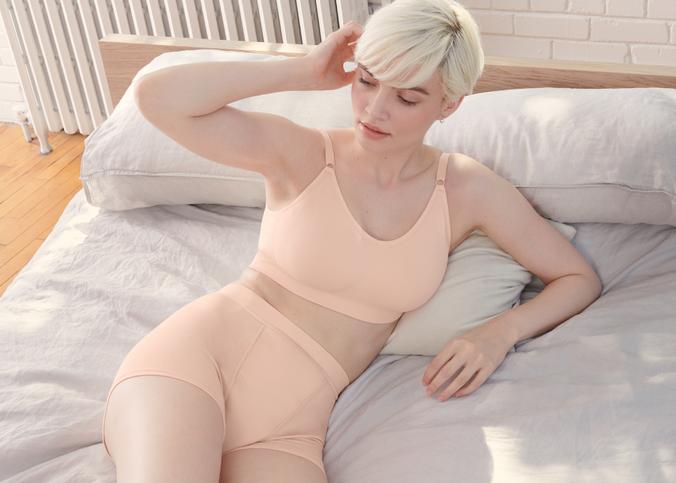 PROS
Offers 10% off your first order
Gives you 30 days to return products
Available in many sizes and colors
Suitable for all women
Includes various products such as swimwear and intimate apparel
CONS
Some customers had problems with the sizing chart
The bras may feel tight for a few days
More expensive than similar underwear
BOTTOMLINE
Knixwear helps you find underwear and bras that are perfect for you. You can choose the right size and select special merchandise such as bras for nursing moms and leakproof panties.

iReviews Shopping Assistant
Find the best prices for this and many other products with our chrome extension
Product Features
Price: $23 and up
Warranty: 30 days
Sizes: 32A-42H
Shipping: Free on orders of $75 or more
Shipping Time: Three to 10 business days
Installment Plans: Yes, through afterpay
Bras from Knixwear
The Luxe Lift is a pullover bra with an elastic band. You don't need to fumble with clasps because the bra is permanently closed and allows you to pull it over your head. Available for $50, it comes in colors such as Rosewood and Indigo. The Good to Go Seamless Bra for $40 is another popular design that moves with you. The bra has adjustable straps and just the right amount of padding to give you a little boost.
Other popular bras include:
Wing Woman ($60) with a deeper V-neck that lifts your girls and supports them for hours.
Good to Go High Neck ($50), which is similar to the bra mentioned above but has a higher neckline for more coverage.
Bliss Fit Nursing Bra ($55) that gives you the comfort you need while nursing but also opens easily for feedings.
Infinity Bra ($60), which helps you feel amazing and look your best with a plunging neckline.
Knixy Lace Deep-V Bralette ($40) with padded cups and a deep V-neckline that puts your assets on display.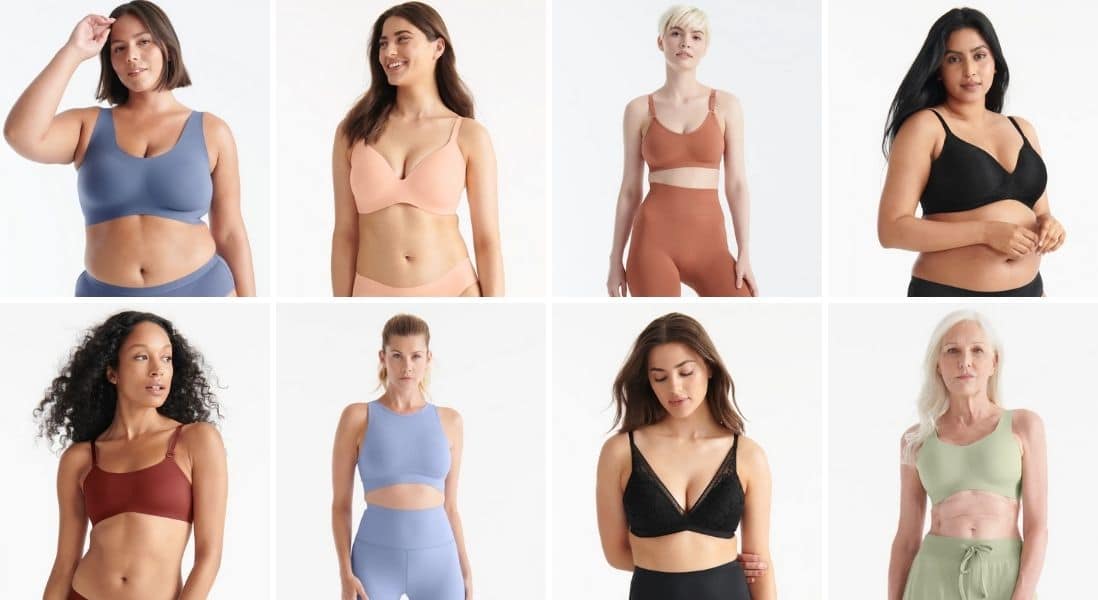 How Can You Use Knixwear Underwear?
The Knixwear sizing chart makes it easy for customers to find their sizes. Knixwear lists all sizes on a scale from 1 to 8. If you usually wear a 32A, you wear a 1. You simply find your cup size on the top of the chart and your band size on the side. The point where the two meet is the size that you need. We included a copy of the chart below to help you find your size.
Thanks to virtual fittings, you no longer need to worry about bras not fitting. You just need a measuring tape or a piece of string long enough to wrap around your body. During your online fitting, you need to wear your favorite bra and connect with the fitter over your camera. The fitter not only helps you find your size but can recommend products for you.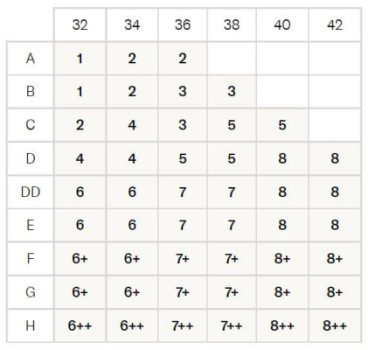 Knixwear Period Underwear
Whether you use pads and tampons or a menstrual cup, you know that leaking blood during your period can ruin everything from your underwear, to your sheets and jeans. The founder of Knixwear developed period panties that you can use every day of your cycle. The leakproof line holds up to three teaspoons of blood, while the super leakproof line holds up to eight teaspoons.
Though the panties are a little more expensive than you would pay for other underwear, they offer the protection that you need when sleeping or working. The Dream Shorts sell for $38 and only come in one color, black. These shorts offer enough coverage that you can wear a pair in place of shorts when relaxing at home. If you don't want to deal with visible panty lines, Knixwear sells a leak proof thong for $30 that comes in multiple colors.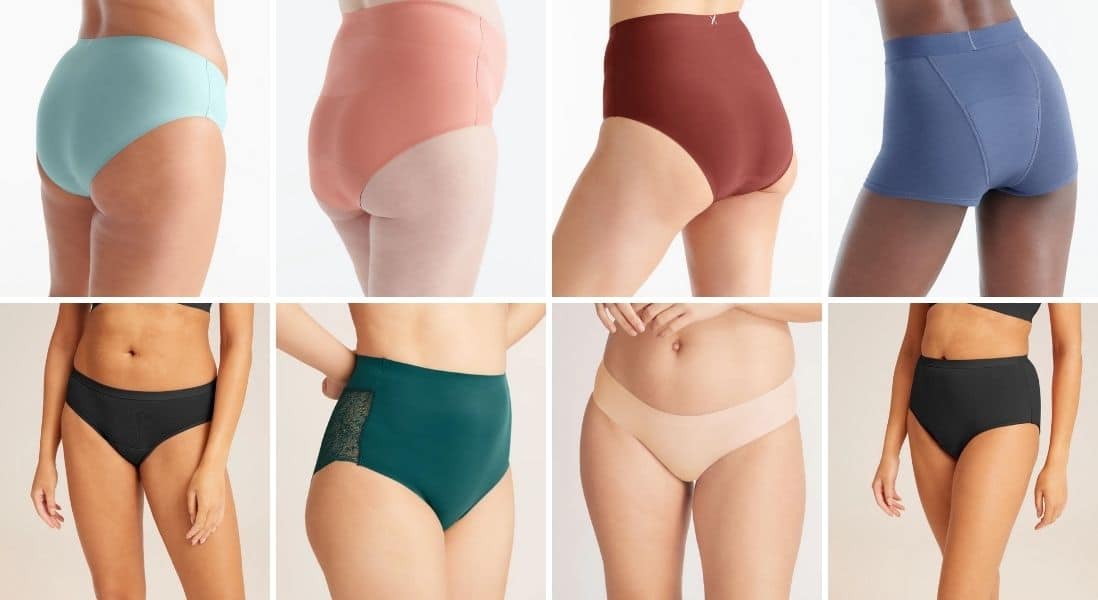 Where Can You Use Knixwear Underwear?
Knixwear makes pieces that are suitable for all occasions. Do you need a sports bra that gives you more support? Knixwear has sports bras with traditional designs that you pull on over your head and new designs that let you zip the bra closed in front. There are also tons of panties that help you avoid accidents and feel comfortable.
Some of the places you might wear products from Knixwear include:
When you're on your period and want to avoid leaks and stains.
At the gym or when you work out at home and want to avoid chest pain.
While relaxing at home in comfortable loungewear or a matching bra and panty set.
If you're nursing and want to give your baby easy access while still getting the comfortable fit you need.
When you're pregnant and notice that your cup size changed a little.
At work when you spend long hours away from home and want to avoid underwear hassles.
If you're in the mood to impress someone special.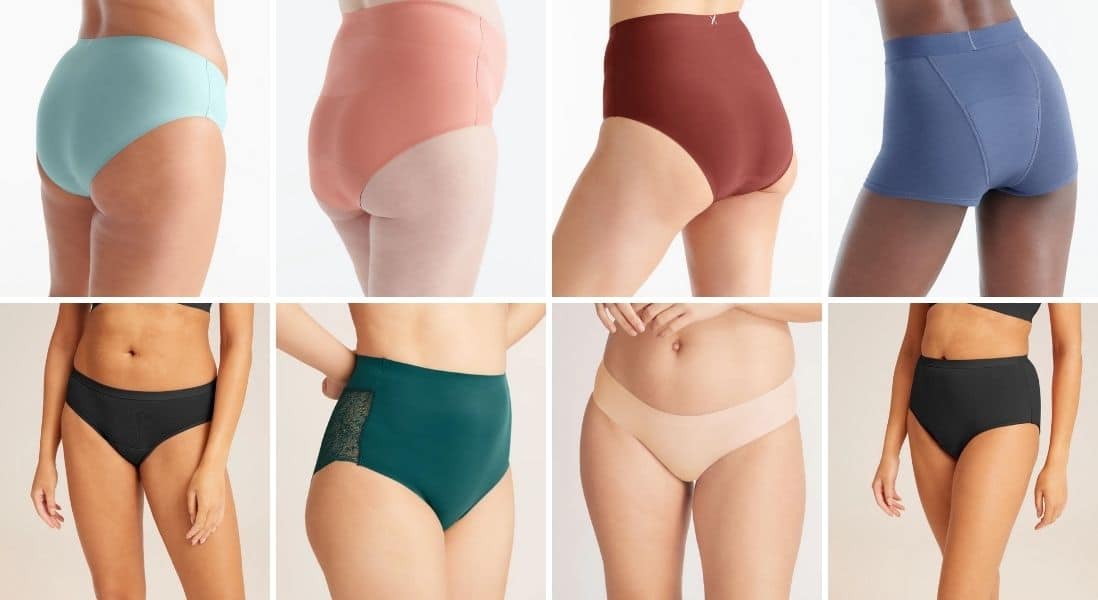 Knixwear makes many products that are suitable for pregnant and postpartum women.
Knixwear Leggings and Bottoms
With activewear from Knixwear, you get clothing that is perfect for any workout session. Do you often avoid the gym when you're on your period because you worry that you might have a leak? Knixwear has you covered with its Go with the Flow Leggings. A special panel inside catches any blood that seeps out. They come in black and sell for $90. We also like the Good to Go Seamless Leggings that come in colors you can match to a sports bra or tank. These leggings are perfect for daily wear and cost $50.
Knixwear also makes shorts because the brand knows that you don't want to wear long pants or leggings when it's hot outside. Grab the Go with the Flow shorts for $70 to wear during your cycle. These shorts come in black to hide stains and are stretchy enough that they'll fit when you're bloated. The HiTouch High Rise Shorts for $60 come in Black and Rosewood as well as Garden Daze, which is a floral print.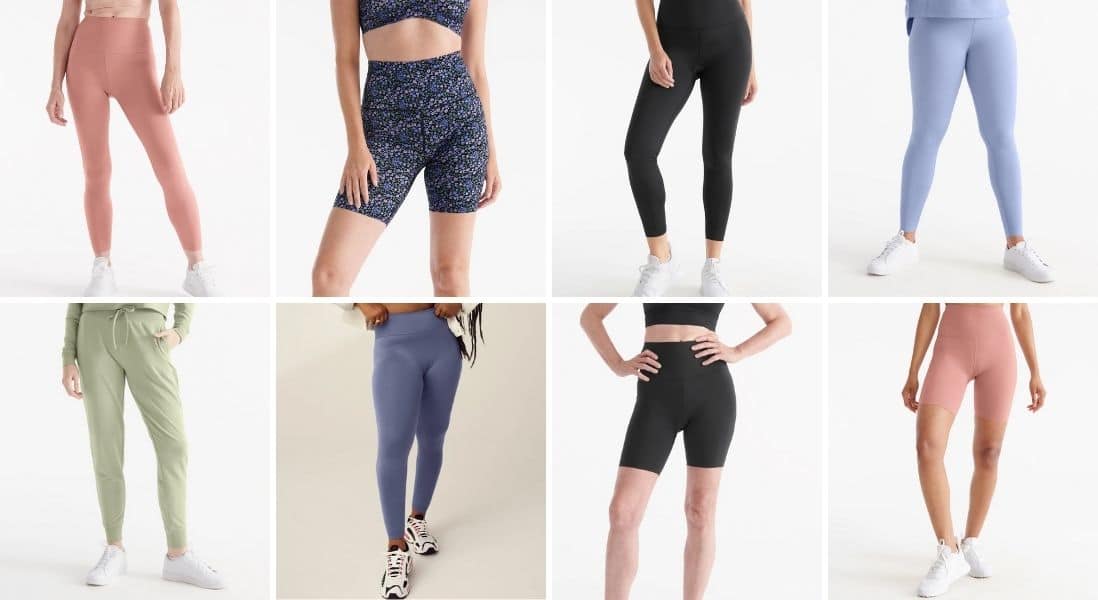 Who's This For?
One visit to the official Knixwear site will help you see why these products are suitable for all types of women. With period underwear, you can pick the amount of absorbency that you need. You can sleep all night without worrying that you might stain your sheets. With incontinence underwear, you don't need to worry about urine leaking if you have bladder problems. These undies come in several designs that let you get all of the coverage that you want.
These bras and panties are also suitable for many other women, including:
Shoppers looking for bikinis and other bathing suits that they can wear while on their periods without worrying about leaks.
Teen girls who want undies and bras that fit their bodies and have lots of coverage.
Active customers who need leggings and other apparel that they prevent leaks and move with them.
Women who recently gave birth and don't fit into their old clothing.
Pregnant women shopping for comfortable underwear that fits their growing bodies.
Anyone who needs a little help getting their dream body as Knixwear now makes comfortable shapewear.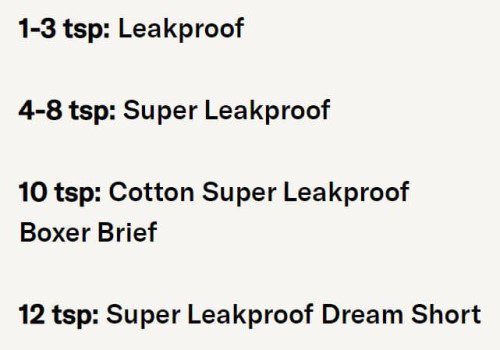 Knixwear makes underwear with different absorbency levels to fit your monthly cycle.
Shapewear from Knixwear
We like the Luxe Lift Bodysuit for $88 that smooths out fatty areas and makes you look amazing. You can choose from several colors, some of which match your skin tone. The bodysuit is perfect for wearing under a little black dress for a night on the town or pants that you wear to the office. Some of our other favorites include:
High Rise Shaper Brief ($45): Eliminate unsightly bulges and other issues on your bottom half with these briefs that come up to your belly button.
Thigh Saver ($36): Designed for use when working out, these shorts have a six-inch inseam and a tight fit that slims your thighs. You'll often find deals that let you get three pairs for $90.
Luxe Lift Tank ($55): If you have problem spots on your upper body, try out this lift tank. Not only does it give you impressive cleavage, but it slims your stomach.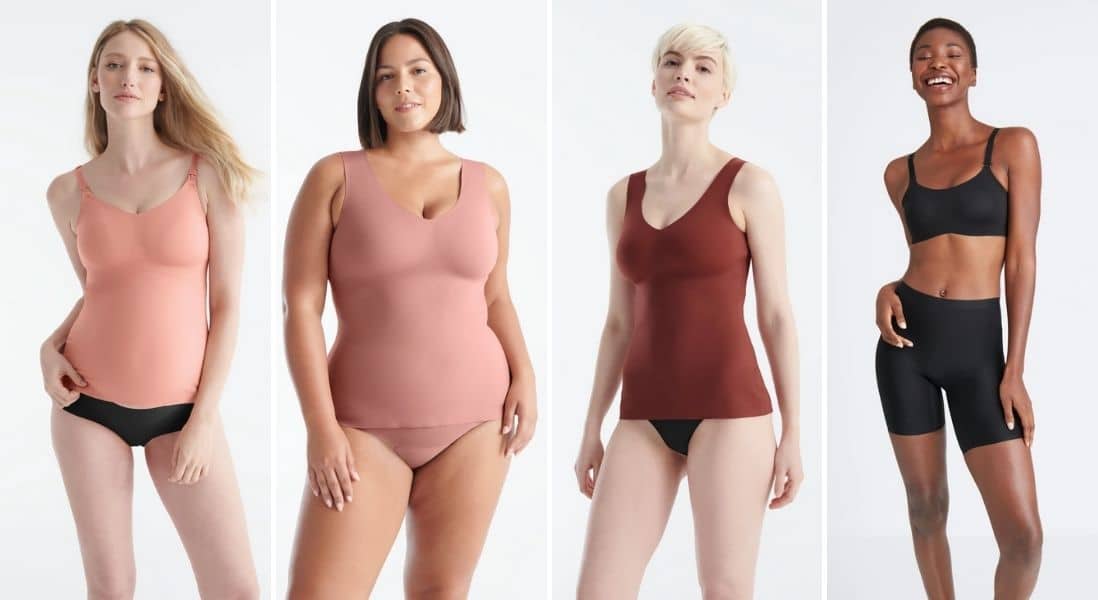 Should You Buy It?
While there are many reasons to spend your money on Knixwear underwear, we wanted to focus on our favorite features of this brand such as its referral program. Once you try this brand and want to tell your friends about it, send them referral links through the site. Knixwear sends your friends a $15 off coupon that is good for a month or longer. As long as they use that coupon, you'll get a $15 off coupon, too. You can also sign up for an installment agreement through afterpay. No matter how much you spend, you pay off the total amount due via payments made every two weeks.
Other reasons we recommend that you buy from Knixwear include:
The brand offers bras that fit women with A cups through H cups and many band sizes.
You can choose from basic bras that are suitable for daily wears and special designs for pregnant or nursing moms.
Thanks to the period panties, you don't need to worry about blood seeping out while you sleep or when you're out of the house.
Knixwear offers discounts for first-time shoppers and gives you free shipping when you spend $75 or more.
The brand makes products that are suitable for teen girls and adults.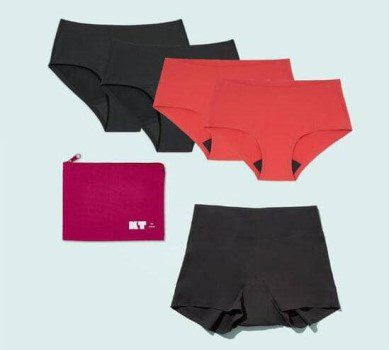 Save money on bundles that include up to three pairs of underwear in the size you need.
Our Review (Knix Thong)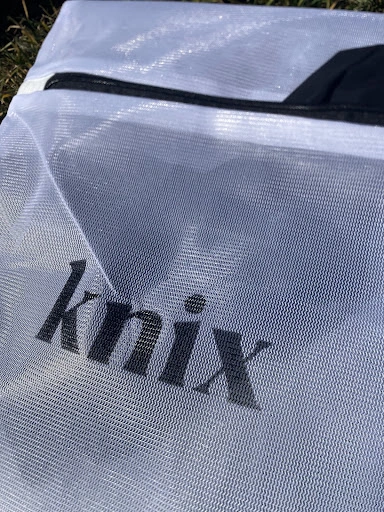 Upon arrival, the Knix packaging was very high quality all around. The packaging was incredibly thick and came in a cute black textured plastic bag. Once I opened the package I was impressed to see that even though I only ordered one basic black thong, the product came with a mesh white travel bag.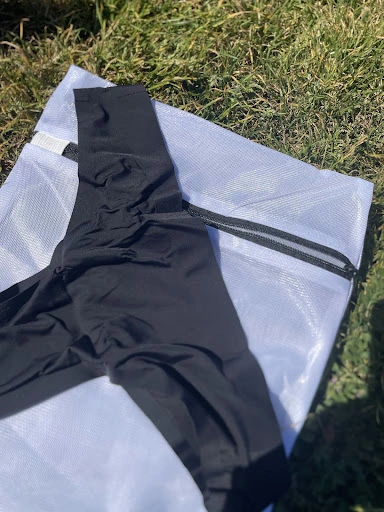 The first thing I noticed about this product was the high quality of the thong material. It felt like an athletic material similar to those used on Nike or LuLuLemon underwear. The sizing looked about right at first glance, and after trying it on, the product was a perfect fit. As a 5'8, woman with a 27 inch waist who weighs 135 pounds, the medium fit perfectly.
Knix Unboxing
The material on this thong was incredibly stretchy so that it moves with your body, but after a wash, it was not stretched out. Furthermore, the seams and lining were incredibly comfortable and thin and did not rub against my hips at all. The thong stayed in place throughout the day and felt like it was barely there.
After testing the product by wearing the thong under leggings for a full day, and going to the gym, I was very impressed. The material was much nicer than seamless thongs I have bought from Aerie or Victoria's Secret. This product is certainly most comparable to LuLuLemon's underwear line.
Knix Review
The thong stayed in place and did not bother me at the gym at all. I enjoyed wearing the product and would certainly purchase from them again. The seams did not show lines through my leggings, and they were resistant to sweat from the gym. Overall, this was a great experience and I would order more products from Knix due to the quality and comfort of their basic black thong.
Other Products from Knixwear
One set that we like is the Bliss Fit Maternity Kit. Available for $201, it lets you pick the sizes that you need. Not only do you get a nursing tank top that won't leak, but you get a matching nursing bra. The set also includes high-rise briefs and leggings that are comfortable enough to wear out of the house. If you use afterpay, you only need to pay $50.25 today and three payments of the same amount later.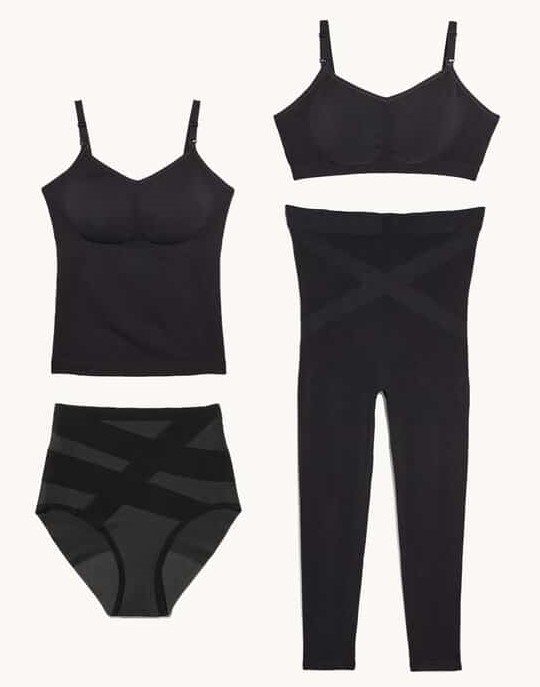 When it comes to sleepwear, you can choose pieces that work in hot or cold weather. The Modal Nightgown has thin straps on the top and a small band that closes on your waist. It comes in both Black and Brandy, which is a warm brown color. The nightgown sells for $55. With the Modal Sleep Sets, you get a top and matching bottoms. Knixwear has a short set for $75 and a set that comes with long pants for $90. All of these pajamas have a fun polka dot design.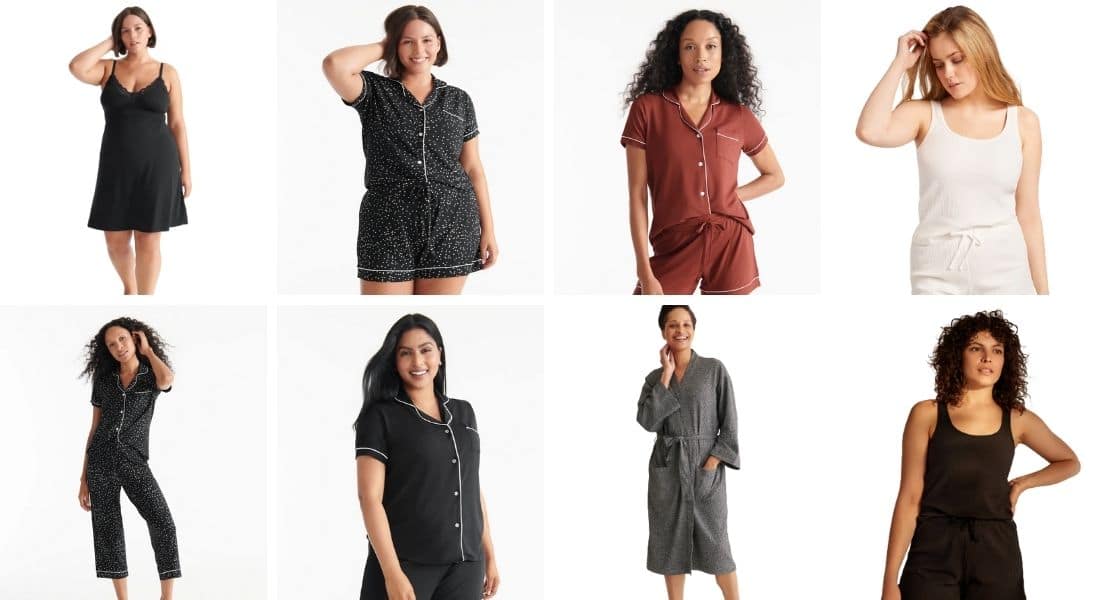 Women can develop incontinence for many reasons such as childbirth, which weakens their bladder muscles. Roughly 25% of all women in the world will suffer from incontinence at some point, which is why Knixwear offers an extensive line of incontinence underwear. Though some offer light absorbency, others offer medium or high absorbency to give you more help. With the Knixy High Rise Lace Panties for $28, you get lace panels that make you feel sexy and a gusset that catches leaks.
Thanks to Knixwear swimsuits, you can easily find a bottom and matching top that meets your needs and fits comfortably. Knixwear offers full suits such as the Waikiki Ruffle One-Piece for $95 that has a ruffled accent over one shoulder and comes in two colors. If you shop for separates, you can pick the tops and bottoms that you need in your perfect sizes. We like the bright colors available for the Impenema bottom, which sells for $45 and has high legs with a low waistband.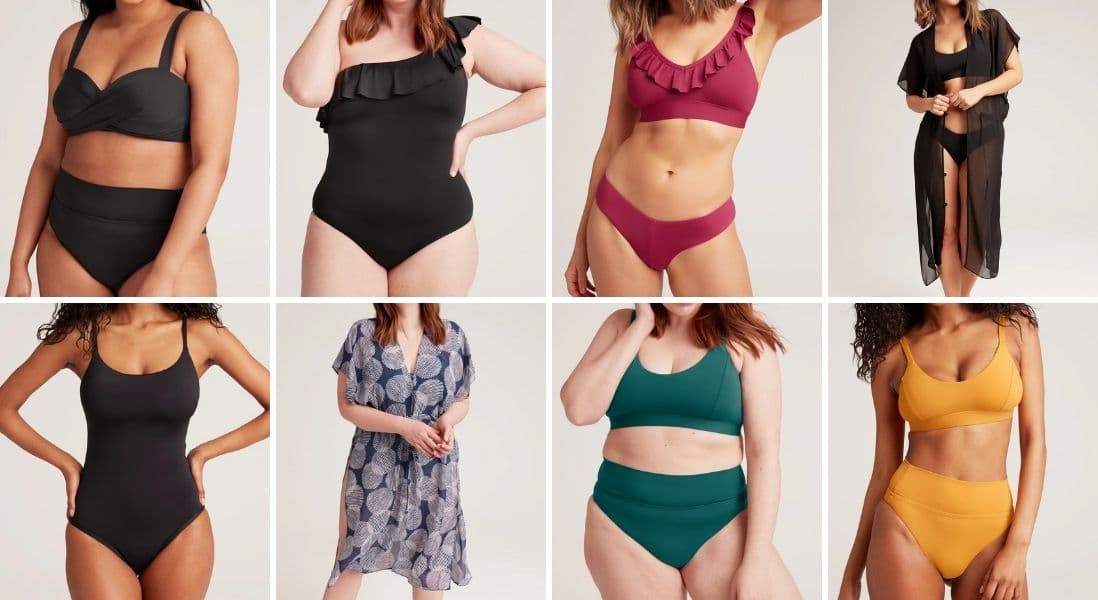 Cons to Consider
As much as we like Knixwear, we have to admit that other customers had some problems buying from this brand. One issue is the way the products fit. Many customers complained that it felt as though they were wearing plastic bags. Though Knixwear claims that you should wear the underwear for a few days to let it adjust to your body, many said that the underwear was still uncomfortable. Others complained that the waistbands rolled down or the bottoms rolled up. If you try to use the 30-day warranty that Knixwear offers, you may find that it refuses your request. The brand often says that it cannot accept products in worn condition. Some of the other cons of Knixwear that we wanted to mention include:
The sizing is sometimes off to the point where even if you buy the correct size based on the guide, the underwear might be too big or too small.
Many of the panties are bigger in real life than they look on your screen.
Most of the period panties have a small gusset that allows blood to leak out.
You may find that your underwear stretches out as you wear it and that it never returns to its original size.
Knixwear does not offer exchanges. If you need a different size, you must return the item and buy a new version.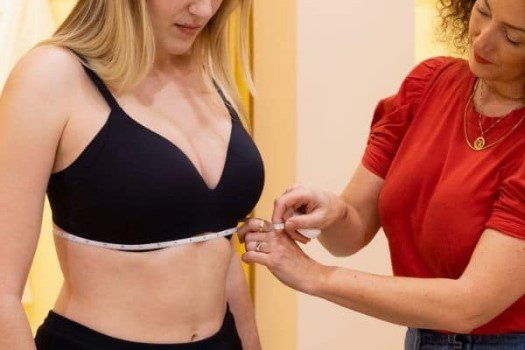 We recommend that you sign up for a virtual fitting to make sure you buy Knixwear products in the right size.
Where to Buy
To find the right products for you, click here and load our link to the official site. We like that the site offers free shipping on orders in the US of $75 or more and that you get 10% off if you have never bought from the site before. If you sign up for the Knixwear mailing list, you'll unlock even more coupons in the future.
Competition
The founder of Knixwear loved the idea of releasing period panties for all women. Though the brand is popular today, there are others making similar panties. We'll take a look at them below.
Joyja
One name you may hear other women talk about is Joyja, which makes period panties that are suitable for teens and adults. Thanks to the site's bundles, you can save money and get enough panties to last your entire cycle. You save 20% off when you buy seven pairs and 10% off when you buy three pairs. We like that you can shop by your flow rate from light to super and then you can choose the styles that work for you.
Thinx
Thinx bills itself as an underwear bra that makes underwear that absorbs your period. With referrals, you give your friends $10 off and get a $10 off coupon back when they buy. Each pair is machine washable and easy to clean. You can snag hip-huggers with a low waistband and high legs or boy shorts that fit like a great pair of shorts. Thinx also allows you to shop based on your flow. This site has panties with low to super absorbency that you can wear for a full day. There is even a quiz that helps you pick the right pair.
proof
Thanks to the proof mailing list, you get an automatic 10% off your order and coupons you can use later. When you spend $50 or more, you also qualify for free shipping. We like the proof bundles that take 10% off when you buy three pairs because this lets you pick the right bundle for you. There are briefs with a higher waistband that smooth unsightly bulges and thongs that won't show under your clothes. This brand also sells hipsters that flatter women of all sizes. Make sure you use the sizing guide to get the right fit before you buy.
Negative Underwear
Negative Underwear makes some of the best wireless bras around. The Sieve has a sleek design that offers lots of support but has a sheer panel on the front to show off your sex appeal. These bras come in different styles that mimic the fit of a sports bra or a triangle bra. Negative Underwear makes bundles that drop the price by $15 or five per bra when you buy a set of three. These bras come in classic colors such as nude to match your skin tone and black. You'll also find matching panties in different designs and colors.
Final Verdict
Getting your period is probably not something you look forward to every month. Not only does it cause mood swings and aches and pains, but it also causes you to bleed, which may ruin some of your favorite clothing. Knixwear now makes period panties that are suitable for daily wear. They have a gusset inside that catches the blood before it can stain your clothes. Similar panties are available for women struggling with incontinence who don't want to worry about urine leaks. These panties come in sizes suitable for all women as well as different colors.
In addition to panties, Knixwear makes bras that fit women who wear an A through an H cup. These bras come in styles that are perfect for working out or spending a day at the office. We like that Knixwear has a program to reward you for the referrals you make and that you get 30 days to send back any merchandise you don't like. As a bonus, you can make a virtual fitting appointment and get help from an expert to find your fit from the comfort of your home. We hope our Knixwear review helped you decide whether the brand makes products that are worth your money.