Kristin Ess's "The One" Signature Shampoo and Condition Review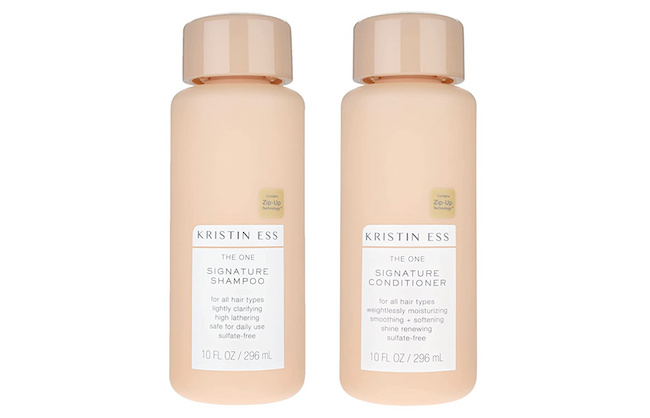 Kristin Ess is a celebrity hairstylist with 22 years of experience. So, you can say she's a pro when it comes to hair care and knowing what kind of products work best to achieve the celebrity hair look.
On every bottle, you will find a description of the product and the results you can expect. There is also an additional styling tip from Kristin Ess.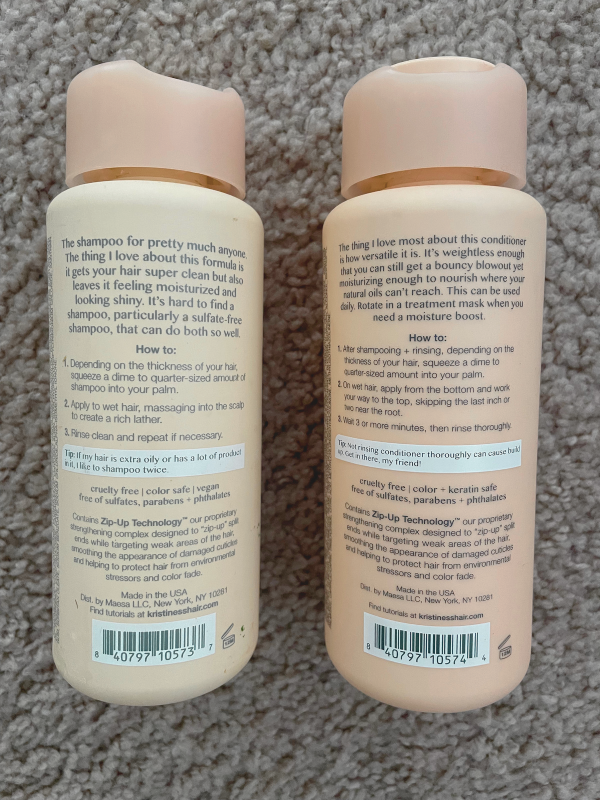 Kristin Ess's products are highly acclaimed, but do they really live up to the hype? Read more to find out my experience trying her signature shampoo and conditioner.
PROS
Cruelty-free
Affordable salon-grade products
Actually makes hair soft and shiny
CONS
Some people experience hair breakage and loss
Strong fragrance
BOTTOMLINE
Kristin Ess is an affordable luxury hair care line. All of Kristin Ess's products are vegan-friendly and free of sulfates and parabens and phthalates.
Product Features
Cruelty-free
Free of sulfates and parabens
Color safe
Vegan-friendly
Suitable for all hair types
Keratin safe
Where to Buy
Another pro to Kristin Ess is that it's a salon-grade line that's extremely accessible. Although it's currently not available to purchase on their official website, you can find their products available at many drugstore stores and retailers, including:
Kristin Ess is also available to purchase on Amazon. However, it's usually more expensive, and Amazon sellers are known for sending out fake knock-offs of beauty products.
To find the store closest to you that has the Kristin Ess line in stock, you can use their product locator.
Kristen Ess Signature Shampoo Results
Many hair stylists will recommend people use a clarifying shampoo once a month in addition to their regular shampoo. I had already done a clarifying treatment the week before trying the Kristen Ess Signature Shampoo and Conditioner, so I wasn't looking for another deep clean.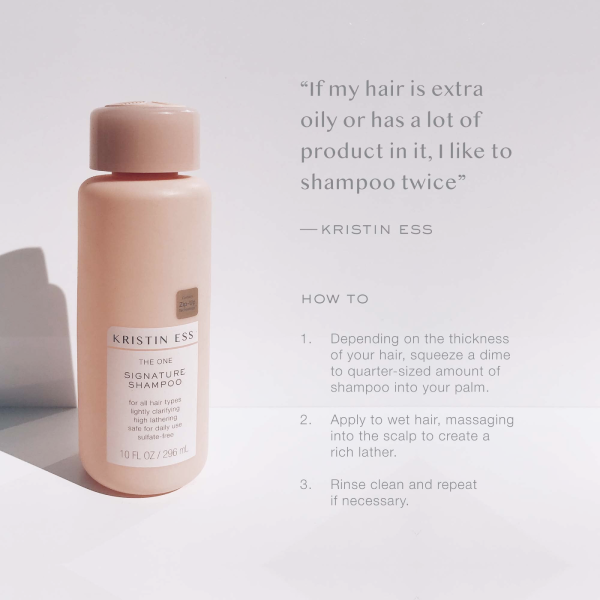 With that being said, I expected Kristen Ess's shampoo to provide me with more of a lightweight clean that would not strip my hair, yet still give me a fresh base to start styling with.
Application: The shampoo comes out a bit more watery than most shampoos that I'm used to, but it provided me with a great lather. With some lathers, my hair can have a tendency to tangle. However, this was not a problem with Kristen Ess's Signature Shampoo, so I'll call that a win!
Smell: The smell of this shampoo is a soft scent that I really like, but is admittedly a bit strong. The notes in the scent include ambrette seed, magnolia, pear water, night violet, orris butter, new Caledonia sandalwood, and white amber.
The fragrance lasts exceptionally long, which can be a pro or con depending on the person. The smell can be a bit strong for the first day or two, but it isn't overwhelming in my opinion. Especially after the first day, it fades to a pleasant, soft smell.
Results: Even after two washes and rinses, my hair was not left with a dry, stripped feeling. I was even able to easily detangle my hair to prepare my hair for the conditioner.
Kristen Ess Signature Conditioner Results
I'm a bit pickier when it comes to conditioners! I have twice as many conditioners in my cabinet than I do shampoo, so I look for more specific treatments in my conditioners.
My hair soaks up moisture and dries out easily, so I'm a bit heavy-handed when it comes to conditioning treatments, and I wasn't sure what to expect from the Kristen Ess Signature Conditioner.
Application: Much like the shampoo, the conditioner has a thinner consistency than I prefer. I had to use a considerable amount to be able to work it thoroughly through my hair. However, once I made sure the product was evenly distributed, it felt great! The conditioner gave me a great slip, and felt moisturized.
Smell: The fragrance of the conditioner is the exact same as the shampoo, so I have the same sentiments. The conditioner could also be the culprit for the long-lasting smell, as you are essentially layering the scent. So, that's something to keep in mind if you dislike strong-smelling hair products.
Results: The finished result is always soft, beautiful, shiny hair. However, I notice the hair has a bit of a film-like residue left on top of it as if the conditioner left a silicone film to give it that shiny and soft feel.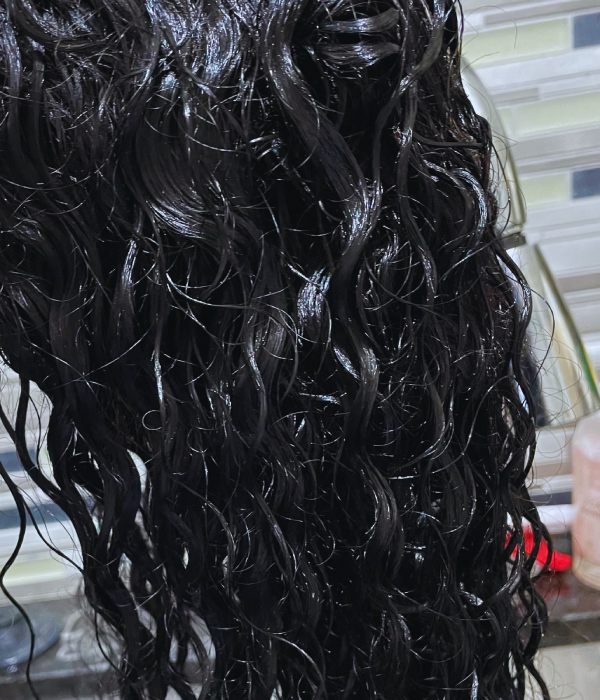 Here is a picture of how the hair looked after the wash and conditioner, with it being more defined and moisturized extremely well.
Other Best-Selling Products from Kristin Ess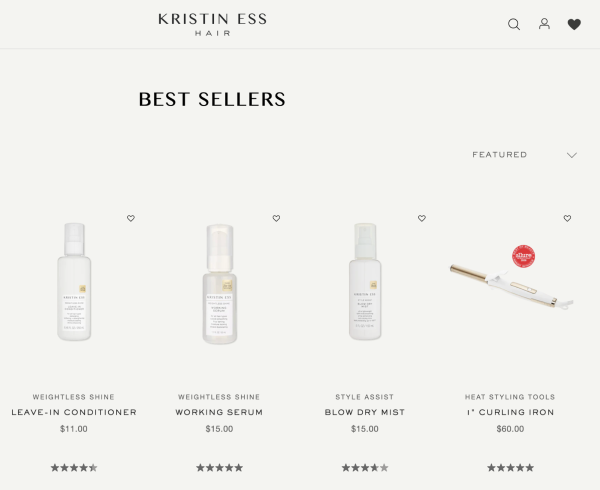 Although the signature line from Kristin Ess has extremely mixed reviews, their other products all have more favorable reviews.
Kristen Ess Weightless Shine Line
Kristin Ess Weightless Shine Working Hair Serum
Features: frizz taming, smoothing, moisture Locking
Kristin Ess Weightless Shine Leave-In Conditioner
Features: detangling, softening, strengthening, shine enhancing
Weightless Shine Air Dry Crème
Features: frizz calming, shine restoring, softening and smoothing
Heat Styling Tools
Kristin Ess also carries award-winning styling tools. Reviews rave about their effective performance of them and fair price range for these heat styling tools:
Should you Buy Kristin Ess
Although I have seen some complaints about hair feeling dry after use and even some cases of hair loss, I haven't had any issues. Every time I have used the Kristin Ess Signature Shampoo and Conditioner, my hair has good slip while washing and is super easy to detangle.
Kristin Ess's line has products to address many problems. If you know what you're looking for, there is likely a product that will fit in with your hair care routine seamlessly.
I would definitely use Kristin Ess for certain styles and even try some of her other products. But as for the Signature line, I probably would not repurchase and opt to try another line of hers. The silicone-coated feeling it left my hair with and me just preferring thicker consistencies in my products left me feeling wanting a bit more.
The Competition
There are so many options when it comes to hair products that can be purchased at drugstores. Not only are these brands easily accessible and typically affordable, but drugstore beauty products have seen a hike in quality comparable to higher-end products.
Here are some top contenders for comparable drugstore hair care products:
Pantene
Pantene has been around since 1945, so they have almost 80 years of experience in the hair care industry. Pantene is a household name that you can find on every drugstore shelf. Pantene is primarily known for its Pro-V formula, which was their focus for years.
However, lately, Pantene has been expanding its scope of products and there are a lot more new lines to check out from them!
L'Oreal Paris
L'Oreal is another drugstore brand that carries a lot of options (even makeup and skincare). In fact, on their website, there are 111 results that fall under hair care and hair styling categories. Their hair care products even have more niche products like texture spray, hair paste, and hair masks.
Function of Beauty
Function of beauty products is categorized by hair type. Each line comes with its own specialized shampoo, conditioner, leave-in conditioner, and hair mask. These more general lines are available for purchase in retail locations like Target.
However, if you go on their website, you can take a hair quiz where you can get a more customized hair care kit.
Final Verdict
Ultimately when it comes to any hair care products, it's important for you to understand specifically what your hair needs and what you already have in your routine. That's a big reason why reviews tend to vary greatly for almost any hair care product.
For example, some people's strands may be lacking protein, while others may actually be overloading their hair with protein-packed products. Too much protein leaves hair with that nasty dry, and straw-like feeling.
That's why it's a bit challenging to recommend a specific hair care product on a broad scale, and it's essential to check what is already in your routine and the ingredients in your current favorites.