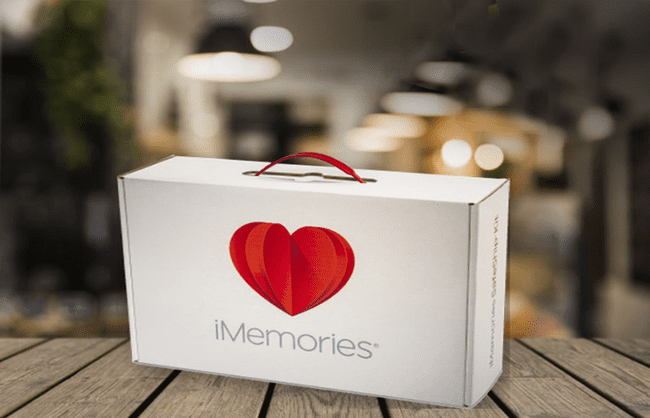 Thanks to the smartphones that almost everyone carries today, you never need to worry about capturing memories of the events that you attend. Even if your phone battery dies in the middle of a birthday party, you can rest assured that another party guest will have photos on their phones.
The chances are good that you have a few boxes of family pictures tucked away somewhere. Your family may have old VHS tapes that they don't know what to do with too.
Environmental factors such as the temperature of your home and the amount of moisture can cause those tapes to degrade and damage photos too.
An easy way to preserve your memories is with iMemories. No matter how many photos or videos you want to save, you can send them in and get copies that you can use at home and share with your loved ones. Just imagine how much your parents or grandparents would love copies of your old family videos.
In our iMemories review, we'll go over how this service works and help you see if it's worth the money.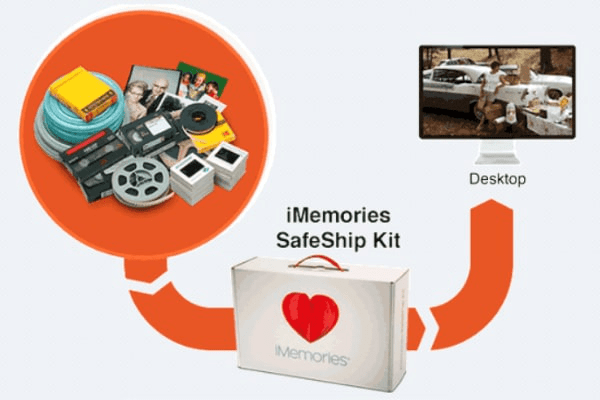 iMemories Can Help You Save and Preserve Important Videos and Photos.
PROS
Easy way to preserve and transfer videos, slides, photos and documents
Compatible with most formats
Good customer support
Lots of options
CONS
Charges per tape and photo
Costs to have the box delivered
Delivery and service times can be lengthy
Some customers didn't like the finished quality
BOTTOMLINE
With lots of options, iMemories makes it easy for customers to preserve their treasured memories. You can order a safe shipping kit online and get access to the finished content in three weeks or less. There are various services available that work with most formats.

iReviews Shopping Assistant
Find the best prices for this and many other products with our chrome extension
What is iMemories?
The services offered by iMemories can help you with any videos or photos that you want to preserve. You can send it all the content that you want and get an estimate to see how much it will cost to digitize your records.
If you decide not to work with the company, you'll get everything shipped back to you in its original condition.
Those who agree to the quote can sign an online contract and pay for the service. You'll then get digital copies of those memories along with the originals shipped to you as quickly as possible.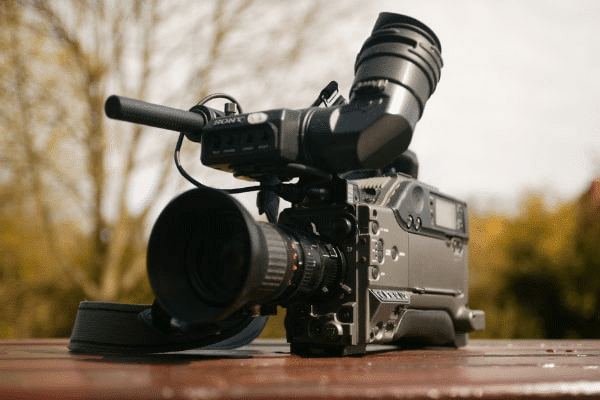 iMemories can make digital copies of videos shot with the oldest of camcorders.
Why Use iMemories?
Sitting down to watch the footage taken of your wedding or an old reunion can send a flood of memories rushing back to you.
With so many people today trying to declutter and live simply, watching that footage is hard. You probably don't have a working VCR let alone equipment that can play old film reels. That is why iMemories is so handy. This company offers preservation services for a wide range of footage. You can send in both black and white photos as well as color images and Polaroids along with any of the films and tapes that you have. It's a great way to make sure that the next generation of your family has access to those important and treasured memories.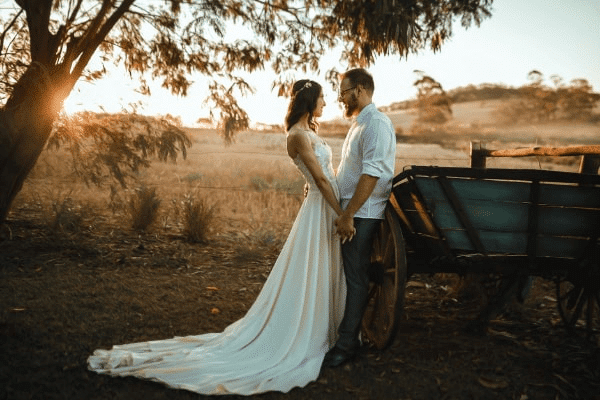 iMemories can help you preserve wedding photos and much more.
How Can You Use the iMemories?
Using iMemories is very simple because you can go online and order a SafeShip Kit. This kit comes with waterproof bags that keep your records safe from moisture and foam that wraps around each item you send. All those products fit inside a box that is resistant to crashing during the shipping process. As the company uses FedEx, you can rest assured that everything you send will arrive there safely and securely. You can fit up to seven videotapes inside a single box, but that box also holds up to six video spools or hundreds of standard photos.
Once iMemories receives your box, it will go through the content and estimate the cost to digitize those records. You will receive an email when your quote is available. When you go online, you can either confirm that you agree to the price and pay for the service or request that iMemories return your content without digitizing the records. No matter what you decide, you'll get all the original copies sent back to you in the same condition that they were when you sent them. You are under no obligation to purchase any of the services offered when you use the SafeShip Kit and get an estimate.
Tips for Packaging Photos in the SafeShip Kit
Go through your photos to decide which ones you want to send
Separate the images into small groups
Place each group of photos in a waterproof bag
Set one of the foam pieces in the bottom of the return kit
Add your photos on top of the foam and layer the other foam until it fills the box
Drop the box/kit off at a FedEx location
What Devices are Compatible with iMemories?
Smart TVs
iPhones
iPads
Android phones
Android tablets
Apple TV
Google Chromecast
Computers
Who's This For?
We highly recommend iMemories for anyone who wants to preserve their memories. Both grandparents and parents often have quite a few videos that they shot of events over the years.
Those tapes might include family vacations, holiday celebrations, reunions, kids' games and even weddings. Those films and tapes usually get put away and only shared once a year or less often. When a loved one passes away, you might inherit those tapes and have no idea what to do with them. Instead of letting them gather dust in a closet or take up valuable space on a shelf, you can send them to iMemories and get back copies that are easier to view and share. Others who would benefit from the iMemories service include those who:
Don't know what to do with old videos and photos
Want to preserve their memories but aren't sure how to do it
Hope to create a treasure trove of memories that future generations can use
Need to find a great gift for a parent or grandparents
If you have dozens or hundreds of old photos and videos of your family and friends, iMemories can help. Not only can you request a SafeShip Kit today, but you can also start going through your records to decide what you want to send.
Tips for Deciding What Photos to Send
Choose the images that are important to you and/or your family
Think about the photos that others will want to see
Focus on the pictures that you know no one has copies of
Pick out the photos that your kids and others want
Look for historic images
Try picking pictures that have some damage and may degrade further in the future
What Can You Send to iMemories?
One of the best benefits of working with iMemories is that you can send in almost anything that you want. Though some chose to send photos and documents from more recent years, the company can work with records that are much older too. Some of the tapes that the service accepts includes:
Full-size videotapes
Mini tapes
Film reels
Kodachrome
You can also use iMemories to save photos that you want to share. Many families have at least a few photos that date back to the 1950s and even earlier. This might include black and white images taken at your grandparents' or great-grandparents' wedding or sepia photos from the turn of the 20h century. The iMemories service guarantees that you can send any photo and have it added to a disc without struggling with the transfer process at home. You can even send images that are damaged and those that others tried to restore in the past.
Everything from the way you store your photos to the food that people ate when going through those images can damage the film. With iMemories, you can stop the photos from breaking down more and make copies for each person in your family.
Common Causes of Photo Damage
Water
Other types of moisture, including humidity
Sunlight
High or low temperatures
Skin oils
Improper storage
What Services Does iMemories Offer?
Disc Transfer
One of the top services offered by iMemories is a disc transfer. With this option, you can choose to have your memories saved on a DVD or Blu-Ray disc. These discs can store thousands of photos and hundreds of videos and film clips. This is the best option for those who want to get rid of those old videotapes and film reels taking up a lot of space in their homes. You can easily have copies made from your family and let them watch the discs the next time they come over. This service charges both a transfer fee and asks that you pay for the disc.
Cloud Storage
Thanks to the cloud storage offered by iMemories, you no longer need to worry about what might happen if you drop your phone or break your tablet. Cloud storage takes backup copies of each file and moves those copies to the cloud. Even if you lose your phone and replace it, you can still view all your photos and watch any video taken with or saved to your phone. To use cloud storage, you need to download the app, which asks you to choose a username and password. You can use that app and log in with any device to access the cloud and your files.
iMemories App
The iMemories app is available through most app stores as well as Amazon and is free to download. When you download the app to a device, it will first ask for permission to access the files on your device. This allows the app to find all of the images and video files that you saved. You can use the app to organize those files and even find those you thought went missing because you moved them to a different location or renamed them. It also makes moving your files to an external drive easier, which comes in handy when you want to make copies.
Thumb Drive
When you sign up for iMemories, you can add a thumb drive to your order too. This handy little flash drive is easy to use and is compatible with most devices. As long as you can plug in the flash drive to an open USB port, you can view all the data saved on the thumb drive. The 8GB thumb drive can store hundreds of files or more and costs only $19.99. All the photos and videos that you send will appear on the drive. This is the easiest way to share the content with others and the best way to make copies.
How to Choose iMemories Services
Use our link to read more about iMemories
Click on the order button to order your SafeShip Kit
Sign up for an iMemories account
Verify that your email address works
Head back to the site and log into your account
Click on the Services button to add new options to your order
How Long Does the Process Take?
As we looked at iMemories reviews on the web, we found that many potential customers wanted to know how long the process takes. Though it depends on how much content you want preserving, most found that the process took no more than three weeks. This does not count the time that it takes to ship your kit or how long it takes for you to send the kit back. It might take you days or weeks to go through your tapes and photos to decide what to send. Once you order a kit online, you should find it at your doorstep in around one to two weeks. After getting an email to verify that iMemories received your kit, it will take two to three weeks until the company digitizes those images and videos. Some of the factors that can determine how long the digitization process takes include:
The formats that you send
How many photos you had compared to your videos
The length of your videos or number of photos
How busy the company is
The time of the year
The process takes a little longer around the holidays as more people use iMemories to make gifts for their loved ones. Even during the COVID-19 outbreak of 2020, iMemories maintained a turnaround time of six weeks or less.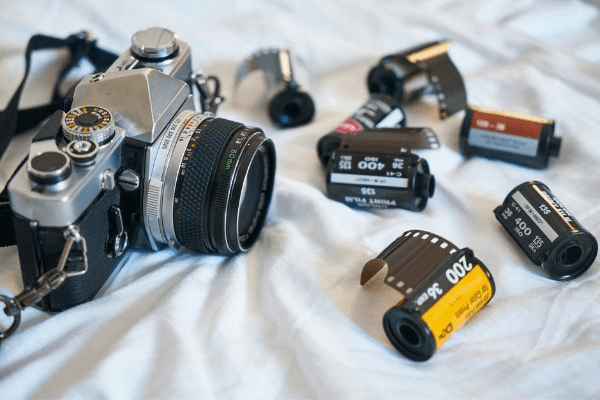 iMemories can make copies of slides, documents, old film and much more.
How to Download Your Finished Videos
When you purchase iMemories services, you can access copies of the videos that it makes for you online. You can do this with either the iMemories app or with the account you created on the website. Those videos include all the content that you sent in and allows you to save a copy on your device that you can then share with others. To view your video, you need to rely on the following steps:
Visit the website
Click on the login button, which is in the upper right-hand corner
Look through the digitized files to select the one you want to save
Double click on the file name to download a copy
Wait until the download process completes
Right click on the file to rename it
You can follow a similar process to download copies to another device such as your smartphone. This requires that you download the iMemories app to your phone, but you can also use your browser to visit the website and use the above steps. With the app, you will log in and select the right file. You can then click on the file name to download a copy and choose where you want to save it and give the file a new name.
Can iMemories Repair Damaged Videos?
iMemories can splice multiple videos together to compensate for damaged spots. This allows you to view a complete video without any pauses or missing spots.
What Formats Can You Send to iMemories?
The main advantage that iMemories has over the competition is that it can handle more formats than other companies can. You can send any of the film reels that you find, even if you're not sure what is on them. As you have the chance to view the content later, you might find that you uncover footage that your family thought was lost years go. Some of the film formats that the company accepts include Super 8, 8 mm and 16 mm. You'll also find that it accepts a wide range of videotapes including:
VHS
VHS-C
Betamax
8 mm
Hi8
With iMemories, you can send in digital videos and tapes that you use with modern camcorders too as well as memory cards. MicroMini, MiniDV, Digital8 and Vido8 are some of the formats that the company accepts.
Though we focused on the photos that you can send, iMemories will accept more than just photos and copies of images. You can use the slides that your parents and grandparents took when you were a child as well as photo negatives. If you ever discovered an old box of negatives but lost the original photos, you can have iMemories make digital photos from those negatives.
Is There Anything That iMemories Cannot Accept?
Audiotapes
Film canisters
Videos or images that feature adult content such as nudity
Photos or videos shot on television or through commercial productions
Anything that shows someone breaking the law
Copyrighted content unless the sender holds the copyright or has permission to copy it
Should You Buy It?
The easiest way to see why iMemories is worth the cost is with a look at the pros of the company and what it can do for you, which we listed below.
SafeShip Kit: Though this kit costs a small amount, it's worth the price because it ensures that your beloved tapes, reels, photos and documents arrive safely and in good condition. The packaging keeps those memories safe from moisture and temperature changes too.
All Formats: No matter what your family used to shoot videos and take photos, you can send their work to iMemories and have the records digitized. Not only does it work with formats from North America, but you can send in PAL footage. The company accepts film reels shot on 8 mm, 16 mm and other formats too.
Fast Response: It takes a few weeks or less for your kit to arrive and even less time for you to ship it back. Most customers had their content processed in less than three weeks.
Lots of Services: One of the top reasons to choose iMemories is its range of services. While some services cost extra such as the cloud storage that charges a monthly fee, you get a 20% discount when you use our link to place your order. As a bonus, you can pick and choose the services that work best for you. For gifts that family and friends will love, order one or more disc copies. Other options allow you to share content online and save copies on a device.
What Can You Do With the iMemories App?
Make slideshows that feature your favorite photos
Save copies of films and photos that you can use on social media sites, including Facebook and Instagram
Use cloud storage to create back up copies
Stream videos and view photos when you're offline
Upload content directly to the web
To make sure that you get a complete picture of what iMemories can do, we wanted to include a cons section that focuses on some of the issues you might come across when using the services from this company. One issue is that iMemories has some restrictions in terms of what you can use and what it will accept. You cannot send any image/video that shows drug use or other illegal activities as well as copyrighted content. As with other similar services, the company has the right to contact authorities if it receives content showing anything illegal such as abuse of children.
Customers also complained about the cost of the service. When you order the SafeShip Kit, you need to pay around $15 to have the kit sent to you. Though you do not need to pay for any of the services offered, the company may charge you to send back your content. You also need to pay a fee for each tape you want digitizing as well as every photo and 50 feet of film that you submit. If you have a large number of tapes and pictures, the cost can be quite high. You do not get the chance to preview the finished work before paying either.
Other Issues with iMemories
The quality might not be as high as you would like
It can take weeks to get the shipping kit
Some found that the processing time took longer than the stated two to three weeks
iMemories does not offer as many restoration services as other companies do
The company cannot make copies of all content submitted
Some found the website confusing to use
Where to Buy
The cost of digitizing your photos and videos starts at $.79 per image and $19.99 per tape. When you sign up for iMemories online, you get a discount that reduces these rates even more.
Before heading to the website and signing up though, click here to get an even bigger discount. This link lets you save an extra 20% off the online cost of all iMemories services. You can send in photos and pay only $.47 per image. If you have old film reels, you can preserve them for only $11.99.
Competition
When converting VHS to DVD, you have quite a few options. If you live in a big city, you'll often find companies nearby that can do this for you. Some of those companies are people who work out of their homes. While this helps you support the local economy, you have no guarantees that the person will take care of your memories or that they will do the work as quickly as iMemories can. There's always a risk that the person might lose some of the tapes or photos that you give them too. We found some other alternatives to iMemories that you may find useful.
ClearClick Video to DVD Converter
With the ClearClick Video to DVD Converter, you get a second-generation device that allows you to convert videotapes at home. Designed to work with a variety of formats, it can handle Hi8 and AV tapes as well as those shot on a camcorder. You can use it to make copies of gaming videos taken with a console and a wide range of VHS tapes. The device has a small screen that helps you pick the sections you want to copy to edit your videos. You can also pause recordings and view the work before you save it.
Legacy Box
Similar to iMemories, Legacy Box is a company that digitizes any records that you send to them. One nice benefit of this company is that it accepts cassette tapes, including songs that your old band played and recordings that you made of your grandparents and others talking. Legacy Box includes three options in each package. You get both DVD copies of your memories as well as a secure thumb drive. With the digital download option, you can use your Google account to view your videos and photos and listen to your tapes. This lets you log in on different devices to access your memories.
Digital Transfer Service Through Walgreens
Though you might think of Walgreens as your neighborhood pharmacy, it also offers new services such as digital transfers. Once you sign up for an online account, you can upload content from your computer and have copies made. You also have the option of dropping off your videotapes and photos at a local store or sending them through the mail. While Walgreens has good reviews, we wanted to point out that these services are more expensive. Though you can digitize both slides and photos of different types, the cost starts at $29.99 for this service.
Final Verdict
Now is the perfect time to dig through closets, clear out your garage and check under beds for old family photos and videotapes. With iMemories, you can get digital copies that will withstand the tests of time. Why worry about someone accidentally taping over your wedding video or cutting up family photos for a school project? This company offers a range of services that include options for viewing content online or through an app and getting copies on a disc that you can whip out at your next party. You can even get additional copies to hand out as gifts to the important people in your life.
While you can buy tools and equipment to convert VHS tapes into digital copies or discs, you usually need a VCR and other supplies to use those products. Going to someone in your neighborhood is another option, but they can't guarantee that they'll use all your content and return it to you in its original condition. Not only can iMemories use almost any format, but it can promise that you'll get your originals back in perfect condition. If you need a way to save and preserve your photos and videos, iMemories can help.
Resources and Further Reading