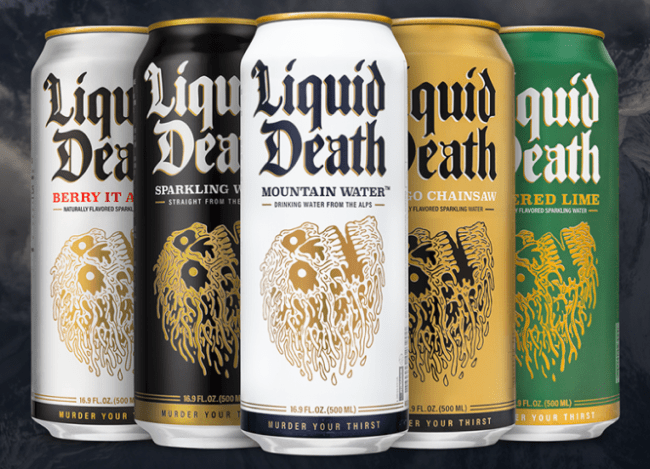 Have you ever been so thirsty that you just wanna murder your thirst? Like violently murder your thirst with a machete, a chainsaw, or even fresh mountain water from the Austrian Alps, all while helping to reduce plastic pollution? If you answered yes, then Liquid Death is the water you've been looking for.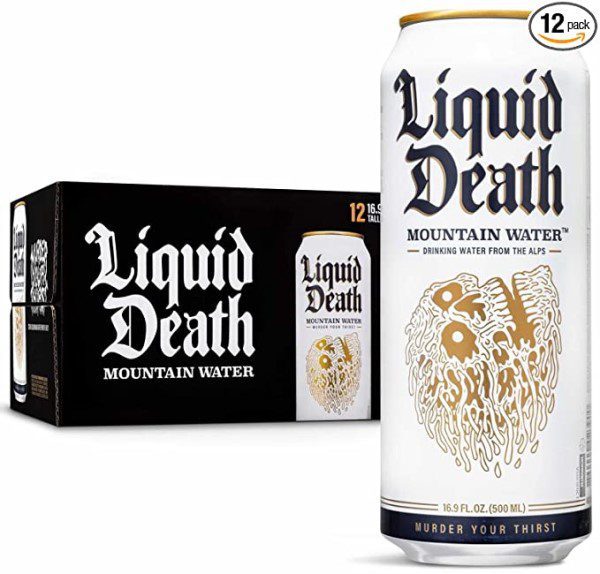 Liquid Death is different from any other packaged water on the market, and not just because they opt to use aluminum cans instead of plastic bottles. Liquid Death has declared death to plastic, hired witches and adult film stars for commercials, and will even take your soul as payment to join an exclusive club.
In this review I will go over the basics of Liquid Death, the products they provide, the unboxing process, as well as the website and overall marketing to help you decide if you truly want to murder your thirst with a tallboy of Liquid Death.
PROS
Water sourced from the Austrian Alps
Wonderfully funny marketing
Aluminum cans are more likely to be recycled than plastic bottles
CONS
No trigger warning on certain advertisements
Aluminum can production still pollutes the environment
BOTTOMLINE
Liquid Death is the alternative water for the alternative crowd. With a marketing campaign full of dark humor and edgy imagery, Liquid Death sets itself apart from all the other brands while trying to remain as environmentally friendly as possible.
Product Features:
Mountain water from the Austrian Alps
Flavored sparkling water available
Unique set of merchandise
What is Liquid Death?
Liquid Death is a line of packaged water that markets itself very differently than any other bottled water. For one, Liquid Death comes in cans as opposed to the bottles that Pepsi and Coca-Cola use for their Aquafina and Dasani products. This is because Liquid Death has declared death to plastic, opting to use aluminum cans because of the simple fact that they are infinitely recyclable, whereas most of the plastic bottles sorted into recycling bins are thrown into a landfill anyway.
Liquid Death stands apart mostly in their marketing. I find that most water brands sort of have the same aesthetic to them, that being the clean, pure, super sanitized feel that wants to convince you that you're drinking straight from a waterfall in Narnia.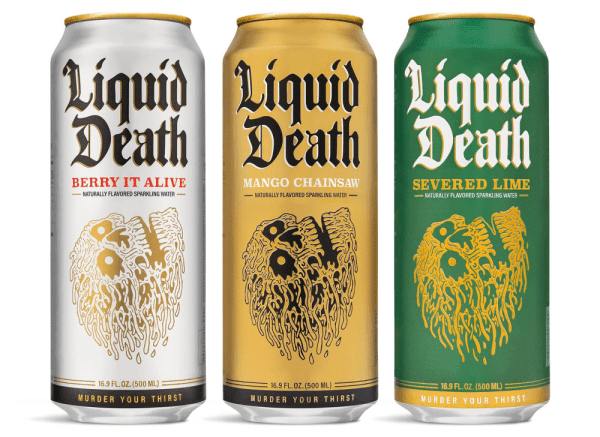 Liquid Death is different in that they choose to have this wonderfully dark and macabre, yet fun and humorous, horror and heavy metal inspired feel to their brand and marketing.
Advertisements for Liquid Death include using a real witch to skew the odds of the Super Bowl, a maniacal musclebound mascot with a can for a head going on a killing spree, actor Joe Manganiello using his blood to sell his soul to become a member of the Liquid Death Country Club, and so much more.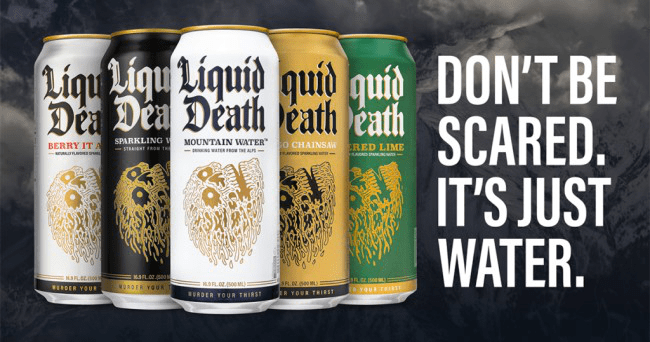 As for the product itself…it's just water! Spring water from the Austrian Alps to be exact. Liquid Death provides a simple product with a complex and well thought out marketing campaign that sets it far apart from the squeaky clean competition. Despite being a product that hundreds, if not thousands, of other companies provide, there's nothing quite like Liquid Death.
Liquid Death Unboxing
When I first laid eyes upon the box of Liquid Death Berry it Alive cans sent to me by iReviews, I honestly thought it was alcohol. I don't drink out of personal preference and I've actually asked iReviews not to send me any products containing alcohol. Luckily though, the packaging specified multiple times that this was, in fact, just water.
Liquid Death leans heavily into this misconception in their marketing, however. They even have one commercial showing a bunch of preschool age kids and a pregnant absolutely partying with several cans of Liquid Death. This sort of tongue and cheek marketing is a constant throughout everything Liquid Death does.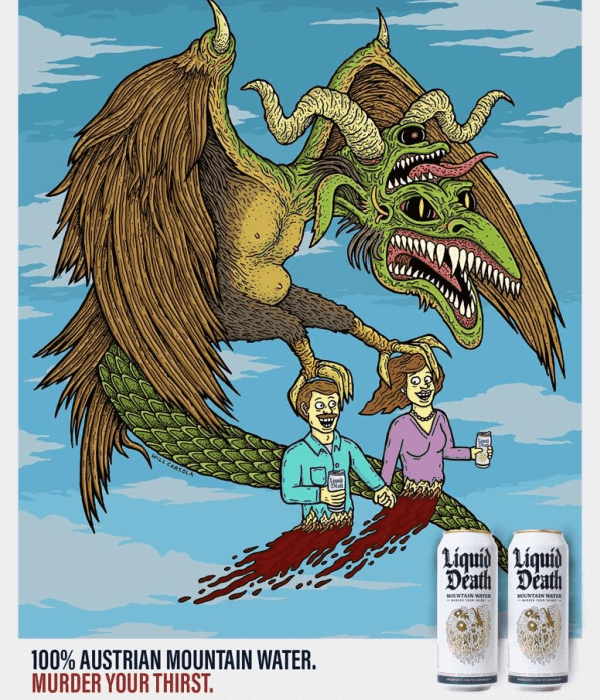 The box itself was amazing! It was decorated all over with heavy metal inspired artwork, including a beautifully gruesome mural on the back. The cans also featured similar artwork with text on each telling you about how this water is about to murder your thirst.
Other than that, there really wasn't too much to this product unboxing. The product itself is very simple, as Liquid Death say themselves, this is literally just water.
Features
Each can of Liquid Death contains 500ml of carbonated mountain water. Flavored waters contain natural additives, like agave nectar and mixed berries. That's really all you're going to get with Liquid Death, just a simple can of water, but the edge comes from the colorful text on the can and the novelty of drinking a product called Liquid Death that contains no alcohol, caffeine, or harmful substance of any kind.
Liquid Death truly is a breath of fresh air when it comes to packaged water. I find it so fascinating how Liquid Death is able to market a simple can of water in the same way one might try to push an energy drink or a can of beer.
Liquid Death Test
Yep, it certainly is water! I personally was sent the Berry it Alive variant of Liquid Death's line of flavored carbonated water, which I compare to La Croix in my unboxing video. I've never been a fan of drinks like this, as I make very clear in my video, but Liquid Death was definitely the best I've had.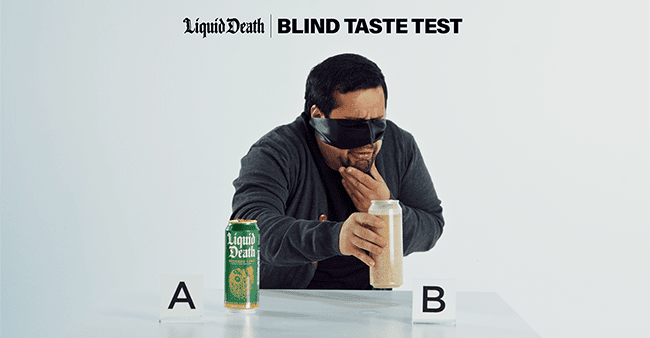 The product itself from Liquid Death is almost the least interesting part of them. Once again, this is just water. The only thing special about it is that it comes from the Austrian Alps. This is possibly the shortest and easiest product test I've done so far as the real black magic of Liquid Death comes in their presentation and marketing.
How Can You Use Liquid Death? / Who Is This For?
Liquid Death can be enjoyed by all the hellish creatures in the underworld as well as us mortals on the material plane. Liquid Death appeals most to individuals who indulge in alternative lifestyles who still want to do their part to make this planet a better place, the environmentalist metal head or the psycho killer recycler (a good mascot name would be the Repsycho).
Liquid Death is used like any other canned beverage, simply open the tab, sit upon your throne of skulls, and enjoy! That's how we all enjoy water, right?
Web Infrastructure
Browsing through the official Liquid Death website was quite the treat. For one, there were no annoying pop ups asking me to join some newsletter or chat with a specialist. These types of pop ups have become the bane of my existence as a reviewer, but Liquid Death seems to have sent all of those to Davy Jones' Locker.
Not only can you use the website to buy water, but Liquid Death also offers a selection of wonderful merchandise, including shirts, hats, koozies, dog toys, and even a set of bright pink Liquid Death branded briefs, though these appear to be sold out.
You can also sell your soul, or pay cash if you don't have one, to Liquid Death in order to join the Liquid Death Country Club. By joining, you can get exclusive access to certain pieces of merchandise, invites to shows and events, and anything else Liquid Death decides that your soul is worthy enough for.
My absolute favorite part of the Liquid Death website is the Time Waster 5000 page. Here you can view all of Liquid Death's commercials and marketing stunts, including their blind taste test video where they have people compare Liquid Death to expensive liquids like caviar and spanish squid ink in a blind taste test similar to the Pepsi Challenge, Jackass star Steve-O receiving a water tattoo, Tony Hawk having his blood taken to be used on the ink of a limited run of special edition skateboards, and so, so much more!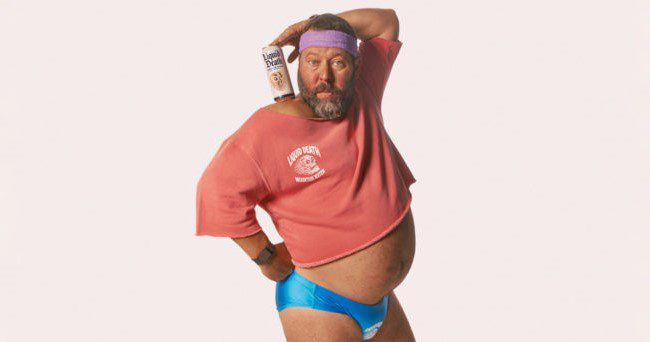 My one complaint with this section is that there's no content or trigger warning for some of the more hardcore content. I know giving a trigger warning may not be seen as punk or metal, but I personally believe that alternative culture like this should be accessible to everyone and that more should be done to make sure everyone can have a hellish good time with Liquid Death. In particular, videos involving real blood and vomiting I feel should have a content warning.
Should You Buy It
If you're tired of bottled water companies selling you literal garbage that can't be recycled all under the lie that the liquid inside comes from the tears on a unicorn and you want a water that will punch you in the stomach and murder your thirst all while being an environmental alternative to the former, then Liquid Death is perfect for you.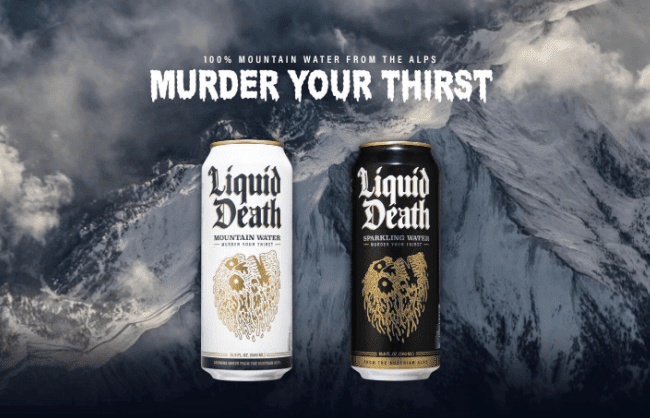 Bring Liquid Death to a horror movie marathon as a perfect companion drink to watching Freddy Kruegar terrify some teenagers, or show up to your next Dungeons and Dragons game with a case, because there's nothing more metal than a bunch of nerds yelling that the plastic cube didn't fall right, all while sipping on fresh mountain water.
Where to Buy
Liquid Death can be purchased online through the official site or from Amazon along with several physical store locations, including 7/11, Whole Foods, Publix, Sprouts, GetGo, Sheetz, and Gopuff.
Competition
Dasani is the line of bottled water produced by Coca-Cola and is available pretty much anywhere you can find Coke products. This is the most basic and typical packaged water you can find.
That being said, Dasani does all of the things Liquid Death stands against. Along with having that squeaky clean all natural aesthetic that's common among packaged water, Dasani is typically sold in plastic bottles that aren't as likely to be recycled as the aluminum cans that Liquid Death uses.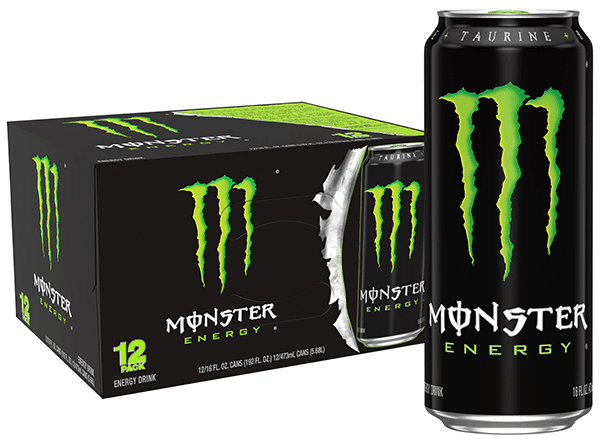 Monster Energy markets itself with a similar edge to Liquid Death, though for an energy drink instead of water. Monster Energy drinks are typically loaded with caffeine, added sugars, and lots of other ingredients that aren't exactly good for you.
Something interesting I found out in my research on Liquid Death is that in events that Monster Energy or similar beverage brands sponsor, they will give the entertainment cans of regular water disguised as Monster Energy so that they can promote the brand while staying hydrated. This shows to me that Monster Energy knows that their products won't energize you the way they say they will and that overall, water is often a better option.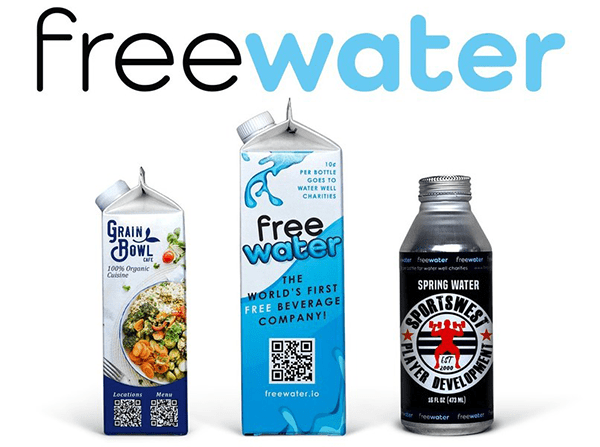 One negative point I've seen brought up in regards to Liquid Death is the fact that they are bottling, selling, and making a profit off what should be a free resource to all. This is something that Free Water was made to combat.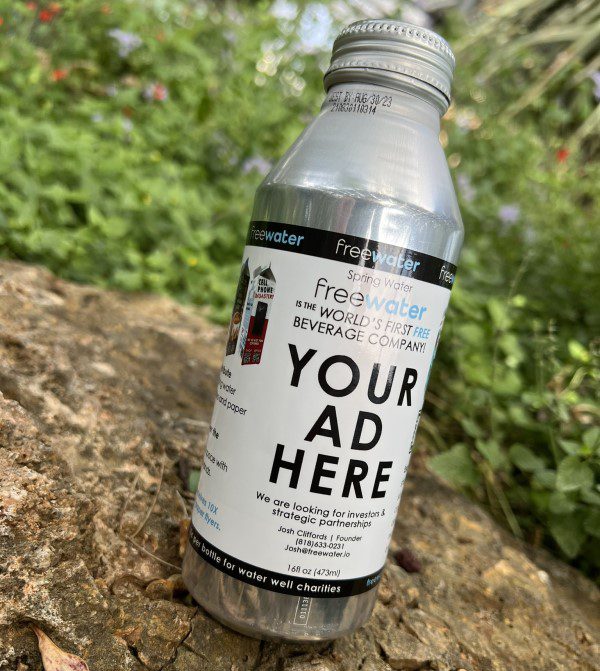 Free Water will distribute water in recyclable containers at no cost to the consumer. In order to fund this process, Free Water offers their packaging space for advertisements so that companies and individuals can get the word out about their brand or product on what is essentially a small, mass produced billboard. In terms of doing good and sustainability, I think Free Water beats out Liquid Death.
Final Thoughts
Liquid Death has by far been one of the most interesting and fun products to unbox, test, and research in my time with iReviews. The product itself is unremarkable, it's just water that might be slightly better than what comes out of your sink, but the marketing is fantastic!
By having this edgy, horror and heavy metal inspired look and feel to everything they do, Liquid Death really stands out among the competition. Their marketing is so effective, I even found myself trying to emulate it for this review.
However, I do have one issue with Liquid Death. While Liquid Death declares death to plastic and insists that by using aluminum cans that they are helping to save the environment, that isn't exactly true. Aluminum isn't the nature friendly material that Liquid Death makes it out to be as a lot of resources and land go into making these cans and the production can cause irreversible damage to areas the plants are in.
Still, I can't really fault Liquid Death for attempting to get their users to be more environmentally conscious about the products they consume and the trash they create. I see using aluminum cans instead of plastic bottles as the lesser of 2 evils.
But overall, Liquid Death is a wonderful, albeit simple, product with amazing marketing behind it. Next time I'm in the store looking for a beverage, I think I'll reach for a can of Liquid Death.
Resources and Further Reading