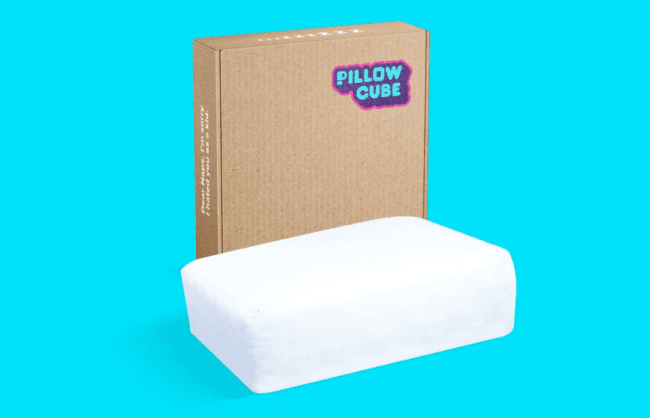 I've taken a look at a lot of different sleep aid products in my time at iReviews, but the Pillow Cube has got to be one of the most unique. Made for side sleepers in mind, the Pillow Cube and other Pillow Cube products aim to better align your spine offering the most comfort possible to those individuals.
I always have a lot of fun when testing out sleeping aid products like this, who else gets to get paid to test out a pillow? Pillow Cube was another wonderful experience. In this review I will go over the basics of the Pillow Cube, my unboxing and testing process, who I think this product serves best, and the company's online infrastructure to help you decide if Pillow Cube is right for you.
PROS
Comfy
Cool to the touch
Customizable
Perfect for side sleepers
CONS
May not be great for back or stomach sleepers
Price
BOTTOMLINE
Pillow Cube is a great option for side sleepers but the price may scare off most. For about $150 for their standard pillow, I could understand why someone would want to look elsewhere.
Product Features:
Soft memory foam
Cool to the touch
Lightweight
What is a Pillow Cube?
Pillow Cube is a line of memory foam pillows developed specifically for and by side sleepers. Many different models are available from Pillow Cube, including their traditional head pillows, pillows for putting in between your knees, travel pillows, and even an entire hybrid memory foam mattress.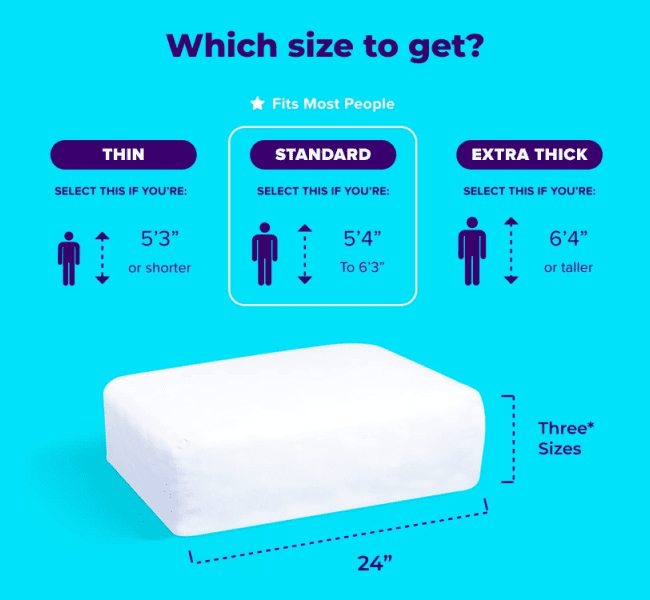 The goal of the Pillow Cube is to provide enough support to properly align your spine as you sleep on your side. Different size options are available to fit people of all shapes and sizes. Though Pillow Cube markets itself primarily to side sleepers, I feel that this pillow could serve those who sleep on their backs or stomachs just as well.
Pillow Cube Unboxing
For the purposes of this review, I received the Pillow Cube Sidekick, which is a smaller model, about half as big as the Side Sleeper Pro, and meant more to be something you stick in a suitcase for traveling or for a long car ride. My Pillow Cube showed up on my doorstep in what looked like a pizza box, which is something I didn't expect. It even said on the box "It's not pizza, it's a pillow" which I found very funny and cute.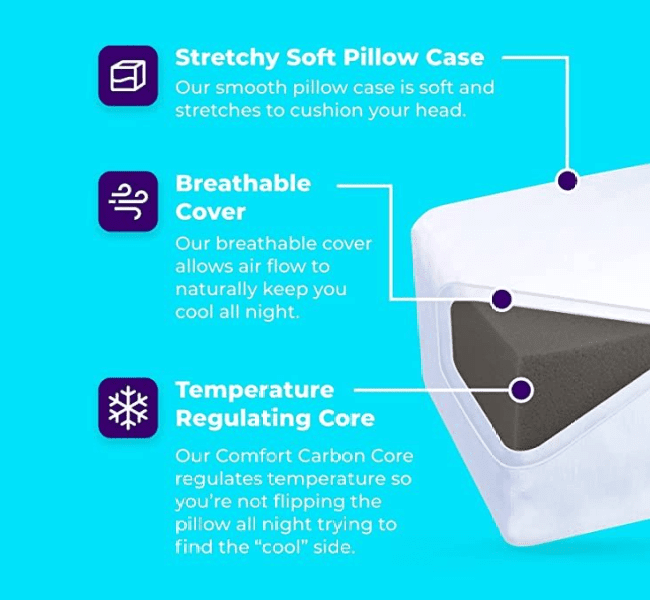 After opening the box I was met with a wonderfully designed interior full of the Pillow Cube's unique branding. Much of the packaging design and branding for Pillow Cube uses what I like to call an arcade carpet pattern. I absolutely love this design as it reminds me of classic 80s movies like Gremlins or Back to the Future. I was actually fairly disappointed to find that Pillow Cube did not produce any pillow cases with this arcade carpet pattern, as I would have loved to have something like that to fit in with my game room.
Along with the Pillow Cube itself, the box included a Thank You note which also provided some basic getting started instructions. These instructions also included lots of nods to those classic 80s movies, instructing me to not get my Pillow Cube wet since it hates water and to not feed my Pillow Cube, much like the creatures in Gremlins.
Upon removing the Pillow Cube from the plastic wrapping, it began to expand rapidly until reaching its full size. I pressed my hand upon the pillow to find that it was quite soft and had a lot of give while still remaining oddly firm.
Another thing I had to test was the smell of the Pillow Cube. I've found that when you have cloth products shipped from a factory, they often have a very foul chemical smell to them that is difficult to wash out. This was not an issue however with my Pillow Cube, it smelled like it had just come out of my home dryer.
Overall, unboxing the Pillow Cube was a very fun and lighthearted experience. I really didn't expect the packaging to have so many jokes and references and each one made me smile as I discovered them. This all made me very excited to test out the Pillow Cube.
Features
Each Pillow Cube features a soft, spongy gray core surrounded by a stretchy pillowcase. In addition to the standard pillows, Pillow Cube offers an Ice Cube option which works to keep your pillow cooler for much longer, so you don't have to keep flipping over to the cool side.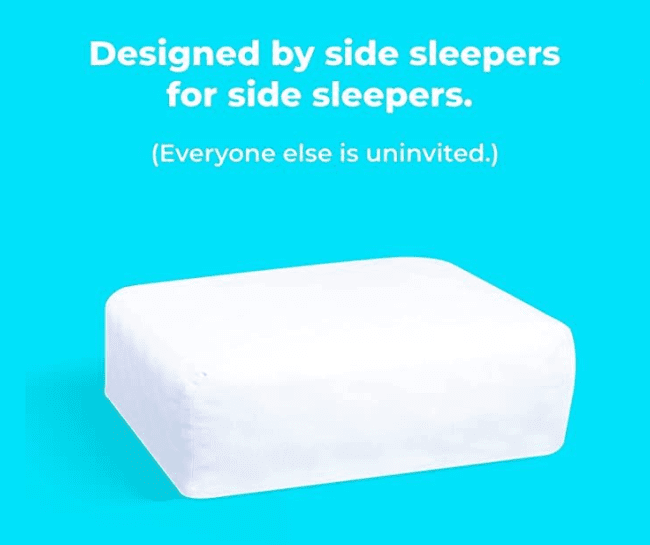 Pillow Cube claims that, by sleeping on their pillows, you will fall asleep faster, stay asleep longer, and reduce the amount of neck and back pain you experience in the morning. The outer case of the Pillow Cube is machine washable and the foam core works to regulate temperature so that it doesn't get too warm, even if you don't opt for the Ice Cube upgrade.
As far as pillows go, this is a great set of features. My Sidekick from Pillow Cube is definitely the most interesting pillow I own, as all my other ones really only have one feature, that being laying there.
Pillow Cube Test
Pillow Cube products are made for individuals who sleep primarily on their sides. I thought this was gonna be an issue at first since I mainly sleep on my back and tend to feel quite a bit of discomfort when trying to sleep on my side.
I tried sleeping with the Pillow Cube for a couple of nights, but I found it to be a bit too firm for me to actually fall asleep. I'm much more used to a softer pillow and I found it next to impossible to sleep with the Pillow Cube on my back. Lying down on my side felt more natural, but it wasn't too long before that discomfort I always feel in my chest when lying down on my side set in.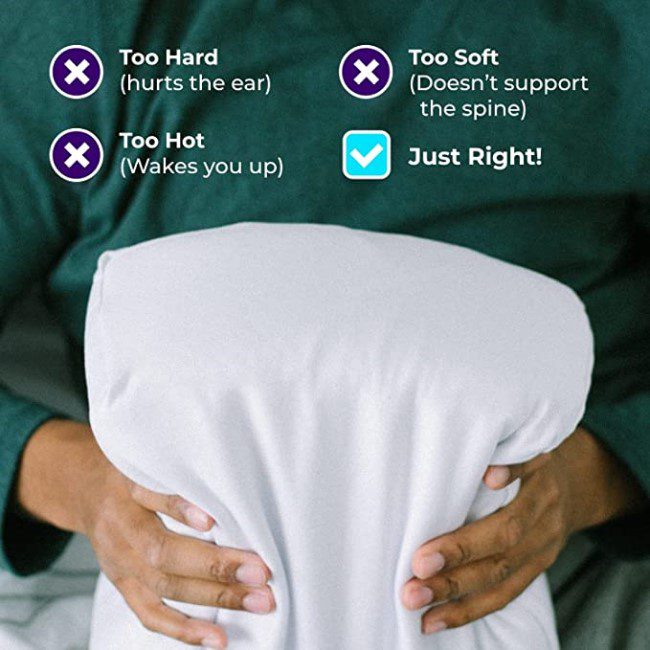 At this point I was thinking about giving up on the Pillow Cube entirely. However, I found that the Pillow Cube was especially comfy when I was just lying down and relaxing and watching TV, not even trying to fall asleep.
I also found that I experienced a lot of comfort when I slept with the Pillow Cube between my knees. Pillow Cube produces a model specifically for this, the Kneezy, and if it's made of the same material then I can only imagine that it's a way better experience.
Overall, while I couldn't really fall asleep while using the Pillow Cube as intended, I found quite a bit of use for it. I would blame my inability to sleep on the pillow cube to me just not being a side sleeper.
Pillow Cubs
I'd like to take a moment now to talk about another line of pillows produced by Pillow Cube, that being the Pillow Cubs. These are a line of smaller pillows, about the size and price of the Sidekick, made to look like animals and cuddly creatures and are aimed mostly at children.
The reason why I want to talk about the Pillow Cubs is because I absolutely hate the design of most of these. I get what they were going for with this line, essentially this is Pillow Cube's answer to the popular Pillow Pets, but something about these just rubs me the wrong way.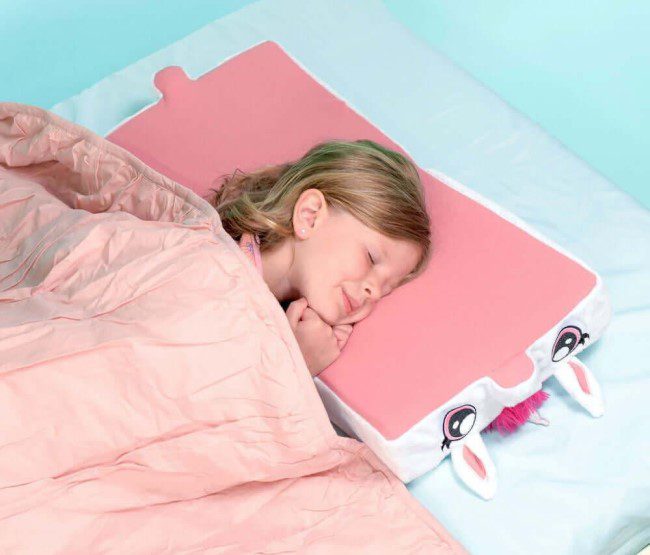 My biggest problem is that the Pillow Cubs fold open at the creature's "mouth" and the child is then meant to stick their head right between its jaws. On top of this being a disturbing image, this choice causes many of the Pillow Cubs to just look not cute at all.
I really like the idea of the Pillow Cubs. I myself was a child who took stuffed animals everywhere and am still an avid collector of plushies, but I wish someone had designed these with my concerns in mind.
How Can You Use the Pillow Cube? / Who Is This For?
The standard Side Sleeper Pro and Sidekick pillows from Pillow Cube are definitely made for side sleepers in mind, so you may want to look elsewhere if you prefer sleeping on your back or front. If you are a side sleeper and have had trouble finding the right pillow for you, then Pillow Cube is what you're looking for.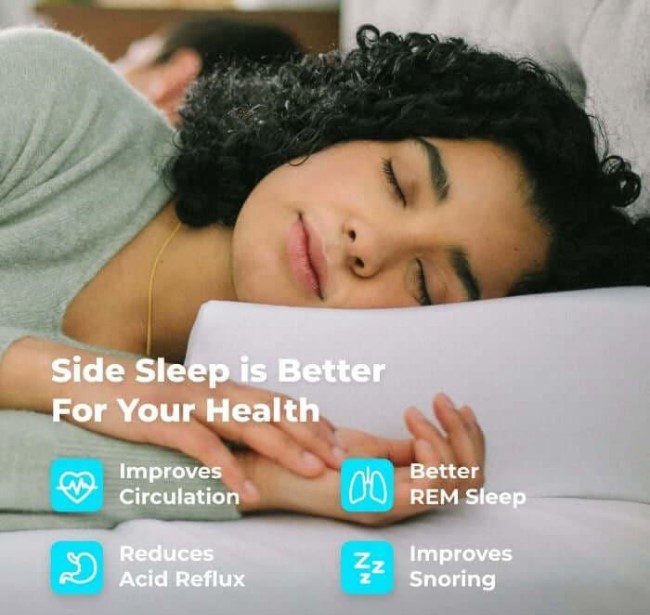 If you're not a side sleeper, however, I still think there's a lot of use you can get out of Pillow Cube products. I found that the Sidekick was perfect for just relaxing with or placing between my knees as I sleep for extra comfort.
Web Infrastructure
Pillow Cube has a wonderful website which thankfully has no annoying pop ups. Everything is laid out very well and all with that wonderful 80s arcade carpet aesthetic which I love.
Products from Pillow Cube are organized at the top of the page in 5 categories, pillows, mattress, bedding, cooling, and deals. The pillows section features all their standard pillows, like the Side Sleeper Pro and the Sidekick. This is where you can also find additional pillow cases for the Pillow Cubes.
The mattress page only has one product, that being the Side Sleeper Hybrid Mattress. If you love your Pillow Cube so much that you want your entire bed to be a Pillow Cube, then you're gonna wanna look here.
The bedding section offers a selection of sheets, comforters, and mattress covers to accompany any other Pillow Cube products. Cooling showcases any products with the Ice Cube technology, perfect for those who find most comfort sleeping on the cool side of their regular pillows. And finally, the deals page shows all of the products that are currently marked down or are on sale.
Overall, Pillow Cube has a wonderful, slick looking website that is an absolute pleasure to use.
Should You Buy It
If you're someone who sleeps on their side and wouldn't mind paying extra for a pillow made specifically for you, then I would absolutely recommend Pillow Cube. The biggest downside is definitely the price.
At $149.99 for the standard Side Sleeper Pro and $69.99 for the Sidekick, it's a little hard to justify purchasing these over a $10 or $20 pillow you can get at Target. Still, you very much get what you pay for, especially if you spring for the extra features.
Where to Buy
Pillow Cube products can be purchased through the official website. Here you can also look at any deals, other accompanying products, and upgrade your Pillow Cube with Ice Cube technology.
Pillow Cube can also be bought through Amazon, though you won't see nearly as big of a selection of products as you will on the official website.
Competition
Mattress company Purple produces a pillow that may just be the step above the Pillow Cube. The Purple Harmony Pillow claims to be the "best pillow ever invented" and has a lot of unique technology going into it.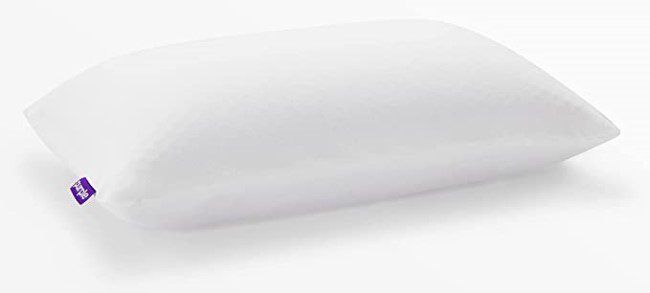 I've talked about Purple before and I haven't exactly been the kindest to them, believing that their products were 100% gimmick, but I think the Harmony Pillow might just change my opinion on them. This pillow uses the gel grid Purple is famous for though in a different pattern than their previous pillows.
The Purple Harmony Pillow is just a little bit more than the Pillow Cube Side Sleeper Pro at $179, but the extra few dollars might just be worth it. If you're a fan of Purple and their Gelflex Grids I would recommend taking a look at this one.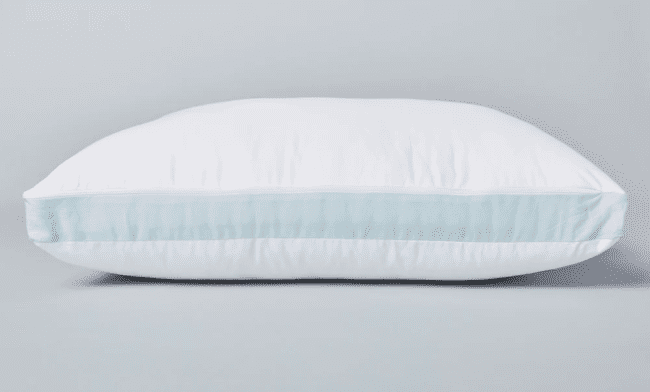 The Pluto Pillow is definitely an interesting one. Pluto produces a modular pillow that has you take a quick quiz online about your body and sleeping patterns in order to match you with the perfect pillow.
Essentially, this is a custom pillow made for you and only you. Pluto is also quite a bit cheaper than the Side Sleeper Pro or the Purple Harmony pillow, with their pillows starting at $110 with free shipping. If you want a pillow made just for you, I would suggest Pluto.
Final Thoughts
While the Pillow Cube may not be the best option for side and back sleepers, I still think this is a quality product with a lot of thought and effort put into the design. I'd imagine that individuals who sleep exclusively on their sides have trouble finding a pillow in stores that's just right for them, and this is who I would recommend Pillow Cube to the most.
While I found it difficult to fall asleep with my head on the Pillow Cube, I would blame this on my personal preference towards sleeping on my back. I also still found quite a bit of use for my Pillow Cube, as it was most comfortable when I slept with it between my knees.
The biggest downside to Pillow Cube I think is still the price. The Side Sleeper Pro, which looks most like a standard pillow, is about twice the price of the Sidekick, which I already think is too much. I personally feel that the Side Sleeper Pro should retail for as much as the Sidekick currently does, about $70, and the Sidekick should be half that. But if you can find a Side Sleeper Pro on sale or are lucky enough to see one second hand, then I would absolutely recommend giving it a look.
Resources and Further Reading