Liquid IV Drink Mix Review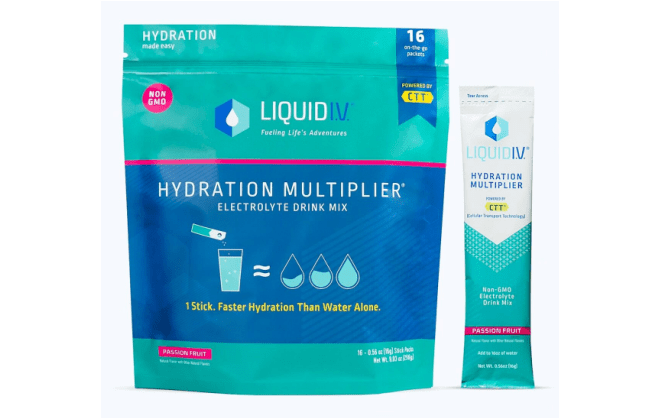 What is Liquid IV Drink Mix?
It's almost impossible to visit a grocery store today without seeing powdered drink mixes on the shelves. Liquid IV is a new company that entered this market with the tagline: Fueling Life's Adventures. You can shop for bundles that include 16 or more single-serving packets. With one quick shake, you'll get a yummy drink that is good for you.
Liquid IV lets you choose from powders designed to hydrate you, give you more energy, help you sleep or boost your immune system. While you might pick a basic bundle in your favorite flavor, you can also build a bundle that includes multiple flavors to help different parts of your body.
In this Liquid IV Drink Mix review, I'll go over all of the available bundles and flavors along with the pros and cons of these mixes.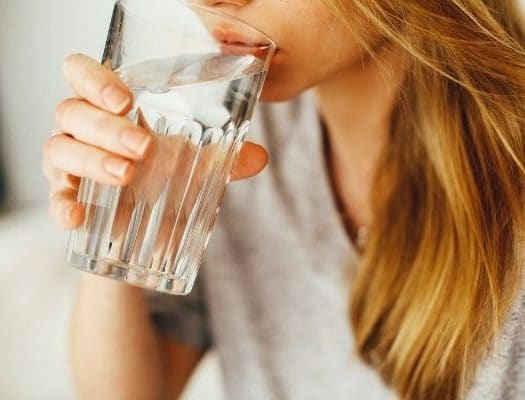 PROS
Available in a variety of flavors
Easy to use
You can pick mixes for energy, hydration, sleep or your immune system
Shoppers get bonuses when they refer their friends
All orders come with free shipping
CONS
Does not ship outside of the United States
Expensive compared to other drink mixes
Some mixes have a lot of sugar
BOTTOMLINE
Despite the high price and sugar content, Liquid IV Drink Mixes are suitable for many shoppers. You can boost your immune system and get more energy or stay hydrated and fall asleep faster. All packets have a nice flavor and are easy to use.

iReviews Shopping Assistant
Find the best prices for this and many other products with our chrome extension
Product Features
Price: As low as $1.25 per packet
Shipping Time: One to five business days
Refunds: 100% money back guarantee
Subscription Plans: Every one to two months
Flavors: Eight for the Hydration packets alone
Shipping Cost: Free
How Can You Use Liquid IV Drink Mixes?
As long as you have some source of water, you'll have no problem using Liquid IV Drink Mixes. The company recommends that you mix each packet with 16 ounces of water. It's easy to share the drink mix with others when you have a pitcher, too. Simply add one packet of the drink mix to the pitcher for every 16 ounces of water you plan to add.
Liquid IV Drink Mixes are great for use on the go, too. You can keep a few packets in your bag and add one to a normal bottle of water to get a delicious drink with tons of nutrients. There are many reusable tumblers and water bottles that you can also use with one of these mixes. I recommend using one with a tight lid to make mixing your shake easier.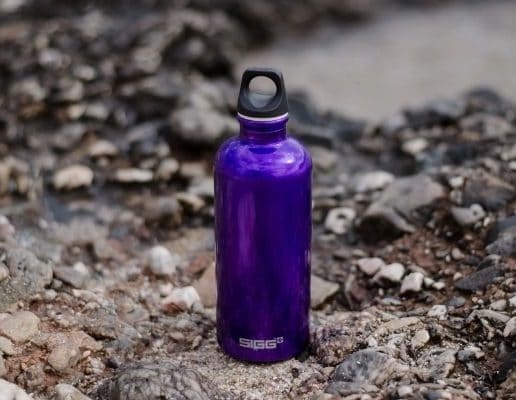 It's easy to mix these packets with water in a reusable bottle.
Liquid IV Hydration
The first product that Liquid IV released was the Hydration line. Each product comes in an easy-to-use packet with a perforated edge that lets you quickly tear them open and mix them with water. As a bonus, Liquid IV Drink Mixes do not use genetically modified organics or artificial ingredients.
You can even choose from one of eight delicious flavors:
Pina Colada
Lemon Lime
Strawberry
Acai Berry
Passion Fruit
Watermelon
Guava
Apple Pie
Liquid IV uses natural vitamins and nutrients to help you feel better than you would after drinking ordinary water. The Hydration line also uses citric acid to keep the flavor fresh, as well as stevia leaf extract, which gives the powder a sweeter taste. There are also plenty of bundles that let you stock up on your favorite flavors.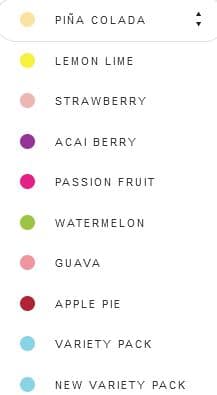 Hydration Multiplier
Shoppers who never tried Liquid IV Drink Mixes before should consider the Hydration Multiplier. This bundle comes with 16 sticks of Hydration powder in a bag with a resealable top. You can bring home this bundle for $24.27, which comes to only $1.53 per powder and is available in every flavor.

Next-Gen Hydration Bundle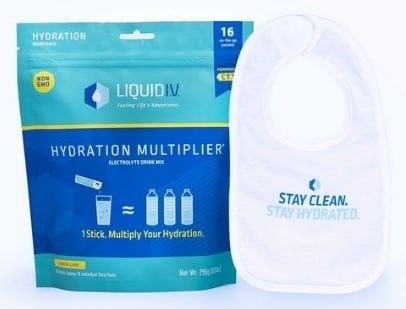 This bundle is available in six flavors, including watermelon and passion fruit. You get 16 drink packets along with an adorable bib for your little one. The bundle retails for $29.99.
CTW Bundle
The CTW Bundle gives you 16 packets of powdered drink mix along with a fun tee. You can choose from six classic flavors such as acai berry and lemon lime when you buy this bundle, which sells for $34.99.

Day to Night Bundle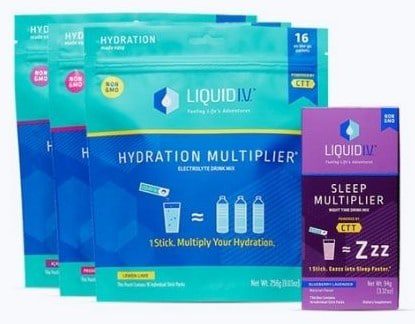 If you need help for staying hydrated or sleeping, consider the Day to Night Bundle. This bundle includes three boxes of the Hydration drink mix, each of which holds eight packets for a total of 24 packets. You also get a box with 10 of the Sleep drink mixes. The bundle sells for $54.99. You can also pay $79.99 for a bundle that includes 48 packets of the Hydration mix and 10 packets of the Sleep mix.
Wellness Starter Bundle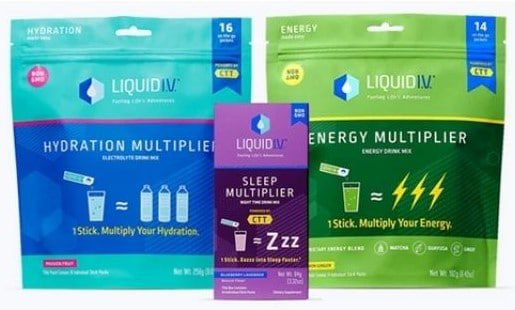 With the Wellness Starter Bundle, you can try some of the best Liquid IV Drink Mixes. This set is available in lemon lime, passion fruit, and acai berry. You get 16 of the Hydration packets and 14 of the Energy packets, which you can take whenever you need an energy boost. The set sells for $66 and comes with some of the Sleep mixes, too.
Hats Off Bundle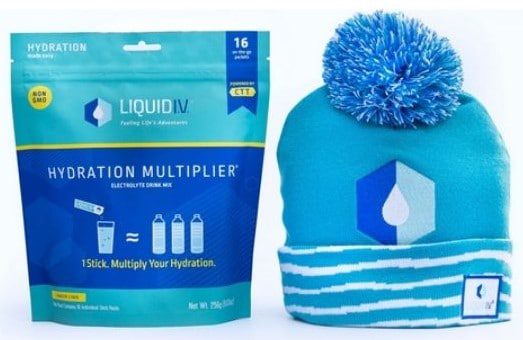 This limited edition hat uses pale shades of blue and features the Liquid IV logo along with a fuzzy pom pom on the top. When you pay $34.99 for this bundle, you also get 16 packets of the Hydration mix, which are available in all eight flavors.
Hydration Multiplier Variety Pack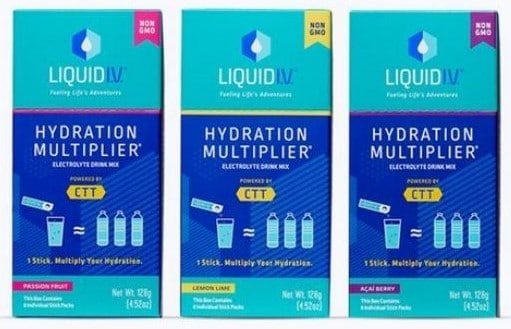 Why settle for just one flavor when the Hydration Multiplier Variety Pack lets you get three flavors to try? With the 24-pack, you pay $35.04 or $1.46 per stick. If you upgrade to the 48-pack, you pay $64.80 or $1.35 per stick. There's also a pack with 96 sticks that sells for $120, which comes to $1.25 per stick.
Good Hydration Bundle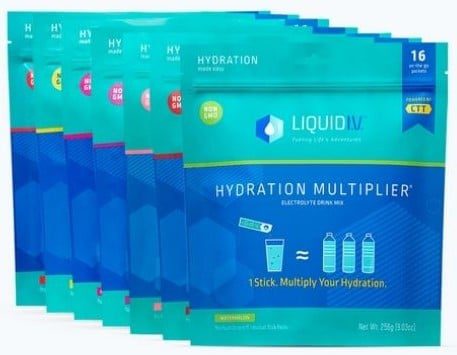 This set comes with 112 packets and seven bags that each contain 16 packets. You can sample some of the popular flavors such as lemon lime and passion fruit along with fruity flavors of watermelon and acai berry. This set retails for $140, which comes to $1.25 per packet.
Hydration Essentials Bundle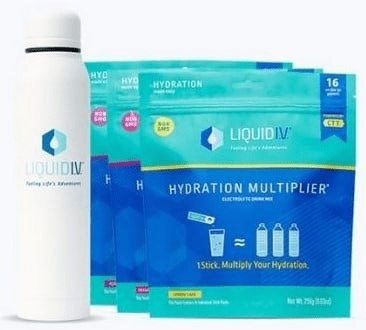 This bundle features 24 packs of Hydration drink mixes along with a steel water bottle. You can pick up this set for $54.99 or get both the water bottle and 48 drink mix packets for $85.99.
Iced Apple Bundle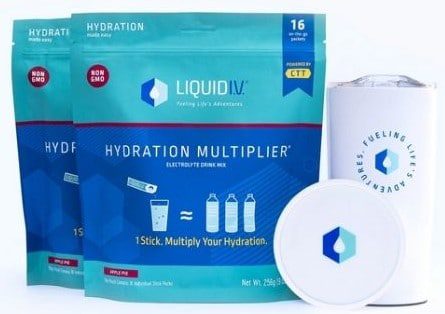 The Iced Apple Bundle gives you a tumbler that lets you take your drink with you along with a matching coaster and 32 packets of the apple pie mix. Liquid IV charges $44.99 for this bundle.
Summer Made Easy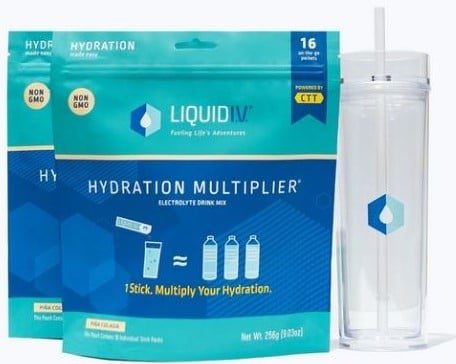 Drinking alcohol on a hot day can lead to dehydration and other problems. Liquid IV lets you enjoy the taste of those drinks with the Summer Made Easy Bundle, which includes 32 packets of the pina colada drink mix. The retail price on this bundle is $54.99 and includes some fun stickers.
Where Can You Use Liquid IV Drink Mixes?
Liquid IV Drink Mixes are perfect for use at home or on the go. Each packet is easy to use. Both USA Today and Forbes talked about the company in terms of the great flavors they offer and how much customers love the packets. There are also other bundles that come with hats or tumblers.
Designed to help with hydration, these packets are great for those who know they need to drink more water but don't like the plain flavor of water. If you spend a lot of time working outside or just hanging out with friends, you quickly learn that dehydration is no joke. As long as you have access to water, you can use Liquid IV mixes.
Some of the places you can use these mixes include:
On an outdoor job
At the gym
While on vacation
When relaxing outside
In your home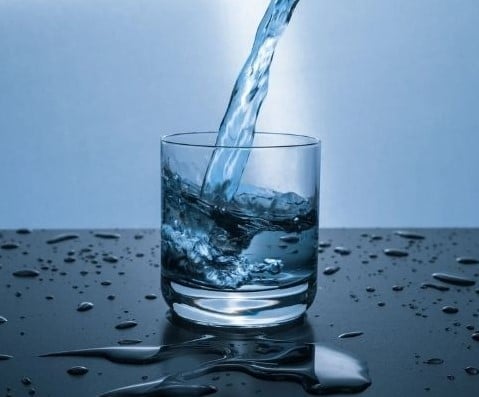 Liquid IV Drink Mixes help you avoid the serious issue of dehydration.
Who's This For?
Liquid IV made these drink mixes for those who want to stay hydrated but need some extra help. As long as you have a container and some water, you can easily use one of these powdered mixes. They come in so many flavors that you won't have any problem finding at least one that you love.
In addition to the Hydration packets, you'll find packets designed for those times when you need more energy and the nights when you need help sleeping. With the sleep mix, you can mix a drink an hour before heading to bed to make sure that you fall asleep and stay asleep. With the energy packets, anyone who needs help in the middle of the day can get some extra energy.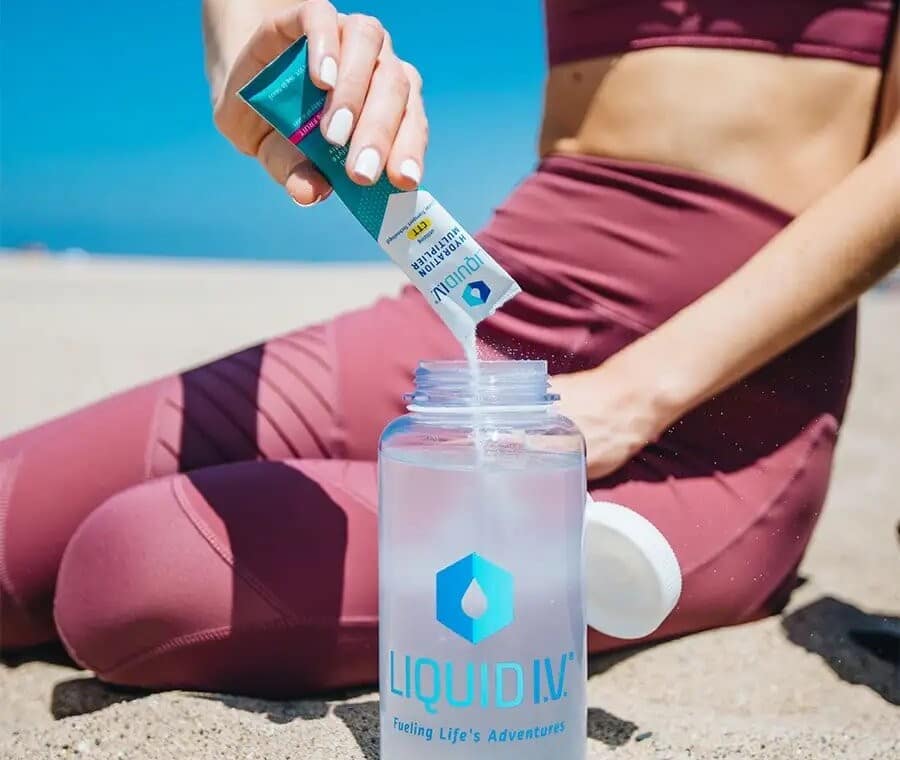 Liquid IV Drink Mixes help you avoid the serious issue of dehydration.
Liquid IV Energy
No matter what you eat or drink, you may find that you don't have nearly as much energy as you need. If you want a more permanent solution to your energy woes, try one of the Liquid IV Energy mixes. These mixes only come in one flavor: lemon ginger. This has a slightly sweet and spicy taste that gives you more energy right off the bat.
Each packet contains 1,000mg of natural caffeine. The packets also use a unique blend of ingredients designed to give you the energy that you can lose later in the day along with tons of antioxidants that help you concentrate and focus on your tasks. You can pick up the Energy packets in a few different bundles.
Energy Multiplier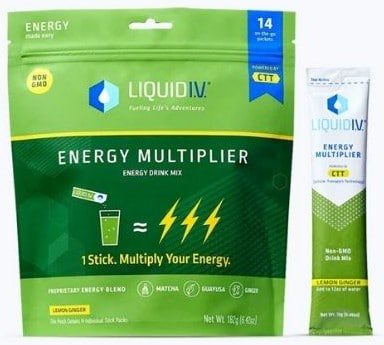 Similar to the Hydration Multiplier, the Energy Multiplier comes with 14 packets, which lets you use one mix per day for two full weeks. You can bring home the Energy bundle for $24.99, which comes to $1.78 per packet.
Warm-Up Bundle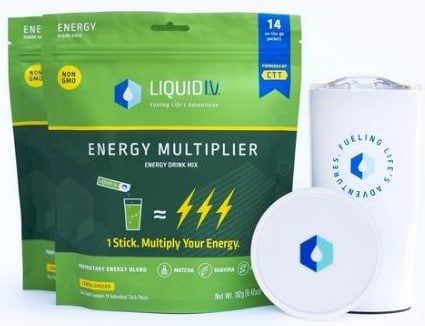 Do you have a hard time getting ready in the morning? The Warm-Up Bundle gives you everything that you need to feel energetic and perky. You get 28 packets of the Energy mix in the lemon and ginger flavor along with a tumbler and matching coaster. This set retails for $59.99.
360 Support Bundle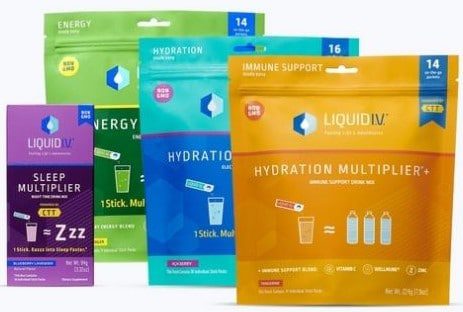 Get more than just some extra energy with the 360 Support Bundle, which can help every area of your body. This set comes with 30 packets of the Hydration mix and 14 packets of the Energy mix. You also get 10 packets of the Sleep mix. Liquid IV charges $84.99 for this bundle.
Maintain & Strengthen Bundle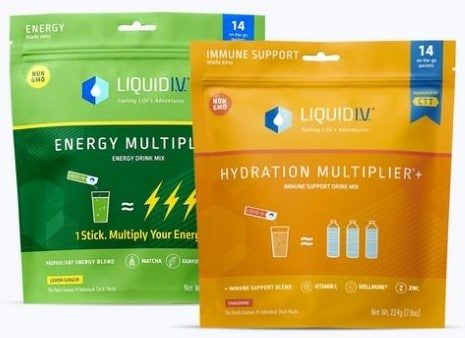 The Maintain & Strengthen Bundle from Liquid IV features 14 packets of the Hydration mix and 14 packets of Energy mix. Designed to boost your energy and keep you hydrated, this set comes with almost enough mixes to use one per day. It's available for $44.99.
Who Would Benefit from Liquid IV Drink Mixes?
Millions of people around the world could benefit from Liquid IV Drink Mixes. When you buy any of the bundles, the company will match the amount that you buy with a donation to a needy person. These packets are a great choice for campers and hikers. You may need to treat the water that you drink in the great outdoors. Other people we think would benefit from these drink mixes include:
Anyone who needs to drink more water daily but hates the way it tastes.
Customers looking for convenient drink mixes in fun flavors that are easy to use.
Those who experience a lot of stress and need help sleeping.
People who want to stop drinking coffee but still need energy during the day.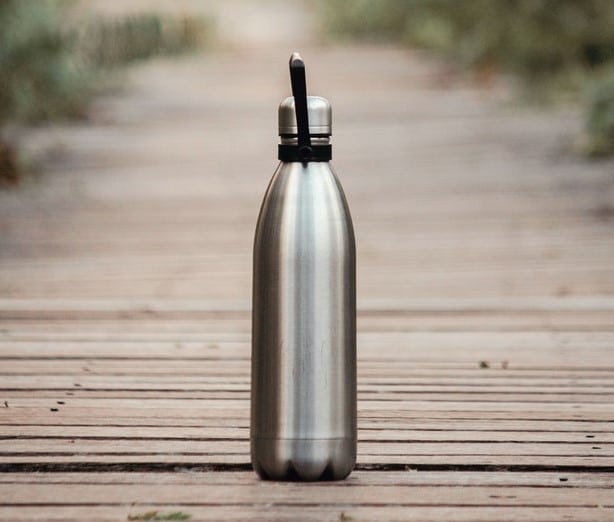 These drink mixes are safe to use in all types of reusable water bottles.
Liquid IV Immune Support
The Liquid IV Immune Support products help you strengthen your immune system all year long. These packets combine all of the benefits of the Hydration packets with support for your immune system. They come in a delicious tangerine flavor and pack a citrus kick.
Each packet gives you five times the recommended daily amount of vitamin C. You can bring home these packets in one of two bundles.
Hydration Multiplier + Immune Support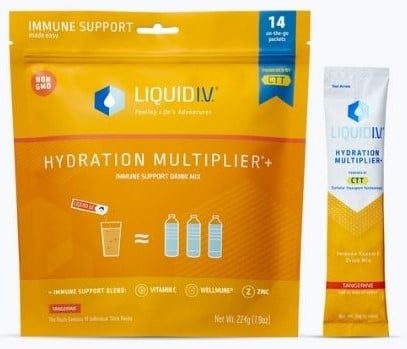 The first bundle gives you 14 packets of the Hydration Multiplier + Immune Support packets, which is enough to get you through two weeks of the cold and flu season. You pay $24.99 for this bundle, which brings the price down to $1.78 per packet.
24HR Wellness Bundle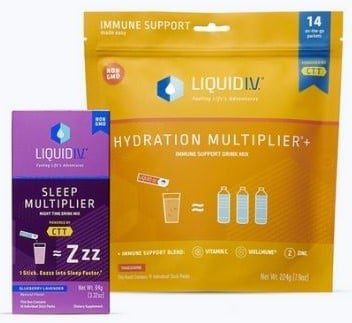 The 24HR Wellness Bundle includes everything that you need to stay healthy and get the sleep that you need. You get one box with 10 packets of the Sleep mix along with 14 packets of the Hydration + Immune System packets. Liquid IV offers this bundle for $44.99.
Liquid IV Sleep Multiplier
Do you find yourself tossing and turning most nights and waking up feeling as if you hardly slept? The Sleep Multiplier from Liquid IV helps you make those problems a thing of the past. These packets act as a sleep aid but do not contain any drugs or chemicals. The Sleep Multiplier uses melatonin and other ingredients to help you fall asleep faster.
You should drink it at least one hour before heading to bed. The blueberry lavender flavor has some floral notes along with the sweet flavor of real berries. The basic kit comes with 10 packets and retails for $23.99, which is less than $2.40 per packet. Other bundles include:
20 packets for $45.98 or $2.30 per packet
30 packets for $65.97 or $2.20 per packet
You can also snag the Sleep mixes in bundles such as the 360 Support Bundle and the Wellness Starter Bundle.

What are the Benefits of the Hydration Mixes?
Though Liquid IV makes many drink mixes and flavors, many customers order the Hydration packets. One of these packets will give you up to three times the hydration that you get from the same size serving of plain water. I found other great benefits to the Hydration packets, including:
A single packet contains only 45 calories, which is perfect for those on any diet.
The drink mixes use special technology to help your body absorb the nutrients and electrolytes faster.
You can choose from eight different flavors to find a few that you like.
The pina colada flavor is a new limited-edition flavor that tastes like your favorite alcoholic drink.
You get all of the hydration power that you need when gardening or working outside.
Liquid IV lets you buy as many packets as you want in a bundle that you can use for a month or longer.
You get tons of vitamins and nutrients such as the top vitamin B options in a packet that you can take anywhere.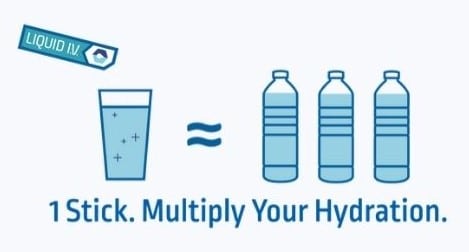 Enjoy the taste of fresh berries and other fruits with these drink mixes.
What are the Benefits of the Energy Multiplier Powder?
Many customers love the Energy Multiplier packets just as much as the Hydration Powders. Some of the benefits to snagging and using these drink mixes include:
Each drink packet contains healthy ingredients such as matcha and lemon.
You can avoid the dehydrating experience that coffee has on your body.
Some users found that these drink mixes didn't go through them as quickly as coffee did.
You can use one packet whenever you need more energy without worrying about any side effects.
The Energy drink packets give you extra energy without the crashing effect that coffee has.
Thanks to some ingredients, these packets can detoxify your body.
You get as much caffeine from one of these packets as you would from drinking two cups of coffee.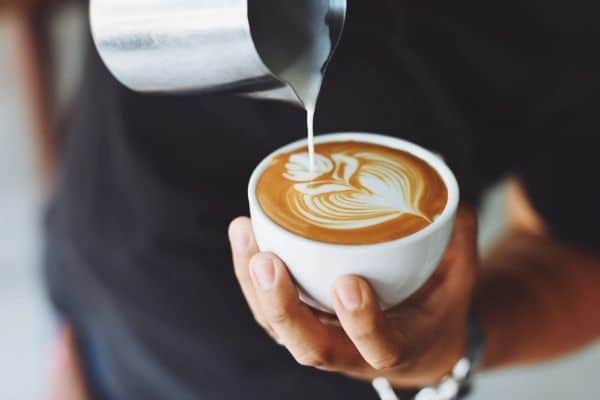 Liquid IV Energy packets give you the boost that coffee does without the side effects.
Should You Buy It?
One simple packet gives you up to three times the electrolytes that similar mixes do. Thanks to the healthy ingredients, you can increase your intake of potassium and vitamins, too. Some of the other things that we love about these mixes include:
Fast Shipping
Subscribe and Save
Lots of Delicious Flavors
Choice of Products
Helps You Avoid Dehydration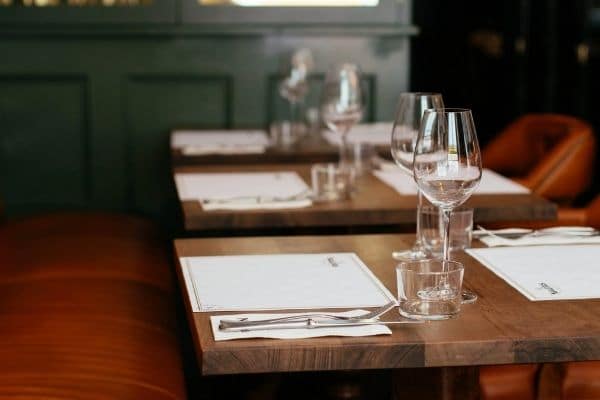 Liquid IV Drink Mixes are perfect to use anywhere you go, even your favorite restaurants.
Cons to Consider
There are some cons that we found in Liquid IV Drink Mix reviews. If you follow a keto diet, one packet may have almost as much sugar as you consume in an entire day. Those with diabetes found that the sugar caused a rise in their blood sugar levels. Though Liquid IV claims that the salt in the mix cancels out the sugar, not everyone found that this was true. Another thing to keep in mind is that Liquid IV doesn't offer shipping outside of the United States, though this may change soon.
If you buy from the site without signing up for a subscription plan, you may find that the prices are a little high. Liquid IV charges close to $2 per packet for some products. When it comes to sleep aids, the sleep powders are on par with what you would pay from other brands.
I also wanted to mention the cancellation policy that the site has. This policy states that you must cancel your plan by the first of the month. Even if you have packages shipped in the middle of the month, you need to cancel your plan by the beginning of the month.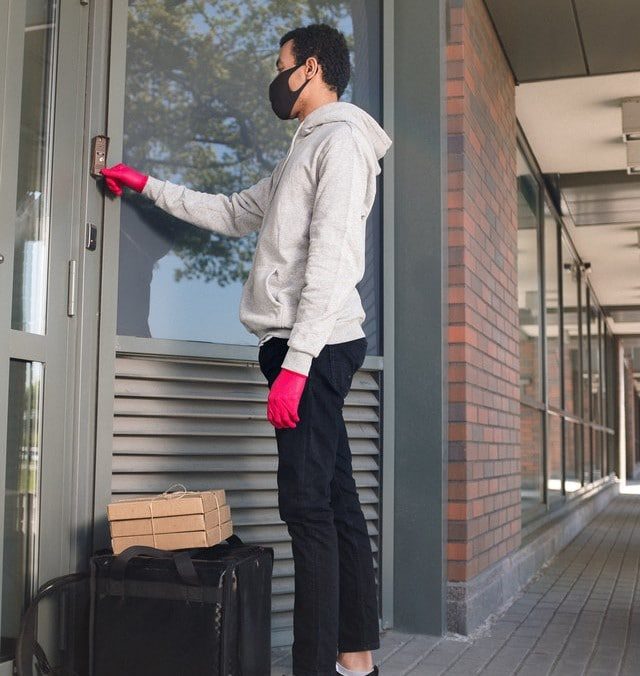 Many of the top Liquid IV complaints were about the cancellation policy. Those who didn't cancel by the beginning of the month had to pay for their next order.
Where to Buy
I recommend that you click here to buy Liquid IV Drink Mixes. This lets you check out the company's mission and see how it gives back to those in need when you buy your favorite mixes.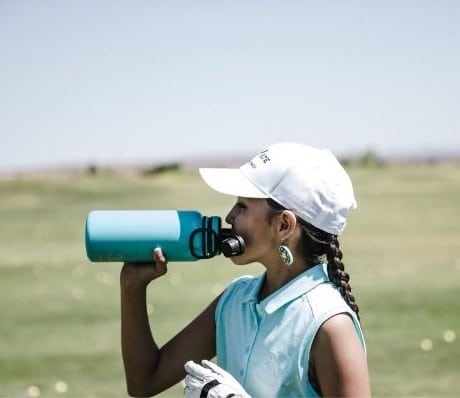 You'll find many benefits to buying these drink mixes online such as access to Liquid IV tumblers and hats.
How Does the Liquid IV Subscribe and Save Offer Work?
When you check out some products on the Liquid IV website, you'll see a subscribe and save option. This is an offer designed for regular shoppers to help them save money. The site only lets you use this program if you buy 32 or more packets. If you subscribe and save, your price drops to $40. This lets you pay only $1.25 per packet.
If you choose the 64 packet set, your price drops from $83.20 to $80. Liquid IV lets you decide how often you want the packets shipped to your door, too. No matter how many you buy, your orders will always come with free shipping. Liquid IV will bill your card on file every 30 days.
Liquid IV donates drink mix packets when you order any amount.
The Competition
The competition to Liquid IV includes both those that sell drink mixes and those that make electrolyte powders. While you can pick up Crystal Light and similar packets from any grocery store, I wanted to take the time to talk about the competitors you might only find online.
Pedialyte Advanced Care Electrolyte Powder
You might know Pedialyte for the products that they make for kids, but they also have the Advanced Care Electrolyte Powder that adults and kids can take. This variety pack comes with 24 packets in two different flavors. Each packet has up to 33% of the electrolytes that you lose from a workout or when you're outside in the heat. You can easily mix a packet with a bottle of water to get the hydration that you need whenever you need it, even when you're away from home.
Propel Powder Packets Variety Pack
Propel makes tons of products for those who work out such as these Powder Packets. Each of the small boxes holds 10 packets in flavors like Kiwi Strawberry and Watermelon. The packets have vitamins C, E and B along with antioxidants to help you recover after a tough gym session. You also get the bonus of packets that you can easily mix with water to restore your lost electrolytes.
DripDrop ORS Electrolyte Powder
Another way to battle dehydration and get hydrated is with this ORS Electrolyte Powder from DripDrop. One small box holds 16 packets. These packets contain half as much sugar and up to three times as many electrolytes as similar products do.
KEPPI Keto Electrolytes Powder
KEPPI makes this Keto Electrolyte Powder for those who need to cut back on their sugar intake. Though the powder has no added sugar, it replaces your missing electrolytes and can give you a boost of energy. Each container comes with 12 ounces of flavored powder, which makes up to 50 servings of a sweet and helpful drink when mixed with water.
Gatorade G Zero Powder
Created in Florida as a way to help college football players, Gatorade now makes dozens of products for athletes such as this G Zero Powder. While you may find it in local stores, this variety pack is only available online. This set comes with five boxes that each hold 10 packets to give you 50 servings.
Final Verdict
There's no shortage of drink mixes that come in fun flavors. Many of those products have a lot of calories and added sugar. Others lack sugar but use chemicals that might make you sick. Liquid IV makes drink mixes in powdered forms that do not use harsh chemicals and are safe for most people.
You have your choice of drink mixes based on what you need. There are also different ways that you can save money such as the subscribe and save program. I hope that this Liquid IV Drink Mix review covered everything that you wanted to know about these convenient powders.