Little Sleepies Pajamas Review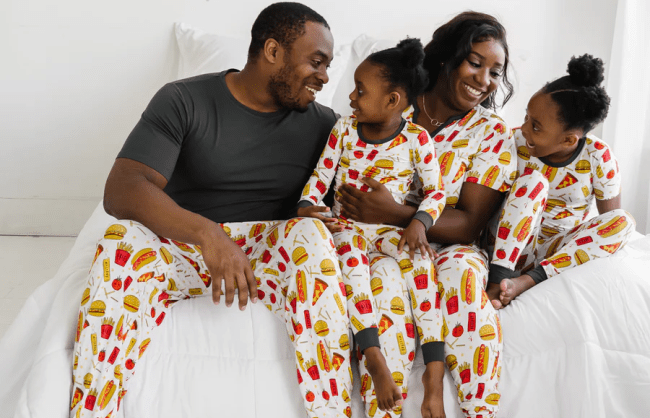 What are Little Sleepies Pajamas?
Little Sleepies is a brand that wants to help families of all types find the best sleepwear around. You can choose from zippies that are similar to onesies and have a jumpsuit design or two-piece sets that are suitable for older kids and adults. All of these pajamas use bamboo to feel as soft as possible. More than 170,000 customers now follow the brand online because they want to hear about new prints and patterns. You might see the brand online on USA Today and similar sites or on social media as some of the more popular mommy bloggers talk about Little Sleepies.
All designs use eco-friendly bamboo, which is safe for sensitive skin and super soft. You'll find classic patterns and prints that all kids love and new designs that feature popular Disney characters. Our Little Sleepies review goes over the top reasons to buy jammies from this brand and where to shop.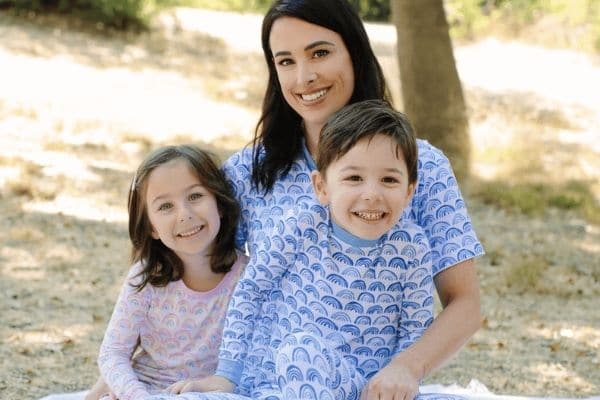 PROS
Available in tons of patterns and prints
Designed to grow with your kids
Get free shipping on US orders of $25 or more
A portion of all profits goes to Alexa's Lemonade Stand
Offers matching sets for the whole family
CONS
High prices
Some prints can sell out
Adults PJs require that you buy separate pieces
BOTTOMLINE
Little Sleepies is a great brand for parents who want comfortable pajamas for the whole family. You'll find matching sets and individual pieces made from eco-friendly bamboo that lasts up to 3x longer than other materials do.

iReviews Shopping Assistant
Find the best prices for this and many other products with our chrome extension
Product Features
Price: $35 and up
Shipping: Free on orders of $25 or more
Sizes: XXS-L for kids, XS-3XL for adults
Returns: Free
Exchanges: Free with online form
Customer Service: Online only
Little Sleepies for Babies
When it comes to babies, you have many options through Little Sleepies. These PJs come in a range of colors and sizes that fit premies and newborns up through kids who wear a 3T.
Zippies
One of the more popular lines is the zippies line. This features pajamas that are similar to sleepers or rompers. You don't need to spend a lot of time struggling to get your kids into their jammies or worry about them sliding out of their clothing at night. Available for $32 per pair, the pajamas have a long zipper that runs from the bottom of one ankle to the top of the chest. You'll find folded cuffs on both the ankles and arms that you can roll down, which gives you more fabric and ensures that the PJs fit your growing child. Our favorite patterns include Autumn Sunflowers with bright and bold flowers printed across the front and Polka Dots. This pattern comes in shorts and long pants options in soft pink.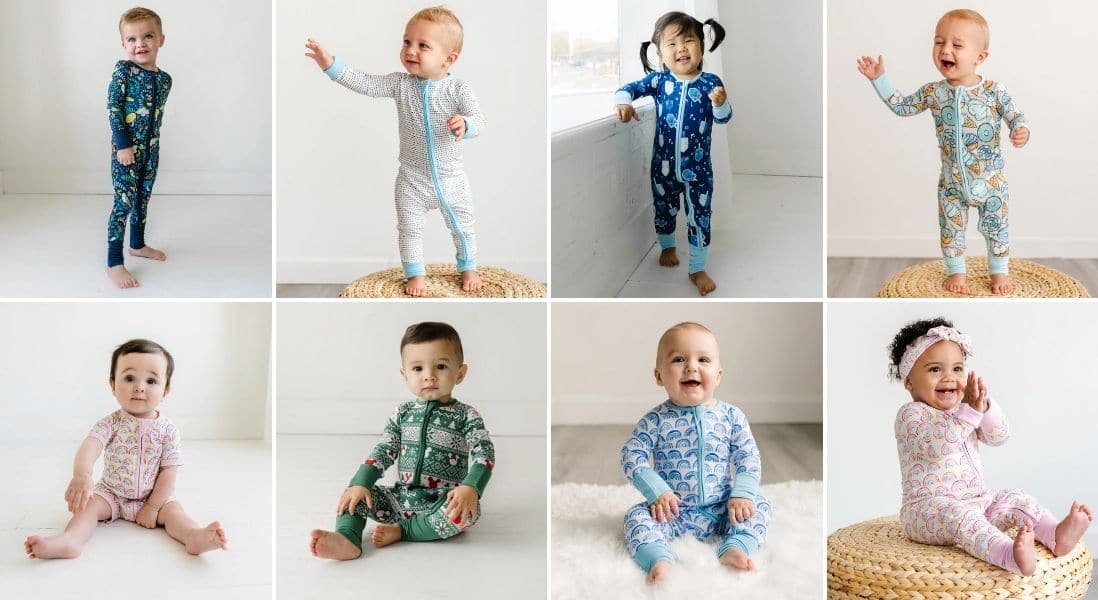 Layettes
The term layette is a french word that essentially means your child's first set of clothing. Layettes are knotted gowns that have large openings for your baby's head and fabric that extends down.
It's easy to untie the knot for a diaper change or check and knot it again to keep your baby safe. Little Sleepies offers layettes in colors and patterns that are suitable for boys and girls. You might choose an adorable unicorn print or a funky wild leopard print.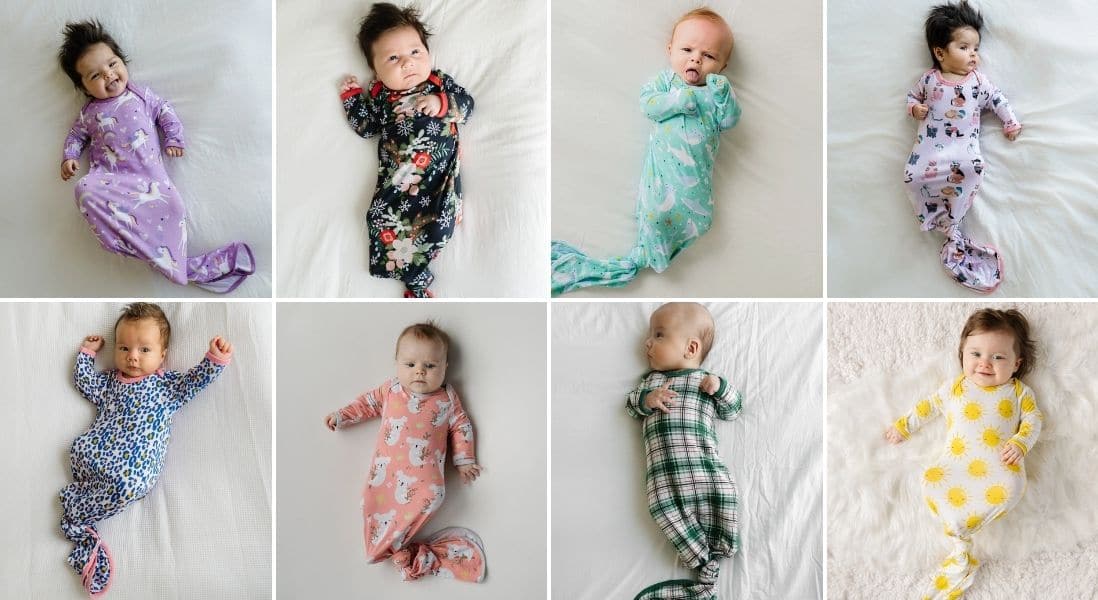 For Your Nursery
Little Sleepies can help you find some amazing pieces for your nursery, too. These products come in patterns that match your baby's favorite PJs.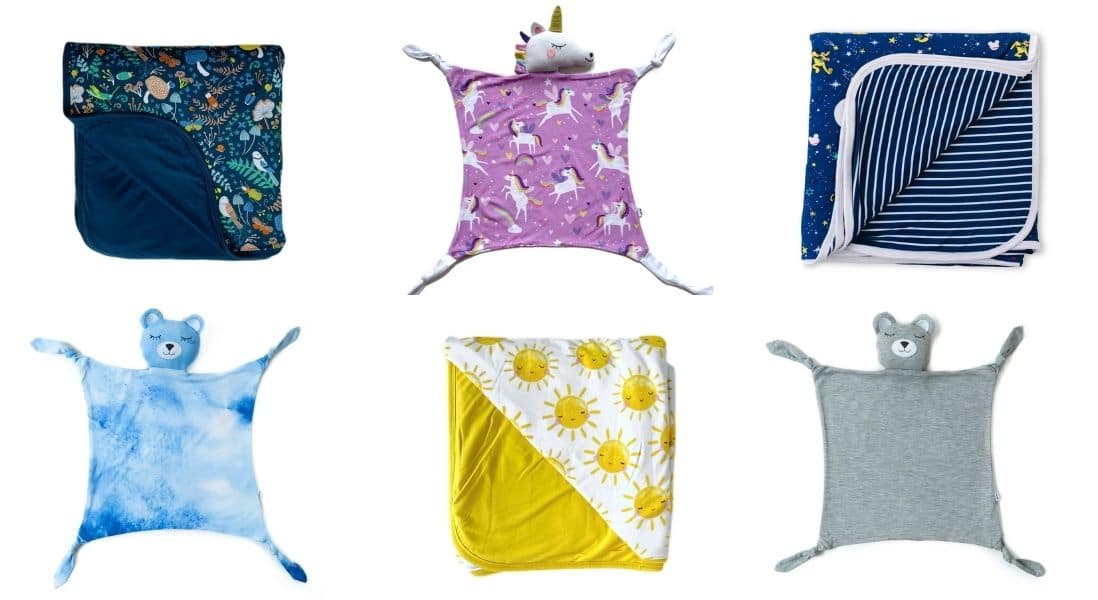 Little Sleepies for the Family
If you're looking for a pajama set for the whole family, Little Sleepies' Family Matching Collection is the place to go! Not only can you grab matching jammies for your kids, but you can pick out matching sets for you and your partner. These pajamas even come in sizes that are suitable for grandparents and other family members.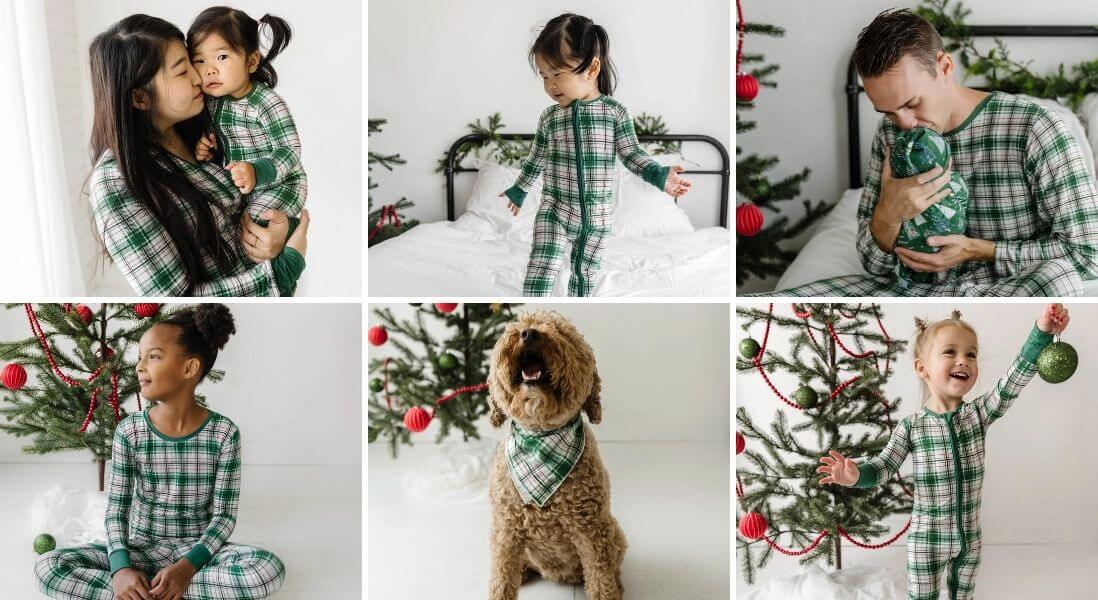 Shop for matching sets for the whole family through the Holiday Collection.
Little Sleepies for Toddlers and Kids
Little Sleepies makes some fun designs for toddlers and older kids. Toddlers can fit into some of the brand's rompers and zippies. If you want the PJs to last longer, consider going up a size.
Pajama Sets
The brand knows that older kids prefer separates, which is why it makes pajama sets. These sets come with bottoms that are similar to long johns and matching shirts. Many of the top designs have long sleeves and are suitable for wear from the fall through the early spring, but other pairs some with shirts that have short sleeves and are suitable for wear on hot days. Though you cannot buy separates, you can shop for certain colors and patterns. We like the bright flowers on the Sweet Pea design and the whimsical vehicles on the Fly With Me set.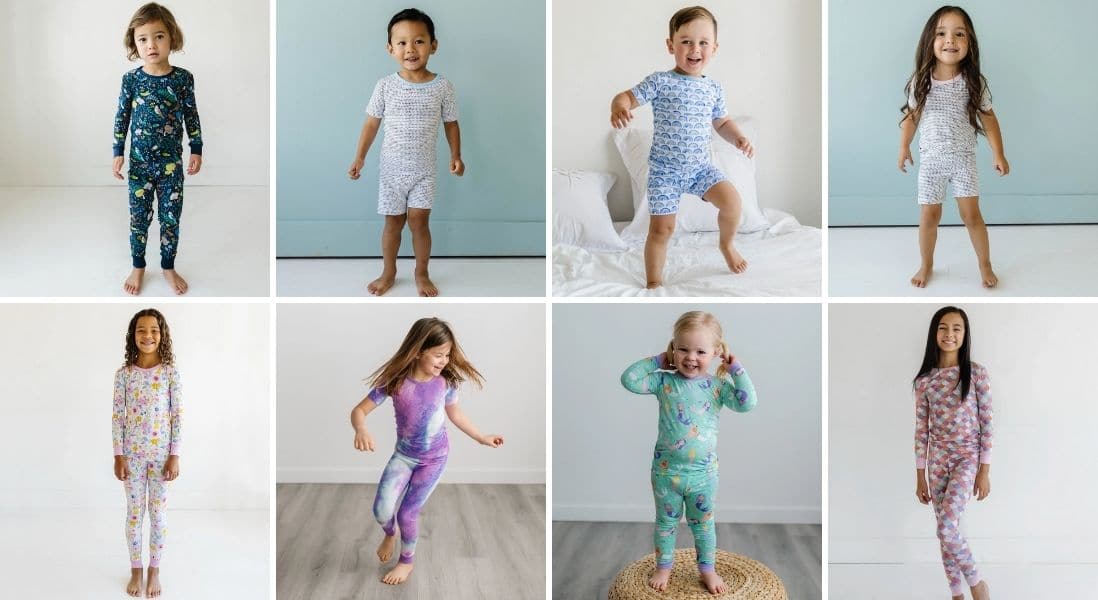 Where Can You Use Little Sleepies?
Little Sleepies pajamas are so easy to use that you can use them anywhere you take your kids. Most parents use these jammies at home to help kids stay comfortable and sleep through the night.
Little Sleepies are also made with their special "Lunaluxe" that is extremely breathable and comfortable, making it a great choice to wear in most temperatures. Little Sleepies pajamas are also considered "Seasonless Fabric" in their descriptions.
Some of the places where you can use and take these pajamas include:
Camping trips where you want your kids to stay comfy while sleeping in a tent or an RV or even camping under the stars.
Family vacations if you want to bring along some comforts of home and use them in your hotel room.
Friends' houses for kids who want to spend the night with their friends and stay comfortable all night.
Overnights with families such as grandparents who want kids to have a good time and feel as comfortable as they do at home.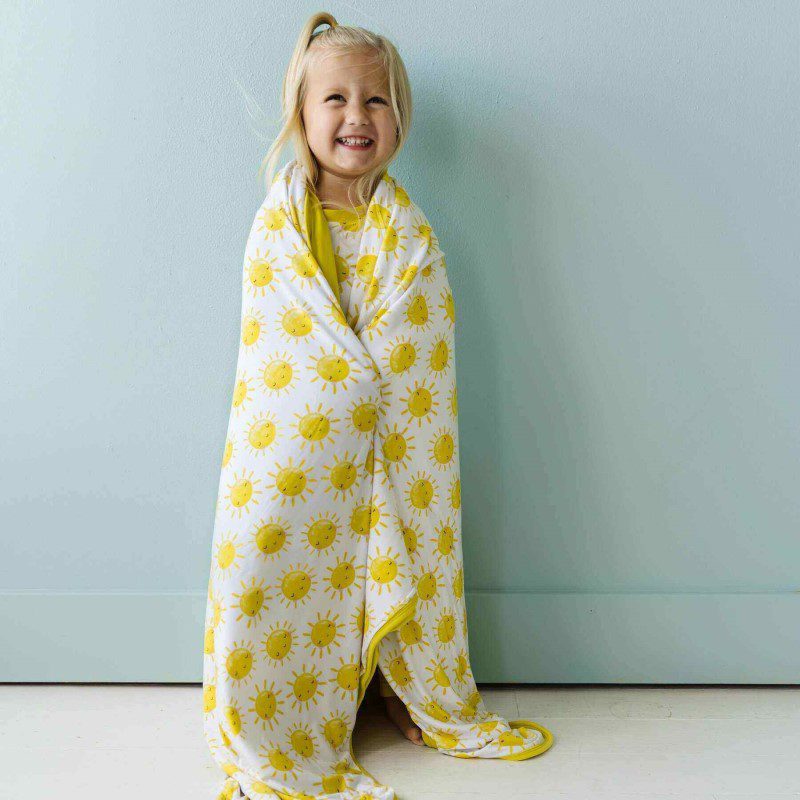 There are many Little Sleepies blankets that kids will want to take with them.
Trying Out Little Sleepies for Adults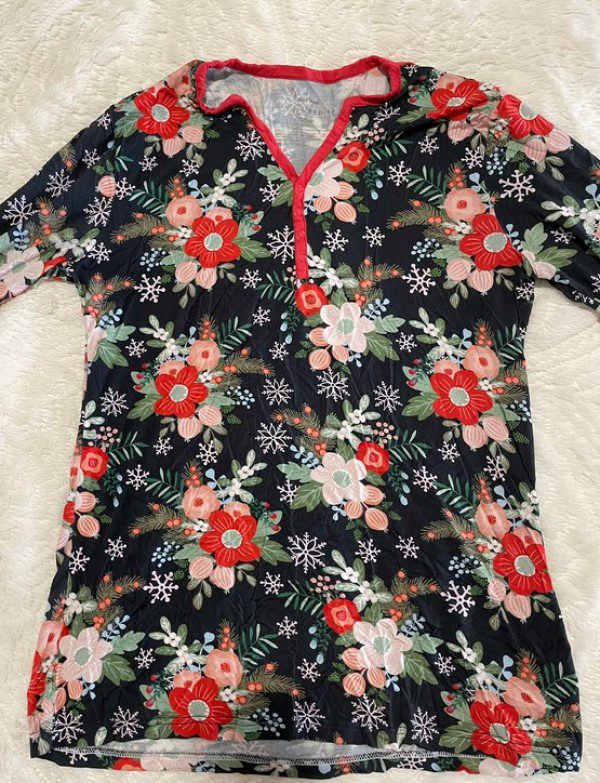 I tried out one of the Little Sleepies long-sleeved tops (mine is the poinsettia pattern). The fabric was comfortable and breathable as promised. I wore the Little Sleepies top on a particularly warm night and I didn't overheat with the top on. I also love the slightly oversized fit as it feels comfortable and roomy, but doesn't look too baggy.
Additionally, Little Sleepies' Lunaluxe fabric "Seasonless" trait holds true. Their pajamas are comfortable to wear on warmer nights and on colder nights it is still comfortable as it retains heat pretty good for such a lightweight feel.
Even after a few washes, there was no fabric pilling (little balls on fabric). Which is another big pro for me, since I've had issues with that happening to a few of my comfiest pjs.
Who's This For?
Maradith Frenkel was a busy and working mom who knew she needed to work outside of the home but also wanted to make time for her kids. She hated how much her kids fought her when it came time to put on their pajamas as much as she hated the small selection of kids' PJs on the market.
This is an experience many parents can relate to, and will also likely appreciate the vision Little Sleepies has. Other customers that may have an interest in this brand include:
Parents and other adults who want matching pajamas for every member of their families.
Those looking for soft PJs for kids that are durable and will last for more than a season or two.
Customers who want pajamas that they can easily wash and dry at home or in the laundromat.
Parents who are tired of spending a lot of money on pajamas that their kids can only wear for a few months.
Shoppers hoping to find blankets and other fun accessories for kids that match their favorite pajamas.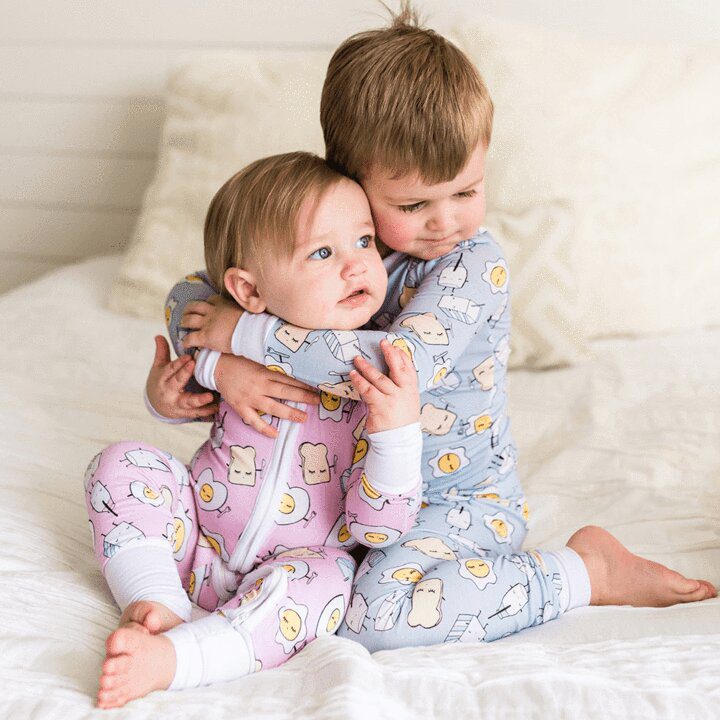 Kids of all ages and sizes love these pajamas.
Matching PJ Sets
One of the many reasons why customers choose Little Sleepies is that they can snag matching PJ sets. You'll find tons of options such as the Daddy & Me Collection, which the brand designed for dads who want to match their kids. Prices start at $35 for a full PJ set for your child or for a single piece of your matching set. Not only can you pick up PJs for babies, but the brand makes matching designs for toddlers and older kids, too. There is a Mommy & Me Collection for moms who want to match their kids and Matching Sibling Sets for parents who want their kids to match. Little Sleepies also has a Matching Family line that features jammies in sizes to match everyone in your family.
Some of our favorite patterns in these lines include:
Green Twinkling Trees with trees in light green against a darker green background.
Shark Soiree, which has a pale blue background with images of adorable sharks.
Lemons with a fun lemon pattern over a pale yellow background.
Bella Blooms that features loads of bright colors and flowers.
Bananas, which uses bright yellow bananas against a light blue background.
Blue Breakfast with breakfast foods on display. It's also available in a pink version.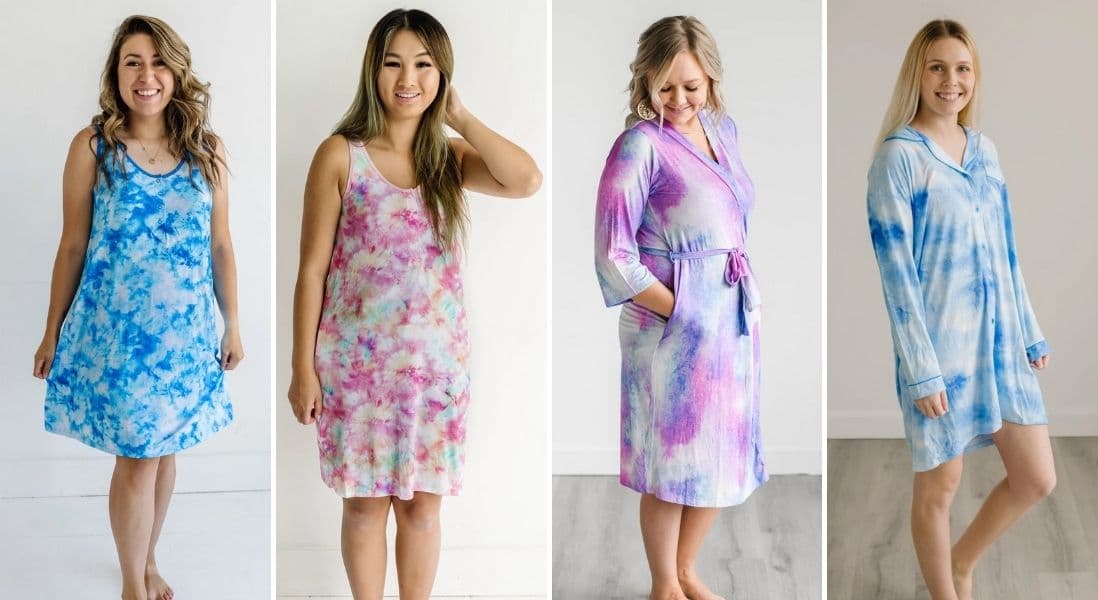 Should You Buy It?
Some reasons I recommend buying from this brand include:
They feature a Disney line that kids are sure to love.
If you spend $25 or more, you qualify for free shipping in the US.
New patterns arrive at the beginning of each season and incorporate fun colors and designs.
You can choose pajamas for premies and newborns along with adult sizes up to 3XL.
All pajamas use bamboo, which is soft and durable.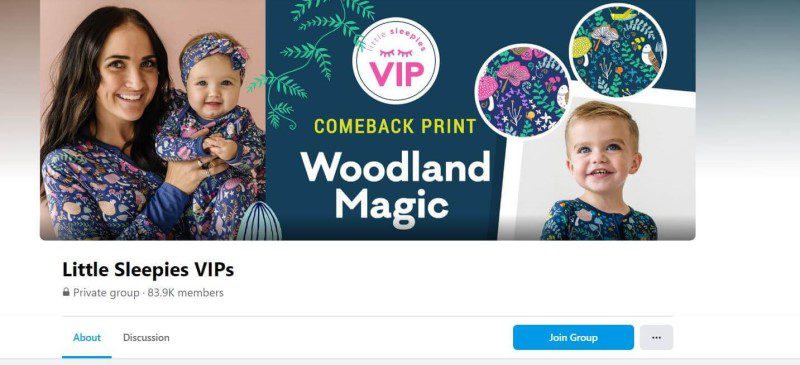 Joining the Little Sleepies VIP Club comes with tons of benefits, including exclusive access to sample sales and product launches.
Cons to Consider
Sizing: Though the brand claims that its sizes run true, many found that they needed a larger size than they usually wore. I personally found that the sizes ran a bit large. Though it could be due to a more loose-fitting pajama-style, so be mindful of sizing when purchasing!
Price: You can get similar pajamas for much less from other shops – even PJs with organic fabric like Little Sleepies.
Availability: To avoid overstock issues, Little Sleepies often has a limited stock of these pajamas which can sell out quickly.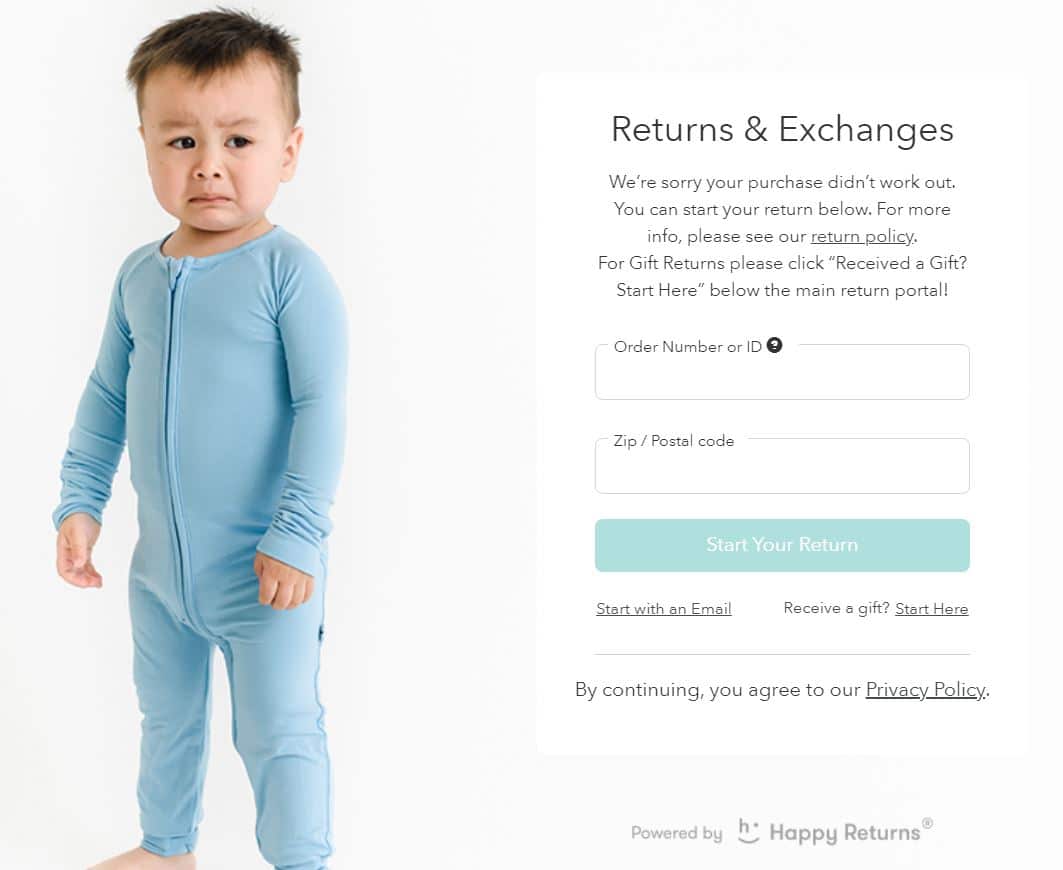 Little Sleepies makes it easy for customers to exchange their products or return them.
Competition
Though many customers are happy with their Little Sleepies experiences, you may want to consider other brands. Some brands make pajamas just for kids or for the whole family.
pact
pact is a strong competitor because this brand makes organic clothing for people of all ages and sizes on top of pajamas. You'll find sizes that range from 12-18 months up through 10/12 for older kids.
During big sales, you get 10% off when you spend $100 and 25% off when you spend $250.
pact even sells bras and underwear for women.
Carter's
As a parent, the chances are good that you know the name Carter's for all of the kids' clothing the brand makes. With free shipping to your store, you can skip the shipping fees and pick up your order at a local store.
Carter's has a few warehouse sales every year that let you buy clothing for as little as $3 apiece. Pajamas are available for $20 to $40 per set and feature whimsical patterns such as Santa faces or trucks and cars.
Carter's offers sets with two pieces and jumpers/rompers that have a single piece and are easy to put on and take off.
Hanna Andersson
Another option for those shopping for pajamas for kids is Hanna Andersson, which makes premium clothing for kids. When you sign up for the mailing list, you get a coupon that takes $20 off your first purchase of $100 or more. The site often hosts sales that take as much as 30% off pajamas and other clothing. There are DIY pajamas that use plain designs and ask you to add your own designs and holiday pajamas in fun patterns. You can also snag matching family pajamas suitable for holidays such as Christmas and Halloween. The matching sets are also available with characters prints.
Final Verdict
Although Little Sleepies is a bit on the pricy side, their pajamas have thoughtful touches that justify the price. I saw minimal negative experiences while browsing Little Sleepies reviews. I also didn't notice any clearly paid for fake reviews. My experience with this brand was also great with no complaints, which is why I feel confident in recommending it.