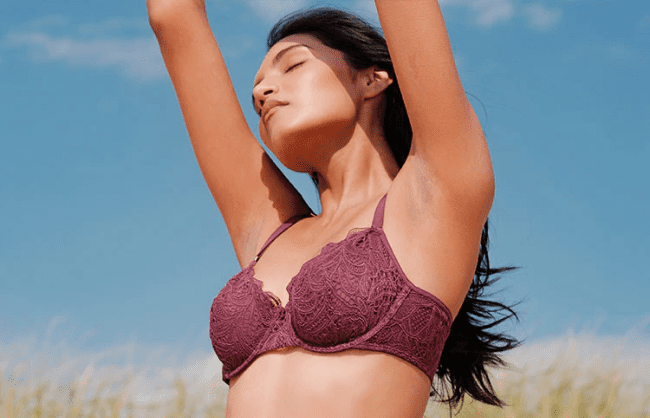 About LIVELY Bras
LIVELY is a brand founded by women, for women. In an interview with Nordstrom, the company's founder, Michelle Cordeiro Grant, discussed why comfort should not be considered a secondary consideration.
In addition to women's bras and underwear, LIVELY also provides a wide range of loungewear, activewear and swimwear, as well as fragrances and self-care products. Several well-known media outlets, including InStyle, Women's Health, Fashionista, Who What Wear, and Stylecaster, have written about and highlighted the brand.
An in-depth look into the LIVELY bras brand and its goods, as well as customer ratings, promotions and other information will be provided here to assist you to decide if their products are suitable for your lifestyle.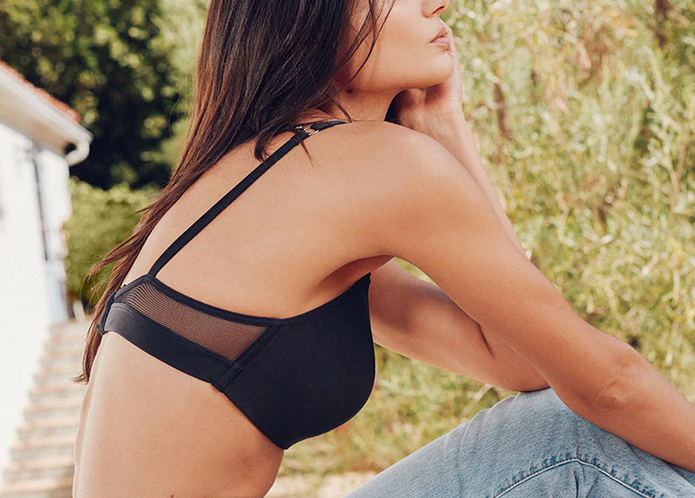 PROS
They have good vatiery of bras (color, sizing and style)
They are affordable bras
Visually appealing and nursing-friendly maternity bras (they include wireless and unpadded options)
Curated bundles come with lucrative discounts
CONS
The fit is rather tight
It's not as comfortable as I expected
Shipping is limited to the US
Bra quality is inconsistent across the brand (Some bras have better feedback than others)
BOTTOMLINE
LIVELY sells a wide range of items, including undergarments, and loungewear. They even have a LIVELY Swim collection. Although they have a diverse and affordable selection of products, be mindful of which one you order as I've seen very mixed reviews on how LIVELY bras preform.

iReviews Shopping Assistant
Find the best prices for this and many other products with our chrome extension
Product Features
Price: $10 and above
Shipping: Approximately 3 business days
Returns: 30 days, unwashed and unworn items with tag still attached
New Shopper Discount: 10% off on orders on +$40
LIVELY Front Close No-Wire Bra Review
I tried out the Front Close No-Wire Bra for two days to be able to give a full review. I'll go over the fit, comfortability, support, and visibility of the bra.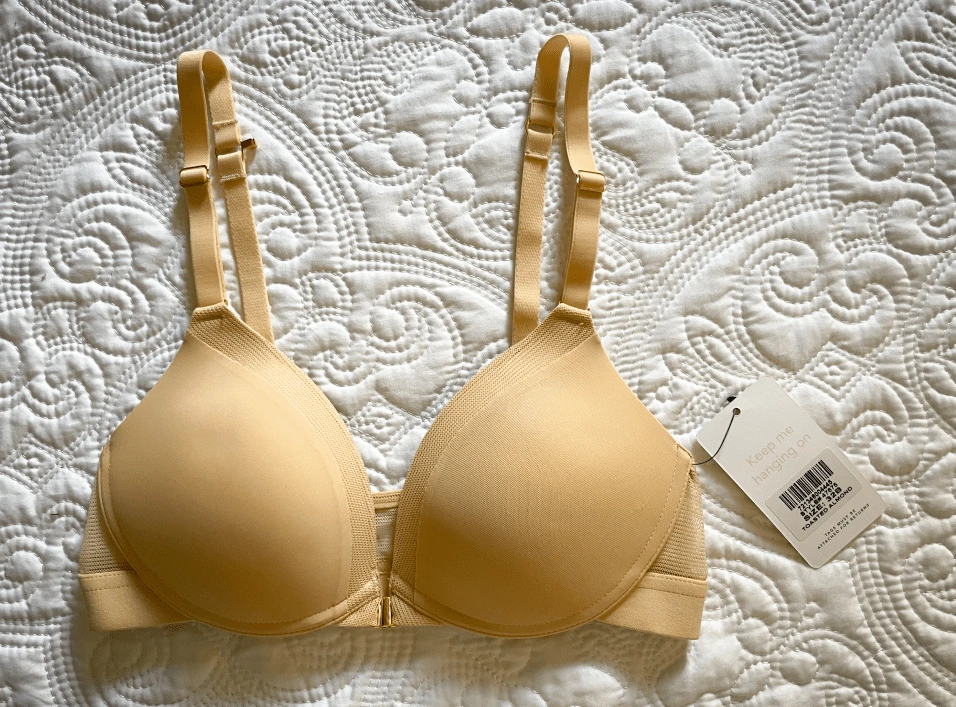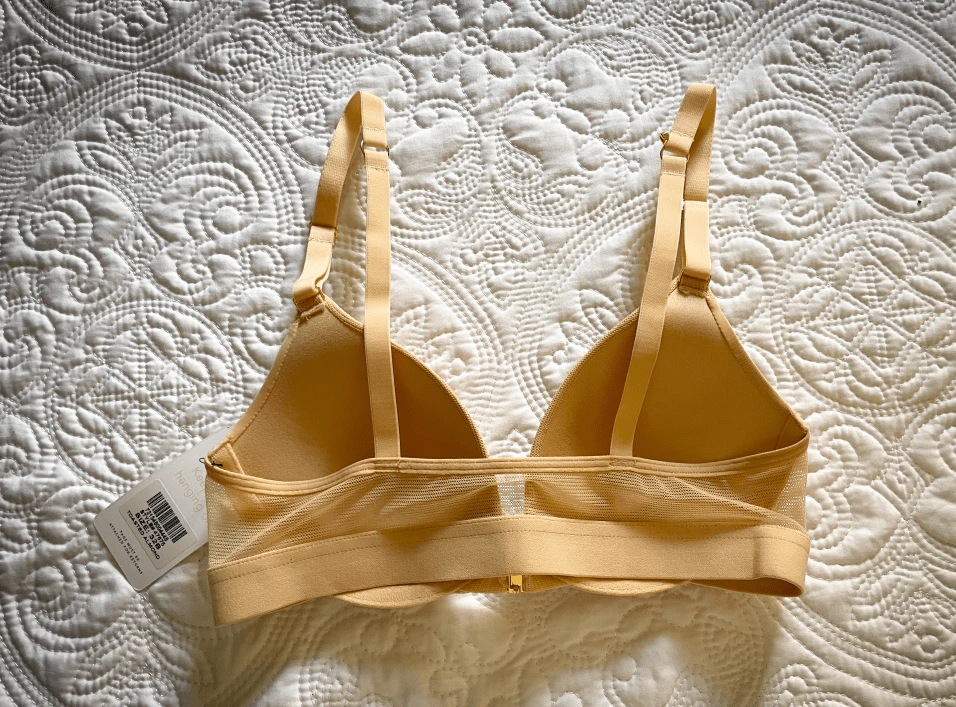 Fit
Personally, the fit of the bra was a bit tight and constricting. Other reviews also suggest that LIVELY bras tend to run on the smaller size. So, you may want to consider sizing up with the band!
Comfort
The most critical aspect to consider is how the bra feels after a full day of wearing it. Initially, the bra felt lightweight yet supportive. The perfect combination to ensure a comfortable fit. However, as the day went on, the bra began to feel uncomfortable.
Support
Although I have some complaints about the comfortability and fit, I'm honestly satisfied with the support that LIVELY bras provide. I felt confident enough to do daily activities (even a little bit of jogging) with the bra on. The cups also provided full coverage.
Visibility
I've had issues with bras showing too much on the side or even through certain shirts. That wasn't a problem with this bra though. Thanks to the no-wire construction of the bra, it offers a flatter, softer look that is less visable through thinner fabrics.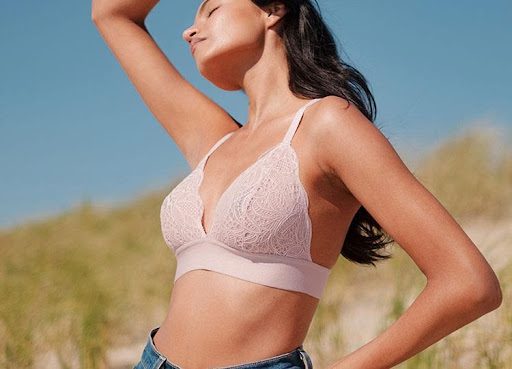 Unleash the diva in you with cool products that suit your everyday lifestyle.
LIVELY Bras Review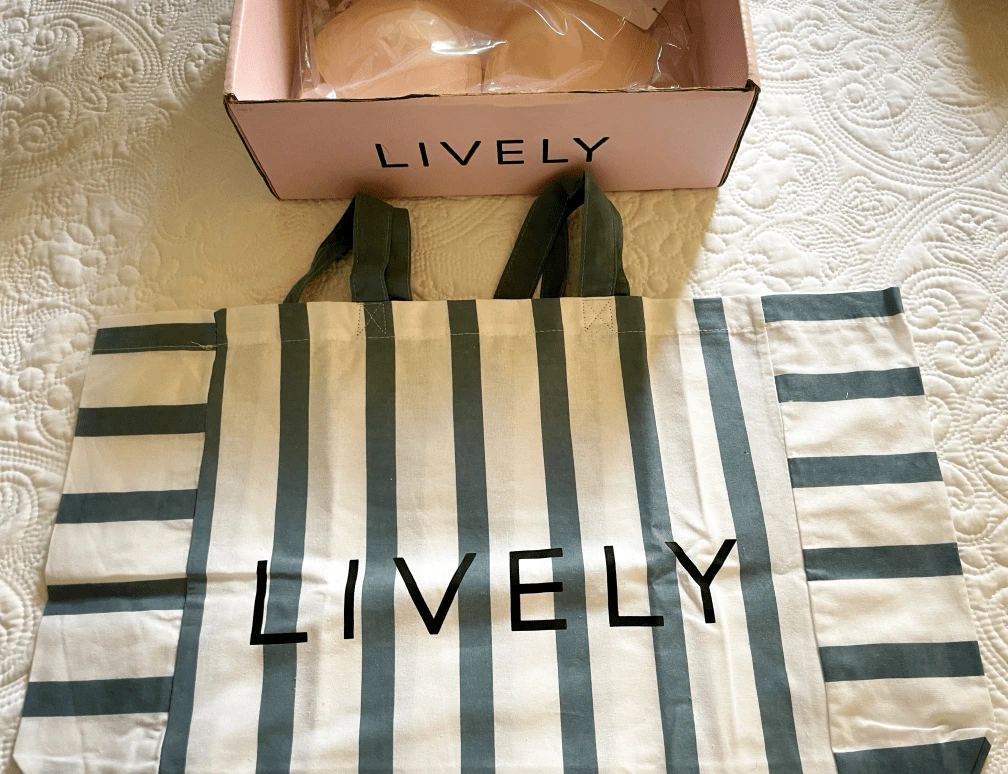 LIVELY provides a variety of undergarments that meet your demands without sacrificing appearance or style in the process. This includes LIVELY bralettes, no-wire bras, strapless bras, T-shirt bras, and unlined bras, among other styles and designs.
In this section, we'll go over other styles that LIVELY offers that I haven't tried (yet)!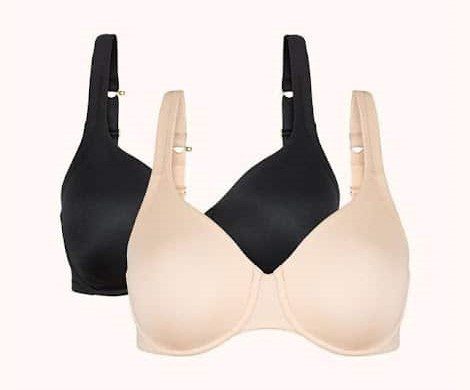 Get yourself lovely undergarments that will leave you exuding all the confidence in the world!
LIVELY Lace Strapless Bra
The Lace Strapless is a dressier alternative to the LIVELY Bandeau bra. The LIVELY Lace Strapless is available in breast sizes 32A to 38DD, making it a great choice for any occasion.
The LIVELY strapless bra is created with a hook and eye adjustable back clasp and a lovely trim of unlined lace and soft mesh for a feminine look. This bra also has removable and adjustable straps, allowing you to use it in a variety of ways.
The Lace Strapless bra is available in three stylish colors that are sure to become favorites: Jet Black, Smoke, and Toasted Almond.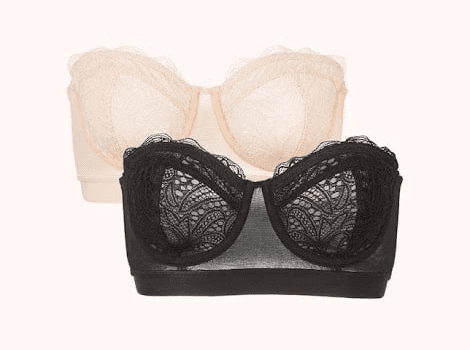 Style and Comfort meshed into one!
LIVELY T-Shirt Bra
The T-Shirt Bra is snug, silky, and supportive, making it ideal for everyday wear. You can wear this bra as a racerback thanks to the lined nylon cups, front adjusting straps, and a J-hook conversion strap.
This bra has wide scalloped lace back straps and a flexible underwire to ensure that it stays in place all day.
Sizes 32A-38DD are available in this T-Shirt Bra, which has an 85 percent nylon and 15 percent spandex composition. The T-Shirt Bra is available in eight different colors, allowing you to mix and match your favorite t-shirts with whatever ones you like.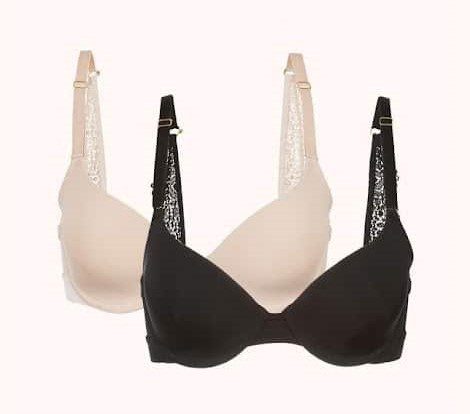 Sheer support and comfort!
LIVELY Unlined Lace Bra
This LIVELY Unlined Lace Bra is a sultry take on a classic bra design that is sure to turn heads. Because comfort is key to this company, the bra has a supportive underwire that wraps around the bottom of the bra. It also has adjustable front straps.
With the help of the rear J-hook, you can also transform your bra into a racerback. This bra is made of nylon and spandex, which accounts for 85 percent of the fabric.
The Unlined Lace Bra is available in sizes 32A-38DD. This bra is available for purchase for $35.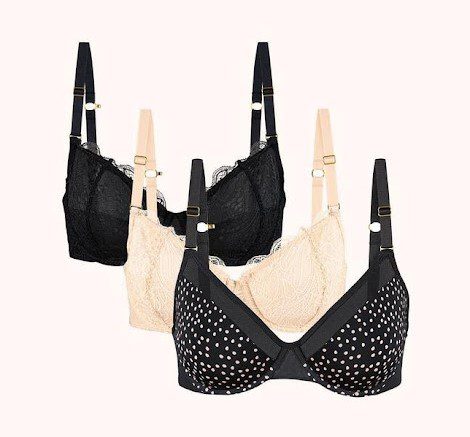 Take on your new sexy!
LIVELY Maternity Bras Review
LIVELY offers maternity apparel that is both flattering and supportive. Bralettes, bras, bodysuits, and bundles are among the best-selling pregnancy items on Amazon.
If you're interested in comfortable and affordable maternity bras, these are great options:
Busty Maternity Bralette
No-Wire Maternity Bra
All-Day Maternity Bodysuit
LIVELY Active Kit
Since most of the bras LIVELY offers isn't necessarily built for active performance, it's great that they have a specific active collection.
The Active Kit from LIVELY is the ideal collection of eye-catching athletic staples in one convenient package. This product has the following characteristics:
The Active Bike Short is a short version of the Active Bike (75 percent recycled polyester and 35 percent spandex)
Introducing the Active Racerback Bra (75 percent recycled polyester and 35 percent spandex)
The Midi Socks in the Retro Style (97 percent polyester and 3 percent eastman)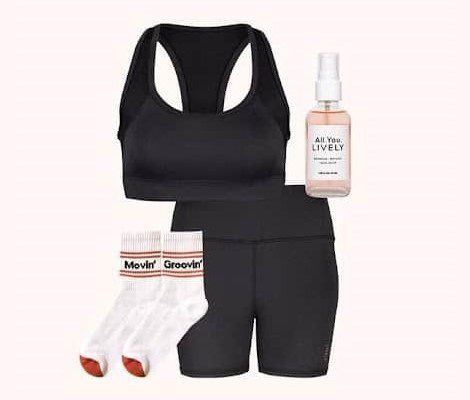 Get all your activewear necessities in one package!
LIVELY Bras Promotions & Discounts
If you want to save money on your purchases, consider purchasing one of their trios or bundles, which can save you up to $30.
You can also become a member of their Rewards Program. The three tiers will entitle you to a birthday gift or points, as well as a customized In-Store Fit Session with a stylist. As a member, you will also have the opportunity to vote on upcoming styles as well as receive first access to new styles and unique events. Once you have accumulated a certain number of points, you can exchange them for a reward at the time of purchase.
Where to Buy LIVELY Bras
You can purchase any LIVELY bra directly through their website.
Unlike most niche boutique brands, LIVELY bras are also available at extremely popular retailers like Nordstrom. You can also find LIVELY bras at select Target stores or directly on Target's website.
Competition
Pepper
Pepper is another brand that focuses on style and comfortability for smaller sizes. I was able to try out Pepper's Mesh All You Bra, and write a full review on that as well! I personally prefer this one more and would recommend anyone looking for a bra that is suitable for smaller sizes to try them out.
knix
Many women love knix, which makes bras in sizes that you won't find in most stores. Thanks to the online size charts, you can easily compare your measurements to those found on the site to see which size you need. The site also offers virtual measurements where you meet with an expert and get a custom sizing session without leaving your home. Many women choose wireless bras that offer more support for their small chests. You can shop knix to find sports bras for your workout sessions and sexy bras that you can wear on date nights along with other occasions.
The Little Company
The Little Company knows about all the problems petite women go through when shopping for clothing and underwear. This company offers products designed for women who wear smaller sizes and are tired of clothing that looks like it's for kids. There are more than 70 different bras that you can choose from, including the Abigail with lace panels on the front and the Angela that skips the lace and uses a comfortable fabric. You'll also find matching panties and tons of fashions that you can wear everywhere from work and the gym to restaurants and parties.
Victoria's Secret
The founder of LIVELY actually used her experience working at Victoria's Secret to help craft her brand. Victoria's Secret is known for their wide variety of bras and is found in almost every shopping mall in the U.S. You'll also find tons of fun clothing along with lingerie such as cami sets and teddies online.
Final Verdict
Overall, I'm a bit disappointed with the Front Close No-Wire Bra, and I personally wouldn't recommend it to a friend. Perhaps it was just the bra I tried out because I noticed in other reviews mirrored my complaints.
Despite my dissatisfaction with the first bra I tried, I would be willing to give LIVELY another chance with a different bra. They have plenty of cute options in different styles, and the trio bundles are an exceptional deal.
LIVELY offers plenty of other no-wire options. So, I would recommend trying out one of those. Particularly, The All-Day No-Wire Push-Up or The Mesh Trim No-Wire bra have better reviews, so you may find those more suitable as well.