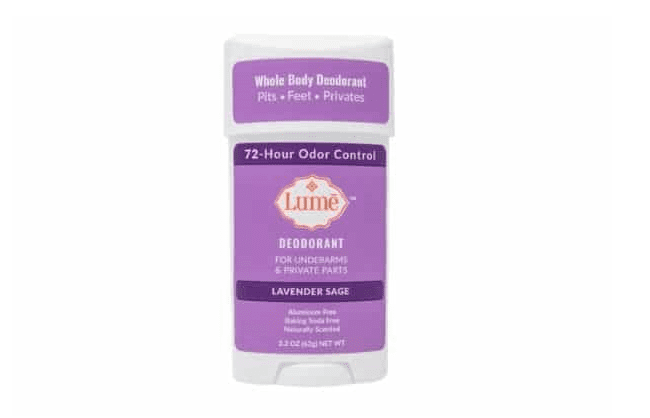 What is Lume Deodorant?
I think everyone case agree that we're in a world that's getting more conscious about what is put in the products they use day to day. That's why I find newer companies like Lume, which makes natural deodorants, so refreshing.
Lume products lack the baking soda and aluminum found in similar products and are both cruelty-free and vegan. The cruelty-free factor of the product means that you can use it without worrying about contributing to the growing health concerns that surround animal products and how they are handled. It goes without saying that this is an amazing feat to reach for.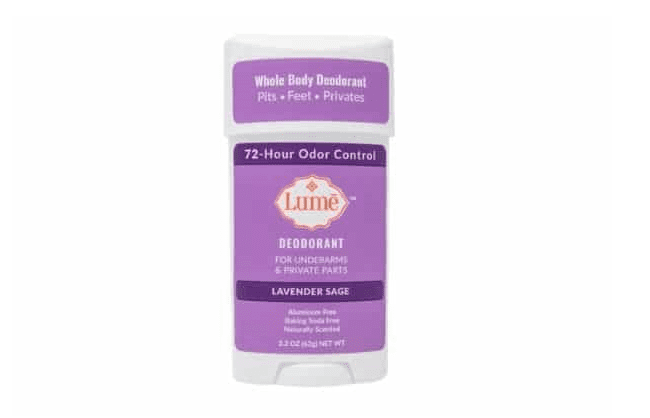 Lume Deodorant offers natural deodorants and similar products that come in a range of fun scents.
Lume Deodorant comes in both sticks and tubes and is even available in bundles to help you save money. They also make body wash and soaps along with products for your laundry. In my Lume Deodorant, I want to show you the wide selection that they have on offer.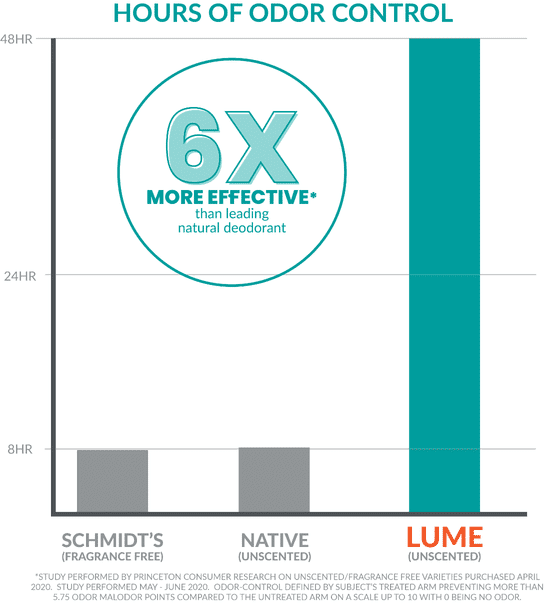 Lume Deodorant worked for up to 72 hours in clinical trials.
PROS
Offers individual items and subscriptions
Available in multiple scents
You get free shipping when you spend a minimum of $20
Lacks harsh chemicals
Suitable for the whole body
CONS
Many customers did not like the scents
Expensive
Not available outside of North America
BOTTOMLINE
Lume Deodorant offers natural deodorants and similar products that come in a range of fun scents. You can choose the products that work for you and get free shipping as well as discounts with a subscription.

iReviews Shopping Assistant
Find the best prices for this and many other products with our chrome extension
Product Features
Shipping: Five to seven days
Refunds: Full refunds within 60 days
Size: Up to 10 ounces
Scents: Standard and limited edition
Free Shipping: Yes in North America
Lasting Power: Up to 72 hours
Lume Stick Deodorants
All Lume sticks claim to last for up to 72 hours and to be safe for use externally. My experience is that the stick will last you more than enough after application, and shouldn't be failing on blocking stronger odors anytime soon.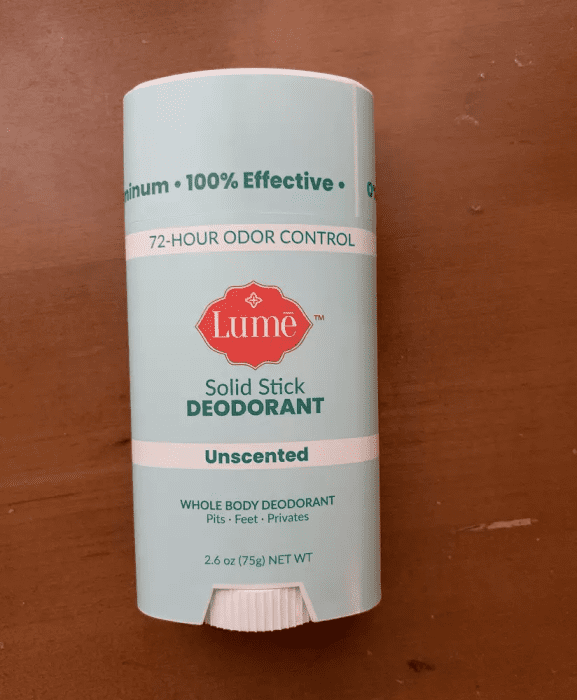 Most of the stick deodorants are available as individual sticks or in two packs. You can also select a bundle that comes with three scents of your choosing. Lume occasionally has limited edition bundles in specific scents, too. Some of the different scents you can choose for your stick deodorants include:
Clean Tangerine
Lavender Sage
Jasmine Rose
Sweet Lily
Twisted Lime
Coconut Crush
Silver Spruce
Warm Vanilla
Bay Rum
Lume also makes an unscented version that lacks any scent. Altogether, I find it to be a welcomed wide selection, but as long as it keeps any bad smells at bay I'm happiest with just the unscented version.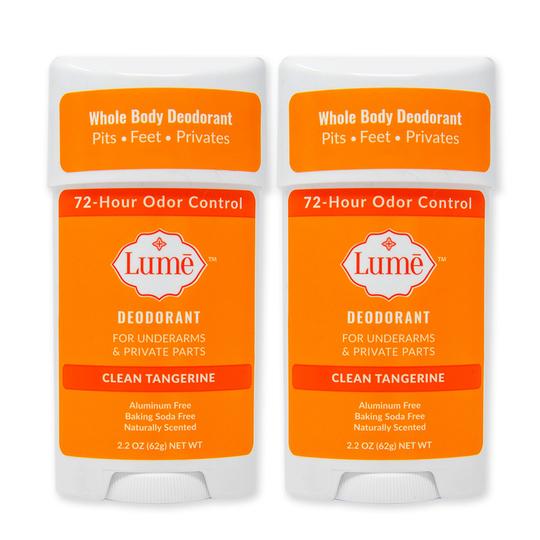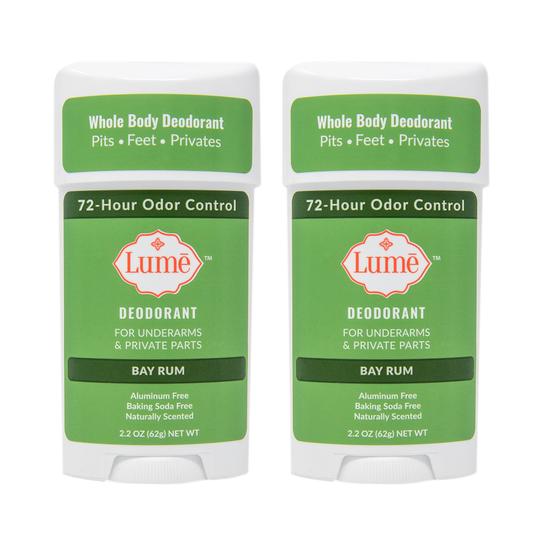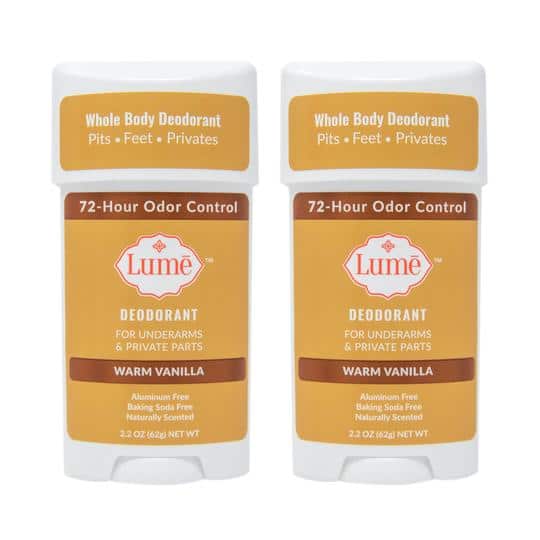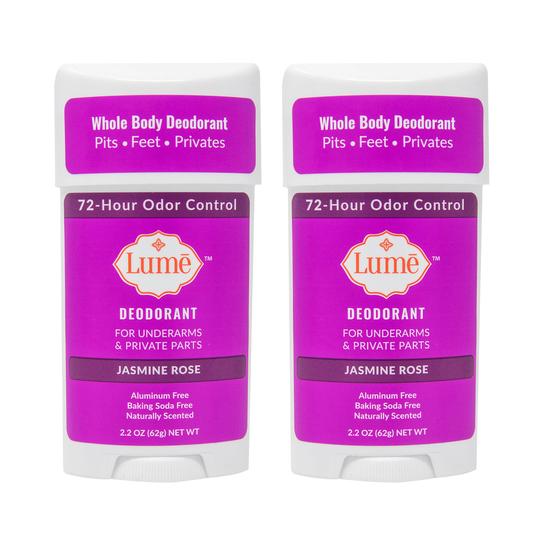 How Can You Use Lume Deodorant?
It's important to note that Lume has products designed for different parts of your body. None of the deodorants function as antiperspirants though, which you need to keep in mind and can be a breaking point. They can help you smell a little better but will not stop you from sweating.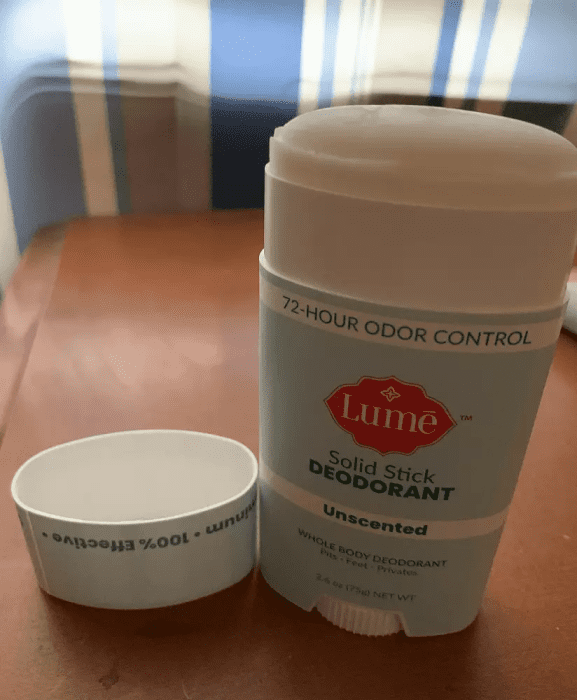 Some tips and tricks that you can try to help the deodorant last longer include:
Wipe off your skin and make sure that it's dry before you apply deodorant.
Apply when you first get up and a few other times during the day.
Use a minimum of two swipes as you move the deodorant up and down your skin and repeat again if needed.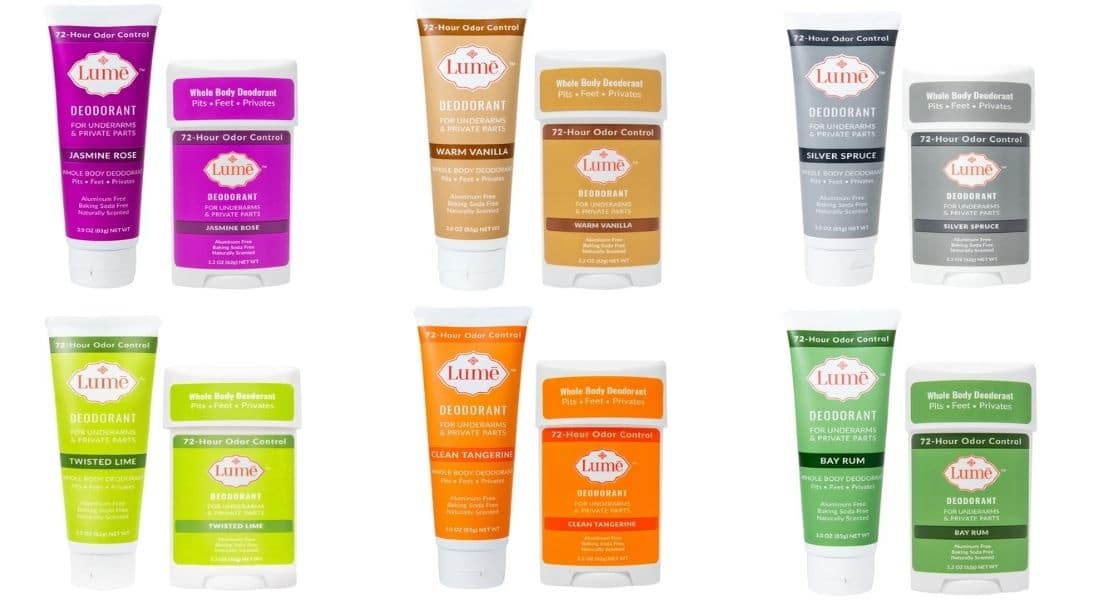 Lume Deodorant comes in multiple bundles that help you save on your favorite scent.
Deodorant Tubes from Lume
Lume deodorant tubes come with three ounces of deodorant that work as well as the sticks do. The best way to use them is to squeeze a small dab the size of a pea into your hands and rub it into your skin. Your skin is then meant to absorb the deodorant.
As with the rest of Lume's products the main upside of the tubes is that they are cruelty-free, vegan, and lack the aluminum and chemicals that other deodorants use. The tubes come in the same scents as the deodorants do and can last for an entire day or longer. My personal experience is that they don't quite work as well, but it does give an option for people with more supple skin.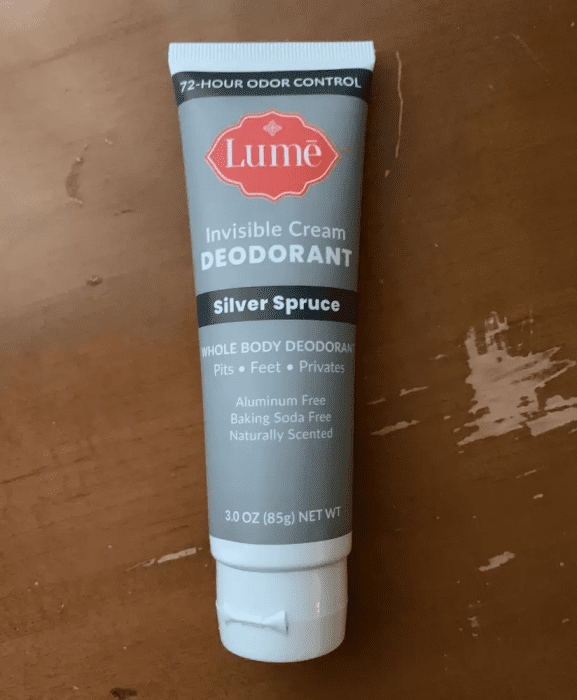 With the Build Your Bundle you can pick three scents and get mini tube deodorants that you can try before you buy a full-size tube. This gives a rare chance to experiment with the product for cheap before you start dedicating a lot to the bigger bundles. It's a good offer, and it's always a good idea to try out a product a bit before going headlong into it.
The full-size stick deodorants have more than 100 applications per container when using them under. If you choose a tube, you should get up to 150 applications for your armpits. Altogether, this means that if it works for you then Lume's may last longer than your average stick of deodorant.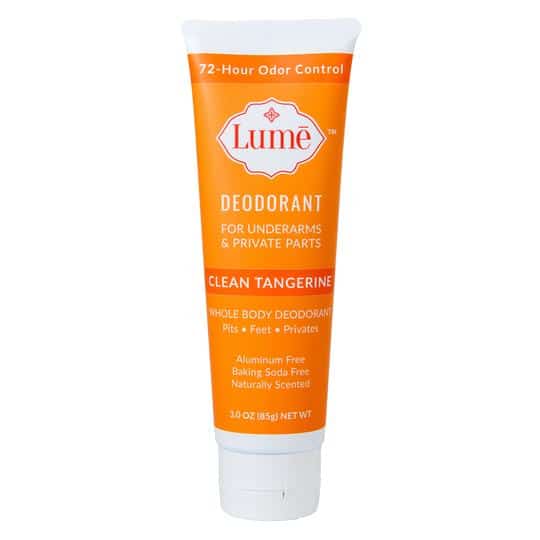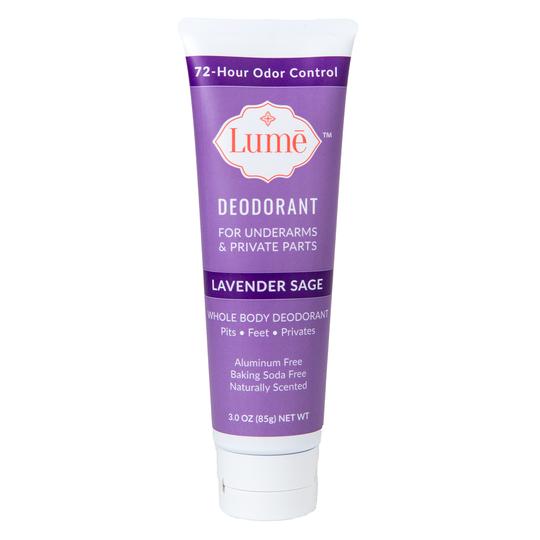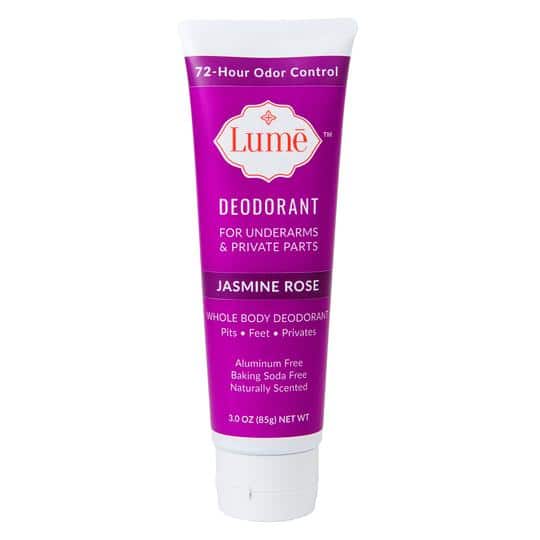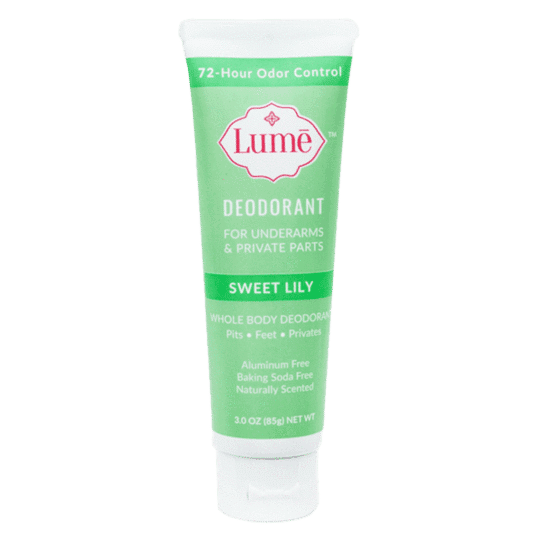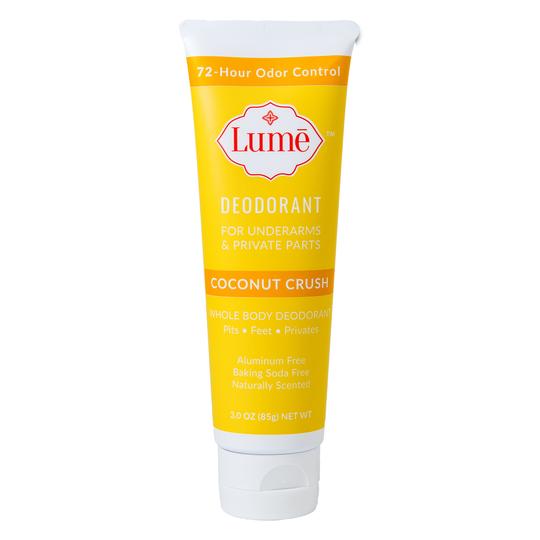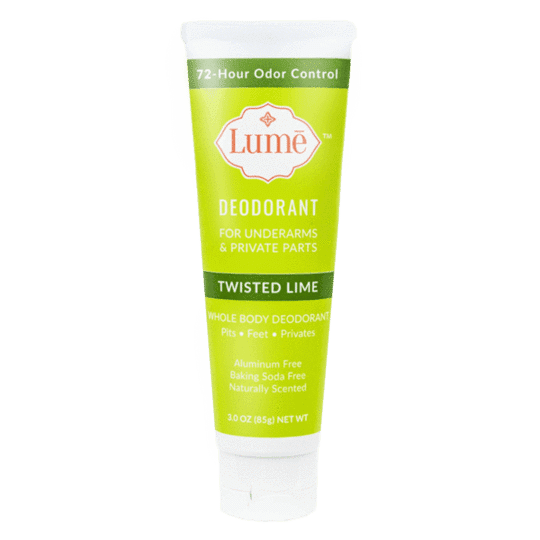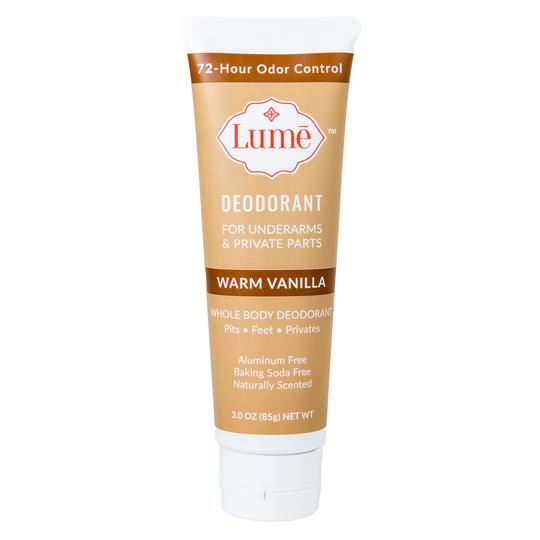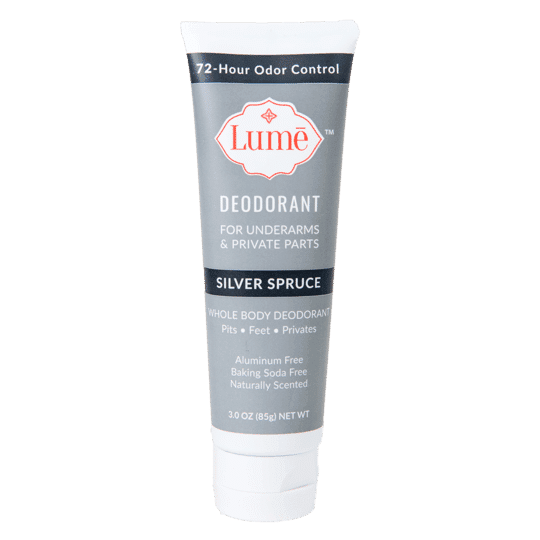 Where Can You Use Lume Deodorant?
No matter which ones you choose, you can use Lume Deodorants in dozens of situations, including:
When you need to hide body odor at work.
If you worry about how you smell after hitting the gym.
For days when you want to hide BO.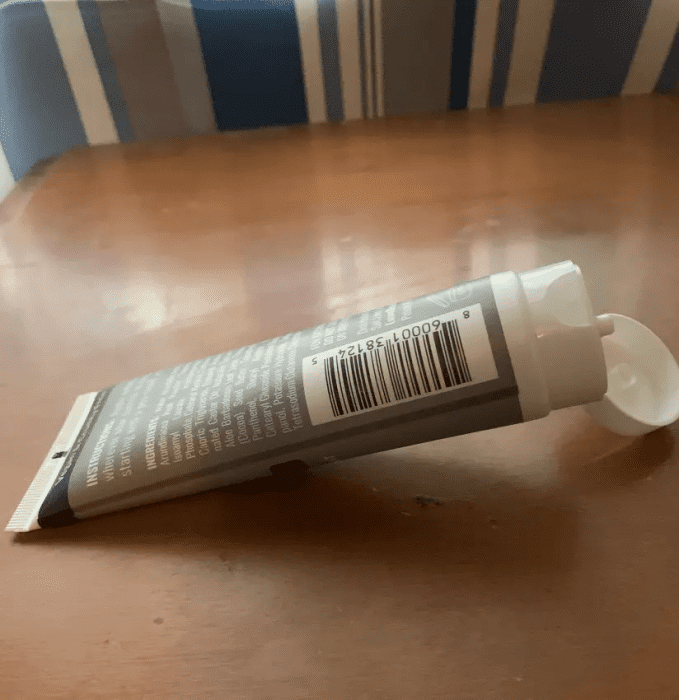 If you're worried about forgetting to bring deodorant with you to say the gym, then that's where I believe the bundle shine. With it, you can have one stick in your gym back and one at home, meaning that you will never have to worry about being caught without one again.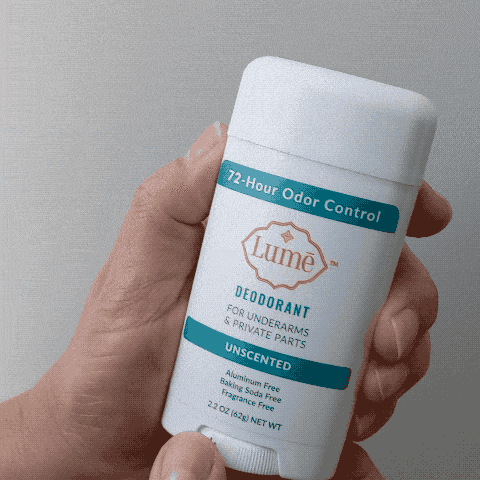 Lume deodorants are as easy to use as standard deodorants are.
Natural Soaps from Lume
Lume's selection includes natural soaps that use organic and natural ingredients, just like their other products. All soaps come in a bar form and are easy to use in the tub or shower.
I prefer the unscented soap. With it, you can clean your skin without worrying about any lingering scents and can make sure that you got a good clean.
Though, If you have a favorite deodorant scent, Lume lets you buy the same scent as a soap. This keeps the number of options wide open for everyone to be happy with a choice.
There are also a few natural soap bundles:
Soap & Sand Bundle: Includes five soaps in Clean Tangerine, Coconut Crush, Jasmine Rose, Lavender & Sage and Warm Vanilla. Good for more of a summery scent
Beach & Blossom: includes mini soaps in five scents such as Twisted Lime and Sweet Lily. The mini-soaps are even smaller than you might expect, but the scents are strong with them.
Woodland Spice: All of the five scents in this bundle have two ounces of soap. It may not sound like a lot, but again, the scents are strong.
Build Your Bundle: If you don't like any of the bundles they offer then you can just build your own with up to four scents.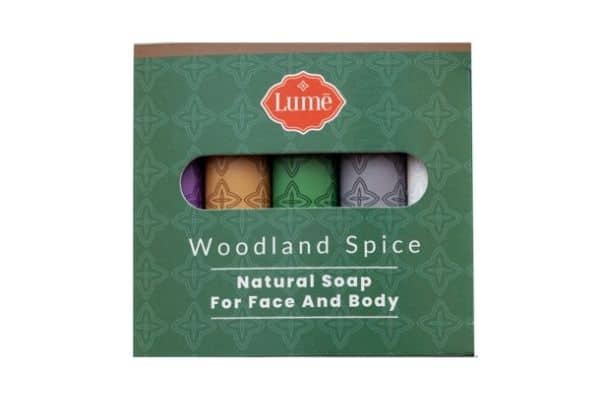 Natural Soaps from Lume
Who's This For?
Lume makes deodorants and cleaning products for customers concerned about the products they usually use. I know for most people, the ingredient list of your typical deodorant bar indecipherable mess of unpronounceable chemicals.
Lume uses natural ingredients that aim to be both good for you and good for your skin. I can say that the removal of chemicals such as aluminum is welcomed and that the quality of the soap isn't all that hampered by going the natural route.
Lume deodorant is a product I think would work well for a wide range of people, including:
Shoppers who want to beat body odors for up to 72 hours with a single application.
Those looking for stick deodorants that are easy to use and come in strong scents.
Customers who notice odd odors coming from their feet or other body parts and want to eliminate the smells.
Vegans and others in need of deodorants that lack animal products, aluminum, and other artificial dyes and ingredients.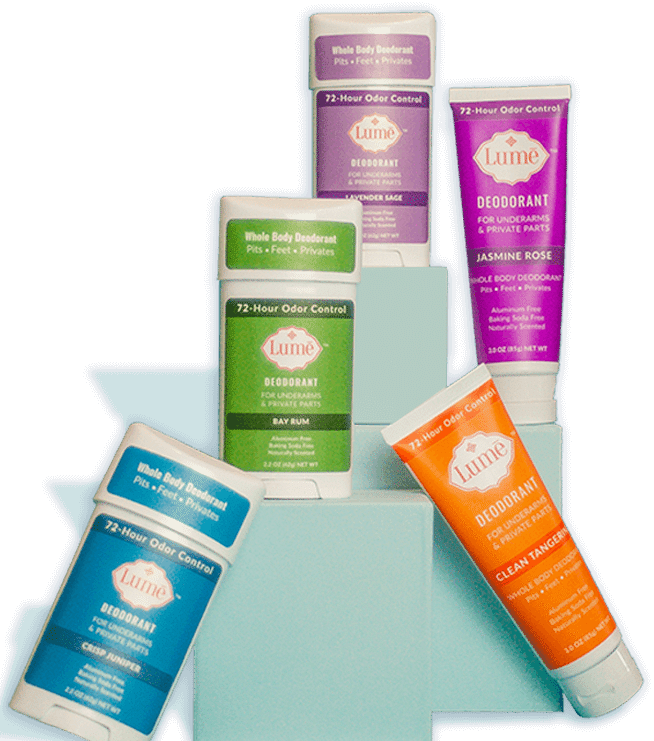 Lume Deodorant Wipes
With Lume Clean Cotton Deodorant Wipes, you can eliminate odors and smell as fresh as you want when you don't have access to running water. The wipes come in a Clean Cotton scent that reminds some of laundry fresh out of the dryer.
Once you finish, you can toss the wipes in the trash or your compost pile. To use a wipe, simply pull one out of the package and rub it across any area of your skin that you want. Though you don't want to replace your showers with wipes, they're perfect for situations when there is no water, including when you're hiking and camping.
The brand makes a single pack of 15 wipes that you can keep in your car or bag. With the three-pack, you get three packs that each hold 15 wipes. The wipe bundle gives you a small box with 14 individually wrapped wipes inside for days when you're in a hurry and a soft pack that holds 15 wipes. You can save money with a new set that includes 45 wipes in a soft package, too.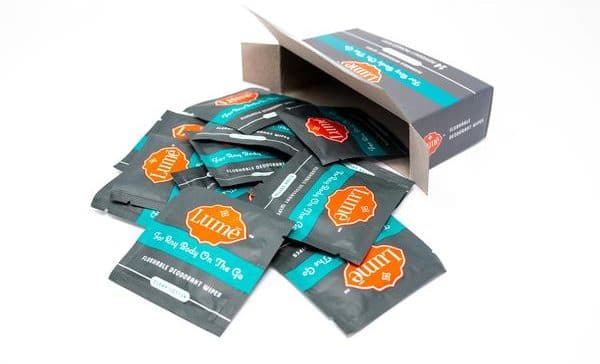 Lume wipes are available in several options. The brand makes a single pack of 15 wipes that you can keep in your car or bag. With the three-pack, you get three packs that each hold 15 wipes. The wipe bundle gives you a small box with 14 individually wrapped wipes inside for days when you're in a hurry and a soft pack that holds 15 wipes. You can save money with a new set that includes 45 wipes in a soft package, too.
Body Wash from Lume
You can pick up a single bottle of body wash that holds 8.5 ounces or buy a two-pack with two bottles in the same scent. Clinical testing found that this body wash helps you smell up to 3.5 times better than normal body wash does. You get up to 40 uses per bottle as well as a soap that leaves your skin looking better and cleaner.
Lume worked with doctors to ensure that the body wash is safe to use all over your body, even on your most sensitive spots. It has a lower pH than similar cleansers do to prevent skin reactions that can cause body odors. Lume also makes an unscented body wash. The site lets you build a bundle of bottles, too.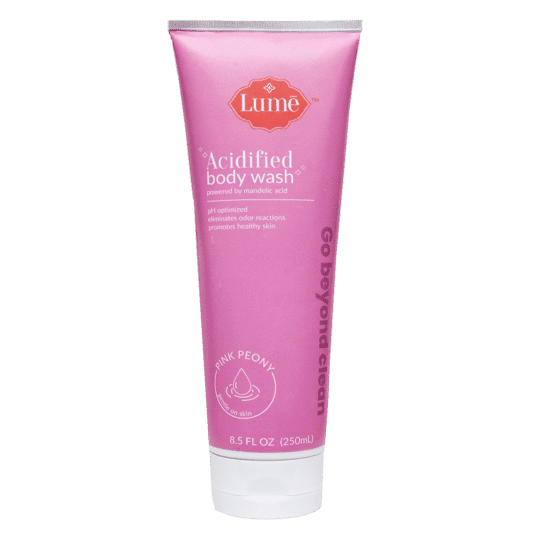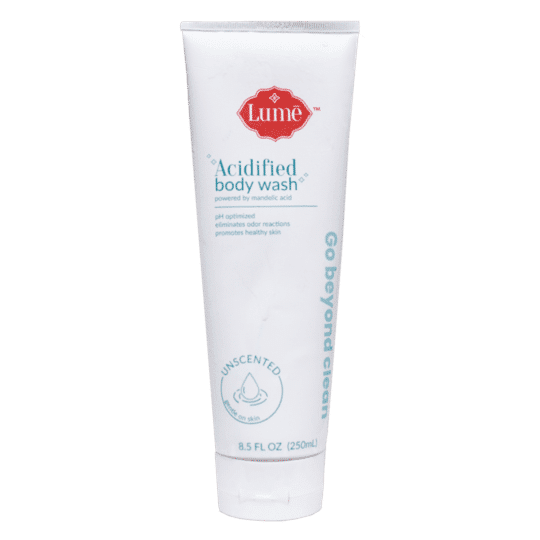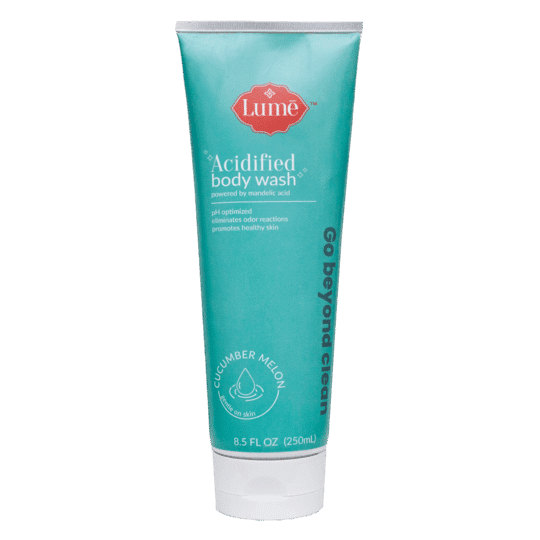 Biofilm Buster from Lume
Biofilm is a structure made of bacteria that sticks to different surfaces. Let's say that you got home from work after hitting the grocery store and running some errands. You may not realize how much bacteria you came into contact with and how much rubbed off on your shirt.
If you leave that shirt in the hamper with other clothes, it can pick up even more bacteria. While a trip through the washing machine cant help, Lume Biofilm Buster can.
Lume Biofilm Buster is a simple spray designed to kill the bacteria on your clothes that causes odors. It also works on both mold and fungus. You simply spray the liquid on any parts of your clothing and let it sit for a minimum of 30 minutes before throwing it in the washing machine.
Lume offers the Biofilm Buster in a 16-ounce bottle on your own and as a set that comes with a brush that is safe for most clothes. There is a two-pack and a two-pack with a brush, too.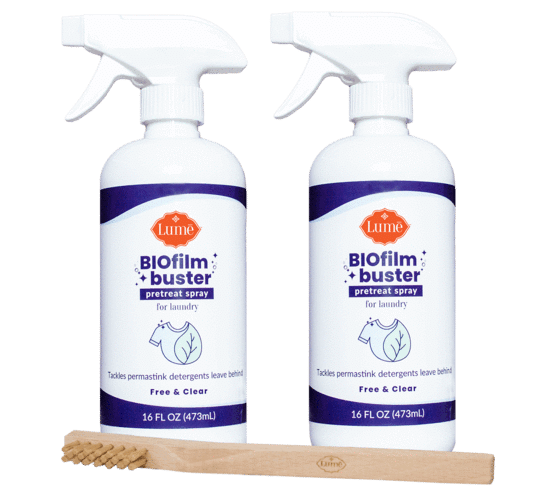 Should You Buy It?
When writing our Lume Deodorant review, I found that it was worth the investment. You can decide for yourself with a look at the top reasons to buy from this brand:
As long as you apply the deodorant correctly, it can last for a full day or up to 72 hours.
With so many available scents, Lume makes it easy to pick a scent that you love. There are also unscented options.
The deodorant uses water as its main ingredient, which helps your skin absorb it faster.
You can use Lume in your armpits and anywhere else you detect odors, including your privates and feet.
Lume offers free shipping when you spend the minimum amount and live in North America.
The money-back-guarantee ensures that you never waste money because you have 60 days to request a full refund.
With a subscription plan, you buy the deodorant and other products that you need to both save money and get deliveries on a schedule that works for you.
In addition to its permanent scents, Lume makes some limited edition scents that become available every season.
If you love a product or scent that is out of stock, you can sign up for alerts when it becomes available again.
Lume offers digital gift cards that you can send to friends to encourage them to try the natural deodorants.
Once you order, Lume lets you track your package from when it leaves the warehouse until it shows up at your door.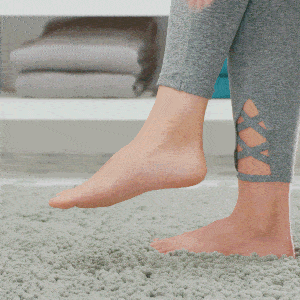 Lume makes deodorants that are easy to use on your feet and anywhere else you want to beat odors.
Cons to Consider
The biggest complaint about Lume and its deodorants registered by customers is the way they smell. Though Lume makes deodorants in multiple scents, many were not happy with them. They compared the scents to everything from wet dogs and old furniture to musty libraries and rotten foods.
Other shoppers complained about the high prices. You can get an ordinary deodorant for less than $10, but Lume charges much more for its natural products along with shipping if you don't spend the minimum amount. Some of the other cons of Lume that I found include:
If you do not live in Canada or the United States, you cannot buy from the official site.
Though Lume claims that the deodorants can last for up to 72 hours, many users found that they smelled after only a few hours.
If you have a significant body odor, you may find that Lume products do not work for you.
There is a chance that the deodorant may have a negative reaction to your body chemistry and make you smell worse than you normally do.
Lume deodorants often only work for a few hours or less when used on your feet.
A few customers developed skin irritations when using Lume products.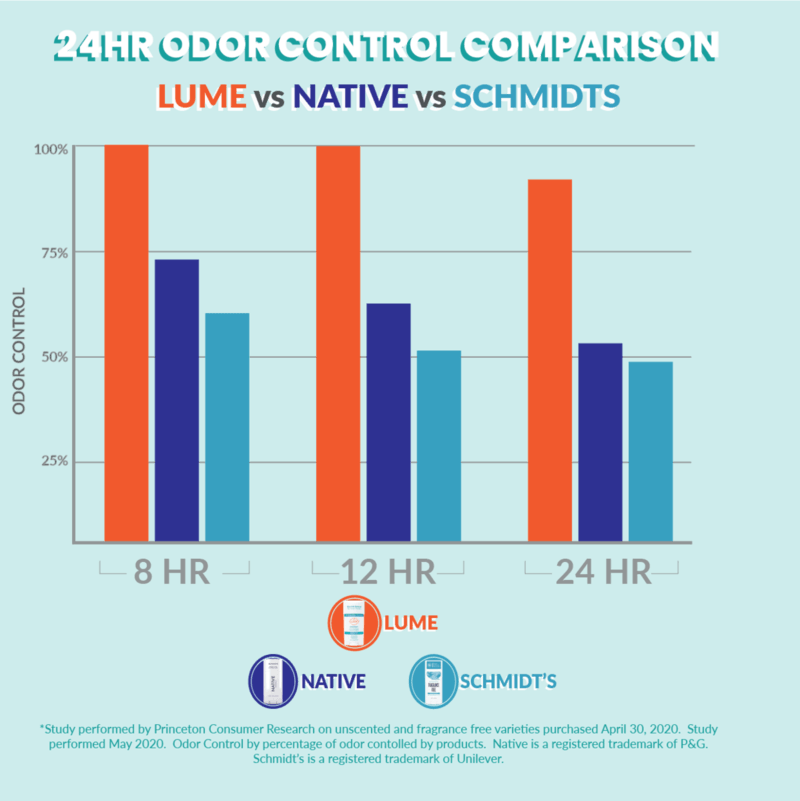 Where to Buy
Lume products are available on Amazon and other sites, but I recommend that you click here to order your favorites. Other websites only let you order a single deodorant stick or another product and do not give you access to Lume bundles.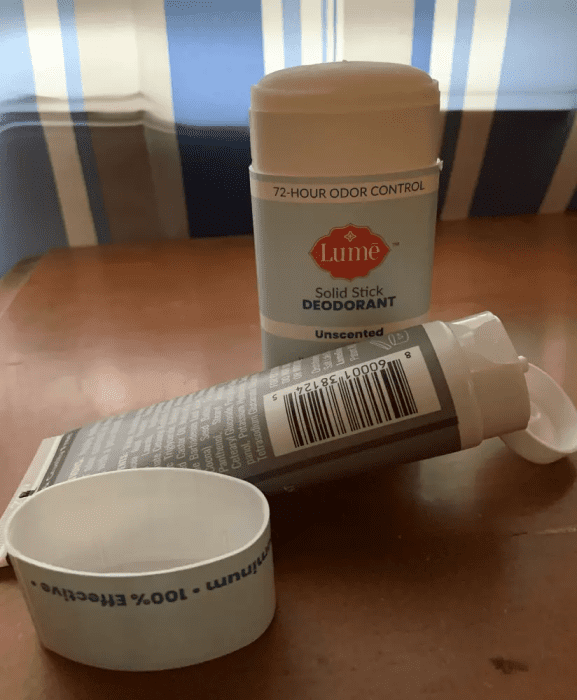 The official Lume site offers multiple bundles that let you pick up stick and tube deodorants in a specific scent and bundles that let you sample multiple scents. You can even pick up a mini sampler that comes with smaller samples of the top deodorants or other products. This lets you make sure that you like the scents before you commit to the full size.
I found even more reasons to buy from this link, including:
The subscription plans let you save a minimum of 10% off your favorite products and guarantees that your orders will arrive when you need them.
You can read more about the popular scents and find scents that aren't available on other sites.
Most orders ship within seven days or less of you paying.
When you spend the minimum amount, Lume will ship your order for free.
You can use the Help Center and speak with a Lume rep anytime you need.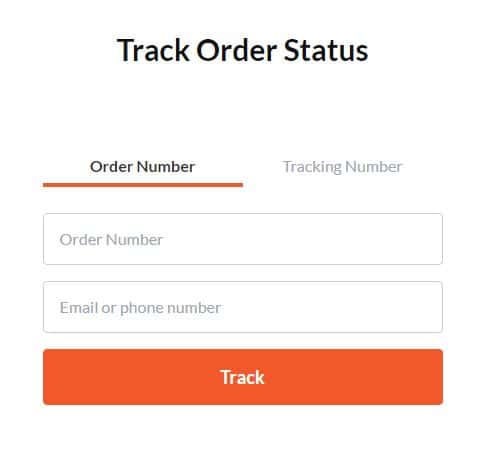 Once you order, Lume sends you information that lets you track the package until it arrives.
Competition
Lume is not the only brand that makes natural deodorants. You can take a look at some of the other deodorants that compete against Lume.
Hippy Pits
Hippy Pits products use ingredients that are safe for your skin such as shea butter and coconut oil. The ingredients also do less damage to the environment. With Hippy Pits, you get deodorant that comes in a small tin.
You need to apply it with your fingers, which adds some time to your morning routine. One application lasts for up to 10 hours and comes with up to two months of applications inside. You can choose from scents such as Tree Hugger and Naked Hippy.
Not My Mama's
Not My Mama's makes deodorants that use natural ingredients to hide your body odor. You can also select the Natural Deodorant Collection which includes four of the more popular scents. The brand also makes similar products such as body lotion that goes on smooth and hydrates your skin along with Bubbling Face Wash and Glow Girl Face Serum. You can even pick up candles from this site.
NATIVE
NATIVE is one of the top and oldest brands in the natural deodorant world. The brand uses clean ingredients and has separate collections for men and women. Some of the available scents include Cucumber & Mint and Coconut & Vanilla.
NATIVE has some limited scents that you can only buy for a few months as well as packs that let you sample customer favorites. The brand makes both standard deodorants and those that do not use any plastics. You can buy sunscreen and body wash, too.
Salt of the Earth
Salt of the Earth makes cruelty-free deodorants that use natural ingredients and are suitable for vegans. You can buy one stick and purchase refills in the same scent or new ones. Salt of the Earth also makes crystal and spray deodorants as well as roll-ons.
There are also products that lack any scents and some designed for use on your feet. The brand now makes foaming hand washes in some of its top scents.
Final Verdict
Natural deodorants often get a bad rep because customers say they cannot keep up with traditional deodorants. The advantages though are a cruelty-free product that lacks the aluminum and other ingredients that you want to avoid.
Though I found some complaints and shoppers who hated the way that the products smelled, most customers loved Lume deodorants. They liked that the products they chose lasted for a full day or longer and that the deodorants came in so many different scents. You will find tons of scents that are suitable for men and women along with an unscented option.
Though Lume is more expensive than some of the other natural deodorant brands, I think that it's one of the best brands for vegans and those who love animals as Lume only sells cruelty-free products.