Indestructible Shoes Review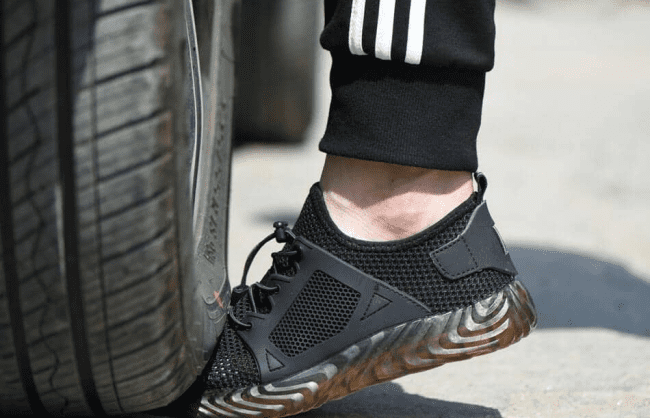 What are Indestructible Shoes?
No matter how old you are, the chances are good that you went through a few pairs of shoes. Indestructible Shoes is a new brand that wants to change the way you think about shoes. They come in designs that look like standard running or athletic shoes but give you much more. These shoes can stand up to anything that you put them through and any situation you face.
These shoes are comfortable enough for everyday wear and can help you avoid slips and falls at work. They are even resistant to punctures to keep you safe. In this Indestructible Shoes review, I'll go over the top designs and whether or not you should buy a pair.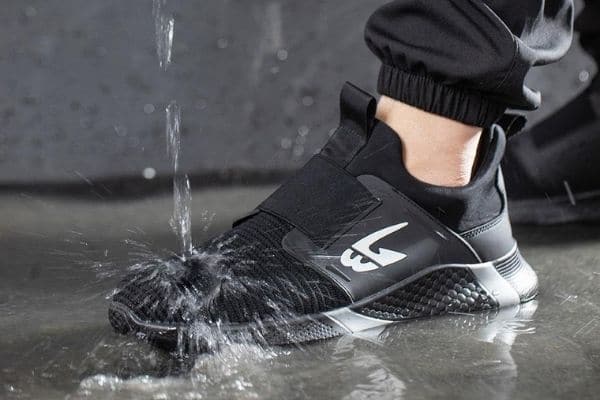 Indestructible Shoes are waterproof to protect your feet.
PROS
Prevents distracted driving
Compatible with all cell phones
Works in all cars and other vehicles
Does not require professional installation
CONS
Only comes with a 30-day warranty
Adhesive on stand can wear off
Can slide when used on a dirty dashboard
Works better with FIXD apps than others
BOTTOMLINE
VIZR can help eliminate some of the distractions that you have on the open road. It is compatible with all vehicles as well as cell phones. One of the best affordable HUD systems for drivers.

iReviews Shopping Assistant
Find the best prices for this and many other products with our chrome extension
Product Features
Sizes: Up to a men's 13
Price: $160+
Puncture-resistant/Waterproof: Yes/Yes
Returns: Within 30 days
Exchanges: Yes for damaged and defective shoes
Shipping: Free in the United States
How Can You Use Indestructible Shoes?
Indestructible shoes can be used the same way you would any other pair of shoes. I will say though that the title is a tad misleading. Most work sites would not recommend using these particular shoes, despite what the company says. Personally, I would recommend these shoes for someone who wants a pair of everyday shoes that will last a bit longer than a simple pair of Converse or Nikes.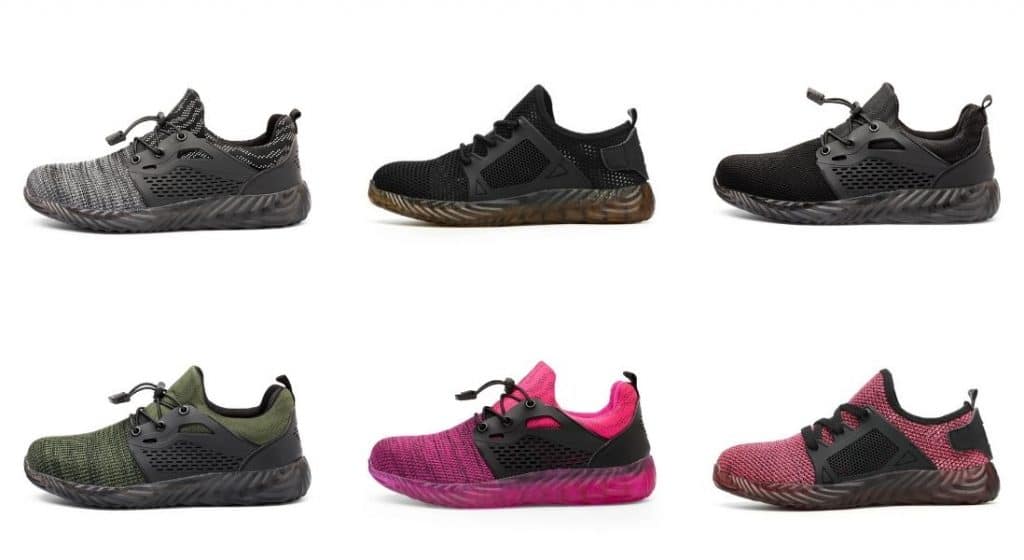 Many guys like the designs in the Ryder collection.
Where Can You Use Indestructible Shoes?
Indestructible Shoes are best for outside activities, like running or camping. Their tough design makes them a good choice for long hikes in the woods. They're also great for use in other situations, including:
When you want to camp in the middle of the woods and need to stay safe on your way.
If you spend a lot of time working outside and don't want to worry about how you'll feel at the end of the day.
On long trips when you know you'll spend a lot of time on your feet such as visits to amusement parks.
When you need to run errands and make stops on your way home from work and don't have time to change your shoes.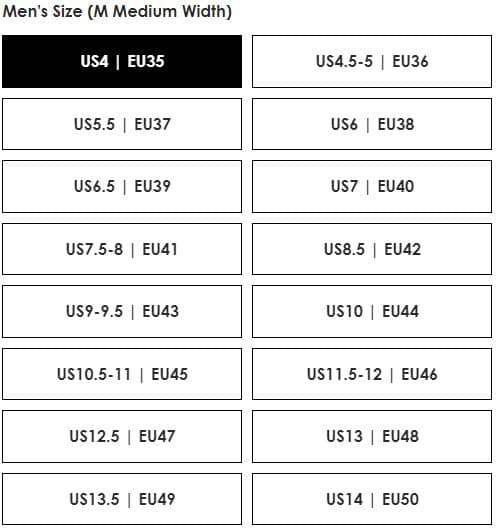 The lightweight design of Indestructible Shoes can prevent fatigue.
Who's This For?
Many of the men who buy Indestructible Shoes include current and former military members. The shoes are also great for nurses and other medical workers as these professionals often work 12-hour shifts with few breaks. Indestructible Shoes help these people stay comfortable during the longest shifts.
I personally found that Indestructible shoes were not for me. I found them to be a tad heavy and far too bulky compared to what I wear typically. The toe protection in particular added a lot of bulk. Still though, I can absolutely see the appeal if you're more of an outdoorsy person. Though I would not recommend these for someone who regularly works outside.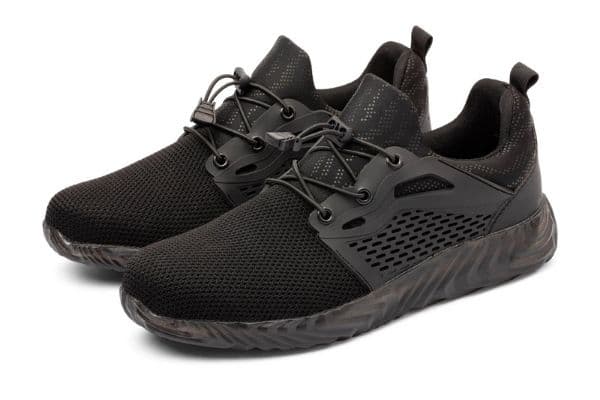 The no-tie laces make putting the shoes on in a hurry a breeze.
The Hummer Collection
Do you want a pair of shoes that you can wear at work and when playing with friends that will also go with jeans and everything else you wear? The shoes in the Hummer collection might meet all of your needs. Indestructible Shoes designed the Hummer to combine the look and feel of a running shoe with the safety and protection of a work shoe. You can choose from three colors:
All shoes in the Hummer collection use European steel toes that offer protection against all types of hazards and puncture-resistant soles that block out the sharpest of objects. These shoes also have a heel cup with extra padding to limit the fatigue that you feel and let you spend more time on your feet. With any of the Hummer pairs, you can feel comfortable and look stylish.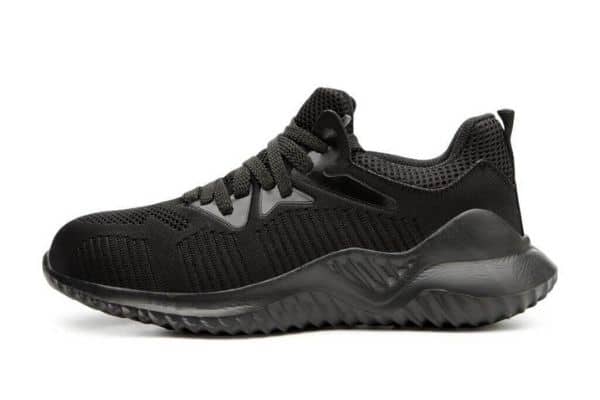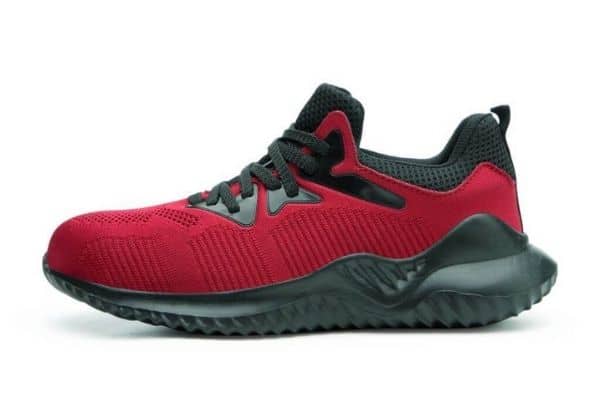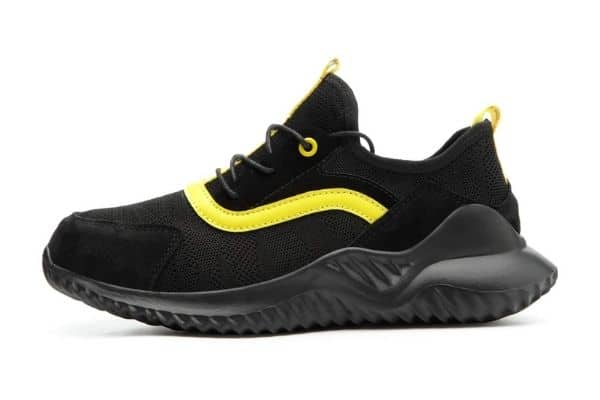 Ryder Collection from Indestructible Shoes
These shoes retail for $160 and have a classic athletic shoe design that includes elastic laces and a mesh upper. They also have a lining inside that does a good job of pulling away moisture. The elastic laces let you slip in and out of the shoes whenever you want. All of the shoes in the Ryder collection are puncture-resistant and flexible..
Some of the designs in this collection include:
Ryder 1.5 in black and gray
Ryder Black with a black mesh upper and softer colored sole
Ryder 1.5 Gray with a gray mesh upper and some black accents
Ryder Green in hunter green
Ryder 1.5 Green with green and black accents
Ryder Pink with a pale pink upper and black accents
Ryder 1.5 Pink with a hot pink upper and black accents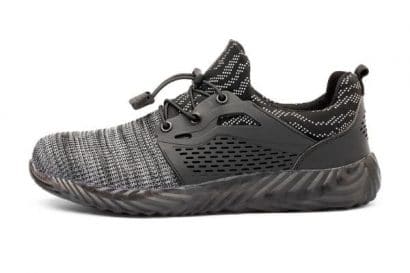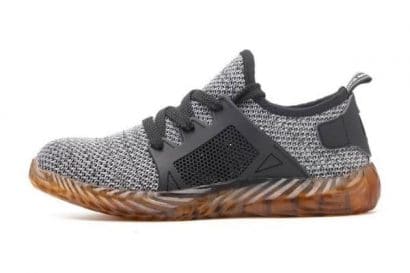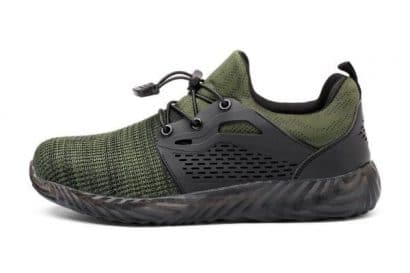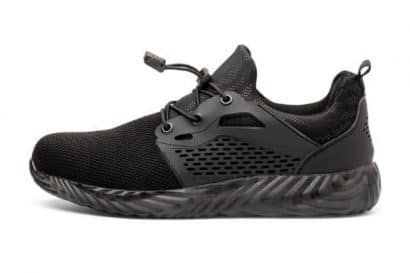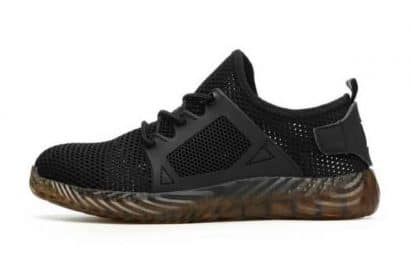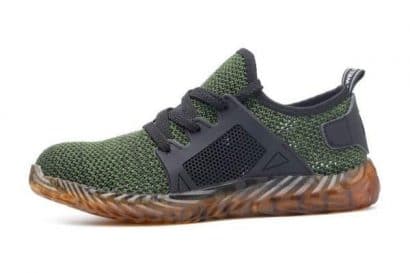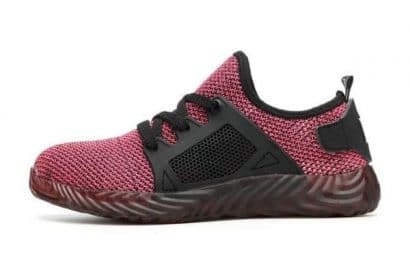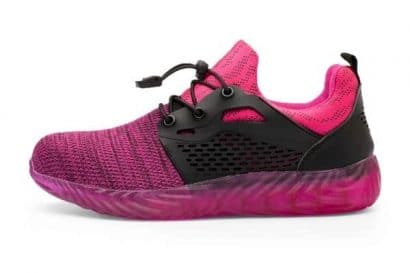 Indestructible Shoes J3 Collection
The J3 uis what I would recommend for those going on hunting trips or hiking. There is the J3 Black that has the company logo in white against the black boot and the J3 Green that uses a few green accents. You can also choose the J3 in Gray and Red. No matter which color you pick, you'll get features such as:
European steel toes that protect your toes from falling objects.
Mesh liners to wick away moisture and keep your feet dry.
A puncture-resistant sole made from military materials that keep sharp objects away from your feet.
Upgraded insoles that provide more comfort for daily wear.
A fire-resistant design that keeps you safe when working around sparks and fires.
Flexible soles that reduce fatigue and move with you.
Though all J3 shoes come with standard laces, they work with no-tie shoelaces. You can easily use this device on top of the shoe's tongue.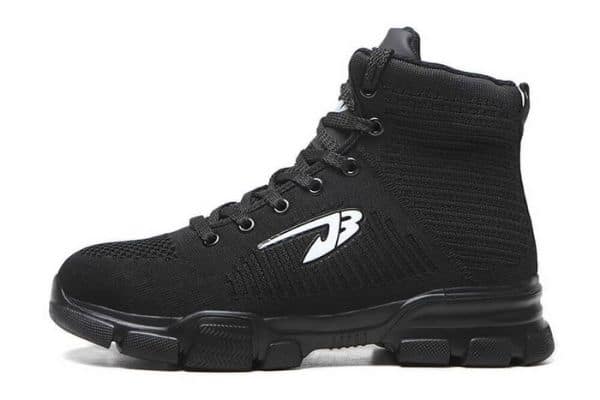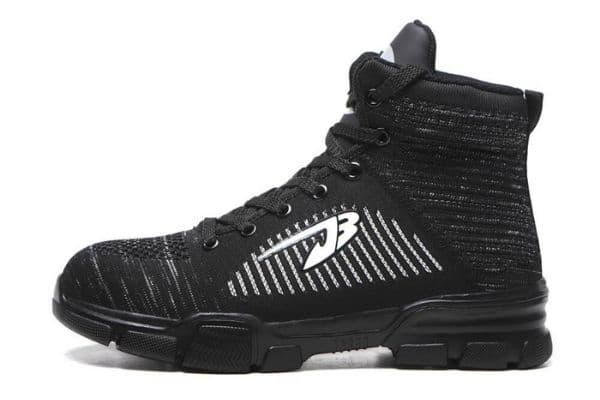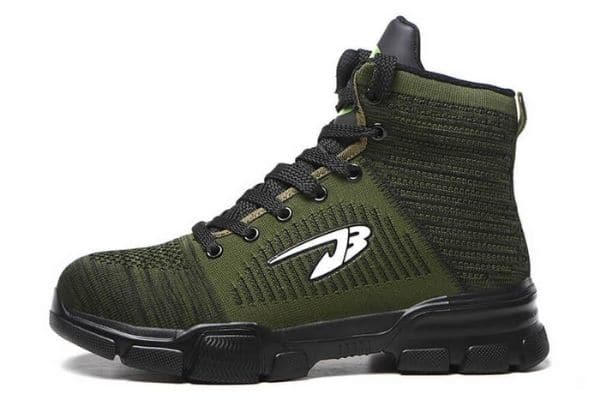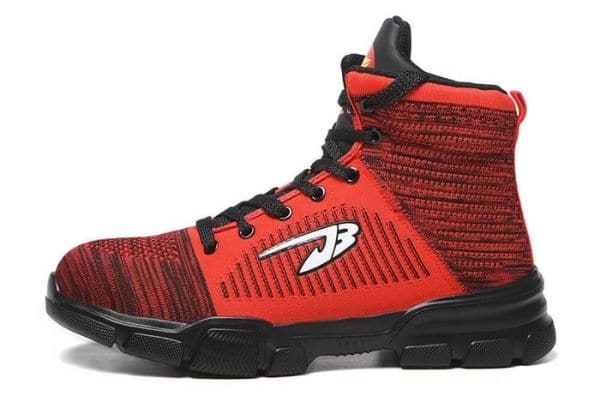 CamoX Collection
This collection includes both a black and white design along with a red and black design. The shoes retail for $160 but are often available for a sale price of only $79. This was the first waterproof shoe from the brand.
The CamoX collection also features a European steel toe that uses kevlar and wraps around the entire toe box. With the CamoX, you also get a flexible design that moves in the same way. This pair has small loops on the back for convenient wear. At less than two pounds, they can help you stay comfortable all day.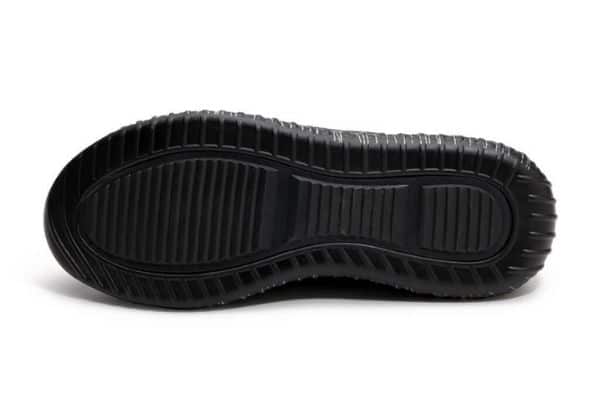 All shoes in the CamoX collection have a shock-resistant sole.
Designs from Indestructible Shoes
When you buy from Indestructible Shoes, you'll find designs from many collections such as the Star Collection, which includes the classic styles that you expect from work boots. These boots are also resistant to punctures and skid proof.
There's also the Kivini collection that resembles running shoes. Those who like running shoes might wanna try the Galaxy Collection, which includes shoes in black and gray. You can also buy some shoes in wide widths such as the J3 and Galaxy Black.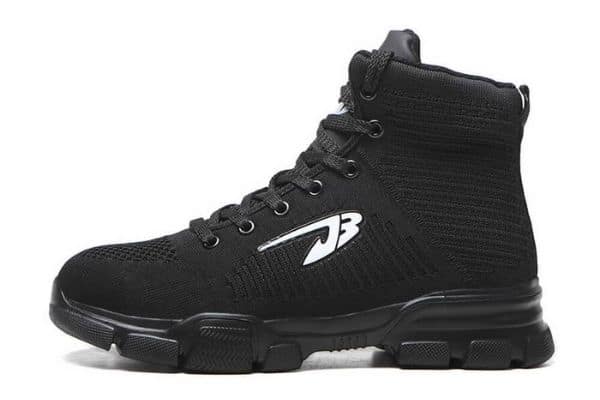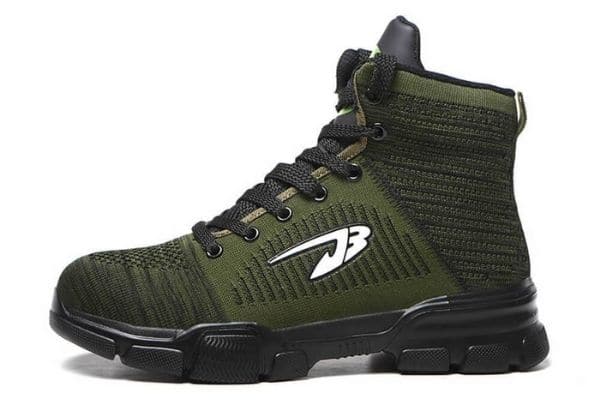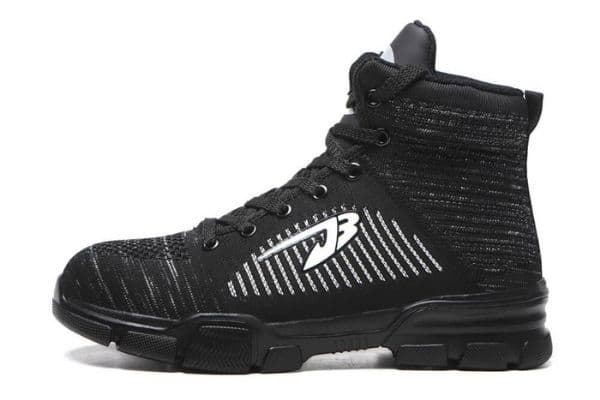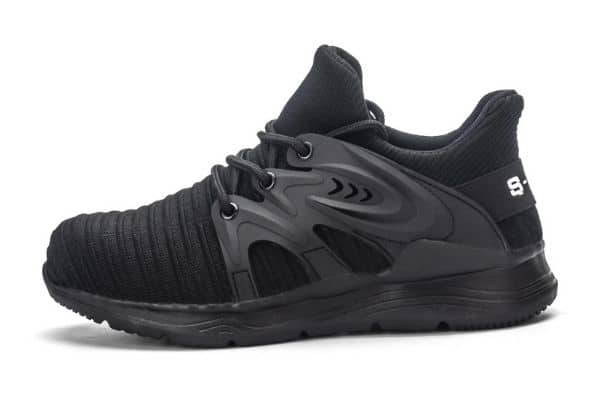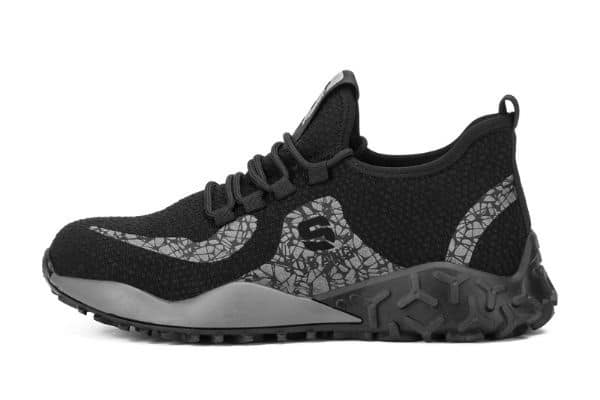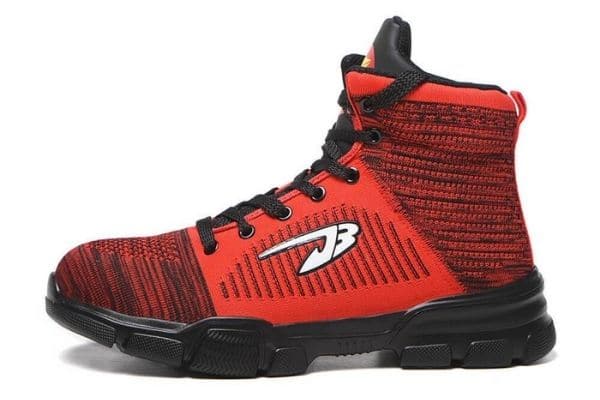 Indestructible Shoes Products and Accessories
Indestructible Shoes also offers other products and accessories that you can add to your cart, including:
VigoGUN Percussion Massage Device
Indestructible Insoles
Compression Crew Socks
KneeTech Support Pads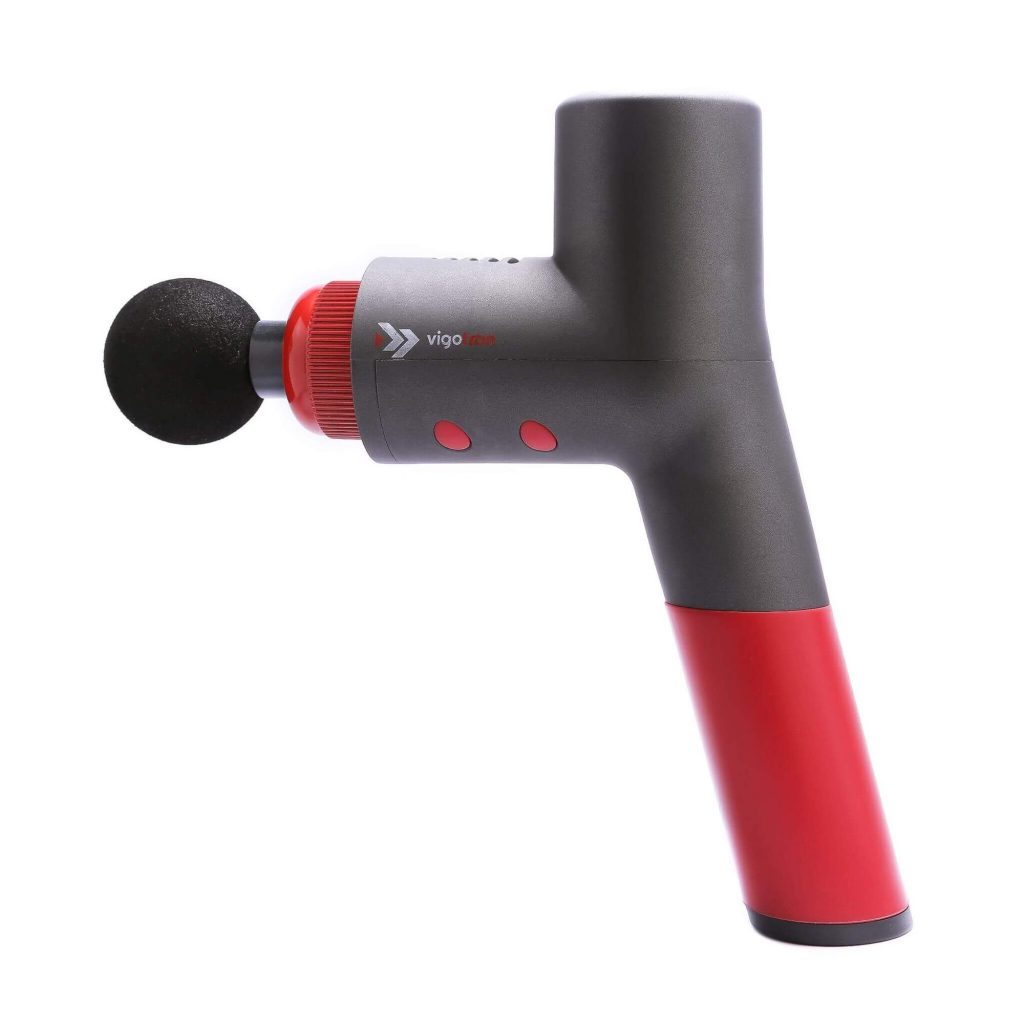 With the massage device, you can work out kinks and relax stiff muscles in minutes.
Should You Buy It?
While I found that Indestructible Shoes were not for me specifically, I will say that I see the appeal. They felt very sturdy and were more comfortable than other work shoes I've tried. Though I wouldn't recommend them for someone who works at a construction site or a quarry, I can see a person working in food service or healthcare getting a lot of use from these.
Some of the reasons why other customers love these shoes and you should buy them include:
Free shipping in the United States
The site often runs sales and has promo codes where you can buy shoes for nearly half of their retail price.
Indestructible Shoes will send an email with your order number that lets you track it online.
All of the shoes come with upgraded insoles that help you spend more time on your feet with less discomfort.
The catalog lets you shop for shoes from specific collections and view all of the clearance designs.
You have up to 30 days to return or exchange your shoes once they arrive.
Indestructible offers accessories that you can use with your shoes or after taking them off.
All shoes are available in small and large sizes up to a men's 13.
Most shoes are waterproof and resistant to punctures.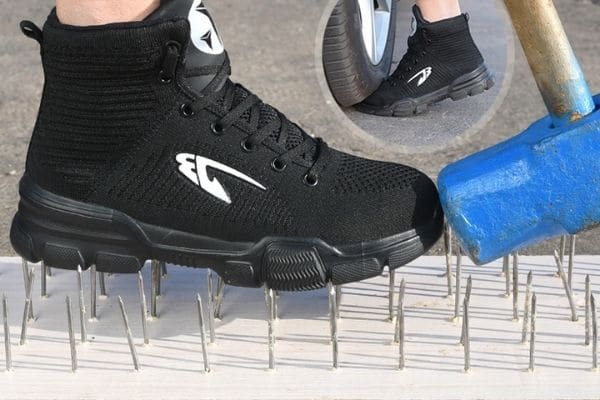 These shoes can stand up to different impacts and protect your feet.
Cons to Consider
If you search Google for the brand, you'll notice that many customers want to know if the company is a scam. The Better Business Bureau issued an alert about the company in December of 2020 due to the many negative reviews and complaints submitted by users. Those complaints included:
Indestructible Shoes sent them products in the wrong sizes and then refused to refund them.
One customer said that he sent an email when five weeks went by without him getting his order and the company claimed he needed to wait another five weeks for delivery.
The shoes they bought showed signs of wear and tear or fell apart within a few weeks or months of daily use.
Despite claiming that the shoes have rubber heels and steel toes, some shoppers received shoes with foam heels and plastic caps.
Many users said that the seams on their shoes and boots ripped apart after only a few days.
A few shoppers received shoes in two different sizes in the same boxes.
Indestructible Shoes makes and ships all of its products from China.
Some thought that the price was high for what they paid.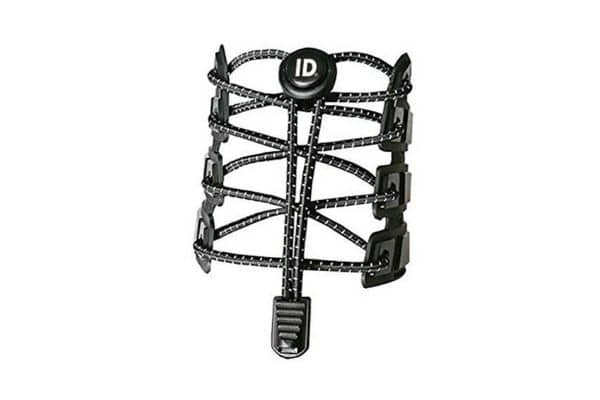 You can choose accessories to go with your shoes such as the no-tie laces.
Where to Buy
Why spend a lot of time looking online for Indestructible Shoes when you can click here and find the perfect pair for you. You can learn more about the company and why the founders are so proud of their brand or watch the safety videos. The official site also lets you check out the top designs and all of the available shoes.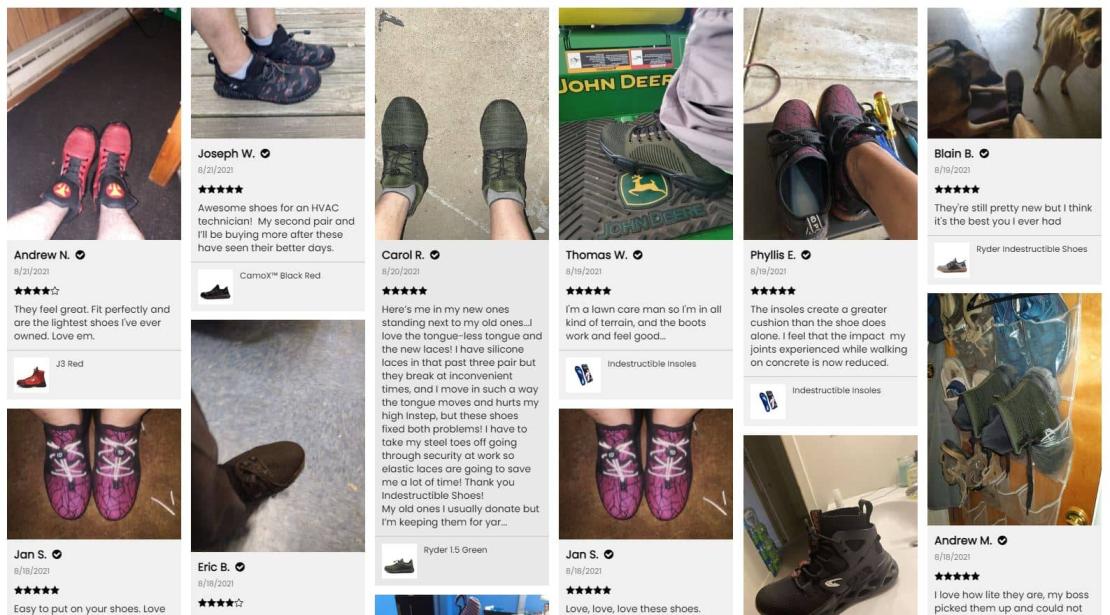 You can choose accessories to go with your shoes such as the no-tie laces.
The Competition
Timberland
Though many know the company for the apparel from the brand that hip hop artists wear, Timberland also makes work boots and shoes that keep you safe. The sneaker boot collection is a newer line that offers the comfort of a sneaker with the look of a boot. Many of these boots meet the safety standards of the top professional organizations, including both electrical and water hazards.
Wolverine
Wolverine offers different shoes and boots that are safe for all job sites. You can get boots with steel or composite toes that have a slight heel to help you feel more comfortable when walking or standing. Other boots have Durashocks designed by Wolverine that absorb all types of impacts and let you spend more time on your feet. Wolverine makes work boots and shoes for women, too.
Carhartt
You might know Carhartt as one of the top brands for outerwear, but the company also makes some solid work boots. Most have a higher fit that covers the back of your leg and a steel or composite toe. If you prefer a lightweight boot, you can pick up a pair that has a mesh upper and a lightweight sole. Carhartt also makes work boots for women as well as boots for other activities such as hiking or working in the rain.
Shoes for Crews
If you ever worked in a restaurant, you likely got a catalog from Shoes for Crews. This company offers many shoes and boots in wide sizes for those who need more room. You can grab shoes that look like dress shoes but have a non-slip sole and boots that you can slip on over your shoes.
Final Verdict
I found that Indestructible Shoes were not for me. I prefer a lighter shoe that doesn't weigh me down as I walk. Though I was very impressed with the build quality of the pair I received. In my research however, I found that many job sites that Indestructible Shoes are marketed to do not allow them. Because of this I would personally recommend these for running or camping, but not working.
When working on my Indestructible Shoes review, I found people talking about how the company was a scam and the issues they had with the pairs they bought. I didn't have the same experiences, but I understand why some would be wary towards the brand.
If you're the type of person who wants a more sturdy shoe and can find Indestructible shoes at a decent price, then I would recommend them. However, be careful about the brand.