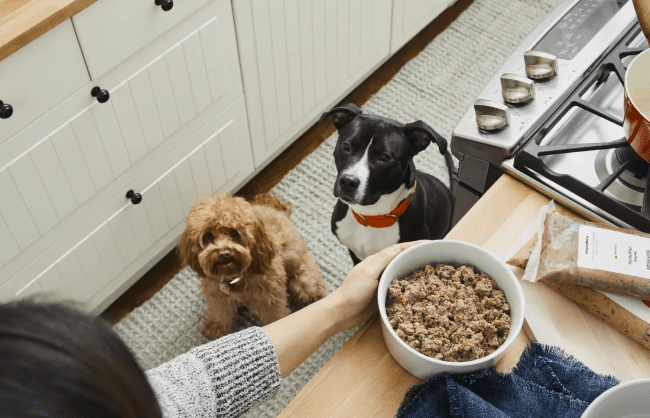 Reading the nutrition labels on some dog meals can be a frightening experience. They often contain substances that are difficult to pronounce and production techniques that you may not be comfortable with. That's where The Farmer's Dog comes in to play a role.
The founders of The Farmer's Dog, two dog parents, were concerned that many dog diets on the market today were overly processed and of poor quality. As a result, they set out to blend human-grade components into recipes that were specifically designed for dogs, thereby providing a healthier alternative for pet owners.
Your dog's weight, breed, and activity level are taken into consideration when creating the recipes, which are then delivered to your door. Because the ingredients are sourced from small farms, you can be confident that you are eating real food. Furthermore, you may be assured that a qualified nutritionist prepared a balanced and nutritious diet for your dog (without having to do all the cooking and research yourself).
The brand has transformed ordinary dog food into a delectable fine dining experience for your canine companion. Forbes, Vogue, CBS News, the Wall Street Journal, and Fast Company have all written about the brand. With 143k Instagram followers and more than 71k Facebook followers, the brand's large following on social media can be attributed to its reputation for openness and honesty.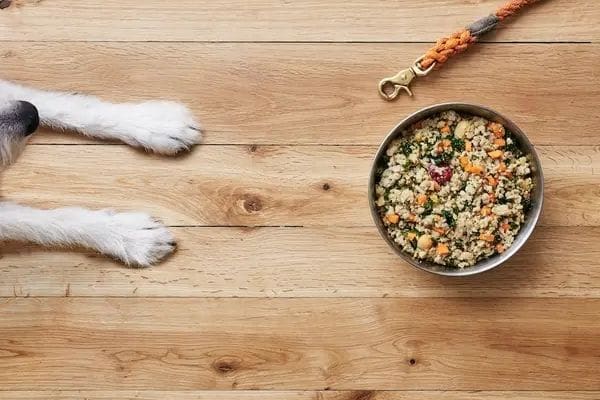 PROS
Made using unprocessed ingredients
No fillers or preservatives
Board-certified recipes designed by veterinary nutritionists
Association of American Feed Control Officials' (AAFCO) standards compliance
Personalized plans as per your pets' breed, weight, age, etc.
USA made
Flexible, free shipping & deliveries
Auto-shipping is available
Eco-friendly packaging
CONS
Limited protein options, which is not so good especially for pets with sensitivities and other food allergies
Bags not re-sealable
Perishable thus require deep freezing or refrigeration
Slightly expensive as compared to some conventional food options for dogs
BOTTOMLINE
The Farmer's Dog is your go-to when it comes to top-notch quality food for your lovely dogs! Veterinarian nutritionists who are board-certified develop and review each recipe, ensuring that it is 100 percent complete and balanced in accordance with AAFCO requirements.

iReviews Shopping Assistant
Find the best prices for this and many other products with our chrome extension
Product Features
Price: $30 and above
Shipping: Approximately 3 business days
Refunds: Complete refund if your pet doesn't like the taste and food gets donated to a shelter
New Shopper Discount: 60% off on the first order
Eco-friendly: Yes
The Farmer's Dog Overview
The story of The Farmer's Dog begins with Jada, a gorgeous Rottweiler puppy who suffered from terrible intestinal disorders for two years before being adopted by a Farmer. Through seeking advice from a veterinarian, he was told to feed her simple home-cooked meals. The result was almost immediate. Brett formed a partnership with his dog and fellow dog parent Jonathan Regev shortly after Jada's recovery, to launch The Farmer's Dog rescue organization.
The Farmer's Dog, which opened its doors in 2014, was one of the first companies to enter the fresh dog food industry. They learned from Jada's experience that just because a package of pet food contains the words "real," "healthy," "natural," or "organic" does not imply that it is similar to fresh food. Brett has stated repeatedly in talks with many publications that "it isn't even close to being close."
If you notice the Farmer's Dog stamp, you can be sure that the food is as follows:
Made from scratch
Vet-approved
Human-grade ingredients
USDA kitchens were used to prepare the food.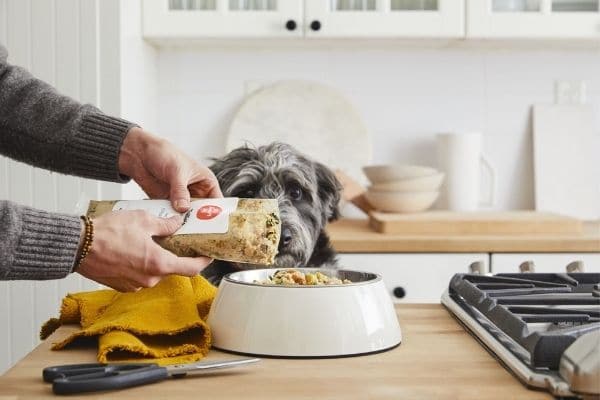 You know it's her all-time Favorite!
Our Experience
As the owner of a new puppy (13 week old golden retriever), we have been trying to find a food that she loves that is completely healthy for her. Personally, my boyfriends last dog passed away due to stomach cancer likely caused by kibble. So making sure my puppy is eating safe, quality food is extremely important to us.
Before trying The Farmer's Dog, we had been feeding my dog, June, a very expensive, dehydrated food that needed to be mixed with water. It was healthy for her, but very time consuming to mix and it did not look very appetizing, it was a bland gray color.
I was very interested in trying The Farmer's Dog because the photos of the food look so real and the products are human tested. But as you probably know, photos can be much more appealing than the actual product.
After answering some questions about June's breed, age, and health, I was shown this photo of what would be in June's trial box: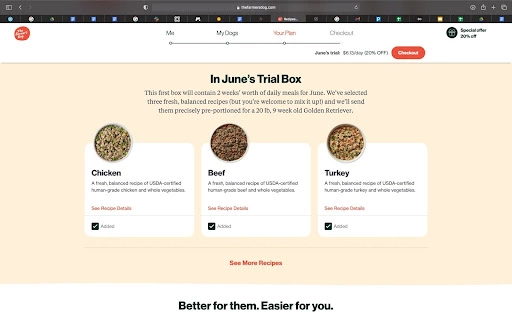 When the box arrived, I happened to be out of town for the night and was not able to pick up the package for 48 hours. I was very worried that the food would have gotten warm and I would have wasted so much money. I was even more worried when I went to pick up the package and it was in a cardboard box and not stored in any special area by my apartment complex.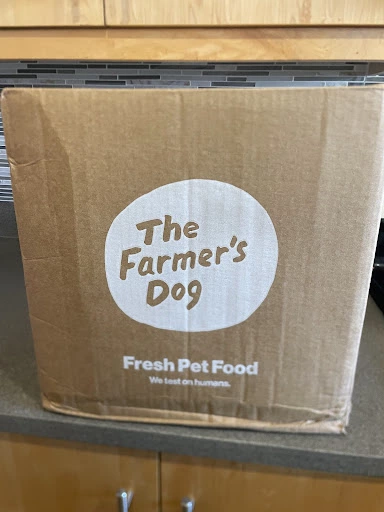 To my surprise, the box was huge, and even more to my surprise, when I opened the box, it was insulated with dry ice. All of the products were still completely frozen solid. The box was very large, which is likely expensive for the company, but it ensured that the food was insulated, kept cold, and safe for June.
Upon opening the box, I then moved the dry ice insulation and found a large green freezer bag. This unexpected freezer bag was perfect for storing the food in my freezer, and also kept the food cold when we went camping overnight with June.
The trial box from The Farmer's Dog is certainly a good deal. The box came with way more food than I ever imagined. It also came in great variety and looked like actual food.
The Farmers Dog Unboxing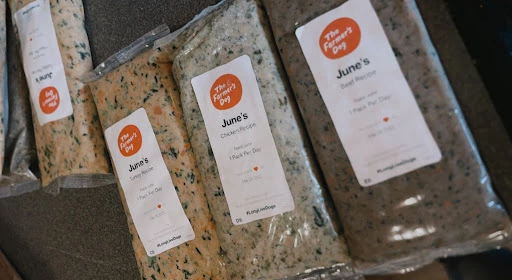 One detail I loved about The Farmer's Dog at first glance, was that June's name was individually printed on each food packet. This extra detail makes it feel so personal and unlike other mass produced dog food options. Furthermore, the individual food packets look as if I made dog food from scratch and put it in freezer bags myself.
Upon first look, I was extremely impressed with The Farmer's Dog. I could see the real ingredients through the clear packaging, the food was kept frozen, it was personalized, and I was given a free freezer bag. The amount of food exceeded my expectations and the food looked much healthier and better quality than any dog food I have seen on the market.
My only fear with this product was that June would not like it. She tends to be very picky and will not even eat most treats. I was nervous that the change would throw her off and she would not enjoy the food. When I put half of the package in her bowl, she did not get all excited as she did with her old food. Likely because she was confused that she did not see me mixing the old dehydrated food with water.
When I set the bowl down, she immediately started eating. She did eat a lot slower and with a little less excitement than before, but to my surprise this was only true for her first experience with The Farmer's Dog. Since the unboxing, June has been primarily eating The Farmer's Dog and has completely adjusted and loves it. She has had no stomach problems or expressed any disliking to the food.
Overall, I was blown away by this company. As a dog owner, I know that my pets' health and happiness comes above all. I would gladly pay any price for this food. It looks incredibly real, is healthier for my dog, and makes her happy. I truly plan to keep feeding June The Farmer's Dog throughout her life. This is one of the best experiences I have had with a new product in any category.
The Farmer's Dog Food Key Features
Recipes created by board-certified professionals in veterinary nutrition from the American College of Veterinary Nutrition
Complete and balanced meals prepared in accordance with the standards of the Association of American Feed Control Officials (AAFCO)
USDA components of human-grade quality are purchased from local suppliers
Their canine profile takes into account more than 15 different health conditions (allergies, gluten or grain intolerance, ear infections, digestive disorders, and so on), with the opportunity to add any additional health issues that are not already covered
Prepared foods that have been freshly prepared and flash-frozen to ensure that the food is as nutritious as possible
Meal plans are personalized to each dog's own characteristics, goals, and lifestyle — you may select the flavors and quantity of packs in each shipment to meet your specific needs
Each shipment is carefully packaged and labeled by the manufacturer to include individual packages, your dog's name, and the date the food was manufactured
Delivered to your doorstep on a regular basis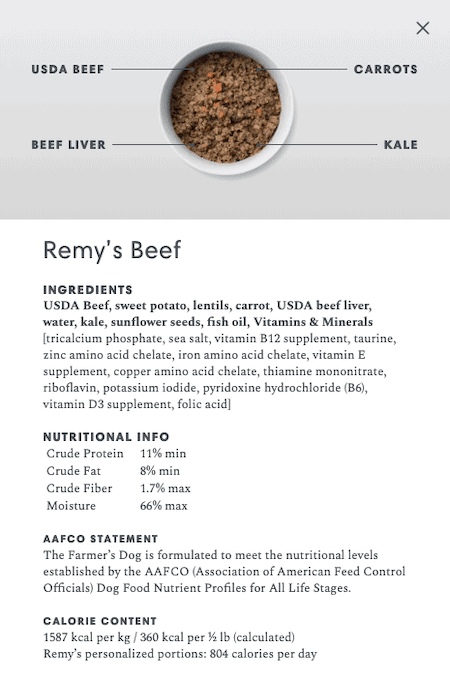 Why Choose Fresh Dog Food?
According to a survey conducted by VCA Animal Hospital, active dental disease affects 80 percent of pets over the age of three years in the study. In similarity, in the United States, about 60% of dogs are either obese or overweight, according to statistics. According to The Farmer's Dog, the first step in stopping these problems is to provide pets with proper nutrition.
Numerous investigations have discovered that pet foods frequently contain components that are not specified on their labels, or that they do not contain ingredients claimed. Production of pet food in the United States is carried out at disturbingly low levels of safety and quality, which are concealed behind lax labeling and marketing regulations:
Meals: Powders containing meat from infected livestock, such as 'Chicken Meal,' should be avoided.
Misleading Labels: Foods might be concealed under deceptive packaging. The phrase "made with beef" might refer to products that contain only 3 percent beef.
The brown pellets in kibble are extensively processed, regardless of the ingredients listed on the package (or pictures).
Unlike most brands, The Farmers Dog does not make grandiose statements. The Farmer's Dog makes only one claim: that they make real, fresh food, and that is it. "It's still dog food, and that's exactly the way it should be," the company claims.
The Farmer's Dog food is manufactured in the United States and is free of preservatives and processed ingredients because the goal is not to be shelf-stable. They want to make certain that your dog receives the most natural nutrition possible. Customers have reported that their pets' digestion has improved, their immune systems have strengthened, their skin and coats have become healthier, and their vitality has increased since switching to fresh food.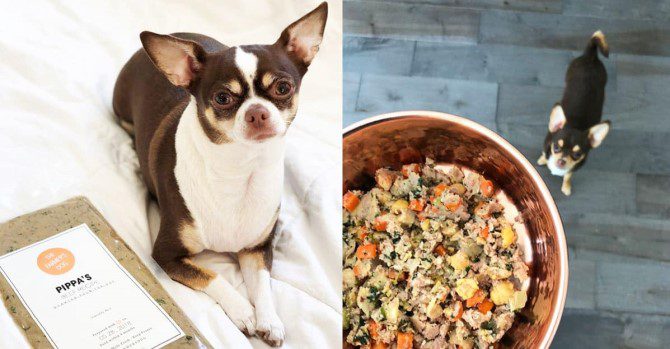 How Does The Farmer's Dog Work?
First and foremost, creating an online profile on The Farmer's Dog's website is the first step in the process of evaluating their cooked dog food. I established a profile for myself and my dog Sir Harisson Furred, a fox terrier-dachshund mix, for the purpose of reviewing The Farmer's Dog. The entire process took less than ten minutes to complete. As part of The Farmer's Dog subscription process, you are initially asked to key in basic information such as your zip code, contact details, name as well as some facts about your dog, including his/her age, sex, breed, and weight.
Fill up the blanks with any relevant information on your pet, such as:
Adoption of a particular stance (cutest, silliest, most loyal, most stubborn)
Physique (skinny, round, chunky, just right)
Dog's activity level (not very active–only moves when you get home, highly active–loves to play, active–daily outings to the dog park and lengthy walks)
Exercise is recommended (daily jogs, 2 hrs walk)
Personality when it comes to food (very picky, can be picky, good eater, will eat anything)
Problems with one's health
Dietary regimen (dry food, wet food, dehydrated food, fresh food, homemade food)
In addition, The Farmer's Dog offers a two-week tasting sample that will begin within a week of clients selecting their plan and making an order with the company. In order to preserve the product cold, the dog food is packaged with dry ice, and the food is pre-portioned into bags that contain enough food to last a day. Because the bags are frozen flat, they take up very little space in our overflowing freezers.
Following the trial period, your chosen plan will be paid and mailed every eight weeks. The delivery is scheduled in such a way that you will never run out of groceries. You can also tailor the frequency based on your canine's needs and preferences, and you can cancel at any moment during the subscription.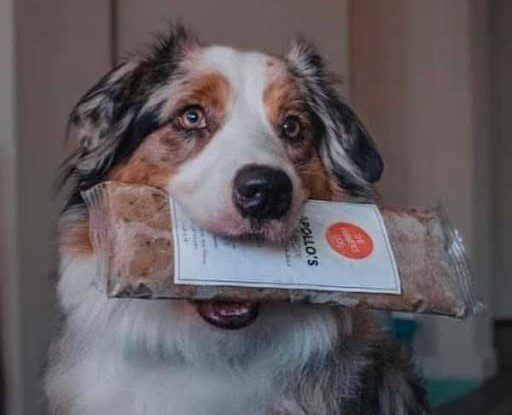 Get your favorite dog started on the healthiest pet diet on the market!
The Farmer's Dog Food
A combination of four distinct dishes, including beef, chicken, turkey, and pork, are included in The Farmer's Dog meal plans. The following ingredients will now be highlighted in The Farmer's Dog food evaluation for each of these recipes: USDA beef, sweet potato, lentils, carrot, beef liver, kale, sunflower seeds, fish oil, and TFD nutrient blend are all included in the beef portion (Vitamin mix).
USDA chicken, brussels sprouts, chicken liver, bok choy, broccoli, fish oil, and TFD nutrient pack are included in the chicken meal.
The following ingredients are used: USDA turkey breast, chickpeas (chickpeas are a legume), carrot, broccoli, parsnip, spinach, fish oil, and TFD nutrient blend.
USDA pork, sweet potato, potato, green beans, cauliflower, pork liver, fish oil, and TFD vitamin blend are all included in the pork recipe.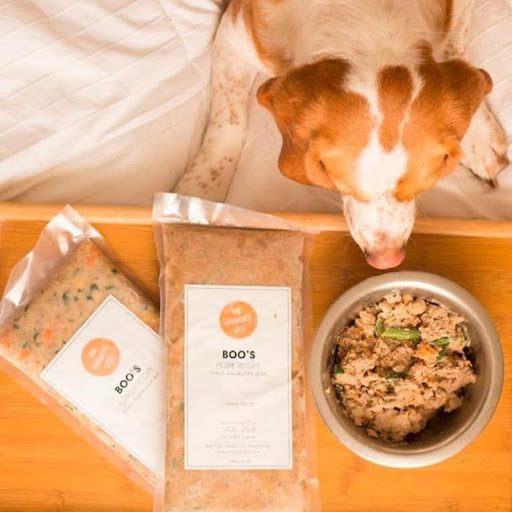 Vet-approved diets to suit your pet's palate!
The Farmer's Dog Price
Meal plans from The Farmer's Dog start at $2 per day. Each dog is unique, and the price of a full meal will vary depending on a range of criteria such as age, weight, and activity level. You can find out the actual cost by going to TheFarmersDog.com and completing the questionnaire provided by the company. Sir Furred's full daily meals were priced at $28.70 per week, with a 20 percent discount available for the 2-week trial period ($45.90, down from $57.40) and a 30-day money-back guarantee. That works out to about $115 per month.
The cost for a 25-pound dog goes from $4 to $5 per day, and the cost for a 55-pound dog ranges from $8 to $9 per day. For example, if you are the owner of a 60-pound Golden Retriever, a complete daily-meal plan will cost you $70.75 a week. That amounts to a hefty $283 each month! However, if your dog doesn't respond to the food, you can request more recipes to test, or you can request a refund if you choose to donate the food to a rescue organization.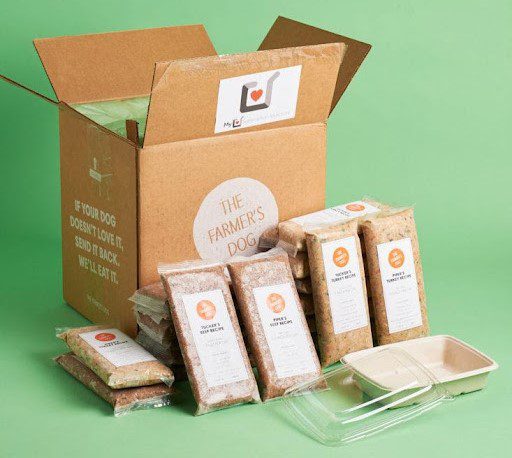 Quality dog food at friendly prices.
What Clients Think: Farmer's Dog Reviews
For our The Farmer's Dog review, we read through a slew of customer reviews, which expressed a variety of emotions, ranging from skepticism about the company's push for fresh food, to disbelief over low prices, to exasperation over the difficulty of transitioning their dogs from dry food to canned food. According to customer reviews posted on the Better Business Bureau's website, the brand has an average rating of 2.33/5 stars. The majority of pet parents were dissatisfied with the company's customer service, particularly with regard to the length of time it took to terminate their subscription.
It was too late for me to cancel the next delivery when I sought to do so. As a result, I now have two months' worth of frozen dog food ($250) that my puppy will not even look upon. In one The Farmer's Dog review, the customer writes, "I called The Farmer's Dog and was informed they would give me Anchovy Oil to add on the food in the hopes that she would eat it. If that didn't work, I could donate it to a rescue and email them the receipt and they would reimburse me."
In the Farmer's Dog Reddit reviews, customers expressed doubt about the word "human-grade," as well as what appears to be a regular struggle with the company's customer service. "When you attempt to contact customer service, you are routed to an automated message instructing you to text a message, send an email, or leave a voicemail with a phone number. "I've tried them all and have received no response," said another.
On the plus side, many customers report that their pets are only resistant during the first few days of transitioning away from the food they are accustomed to eating, rather than throughout the entire process. However, once they have passed through that first obstacle, the effects are very immediate. The evidence can be found in the feces of their dogs. According to one consumer who remarked on Reddit, "her feces is so much better now." Customers particularly appreciated the firm for its innovative packaging and on-time delivery, which ensures that your dog will never be without food.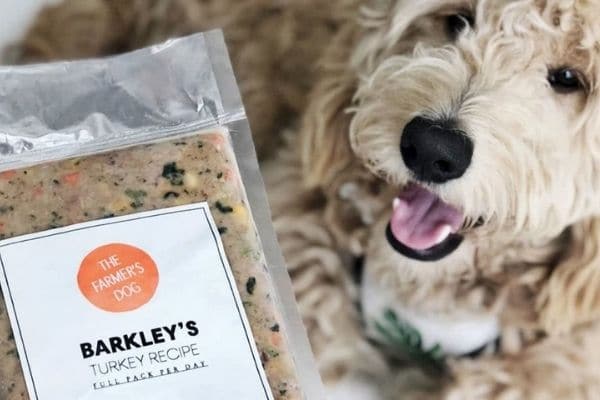 The leading dog food in the market; even customers agree!
Is The Farmer's Dog worth It?
The prices for Farmer's Dog are on the higher end of the scale. The company's customer service can be subpar at times. It's possible that your dog will tilt its nose up in the opposite direction. For those who are concerned about their dog's nutrition, prefer to be informed about what is going into it, are particular about how it comes out, and are prepared to pay a premium for it, The Farmer's Dog is a good option to consider.
Having raised a canine who was a picky eater, I would recommend supplementing the fresh food with only a sprinkle of kibble throughout the trial period. If The Farmer's Dog is out of reach for your financial situation, simply supplement the regular kibble with some fresh food and continue in this manner in the long run.
Only a few consumers have expressed concerns about the quality of the products used by The Farmer's Dog. Because of the brand's devotion to high manufacturing standards, it is regarded as dependable. It's also a convenient alternative for pet parents who have hectic schedules to consider. What is the conclusion of the Farmer's dog review? Give it a shot and see how it goes!
The Farmer's Dog Promotions & Discounts
During the Farmer's Dog trial period, which lasts two weeks, pet parents can receive a 20 percent discount at The Farmer's Dog. Check their website and social media pages on a regular basis for new discounts and promotions.
Creating The Farmer's Dog User Account
Our Farmer's Dog review includes detailed step-by-step instructions on how to sign up for The Farmer's Dog. You and your dog(s) can register for The Farmer's Dog website by creating an online profile for yourselves.
Input information about yourself (name, email, zip code) and your canine companion (sex, age, weight, breed, body composition, activity level, and eating information).
An algorithm will be used by The Farmer's Dog to generate recipe recommendations based on the information that has been entered.
Two weeks' worth of groceries (for a trial period) will be delivered to your doorstep within a week of your order being received.
It is automatic for the subscription to renew at the end of two weeks, and your plan will be invoiced and supplied every eight weeks after that.
Clients can also adjust the frequency of delivery based on their dog's preferences, or they can terminate the service at any time. You can also request that the recipe be changed.
FAQ
Where is The Farmer's Dog found?
The company's headquarters are in New York, in the United States of America.
Is food from The Farmer's Dog raw?
All of The Farmer's Dog recipes call for gently heating the meal at low temperatures in accordance with USDA-facility guidelines in order to maintain more of the nutritional value of the ingredients. They are then promptly frozen (not deep-frozen) for the purpose of shipping and storing them safely and conveniently. Because the food is fresh and does not contain any preservatives, it must be stored at a temperature that is safe for consumption in a refrigerator or freezer. In the refrigerator, the meal will last for up to 5 days if properly stored. Fill freezer-safe bags with the ingredients and keep them in the freezer if you aren't planning to use them for feeding within this time range. An easy-to-follow handbook will be included in each package, demonstrating how to properly store and feed the food.
How long does the Farmer's Dog shipping order take?
The Farmer's Dog currently ships to all 48 contiguous states in the United States at no additional cost to the customer. Customers receive deliveries of freshly cooked food on a recurrent and flexible basis, depending on their preferences. The first delivery is made within a week of placing the order, and after that, every successive delivery is scheduled in such a way that your pet does not run out of food between deliveries. Prior to invoicing and shipping, you will receive an email notification for each order placed with us.
How do I go about canceling The Farmer's Dog order?
Clients can make changes to their shipping frequency, as well as stop or cancel their subscriptions, at any time by going into their profiles on the Farmer's Dog website. According to the Farmer's Dog review, there was no information on how long refund processes took.
How do I contact The Farmer's Dog?
Following our evaluation of The Farmer's Dog, if you have any further questions, you can contact customer care by sending an email to [email protected] or by calling (646) 780-7957.
What is the importance of giving your pet fresh food?
The majority of currently available pet food options provide a sufficient amount of vitamins and nutrients to ensure a dog's survival, but we believe there is a significant difference between simply surviving and truly flourishing. Despite the worrisome rise in the number of pets suffering from obesity, cancer, and diabetes, there is a growing body of scientific research that points to the health benefits of a fresh food diet, as well as the hazards of many commercial pet food manufacturing procedures. And we've witnessed firsthand the excellent impact of feeding fresh to our own dogs as well as those of our clients, whether your dog is a finicky eater dealing with a specific health concern or totally healthy and happy to eat just about anything.
How are Farmer's Dog recipes formulated?
Unless otherwise stated, all of the ingredients are of human-grade quality and sourced from reputable food suppliers, local farms, and other human food providers who adhere to USDA guidelines. The Farmer's Dog develops dishes that are based on natural ingredients. Every dish calls for clean USDA proteins that are blended with fresh veggies and vitamin and mineral supplements to create a well-balanced meal. In order to ensure that each recipe is 100 percent complete and balanced in accordance with AAFCO guidelines, our board-certified veterinary nutritionists meticulously construct each recipe using only human-grade components and manufacturing procedures.
Should I cook Farmer's Dog food?
No need, our food is pre-portioned and ready-to-serve! You can serve it directly from the fridge or add a touch of hot water if your dog prefers warm food.
Should I contact the vet before feeding my pet Farmer's Dog food?
Absolutely! While many veterinarians disagree on the latest food fads, almost every veterinarian agrees that fresh, nutritionally balanced food is best for dogs. Our recipes are designed to completely replace a dog's regular diet, however many dogs with a variety of health conditions have reported that they are doing well on our food.