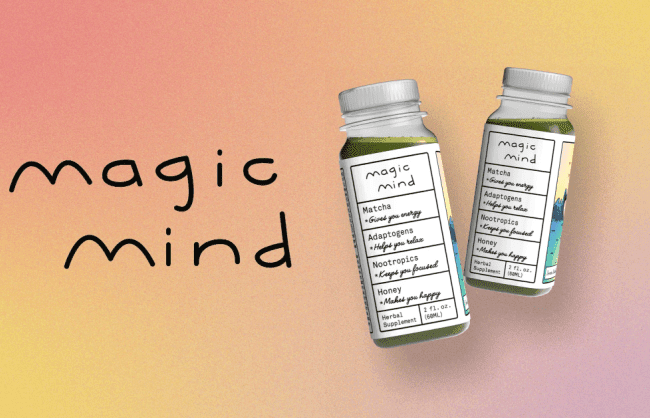 The makers of Magic Mind make some pretty bold claims about their product. On the front page of their website is the quote "30-40% more productive. I'm always skeptical about products like this, but I decided to still try out Magic Mind for about a week to see what benefits I can gain from it.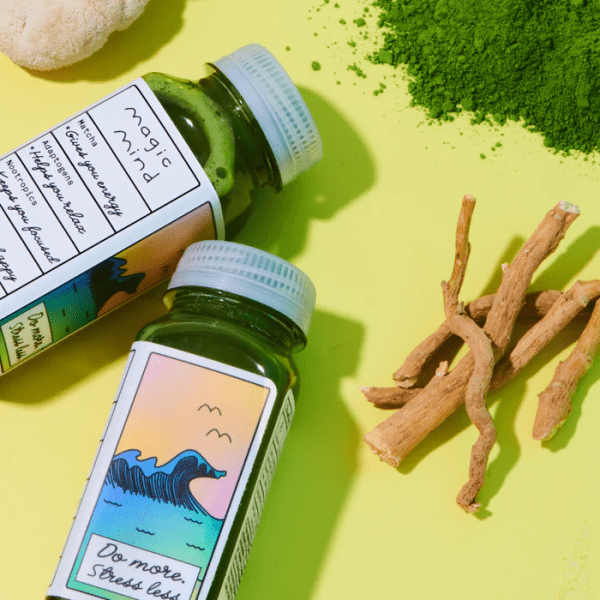 I didn't quite feel the effects promised, but I do appreciate the thorough research that went into the creation of Magic Mind, as well as its marketing and branding. In this review I will go over the basics of what Magic Mind is and how to use it while giving my honest thoughts on the product itself.
Hopefully this can help you make the decision on whether or not to purchase some bottles of Magic Mind for yourself.
PROS
All natural ingredients
Real science behind it
CONS
Price
Only ships to the US, Mexico and Canada
Only sold in bulk
Some may not like the taste
BOTTOMLINE
Magic Mind is a small health supplement that bills itself as the "World's first productivity drink". Each bottle uses natural ingredients researched by a team of doctors to provide a nice replacement or supplement to your morning coffee or tea.
Product Features:
Boosts energy
Increases focus
Improves mood
Made from all natural ingredients
Created by a team of doctors
What is Magic Mind?
Magic Mind bills itself as the "World's first productivity drink". Magic Mind differentiates from a typical energy drink by infusing natural ingredients together that help to sharpen the mind and increase productivity while providing enough caffeine for a morning energy booster. Magic Mind claims to boost energy, increase focus, boost memory, improve mood, decrease stress, decrease inflammation, and support the body's natural immunity.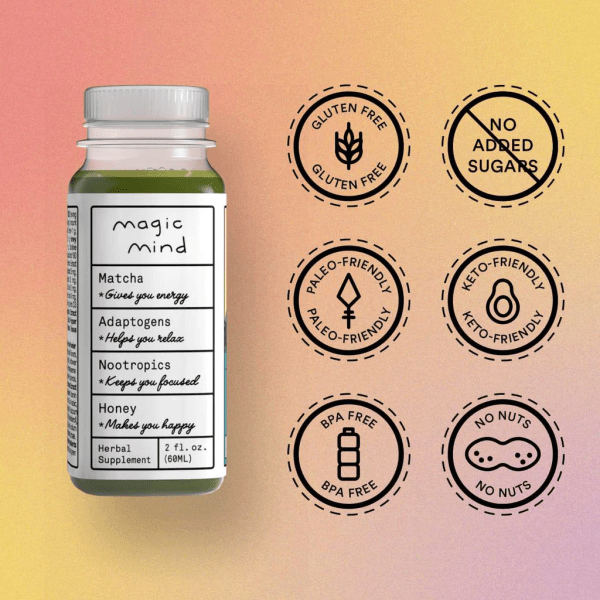 A nice thing to note is that the makers of Magic Mind quite literally wrote the book on natural alternatives to coffee, titled Beyond Coffee, which is backed by over 240 scientific studies. Magic Mind is also created by a team of medical doctors, which makes me feel way better about using this product. I'm quite skeptical when it comes to things like this so I was relieved to see quite a bit of actual science going into the creation of and marketing behind Magic Mind.
Magic Mind Unboxing
First impressions of the product are very nice. I really appreciate how Magic Mind took the extra step of using custom boxes with their branding printed on the inside of the cardboard as well as on the tape sealing the box.
The branding overall is fantastic. I especially like the warm gradients used along with the natural earth tones, which really gives the product its own identity.
Also included in the package is a nice little booklet with more information on the product as well as how to use it. In addition, the booklet includes some recipes on how to make your experience with magic mind even better.
The bottles themselves came in a small box with a top flap you can easily open to take out one of your bottles. The labels on the bottles were simple, yet elegant, telling you everything you need to know before taking a sip.
Overall, I really like the branding and packaging of Magic Mind. It perfectly encompasses the product and what it sets out to do.
Features
Each bottle of Magic Mind contains a wealth of natural ingredients, such as matcha green tea, honey, turmeric, and echinacea.
For me, at least, this combination of ingredients didn't taste great. I found it to be very earthy and hard to swallow, though I do feel like I got used to it over time. Each serving comes in a nice and small bottle that is easy to stick in a bag or take with you to work in the morning.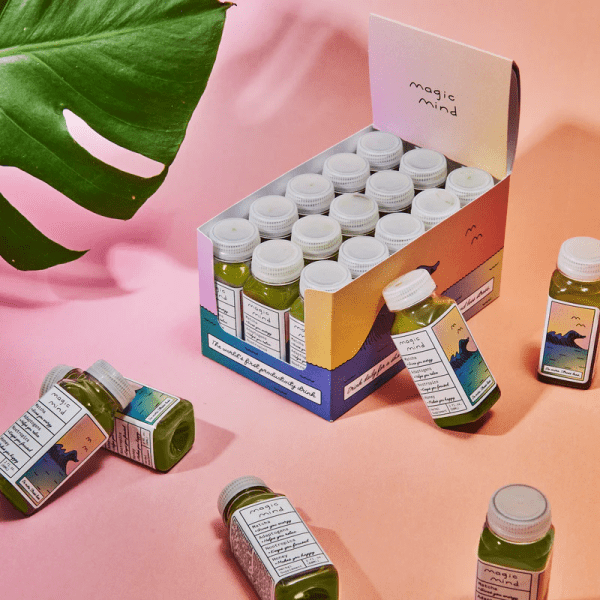 One gripe I have is that Magic Mind is only available in bulk purchases or 15 or 30 bottles. I really wish there was an option to customize your own amount or even just purchase a single bottle as a sample to see if you'll enjoy the product.
Magic Mind Test
For the purposes of this review, I decided to drink one bottle of Magic Mind each morning when I woke up and recorded myself doing so every other day while giving updates on my experience with the product.
On the first day I made the mistake of not shaking the bottle before drinking it. Huge mistake! It tasted pretty terrible without all the ingredients mixed properly and I even gagged while trying to get it down. I definitely learned the importance of shaking Magic Mind after that.
On the second day, while I did shake the bottle, I guess I didn't shake it hard enough because not all the ingredients mixed properly and there was quite a bit left in the bottle when I was done. Yeah, you really have to shake these things well.
By day 3 I still really hadn't felt more productive, though that may be due to not taking the supplement correctly the past few days. In fact, I felt kinda off the previous day, though that may be due to some external factors.
One thing I noticed while on Magic Mind was that my sleeping pattern hadn't really improved at all. Well, pattern might not be the right word. Some days I would wake up at 7am and others I wouldn't get out of bed until noon or so (one of the joys of working at home is that I set my own hours, so it didn't really affect my work output).
By day 5 (which I called day 3 in my video) I started feeling moderately more productive. I mention several times in the video that I was able to get some really good artwork done while on Magic Mind (which if you want to see I have selected pages from my sketchbook up on my portfolio here).
Looking back through the video now I can see that I was much more awake and alert during this day than any of the previous days, so perhaps it was working more than I thought.
Day 7 and I had forgotten what day it was…though that was on me and not Magic Mind. In my video I postulate the theory that, by taking a productivity drink each morning, it caused me to think more about productivity and had me focusing more on my work output. So, the benefits of Magic Mind may be mind over matter (Magic Mind over matter, if you will).
Though I didn't really feel much effects at the time, going back through my footage I definitely see a noticeable shift from my first day to my last. Whether this is because of Magic Mind, I can't say.
The conclusion I came to after a full week of Magic Mind is that if you think it's going to work for you, then it probably will. If you don't think it's going to work at all, then it likely won't.
It's sort of a psychosomatic phenomenon and I would like to see some research put into this specifically. Despite my conclusion that this is essentially a placebo, I think there's far worse things you can do each morning to improve your productivity than drinking a green goop every morning.
I definitely haven't had any negative effects after drinking Magic Mind and I'm happy to announce that, after not drinking it for a couple weeks, I have not forgotten how to breathe.
How Can You Use Magic Mind/ Who Is This For?
Magic Mind comes in a pack of either 15 or 30 bottles, each containing 2 fl oz of liquid. It's recommended that you keep the product chilled and take one bottle a day along with your morning caffeine, whether that be coffee, tea, or Diet Coke in my case.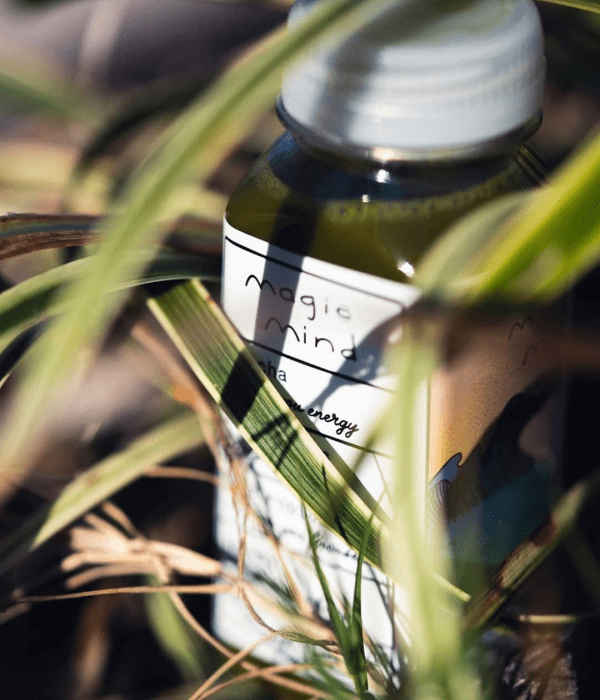 It's also recommended that you thoroughly shake the bottle before drinking it. I made the mistake of not doing this with my first drink and, as you can see in my video review, had a very unpleasant experience.
Magic Mind is for the busy and working individual who is looking to boost their energy and productivity while curbing their dependence on caffeine through more natural means.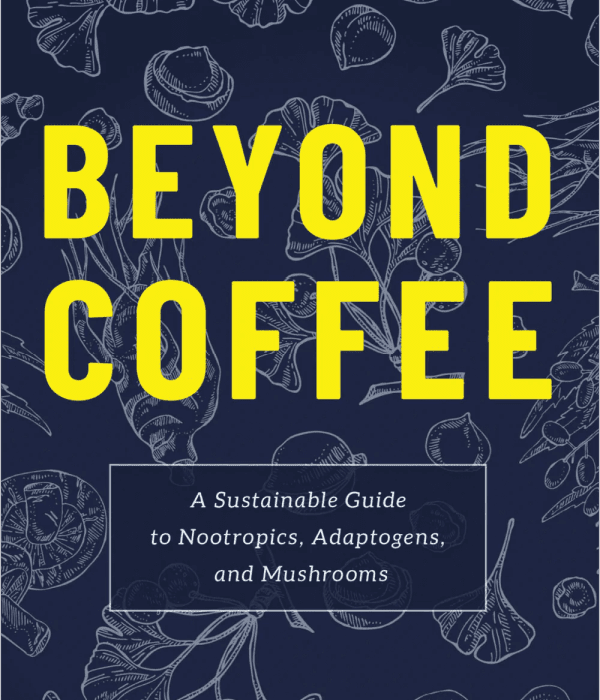 Typically, when looking at health products like this, I find them to be full of pseudoscience and trendy buzzwords that haven't been studied or proven by anyone in the medical community, so it's nice to see that Magic Mind was created by a team of doctors and has been peer reviewed multiple times.
Web Infrastructure
Magic Mind has one of the most pleasant and functional websites out of any of the products I have reviewed. The aesthetic is nice and full of soft, very warm colors with an almost water color look to it, very much fitting in with Magic Mind's natural vibe.
All of the links and pages on the site work and there's no annoying pop ups or advertisements to runin the experience. The site also features convenient sections for the product's ingredients, the team behind it, frequently asked questions, reviews and much more.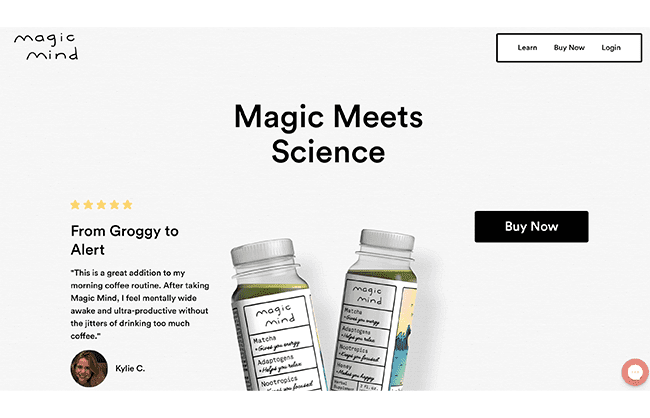 Where to Buy
Magic Mind can be purchased through the official website here. I recommend taking a full look through the site to get familiar with the products, its ingredients, its creators, and the science behind it.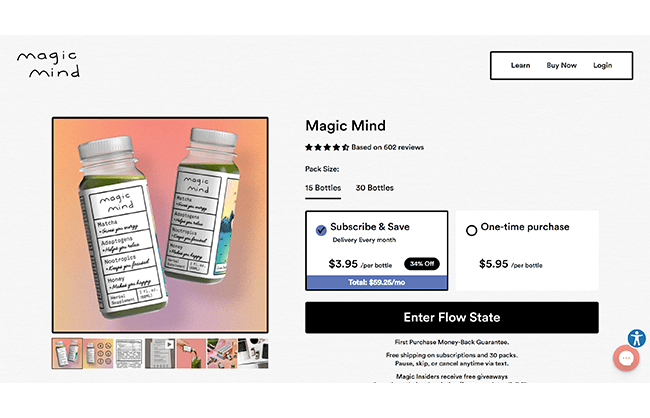 Monthly subscription boxes are also available if you want to continue taking Magic Mind and adding a bottle to your daily routine.
Should You Buy It
As I mentioned above, I think a lot of the positive effects of Magic Mind are psychosomatic. But if you really think it's going to work, then I would recommend it. There's not really any reason I can think of to not at least try out this product.
Competition
In any of my reviews I like to take a look at the competition for whatever product I'm doing to see if there's a better alternative or how well the product stacks against its contemporaries. In this case, however, I couldn't find any sort of product I could adequately compare to Magic Mind.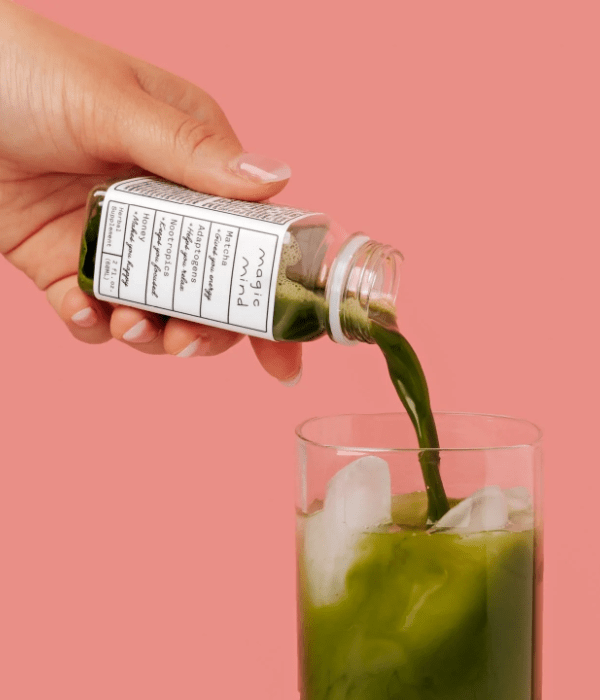 This product is truly one of a kind and in sort of an untapped market right now. I guess it's closest competitors would be coffee, tea, and energy drinks, but I don't feel right comparing any of them to Magic Mind. Magic Mind truly is the world's first productivity drink.
Final Thoughts
While I personally felt like I didn't benefit from Magic Mind as much as others, I find no real reason as to why I wouldn't recommend the product. It contains all natural ingredients and can serve as a good alternative to a morning coffee, or soda in my case.
With products like these I'm skeptical because I've seen how something could be marketed as a health supplement and end up having either no effect on the body at all or are potentially damaging to one's health. An example off the top of my head would be that health tonic that uses colloidal silver to "boost the immune system". Drinking this substance daily can actually turn your skin a weird blue shade and even cause organ failure.
There's no such concern with Magic Mind. I would say that if you think it's going to work for you, then it probably will, and there's much worse things you could be putting into your body. Overall, I would say that Magic Mind is a good product, just not one that works for me specifically.
Resources and Further Reading