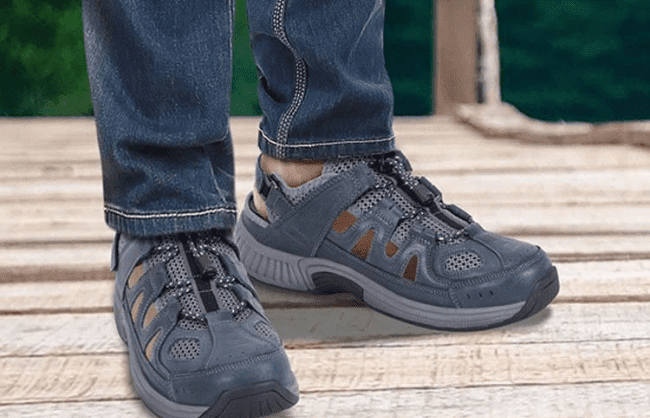 Foot pain can be some of the worst to deal with simply because there's no real way to get away from it. Since many of us are almost always on our feet most of the day, even the slightest discomfort can put us in a bad mood. This is where the orthotic shoes and products from Orthofeet come in to help.
Using a variety of technologies researched by orthopedic doctors, Orthofeet strives to create the most comfortable shoes possible, loaded with features that make them easy to use for those with issues regarding mobility.
In this review, I will go over the products, features, and even some competitors of Orthofeet. Hopefully, you can use this to better make your decision in buying the right shoes for you.
PROS
Comfortable
Made my podiatrists
Each package comes with extra spacers
Shoes come in a variety of styles
Affordable
CONS
Some customers had issues with the straps and laces
Customer service can be slow to contact
Returns and refunds are slow
BOTTOMLINE
Orthofeet provides comfortable and affordable shoes and footwear delivered right to your door. Specializing in footwear to help ease certain health conditions,Orthofeet hopes to reduce pain and increase comfort as you go about your day.
Product Features:
Wide variety of styles
Specialized footwear for certain conditions
Soft and comfy foam inserts
Extra spacers included in the package
Socks also available
What is Orthofeet?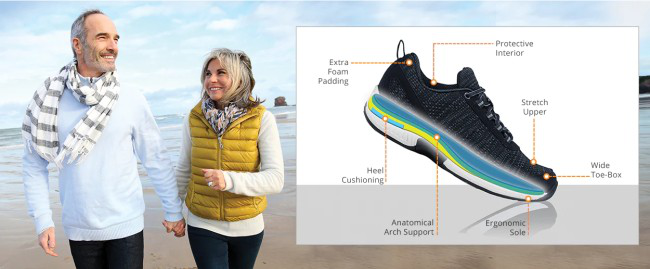 Orthofeet is a brand of shoes and footcare products designed with comfort in mind. The shoes from Othrofeet feature soft insoles that reduce pain and makie walking or running for long distances a much more pleasurable experience.
In addition to shoes, Orthofeet produces socks for conditions like bunions and diabetes as well as comfort insoles that you can put into any pair of shoes you already own to give you maximum comfort while still fitting your style.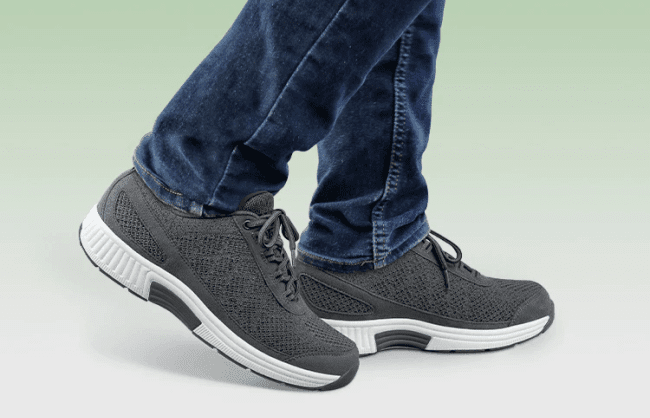 What I like about Orthofeet's shoes is the variety of styles they have available. I'm pretty picky when it comes to footwear, so it's nice to know that I can find a pair that both look good with any of my outfits and feel super comfortable. And If for some reason you can't find a pair that fits you personally, you can always just get the socks or insoles to fit your current pair.
Orthofeet Unboxing
My Orthofeet package came in a typical shoebox with a lot packed into it, much more than I expected. The box came loaded with pamphlets and brochures for other Orthofeet products, as well as some arch support inserts and spacers for if the shoes don't fit right. I always really appreciate it when a company goes above and beyond to include extras in a basic package such as this.
I received a pair of the gray alpine heel strap shoes. I'll be honest, I really wish I had gotten a different pair since I don't really think this pair fits my style. I don't really like shoes with holes on the sides because I always wear socks and don't think they look great with a pair like this. However, looking at Orthofeet's website, they have a wide variety of shoes that could fit pretty much any style.
Out of the box, the build quality was really good. Everything felt very sturdy and the sole had a lot of cushioning. I also didn't like the lace fastener too much, but I understand that these shoes are made and marketed more towards individuals with mobility issues.
Features
All Orthofeet shoes come with a wealth of features that make them well worth the money. The main feature being the Ortho-cushion system, which provides comfortable cushioning and a slight rocking motion with every step.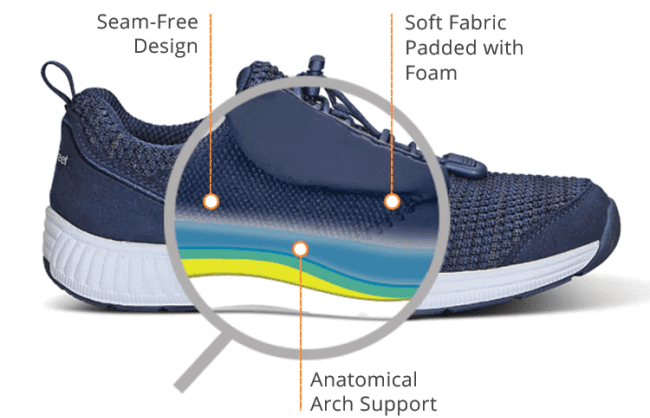 Another exciting feature is the biometrical orthotic insole. These use multiple layers or foam and gel to make every step as comfortable as possible, reducing pain alleviating calluses, and providing additional support.
The protective interior lining of each shoe also helps to reduce pain and increase comfort by conforming to the foot over time and eliminating pressure points. The extra depth design and stretchable uppers work together to increase the size of the toe box to provide a looser, easier fit while easing pressure on bunions and hammertoes.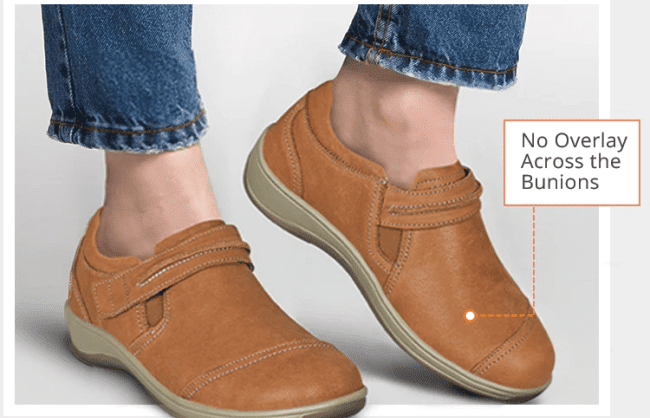 If you feel that your shoes still don't fit right, that's no issue. Every pair of Orthofeet shoes comes with 2 sets of foam spacers that go under the insole to help get that perfect fit. I always appreciate it when companies go above and beyond to provide extra accessories with their products to make the consumer experience more pleasurable.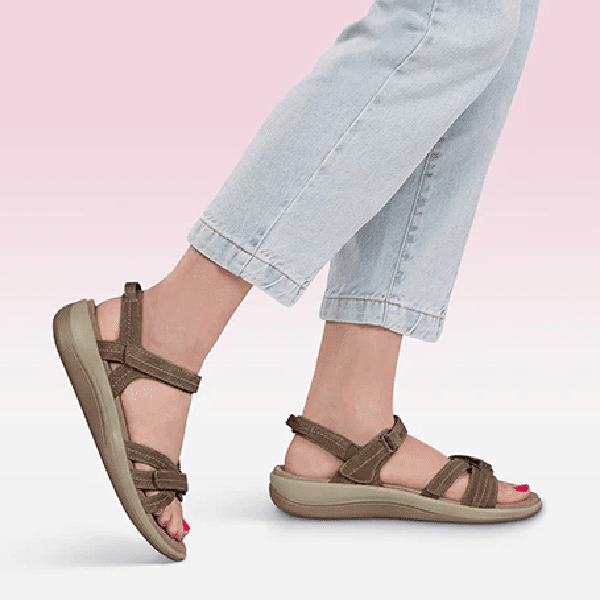 I really appreciate both the tieless lace system and the two way velcro straps featured in Orthofeet shoes. As I stated above, I absolutely hate shoelaces. And I'm an able bodied 24 year old man, I could only imagine the frustration of having to tie and retie a pair of shoes if you were older or had mobility issues.
All and all, each pair of Orthofeet shoes comes packed with features and technology developed by professional foot doctors to ensure the most comfortable fit possible. With the addition of extra spacers put into every box I really admire what Orthofeet has done to improve the customer experience, especially for their target market.
Orthofeet Test
I had a consistent issue in testing my pair of Orthofeet shoes where the velcro strap on the back of the heel seemed to always come undone and I'd have to re-fasten it. I received a size 9, but it felt like these were made for someone with a larger shoe size considering how often this happened as, strapped all the way tightly around my heel, the velcro seemed to be only holding on by about a centimeter.
Other than this though, I had no other issues with my pair. The soles in particular were very comfortable and offered a lot of padding.
The build also held up very well even after using them for extended periods of time. I've bought pairs of shoes in the past that started falling apart just a few weeks after wearing them regularly, that didn't happen with these.
Overall, aside from the backstrap issue, these were some of the most comfortable shoes I've worn. But I would recommend getting a pair without the back strap.
How Can You Use Orthofeet/ Who Is This For?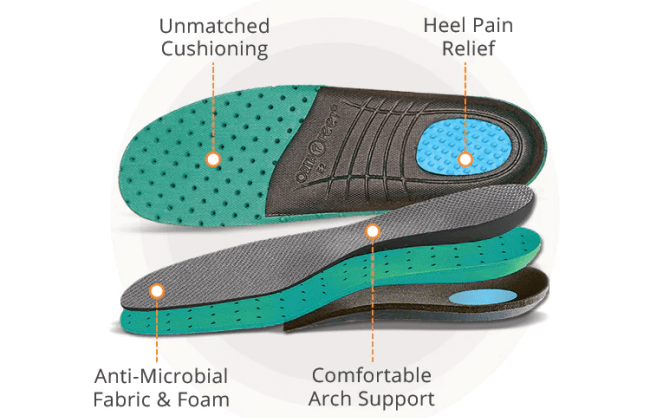 Orthofeet shoes can be used like any other pair of shoes, just slip them on and fasten them with whatever fastener they feature. All Orthofeet shoes feature a no-tie design, which I really appreciate since I hate tying shoe laces. Some shoes even have a unique tie-less lace that gives the appearance of a classic shoe lace knot, but with none of the hassle.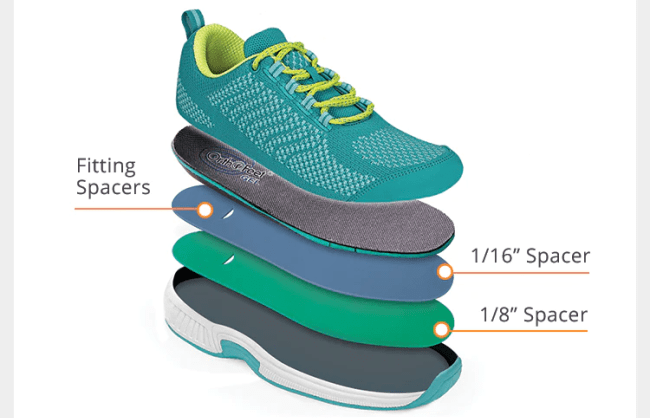 Orthofeet products are mainly for older and middle aged adults who have issues with mobility and want a more comfortable way to get around. Some products are marketed towards those who suffer from certain medical conditions, like diabetes and tendonitis.
Orthofeet shoes and other products can still be used though for able bodied people simply looking to find more comfort in their shoes. I would recommend them for someone who does a lot of walking and wants to reduce the pain and soreness from walking for long periods of time.
Web Infrastructure
The Orthofeet website was quite a pleasure to use. Everything was laid out very well and every link went where it was supposed to go. I especially liked the technology page, which went in depth into each feature available in the shoes. This page made writing this review a lot easier.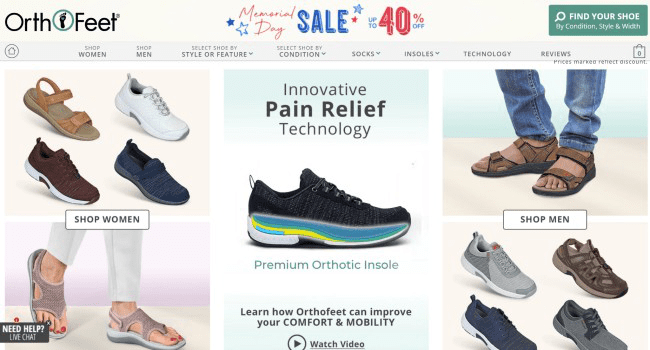 I will say one thing I don't like is that the reviews page only features 5 star reviews. When looking at a product's website, I like to see a variety of reviews. It's good to see when the product has mostly positive reviews, but showing all types of testimonials, even the bad ones, shows me that the company is transparent and up front with how people view their product or service.
Should You Buy It
If you have chronic foot pain, bunions, or any of the other conditions outlined on the Orthofeet website, then I would absolutely recommend picking up a pair of Orthofeet shoes. They are comfortable and loaded with all sorts of technology to make your day to day life pain free.
If you're young and able bodied, like myself, you may be better off getting a cheaper pair of shoes and maybe some gel inserts to alleviate some pain. This is what I do and will likely continue to do for some time and I find that this works best for me since I can pretty much put my gel inserts into any pair of shoes I own.
Though, Orthofeet does produce inserts like this, so I would recommend giving those a shot too.
Where to Buy
Orthofeet shoes and other products can be purchased through the official website here. I highly recommended taking a look at some of the informative videos on the website to get familiar with all the technology involved in Orthofeet products.
Competition
Kuru
With technology focusing on alleviating the fat pad in your foot, Kuru creates shoes with soles that flex with each step to help alleviate foot pain and make you more active. I really like the variety of style options available from Kuru, with shoes for both men and women available as sandals, boots, flip flops, and even slippers.
Though it does seem like the options available from Orthofeet have a bit more technology and features going into them. Kuru shoes also tend to be on the pricier side.
Zeba
If you're looking for a pair of shoes that are easier to slip in and out of, look no further than Zeba. These shoes use a unique technology that lets the user put them on and take them off without needing to bend over. Honestly it's quite cool watching them work.
Still more expensive than options from Orthofeet, the technology involved makes them well worth taking a look at. I would recommend these for anyone with back or knee problems who has trouble bending over to put their shoes on.
Final Verdict
Foot pain is extremely tough to deal with and hard to get rid of. Most of us walk from place to place and are on our feet most of the day. That's why I would recommend Orthofeet for anyone experiencing a lot of foot pain or just want to make their daily walks more comfortable.
By far the most affordable orthotic shoes I've researched, about $100-$140 a pair, and in more styles, Orthofeet stands far above their competitors. While I had a bit of an issue regarding the velcro straps, I overall enjoyed my experience with my pair. In my opinion, these are the best orthotic shoes and products on the market.
Resources and Further Reading