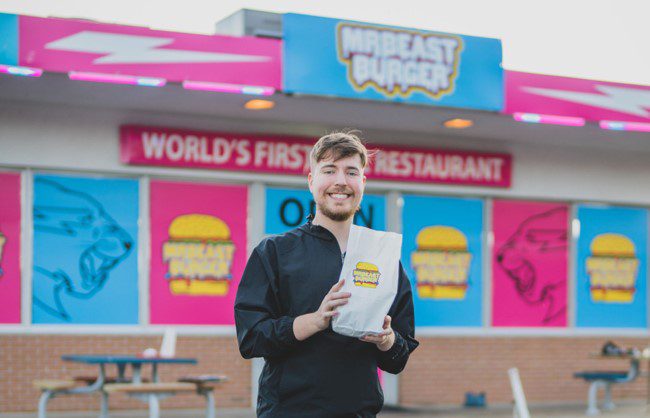 On November 9th 2020, in the town of Wilson, NC, popular YouTube personality Mr. Beast performed another one of his famous giveaway stunts in his hometown by offering free burgers and fries to the fans who showed up to the event. This turned out to be a sort of soft launch for the Mr. Beast Burger brand which would go on to offer cheap and delicious fast food to around 600 locations nationwide.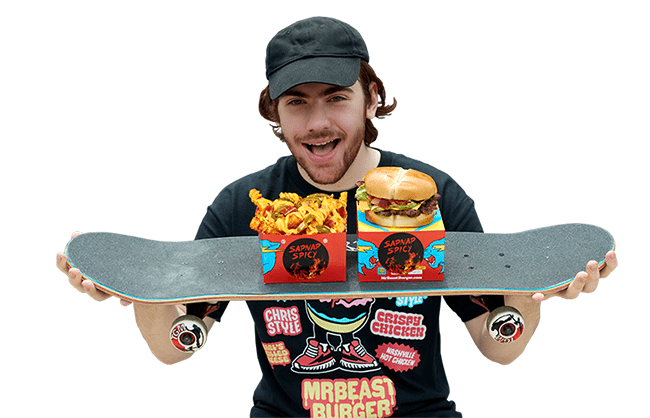 In this review, I will go over the basics of Mr. Beast Burger, the menu, the branding and business model, all in order to help you decide if you want to place an order for yourself.
PROS
Delicious menu
Helps struggling businesses
Vegetarian and vegan options available
Overall branding and marketing
CONS
Service and quality may vary depending on location
Customization options limited
No sit down locations
BOTTOMLINE
Mr. Beast Burger is a delicious, cheap, and convenient alternative to traditional fast food. The menu is simple yet extremely effective, catering to tastes of all kinds.
Product Features:
Easy ordering through apps
Tasty food
Small but quality menu
Burgers, fries, chicken sandwiches and more
Impossible meat options
Gluten free options
What Is Mr. Beast Burger?
Mr. Beast Burger is what some in the restaurant industry would refer to as a ghost kitchen, meaning that they do not have a physical building where customers can order and eat their meals, instead opting for a delivery only model. Mr. Beast Burger is different from other ghost kitchens in that they provide their products and ingredients to the kitchens of other restaurants, often ones who are struggling financially, who are then put in charge of cooking, packing, and delivering the order.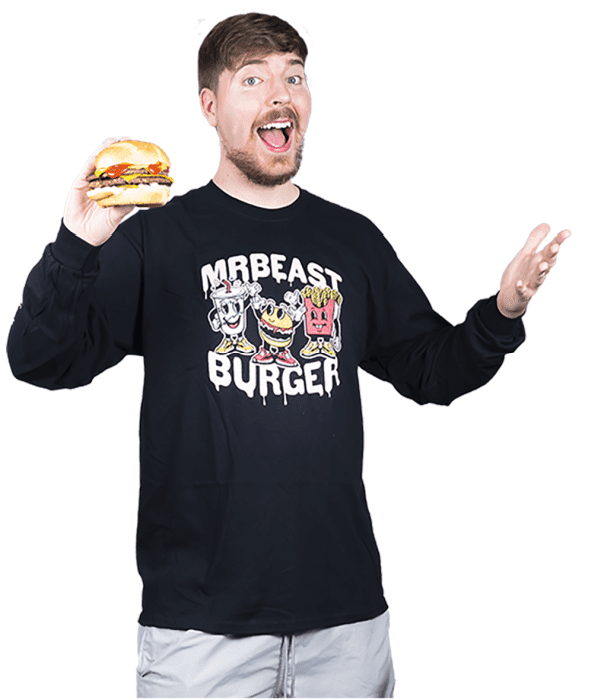 The brand is run by the titular Youtuber, Mr. Beast, known for massive give away and charity stunts. Mr. Beast Burger was created in part to help out struggling brick and mortar restaurants that took some financial hits during the Covid-19 pandemic. By offering his own easy to make yet delicious menu to these restaurants, Mr. Beast has provided them with an extra source of revenue, something very on brand for the web content creator.
Menu
As of the writing of this piece, Mr. Beast Burger offers 7 sandwiches along with sides, desserts, and even offerings made with imitation meats made from plants. I'd like to take the time right now to quickly go over each menu item available.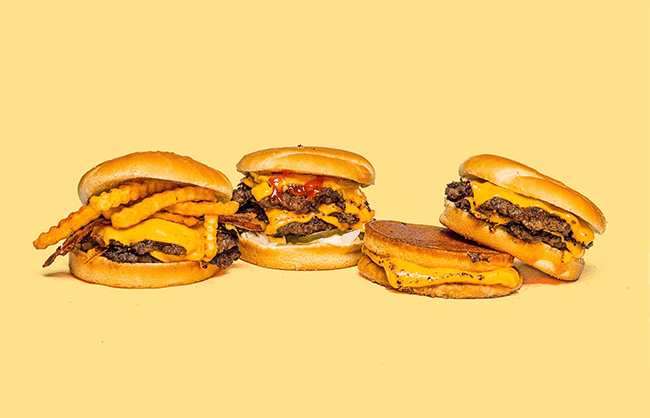 The first and most iconic item on the menu is the Mr. Beast Style burger. This is a smashed double cheeseburger served with american cheese, pickles, diced onions, ketchup, mustard and mayo.
The rest of the menu items are named after Mr. Beast's friends who appear in his videos, like Karl's deluxe. This patty melt is made with the same smashed patties as the rest of the menu along with caramelized onions all on an inverted bun. I guess Karl likes his burgers like that.
The Chandler Style burger is served plain and simple with no condiments or add ons unless you request them. This is what I ordered for my taste test video and I really liked the simplicity and flavor of this sandwich.
The Christian Style is probably the most out there in terms of ingredients. This burger uses the same smashed patties as the rest of the burgers but topped with seasoned crinkle fries and bacon.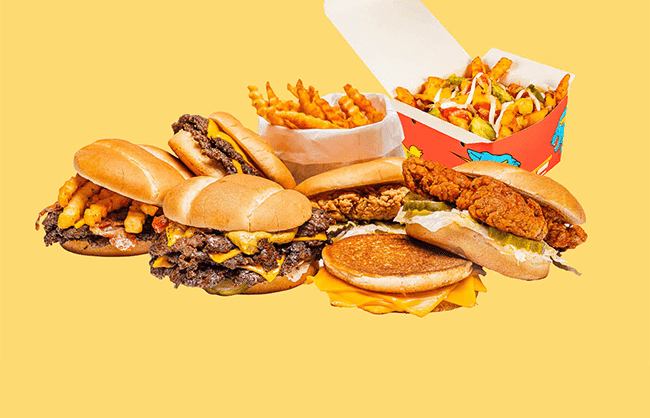 All beef burgers from Mr. Beast Burger are available in an impossible style, made with the same seasonings and add-ons but with the patties replaced with plant based imitation meat, similar to the Impossible Whopper from Burger King.
In addition to burgers, the menu for Mr. Beast Burger contains 2 chicken tender sandwiches and 1 grilled cheese. Karl's Grilled Cheese is a fairly basic offering, with three slices of american cheese served on an inverted bun. Once again, I guess that's how Karl likes his sandwiches.
2 chicken tender sandwiches are added to the menu, both served with mayo, shredded lettuce, and sliced pickles. These sandwiches are available made with both classic mild chicken tenders and Nashville hot seasoned tenders.
Fries from Mr. Beast Burger are available in two ways. Classic crinkle fries with house seasonings or in the Beast Style with caramelized onions, cheese, pickles, ketchup, mustard and mayo.
For desserts, Mr. Beast Burger offers a simple chocolate chip cookie, freshly baked in whatever kitchen is preparing your order.
Overall, the menu from Mr. Beast Burger is simple yet very effective. Definitely a step above the offerings from a typical fast food restaurant.
Mr. Beast Burger Taste Test
For the purposes of this review, I received 2 sandwiches from Mr. Beast Burger, those being the Chandler Style and the Karl's deluxe.
The first thing that impressed me was the cardboard packaging for each burger. Being a ghost kitchen run out of a local Perkins, I expected little effort to go into the container for the burgers, however I was pleasantly surprised to find that each sandwich came packaged in a colorful cardboard box adorned with the brand's color scheme and logo.
I took a bite out of the Chandler's Style burger first and was quite pleased to find that it tasted really good. I mention in my video that it actually tastes better than some offerings from McDonalds, which is really saying something because I eat McDonalds a lot.
Next, I decided to take a couple of bites of Karl's Deluxe. Full disclosure, my order was taken care of by an associate at iReviews who did not know that I dislike onions. This wasn't much of a problem however since the caramelized onions were very subdued and didn't overpower the rest of the burger.
At a later date, I actually decided to order Mr. Beast Burger again, this time on my own dime. I chose to order Chandler's style, which I loved from my initial test, along with a side of the seasoned fries on the menu. I'm happy to report that these were also quite good and paired well with the burger.
All and all, a meal from Mr. Beast Burger has quite a lot of effort and quality put in that I was very pleasantly surprised with.
How Does Mr. Beast Burger Work? / Who Is This For?
As stated above, Mr. Beast Burger works like a ghost kitchen wherein they only do take out and delivery orders exclusively online through the website or from food delivery apps. I understand that this model may be confusing for some of the less tech savvy individuals, I myself have gotten frustrated trying to navigate delivery apps, but Mr. Beast Burger attempts to streamline this process by offering food through multiple apps as well as the website.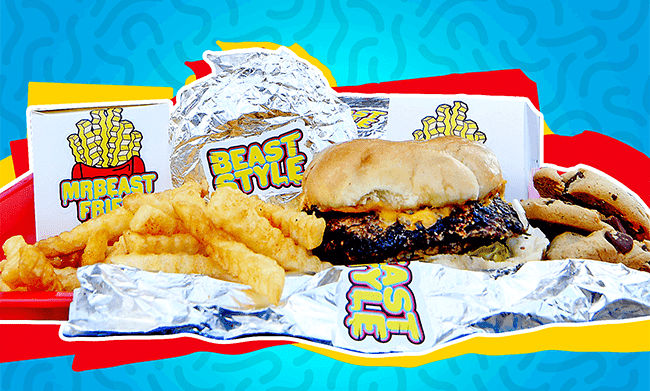 Mr. Beast Burger doesn't run any of their own kitchens but instead uses those of existing restaurants that could use some extra revenue. This however can cause some variation in quality from location to location as some restaurants may not treat the menu with as much care and attention as others.
This wasn't a problem for me as my order was taken care of by a local Perkin's that did an excellent job, but I have seen and heard some complaints about other locations.
I definitely wouldn't say that this service is exclusively for fans of Mr. Beast, quite the opposite in fact. I actually have never seen any of his videos. I'm familiar with the name and some of his many charity stunts, but I've never actually sat down to view any of his content.
Despite this, I quite enjoyed the meal I received from Mr. Beast Burger and would say that this service is worth looking into for anyone who likes good food and convenient delivery.
If you're looking online for some really decent fast food and you live in an area where a Mr. Beast Burger kitchen is located, I would highly recommend giving it a shot.
Web Infrastructure
Much like the food offered from Mr. BeastBurger, the website is simple yet effective with just a little bit of a punch. I'm absolutely in love with the overall marketing, logo design, and color scheme of the site as well as the brand. The bright colors really stand out amongst other fast food brands and really leave a lasting impression.
I would highly recommend ordering Mr. Beast Burger through the website as I have found that not all delivery apps have every location. I myself was pretty confused when the closest location on UberEats was a 40-50 minute drive from my house, whereas there was a restaurant just 5 minutes away from my house.
With the website you can find and order from the location closest to you regardless of which delivery app you use as well as customize your order. I will say that customization options are not as robust as I would like. I typically get extra pickles on my burgers but unfortunately that isn't an option for my preferred sandwich, the Chandler Style.
Overall though, the website is bright, colorful, and extremely easy to use.
Should You Buy It
As stated above, if you live in an area where Mr. Beast Burger delivers, I would highly recommend at least giving them a shot. Menu items are fairly inexpensive and worth the extra few bucks you would pay at a McDonalds or Burger King.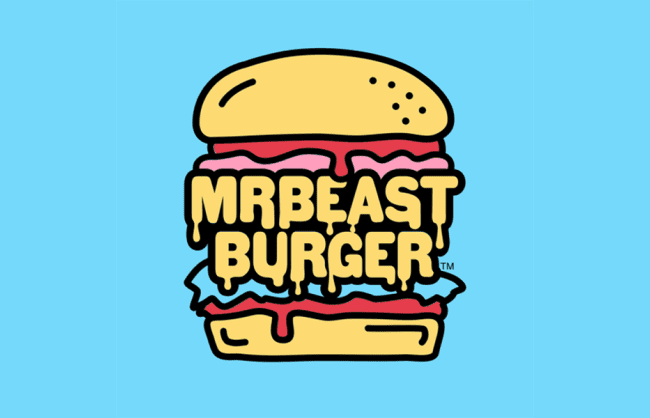 I had a wonderful time trying out Mr. Beast Burger for this review and plan on ordering from them again in the future. This really is an interesting new business that I can see myself returning to in the future.
Where to Buy
Mr. Beast Burger can be ordered though popular food delivery apps like Uber Eats, DoorDash, and Grub Hub, as well as an official Mr. Beast Burger app on iOS and Android. I would recommend using the official website or the app to place your order so that you can ensure that you're getting a delivery from the closest restaurant.
Similar Restaurants
Mr. Beast Burger is far from the first web based ghost kitchen, but many of their predecessors can be classified as gimmick restaurants where the novelty of their service takes precedence over the quality of the food. One such example is Garfield Eats.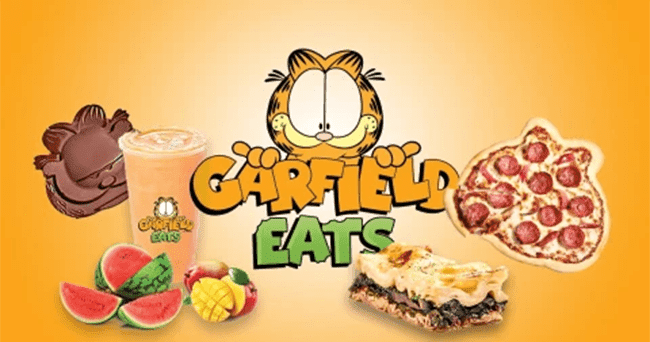 Garfield eats was an attempt from Paws inc. and Jim Davis to create an "entergaging" line of ghost kitchens themed around the Garfield character and comic strips. The menu consisted of various Garfield themed foods like lasagna, Garfaccinos, and Garfield shaped pizza with an orange colored sauce.
The problem with Garfield Eats, and the reason why they aren't around anymore, was the sub-par quality of the food. It was clear that the individuals behind the idea were far more interested in marketing the Garfield brand than creating a decent meal.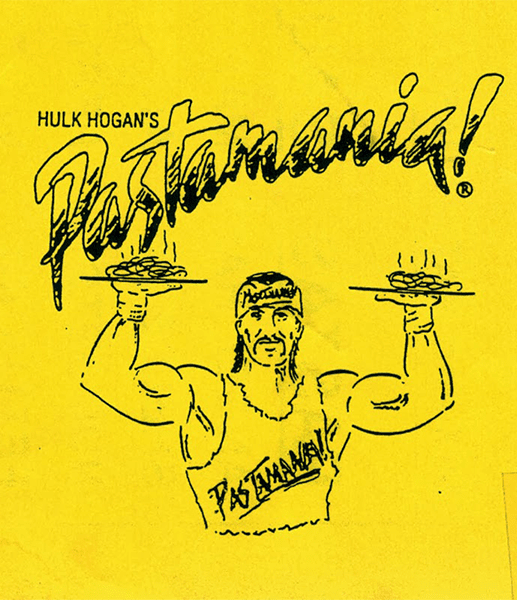 Another establishment that came to mind when I was working on this review was professional wrestler Hulk Hogan's Pastamania. Pastamania was opened in the Mall of America in the fall of 1995. Similarly, while the branding and overall theming of Pastamania was interesting, not much effort was put into the quality of the food.
Mr. Beast Burger differs from these to novelty restaurants in the sense that it's not actually a novelty restaurant. It may be themed to a popular YouTuber with menu items named after his friends who have appeared in his videos, but first and foremost, this is a fast food restaurant. It's clear, to me at least, that Mr. Beast Burger focuses on the quality of the food above all else so that it can be enjoyed by any fan of a good burger even if you've never seen a video from, or even heard of, Mr. Beast.
Final Thoughts
As I've made very obvious in the passages above, I was extremely impressed and pleasantly surprised with Mr. Beast Burger. The branding is bright and colorful and delivery was easy and convenient.
But Mr. Beast Burger gets the most important thing right for any restaurant or food brand, that being the food. At no point did I feel like this was a gimmick or a quick way to grab some cash from the creators.
I had a wonderful time trying out Mr. Beast Burger and will be ordering from them in the future. I'm also excited to see where this business model takes us. I've heard rumors that they will be attempting the same idea with a chain based around the Five Nights at Freddy's game franchise. If enough care and attention goes into that as Mr. Beast Burger, then I'm extremely excited to try it.
Resources and Further Reading