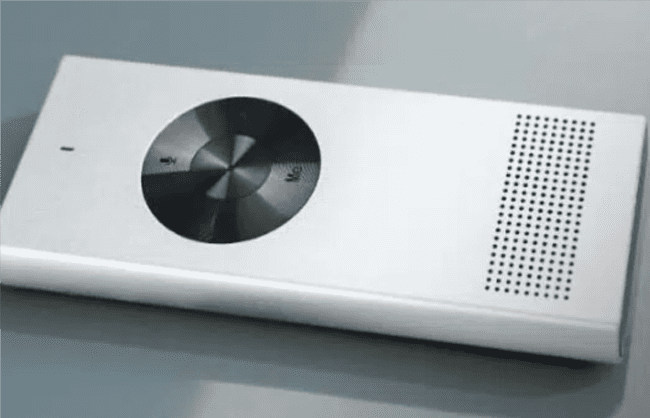 Trying to learn a new language is difficult, especially if you're older. That is why experts recommend that kids start learning a second language while they're in elementary school. As an adult, you can use apps and computer programs that help you learn how to speak a different language. Until you feel comfortable and familiar with that language though, you might hesitate before using it in front of others. Muama Enence is a new translation tool that works instantly to help save you time. Not only can it translate anything that you say, but it can also translate what others say too.
Suitable for people of all ages who struggle with a language other than their native ones, it is easy to use and can tuck right into your back pocket. You can even store it in your carry-on bag when you fly or use it in a backpack when you hike. This handy device helps you instantly talk with someone, even if neither of you speaks the same language. To learn about the benefits of this translation device and how you can use it, read through our Muama Enence review. We even included information on where you can get it for the best price.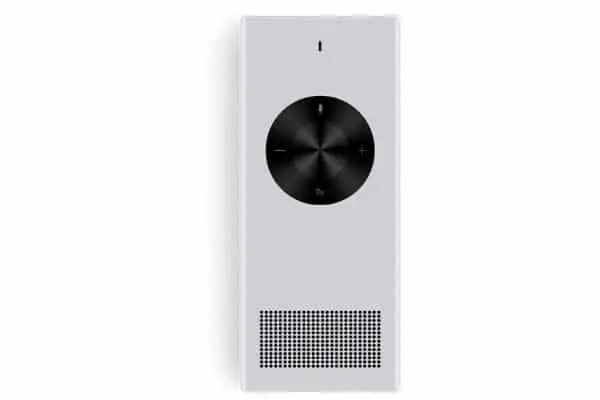 The Muama Enence goes anywhere you want or need to go.
PROS
Support for dozens of languages
Portable and easy to use
Offers real-time translations for fast communication
Functions as a wireless speaker
CONS
Not a standalone translation device
Makers charge fees if you return it
Requires a phone and app to use
Needs an internet connection
BOTTOMLINE
If you have a compatible phone and a good WiFi connection, the Muama Enence is a great translation device. Has support more than 40 languages and has two simple buttons that let you converse with others.
What is the Muama Enence?
One of the biggest reasons why you might skip a trip for work or pleasure is that you don't speak the same language. As much as you might love traveling to Paris to see the Eiffel Tower and dine on delicious food, you probably worry that no one will understand you. When you don't know the local language, finding your way around town, ordering food in a restaurant, getting to the airport and checking into your hotel can be difficult and may even seem impossible. Another issue you may face is with the local dialect as different regions use different accents and dialects. Thanks to the Muama Enence, you can now get the help that you need when you're away from home.
This little gadget offers two-way communication through an app that you use with your phone. It has simple buttons that you press before you speak and when someone else talks. Not only can it translate what you say into that person's language, but it can translate what they say back to you in English or any other language that you want to use. With multiple language settings available, it can work anywhere on earth and any place that you want to visit.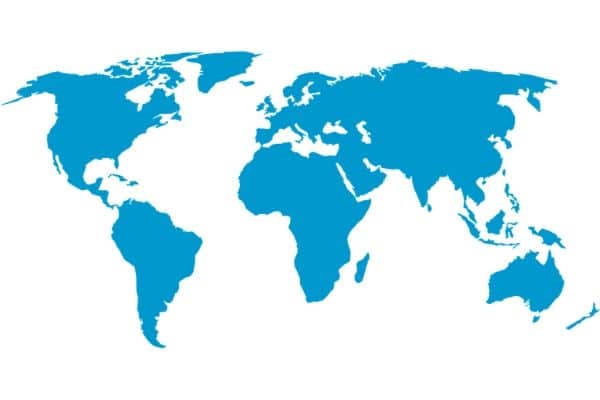 How Can You Use the Muama Enence?
Most of the translation apps that are available today can only accommodate one person at a time. You'll find loads of apps that take what you say and translate it to a different language. Though they can help you get your words across, they won't help you see what someone else says unless you change the settings. The Muama Enence lets you communicate with another person without pausing to push various buttons or change your settings. Any person who doesn't speak your language can hear exactly what you want to say. It significantly reduces the risk of miscommunications when traveling or living in a foreign land.
Let's say that you're in Italy, the Land of Pasta and have a gluten allergy. Ordering the wrong dish at a restaurant can lead to stomach discomfort and even a trip to the doctor. With the Muama Enence, you can make sure that the waiter or waitress knows about your allergy and serves you food that you can eat. It also comes in handy when you're at work and need to talk to someone from a different country. With the Muama Enence, you can have lengthy conversations with people when you can't otherwise understand each other.
Tips for Taking Care of Food Allergies While on Vacation
Wear a bracelet or ID tag that lists your allergies
Keep a list of your doctors' names and contact information with you
Carefully read the ingredient label on any packaged foods that you eat
Never travel without an EpiPen or any medications that you need
Consider bringing foods that you know you can eat
Use a translation tool such as the Muama Enence to alert others of your allergies
How Does the Muama Enence Work?
If you use other translation tools in the past, you might think that you already know how this device works. Looking at its features and how you can use it are important because this helps you get a gadget that works for you. Once you order the translation device online and get it home, you need to use your smartphone to access the app store to find the app that works with it. After you download the app and make sure that you have a data or WiFi connection, you can try it out. Press the large ME button on the tool and speak into the microphone on the front. Muama Enence will use the app to determine what you said and translate it into the language that you select.
To use the Muama Enence when speaking to someone else, you can select the languages from the app. Press and hold the microphone button as the individual speaks and then release it. Within a few seconds, the device will tell you exactly what the person said in a language that you can understand. You can try the Muama Enence a few times at home before using it with others to make sure that you know what buttons to press and how to use the app.
It takes just a few steps to use the Muama Enence.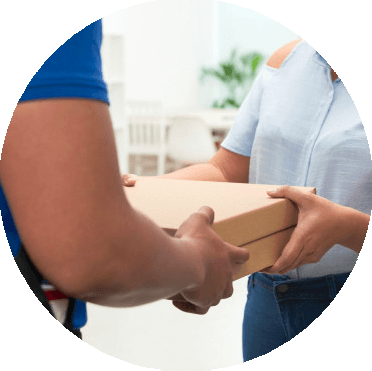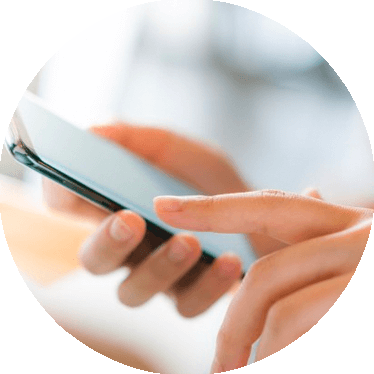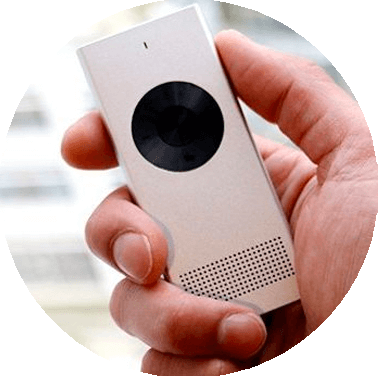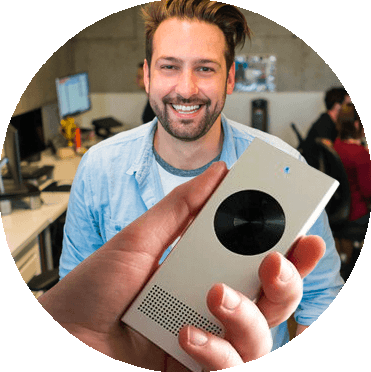 Are There Any Benefits to Choosing the Muama Enence Over Other Translation Tools?
Before you visit any new country, you might look at how they treat travelers first, especially those who only speak English. This might lead you to the app store where you search for translation tools and online shops to find gadgets and devices. While there is quite a bit of competition on the market, the Muama Enence has many benefits over other translation tools, including:
You can let anyone in your group use it without making any changes to the settings
Muama Enence blocks on any of the background and other noises that are around you to focus on the words spoken
It works almost instantly to help you avoid long pauses
You only need to update it a few times a year and may find that it needs even fewer updates
This tool is easy to use
Other translation tools and apps often require that you update every time that you head to a new country. Muama Enence requires fewer updates and can handle more languages. Unlike other tools that make you jump through hoops to translate a conversation, this gadget can quickly transition between what you and another person say. It can even handle multiple people in a group speaking.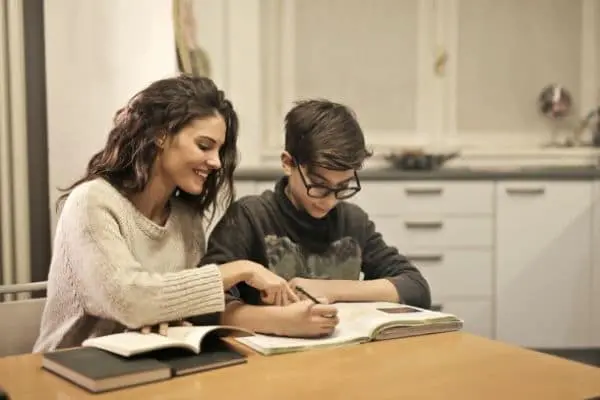 Where Can You Use the Muama Enence?
The sky is the limit when it comes to where you can use the Muama Enence. Many people use it at school as a way to get some extra help before a test or assignment. Whether you take a foreign language class at a community college or a vocational school, you can use the Muama Enence to look up words that you don't understand when working on a new assignment. This gadget can also help you communicate with other students who do not speak English as well as you do. You'll find even more places to use the Muama Enence in your professional and personal lives.
For Work
One of the best reasons to use the Muama Enence is that it helps you get information from others and explain things to them when you speak different languages. You might need to call a foreign contact because you missed products in a recent order. Holding this tool up to the phone allows you to translate what you want to say and hear the response in a language that you can understand. If you have business meetings with people and usually hire translators to stand by, you can use this device to save your company both time and money. You'll also want to make sure that you keep it close by when traveling for work.
At Home
Why spend a lot of money on classes or a tutor to learn a new language when you can immerse yourself in that language with the Muama Enence? Instead of learning words and phrases that you may never need, you can repeat phrases and words that are important to you into the microphone and get a translation for each one. You'll have fun walking around the house and pointing out simple things that you can learn how to say them in a second or third language. It's often helpful to write down a few phrases that you'll need to use on an upcoming trip and get translations for them through the app.
What are the Most Important Phrases to Know in Another Language?
Help, Hello, Do you speak English?, Where is the bathroom?, I'm an American, I'm sorry, Excuse me
Who's This For?
Have you ever traveled to another country and found yourself confused about where to go or what to do? Learning even a few key phrases before your trip can eliminate that confusion and help you find your way around the city or country. If you want to make sure that no one takes advantage of you and that you don't fall victim to travel scams, using the Muama Enence can help. This is a handy little gadget practically invented for frequent travelers. It takes just a few seconds to set up and use and responds to what others say just as quickly. Others who could benefit from the Muama Enence include those who:
Work with people who speak a different language
Need a way to chat with neighbors or store clerks who don't speak English
Usually use translators during business meetings
Want help preparing for a foreign language test
Just want to pick up some keywords or phrases in a new language
Even if you don't plan on leaving the United States soon, you can still use the Muama Enence. It can help you translate foreign words that you see online and talk to anyone in a language other than English.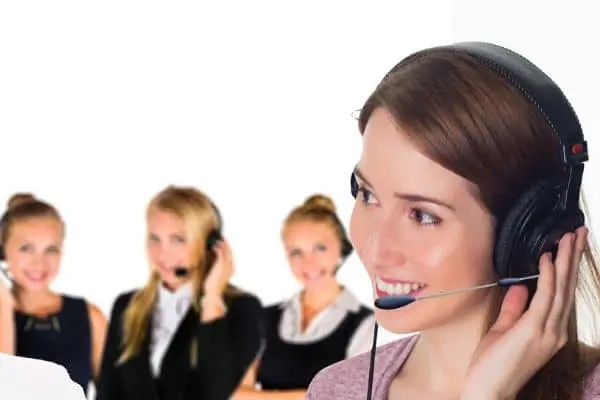 How You Can Use the Muama Enence on Trips
Though you might think that you'll only use the Muama Enence on recreational trips, it's just as useful when you take business trips. Some of the ways that you can use this device when you take a trip include:
Getting help when you arrive at the airport
Finding directions to your hotel and any attractions you want to visit
Tracking down a doctor or a hospital during an emergencyv
Talking with a doctor
Shopping in markets and local stores
Regardless of where you travel, you'll want to hit at least a few stores. Not only will you need supplies for your trip, but you may want to bring home souvenirs for your friends and family. With the Muama Enence, you can quickly find out how much an item costs and haggle to get a better price. Many sellers do not like haggling with foreigners, but if you take the time to speak to them in their language, they're more likely to work with you. The Muama Enence can also help if you travel to more than one country or region on your trip. It can work with almost any language in the world and identify the different dialects that people speak in those areas.
Tips for Haggling on Your Trip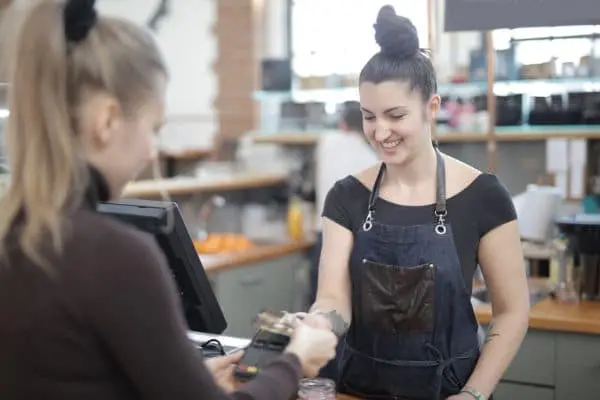 Start with a price slightly less than what you hope to pay
Start with a price slightly less than what you hope to pay
Try bundling several items together
Use the local denomination rather than American dollars
Walk away if you can't get a price that you like, which might cause the seller to offer an even better one
Does the Muama Enence Work With All Languages?
Though the Muama Enence is not compatible with all languages used around the world, it can work with some of the more common languages, including:
French, Spanish, Chinese, English, Russian, Italian, Hebrew, Vietnamese, Dutch, Portuguese
You can also use the Muama Enence to translate words spoken in Hindi, Arabic, Ukrainian, Korean and Thai. It comes in handy when you travel across Asia because it takes just a few seconds to change from one language to another. You can quickly chat with people who don't speak the language of the region too and help them get around. As the Muama Enence can detect different dialects, you won't have the same problems that you have with other apps. As long as it can hear the person speaking, it will give you a proper translation.
Do You Need a Travel Adapter to Use the Muama Enence?
Though you don't need a travel adapter to use the Muama Enence, having one can come in handy because it ensures that you can charge your phone and use the app in all countries.
Should You Buy It?
An instant translation device gives you the freedom to travel whenever you want without worrying about getting lost in a foreign country. Television shows and films love to tell the stories of people who wound up in prison in another country for the mistakes they made and stories of travelers who went missing in the wilderness or a big city. Most of the true stories of people who went missing have simple solutions though: they concerned people who didn't respect the locale and didn't take the time to learn the language. Muama Enence is one of the best translations devices that we found due to how quickly it responds and how easily it works.
We want you to feel confident that this is the right tool for your business meetings and recreational trips though, which is why we created this Muama Enence review. Not only did our team take this device for a test spin to see how it worked in the field, but we also relied on the reviews that customers posted about their experiences. We recommend that you use this section of our review to look over the pros and the top reasons you should buy the Muama Enence as well as the cons that it has.
Compact Size
One of the top reasons to invest in the Muama Enence is that it won't weigh you down. Some of the old-fashioned translation devices that your parents used were not only heavy and bulky but required a power outlet. The Muama Enence is much lighter and can fit in the back or side pocket of your jeans as well as your coat pocket or a backpack. You can keep it in a convenient place that you can easily reach whenever you need help. If you ever used a cell phone or tablet before, you already have an idea of how much this device weighs.
Easy to Use
Translation devices are sometimes a chore to use because they have so many steps and require that you do dozens of things before heading into the field. The Muama Enence is so easy to use that you just need to make sure that it has battery power before you head out. You simply press one button and talk into the microphone. Once you release it, it will translate what you said and broadcast it through the speaker. If you want to hear what others say, press a different button, let them speak and then wait for the gadget to translate.
Lots of Language Support
Though there are loads of portable translation devices on the market, most stick to the most common languages. You can use them the next time you backpack through the South of France or head to Barcelona to watch the bulls run. If you go anywhere else though, you will usually have a hard time communicating because those devices don't offer support for the languages that locals speak. They might support only one of those languages too. The Muama Enence offers all the support that you need and can easily translate conversations between two or more people all speaking different languages.
Help With Dialects
Regional dialects are a problem for most translation devices. Just think about the terms that people use in your city and what others might think if you used those same terms in a new city. The Muama Enence is the only translation device we found that can identify those dialects. Though it has a problem with slang terms and some of the swear words that you might hear, it can compensate for the accepts that people have and both identify what they meant to say and what it means in English. This is especially helpful if you want to travel through a large country where each region uses a different dialect.
An easy way to think about dialect is with a look at how you refer to cola. People in the southern United States refer to all soda as coke, but those in the northeast and southwest call it soda. In the Midwest and other regions, they use the term pop.
Affordable Cost
Buying an instant translation device can cost $200 or more. Some of the alternatives that we listed in our section on the Muama Enence competition cost up to $250. With the link that you'll find in our "Where to Buy" section, you can get the Muama Enence for under $100 and save even more because you don't need to pay for shipping or handling. This also gives you the benefit of avoiding the costly fees that can add up later. Many translation apps charge a monthly or annual fee, and classes charge you more as you move through your lessons. With the Muama Enence, you pay one price for the device and never need to pay anything else ever again.
Real-Time Translations
Have you ever been on a date with someone where you ran out of things to talk about? You probably just tried to stare at the walls and look at your plate in the hopes of finding a new subject. Those pauses are just as awkward when you're interacting with a prospective client during a business meeting or trying to order in a restaurant. Many people like that the Muama Enence offers real-time translations to help them avoid those pauses. It takes only one to three seconds for the device to translate. You'll find that it works faster when you use single words or short phrases.
What are Some of the Best Apps for Learning a New Language?
Babbel, Memrise, Busuu, Duolingo, Mango Languages, Mango Languages, Rosetta Stone, Drops
Battery Life
Every time that you use an app on your phone, you'll notice that your battery starts running out. Whether you want to keep an eye on the weather, check your emails or play a few minutes of your favorite game, everything you do will drain the phone's battery. A nice benefit of the Muama Enence is that the app doesn't use nearly as much battery power. The external speaker and microphone combo have a separate battery that you can charge with a USB cord. With proper care, that battery can last for up to four days, which will come in handy if you lack the right adapter. You get enough power to use the translation tool if you don't have access to a power outlet too.
No Interference
One reason why you might have problems talking to someone is due to the interference that is around you. This can include the water rushing behind you when camping and the dozens of people chatting in a local market. The Muama Enence learns how to drown out that background noise and focus on the conversation happening in front of the microphone. Unlike other apps that can pick up the sounds of people and objects, this device does a good job of only picking up on the noises directly in front of the microphone. This allows you to translate what someone said when there are other people around.
Can You Charge the Muama Enence With Any USB Cord?
Though the makers of the Muama Enence make durable charging cables, you can use any USB cord to keep the battery charged as long as you plug it into your computer or an adapter.
Good Range
A great way to learn about a place and stay safe is with a group tour. These tours can range in size from just a handful of people to dozens of people following a guide. With the Muama Enence, you don't need to stand in the front of the group and keep the microphone trained on the guide because it has a good range. You can take a few steps back and hang out with your friends or make some new friends in your group and still use the device to pick up on what the guide says. You can translate what others say when you're up to six feet away from them.
Photo Options
You can't always guarantee that you'll find people nearby when you need help, which is why the photo options that this device has are handy. Take for example a situation where your rental car breaks down in the middle of the night. You can take photos of the nearby street signs and run the images through the Muama Enence to see your current location. This feature also allows you to take photos of trail markers that you see when hiking and learn what they say. Certain markers may warn you that some trails are only suitable for expert hikers or that other trails are closed for the season.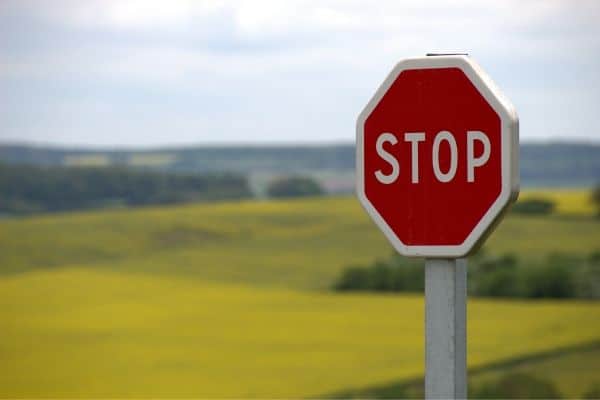 Piggybacking Translations
With other translation devices, you can only work with one language at a time. If you need to talk to multiple people in different languages, it can take 10 minutes or longer to translate a short phrase into each of their languages. The Muama Enence offers a piggybacking option that is easier to use. After you load the app on your phone and select the language you want to use, you can speak into the microphone and translate that phrase. It takes only seconds to select a new language and translate that same phrase into as many languages as you need. This option works with all the languages that the app supports.
Bluetooth and Wireless Features
The makers of Muama Enence allow you to use the device and app with either Bluetooth or a wireless connection. When you're trekking through the jungle or camping in the middle of nowhere, you might not have an internet connection nearby. The device lets you use the Bluetooth connection on your phone to access the app and use it in the offline mode. Though this may limit what you can do with the translator, it still gives you access to most features. When you're in a big city and have access to the internet, you can use a wireless connection to use any of the features that you need.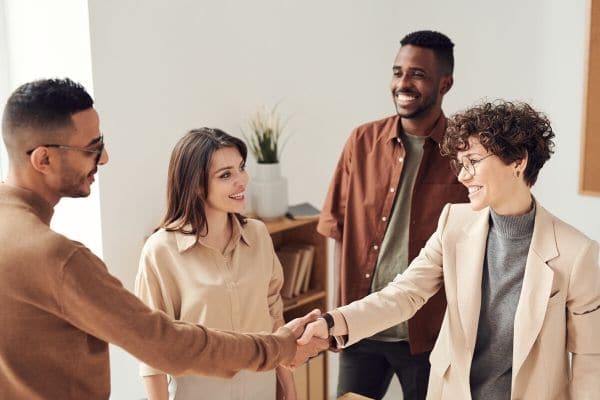 For both recreational and business travel, the Muama Enence works great.
Cons of the Muama Enence
One of the biggest cons that we found about the Muama Enence relates to the return policy. Unlike other companies that pay for shipping, the makers of this translation device hold you responsible for the return shipping. Even if it broke on the way to you, you need to pay to send it back. The makers claim that it can take up to 14 days for them to inspect and exam the product before they will issue a refund, which can take up to five business days to arrive. You might not get a full refund either as they can take up to 15% as a restocking fee or to compensate for a damaged item or packaging.
Some of the top complaints that we found about the Muama Enence online were from customers who returned it because it didn't work. Many found that it gave them an error message and claimed that it could not understand what someone said. Not only did they get this message when trying to translate what others said, but they also received it when they talked into the microphone. Even when they adjusted the volume and moved to a quieter spot, the device either could not identify the foreign languages spoken by others or some of the words that English speakers used.
We also wanted to point out that this isn't a standalone translator. Some of the translation tools and gadgets that you buy will work on their own. You cannot use the Muama Enence unless you also have a smartphone and download the right app. It runs the words and phrases spoken through the microphone and into the app. Unless the app identifies the right words, you won't get a translation. The gadget simply acts as both a microphone and a speaker. While the microphone picks up words and phrases, the speaker is what delivers the translation from the app.
Other Cons of the Muama Enence
May take multiple messages to get a response from the makers
Shipping can take longer than specified online
Some had issues with spam and junk mail from the company
It can fail to block out the background noise
You cannot use it unless you have an internet connection
Can have problems with some languages, dialects and accents
Where to Buy
Buying an instant translation device online can cost as much as $150 for a basic model that doesn't include support for as many of the languages that you encounter on trips. Though the Muama Enence retails for $178, you can get one of these tools for as little as $89 when you buy here. Clicking that link also helps you qualify for exclusive discounts to save even more. If you love traveling with friends and family but notice that everyone likes to do their own thing, you can buy more than one and get a big discount. This ensures that each member of your group can get to where they want to go and get help when needed, even if you're not standing by with your Muama Enence.
The biggest discount is available for those who buy four devices because the price drops to $220 or $55 each. One of the best selling deals lets you buy three translation devices and get two free for a total of $265. You'll also find a deal that gives you one translation device for free when you buy two. Use our link to see how much you can save when you buy the Muama Enence today.
How Much Does the Muama Enence Cost?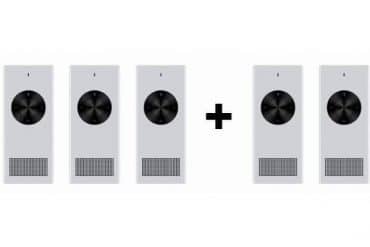 Buy 3 Translators, GET 2 FREE ($53.00/each)
BEST SELLER
$530.00 $265.00
GET 3-YEAR WARRANTY NOW! 50% DISCOUNT
Protect your order for one low price
Only $19.00
Retail price: $38.00 (50% savings)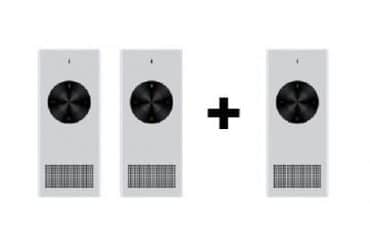 Buy 2 Translators, GET 1 FREE ($59.00/each)
$354.00$177.00
GET 3-YEAR WARRANTY NOW! 50% DISCOUNT
Protect your order for one low price
Only $19.00
Retail price:
$38.00 (50% savings)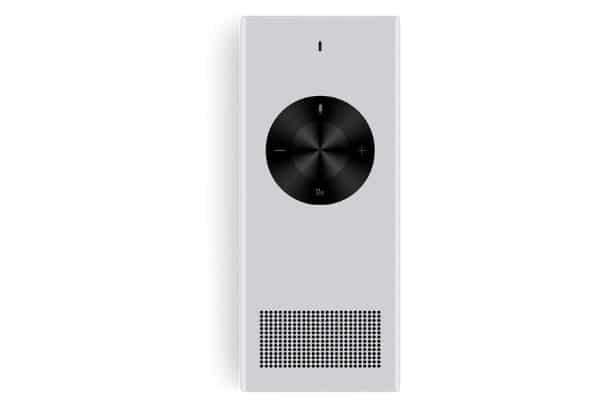 1 Translator ($89.00/each)
$178.00 $89.00
GET 3-YEAR WARRANTY NOW! 50% DISCOUNT
Protect your order for one low price
Only $19.00
Retail price: $38.00 (50% savings)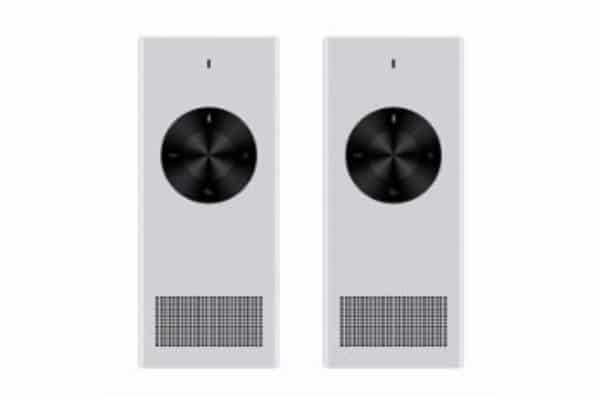 2 Translators ($69.00/each)
$276.00 $138.00
GET 3-YEAR WARRANTY NOW! 50% DISCOUNT
Protect your order for one low price
Only $19.00
Retail price: $38.00 (50% savings)
How to Buy the Muama Enence
Choose the quantity that you want
Enter your email address, phone number and first and last names
Add your shipping information, including your country and home address
Fill out the billing information section
Click the bright green button to place your order
When you buy through our link, you can pay with a Visa or MasterCard as well as a PayPal account. If you click the PayPal option, you'll need to enter both your email address and password to log into your account and authorize the payment. PayPal offers added protection for shoppers and can handle any issues that you might have.
This link offers the security that you want when shopping online. You can rest assured that no one will find your payment information or share it on the web. The site does not ask you to create an account and pick yet another password that you need to remember in the future. You can order as many of the Muama Enence devices as you want and return later to take advantage of the same discounts.
What are the Benefits of Buying the Muama Enence Online Through Our Link?
Discounts of 50% or more on all orders
Free shipping no matter how many devices you buy
Access to exclusive offers
Instant connections to online reps
30-day money-back guarantee
Is the Extended Warranty Worth It?
Once you buy the Muama Enence, you have the option of adding an extended warranty to it. You can go online to the official website and add this option, even if you already received your translation device. It costs only $19 to purchase this warranty, which lasts for three years. Not only can you add extended coverage to a single device, but you can add it to any of the devices that you bought for the same price. We think that the warranty is worth the price because of everything it covers, including:
Defects caused by the manufacturing process or during shipping
Damaged USB chargers
Scratches and dents
Issues caused by water damage
Problems with internal parts
No matter how careful you are when traveling, accidents can occur. Let's say that you're hiking through the jungle and looking at a beautiful waterfall when you lose your balance and fall off the rocks. If you have the Muama Enence in your pocket, that water can destroy it. As long as you have the extended warranty, you can return it for a full replacement. The warranty covers all damage for up to three full years after you buy it.
How Long Does It Take to Get the Muama Enence?
It takes up to two business days for the markers to process your order and then up to eight business days for it to arrive. If you live outside of the United States, shipping can take up to 15 business days.
What Happens if You're Not Happy With the Muama Enence?
Though we found that most customers were happy with the Muama Enence, some didn't like the way it worked. You can view some of those reasons in our section about the cons of the product. The makers of the Muama Enence offer a money-back guarantee that ensures you don't need to pay for a product that doesn't work or one that you cannot use. To take advantage of the 30-day money-back guarantee, you need to:
Find your shipping or order number
Decide on your reasons for returning the translation device
Contact customer service via email with your order number, reason for the return, full name and the product name
Wait for the Customer Support Team to send a link to your email
Click the link to view your return status
The return status email that you get will include authorization details that show you qualify for the return. You will need to package the Muama Enence and send the package back to the address listed in the email. The makers will ask that you pay for the shipping and get a tracking number, which you can enter on the website. As soon as they receive and exam the package, you'll get a refund.
When Can You Reach the Customer Support Team?
The Customer Support Team is available Monday through Friday from 7 am to 9 pm and on Saturday and Sunday from 7 am to 6 pm, GMT.
Competition
Language translators are must-have tools for travelers. Unless you are fluent in two or more languages, you'll have a hard time asking for directions when you arrive and ordering food in the best restaurants. One thing we noticed about the similar devices on the market was how much most of them cost. Even those that can do the same things as the Muama Enence can cost twice as much without including support for as many languages. We'll take a look at some of the competition on the market and let you know why you may want to choose some of those products instead of the Muama Enence.
Instant Voice Language Translator Device
One popular alternative to the Muama Enence is the Instant Voice Language Translator, which comes with support for 137 different languages. It features two-way communications through artificial intelligence and has more than 40 translations that you can use via your phone's camera. Once you take a photo, you can run the image through the device and see what any words on the screen mean. This comes in handy when you're lost and trying to read street signs. It also has a high accuracy rate of 98% to ensure that it can translate almost any word or phrase that you hear.
POCKETALK Language Translator Device
With the POCKETALK Language Translator Device, you get support for more than 70 languages. This is a little less than what the Muama Enence and other devices can handle, but this device gets good reviews. Thanks to the real-time translations, it helps you avoid awkward pauses and silences in the middle of a conversation. This is one of the top translation devices in Japan and is popular with those who want something that fits in a pocket. You can use this in more than 130 countries and any region where you can get a strong signal.
WT2 Language Translator
The WT2 Language Translator has one of the sleekest designs that we found. Instead of using a speaker, it comes with earbuds that you can wear comfortably in each ear. Not only can it detect 40 different languages, but this translation device also detects more than 90 accents. Regardless of the regions that you visit on vacation, it can identify the accents that people have and still tell you exactly what they said. You'll also like that it translates single words in only one second. For complex words or phrases and sentences, you'll get a translation in three seconds or less.
JoneR Voice Language Translation Device
Many travelers like the JoneR Voice Language Translation Device because it doesn't rely on their data or phone plans. You get two years of free and unlimited data when you buy this device, and that data plan works in most countries and regions. It doesn't require a SIM card or a WiFi network. When using English to Chinese, it works offline, but you'll need to go onto the network to do other translations. With the hotspot feature, you can connect up to five devices and let them share one network.
What You'll Love About the Muama Enence
Before we wrap up our Muama Enence, we wanted to go over some of the top features of this language translation device and what makes it worth the money, including:
Support for more than 40 different languages, including popular and lesser used languages
Ability to detect the words spoken by those using different dialects or accents
Long battery life that can last for up to four days with regular use
Functional design that works as both a speaker and a microphone as well as a Bluetooth speaker
Compatibility with all types of cell phones from the top manufacturers
Customer support that is available every day of the week
30-day warranty that includes a customer satisfaction and money-back guarantee
Fast response time of usually three seconds or less
Compact design for storing in your bags and pockets
Lower price than similar translation devices
Charges with the use of any USB cord
Includes a translation app that works on any type of phone
Can work with a Bluetooth connection through your phone or wireless internet connection
Perfect for all types of travel as well as use at school or work
What to Do if Your Muama Enence Doesn't Arrive.
Make sure that you give the company a full 15 business days to ship your translator
Find the order number that you received through email
Send an email to the Customer Support Team with your concerns and order number
Wait for a rep to contact you regarding the order
Final Verdict
Whether you love the peace and quiet of hiking through the wilderness or the excitement of a big city, you can't always count on coming across people who speak English. What would you do if you fell and broke your leg but couldn't talk with the locals who found you? Thanks to the Muama Enence, you can now have a conversation with someone who speaks a foreign language and quickly get the help that you need. This translation tool consists of both the Muama Enence device, which looks like a small speaker and the Muama Enence app that you can download from any app store.
Pressing the ME button tells the device to listen to your voice and translate the words that you speak into a different language. It has support for dozens of languages such as Italian, French, Vietnamese, Russian and Thai and can translate back and forth between that language and English. You can use it for school assignments, when shopping in a new store, to talk with your neighbors and as a communications device for business meetings. No matter what languages you need to use or where your trips take you, you'll find ways to use the Muama Enence.