Mugsy Squid Ink Black Jeans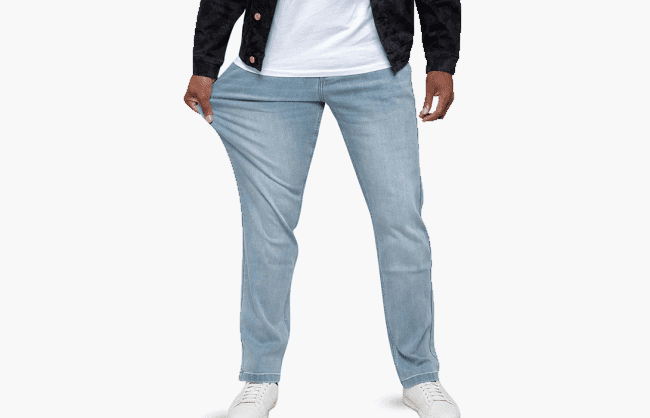 I'm sure we've all dealt with a pair of uncomfortable jeans in the past. They can be tight, stiff, offer little pocket space, and overall make almost anything you experience while wearing them feel like a battle.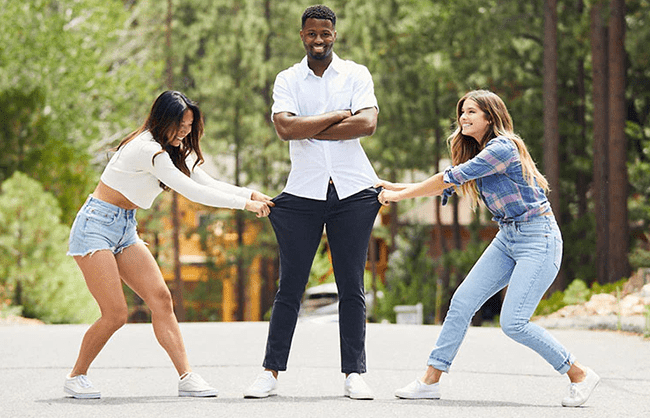 Mugsy attempts to remedy this problem by providing super stretchy and comfortable denim jeans, marketed primarily to men and masculine presenting individuals. These jeans both feel good and look good in many different styles and comfort to fit your look and the rest of your wardrobe.
In this review I will go over my personal experience with Mugsy jeans along with discussing the brand as well as the company's online presence. In addition to this written review, there will also be an unstructured unboxing video along with a full video review.
PROS
Super stretchy and comfortable
Look great and available in a variety of styles
Extras included with the package
Free shipping and returns
CONS
Price
Only available in men's sizes
BOTTOMLINE
Though the relatively high price tag may scare off some, Mugsy jeans are some of the best you can get. These jeans are both stylish and comfortable, making them an excellent addition to anyone's wardrobe.
Product Features
Extreme comfort
Elastic material
Multipurpose
What Is Mugsy?
Mugsy is a clothing company and brand who's premier product is men's jeans that both look good and feel good to wear. Mugsy jeans are form fitting, comfortable, made with an elastic fabric, and are available in a variety of styles to fit whatever look you want to try out.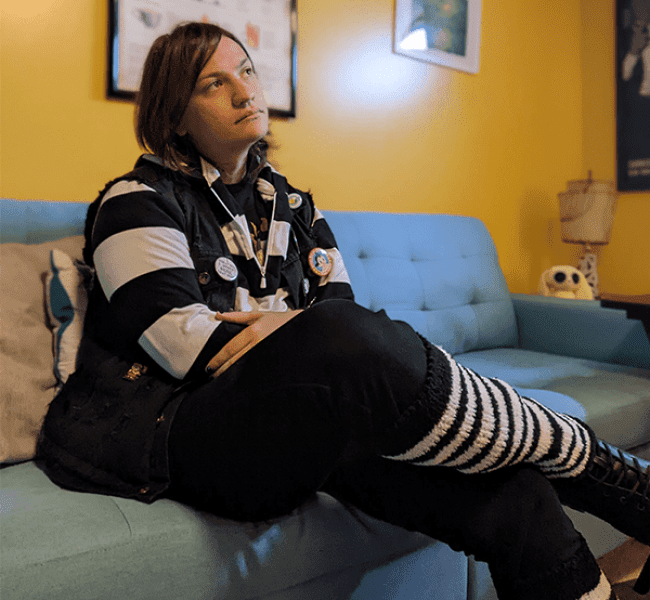 For the purposes of this review, I will be heavily focusing on Megsy's jeans, but in addition to pants they also sell shirts, jackets, shorts, swimwear, and more. Basically everything you'd want to wear with a nice pair of jeans and then some is available through Mugsy.
Mugsy Jeans Unboxing
My pair of Mugsy jeans arrived at my house in a brown paper envelope with the Mugsy logo printed on the front along with the phrase "Ridiculously comfortable". Right away it's clear that the company wants to emphasize the comfort and feel of these jeans above anything else.
A small diagram is printed on the back of the package that demonstrates "How to test drive your Mugsy's" which features a stick figure in various positions showing you how to test out the comfort of your new jeans. I found this to be fairly humorous and, along with a joke WARNING message about how attractive these jeans will make you look, gave the product a very casual and fun feel to the branding.
Along with my pair of squid ink black jeans, the package included a Mugsy branded coaster, which I still use and have next to my work station. The jeans themselves came in a sealed plastic bag which was fairly easy to open with the zipper seal.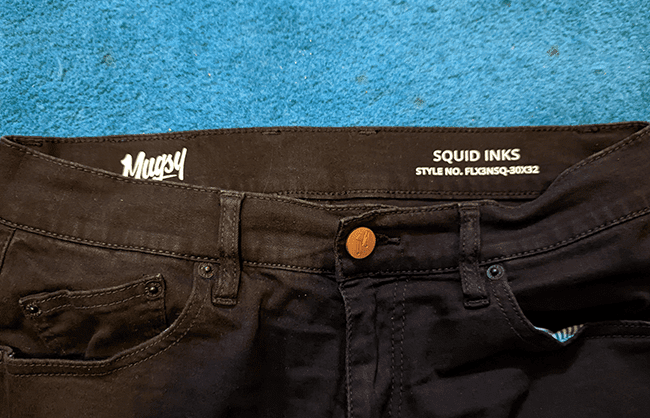 Upon releasing the jeans from their cellophane prison, I was immediately impressed with how soft and elastic the fabric felt. I typically don't wear denim jeans because of the often stiff texture, but these felt like something I could imagine myself wearing more often.
I was also quite impressed with the matte black look of the jeans. I typically wear all black and vastly prefer a matte black look to a more faded gray and these were that exact shade that I like the most.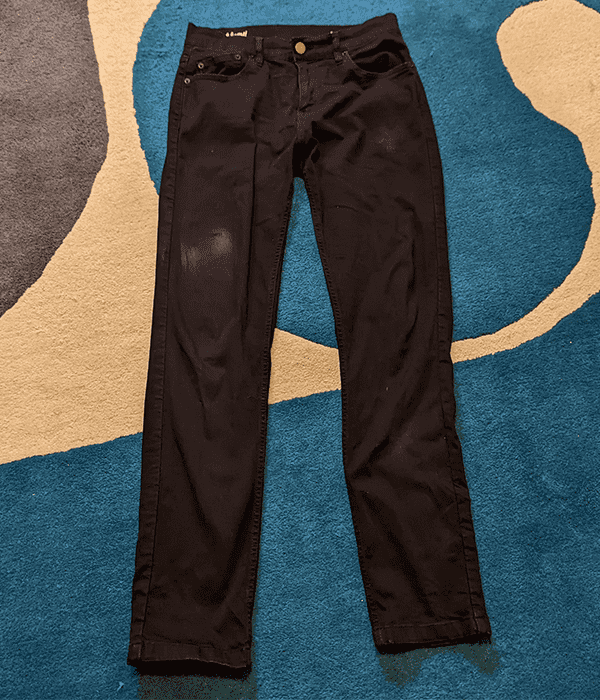 Mugsy truly went above and beyond to make this one of the most engaging and pleasant unboxing experiences. From the comedic writing on the package to the included free coaster and easy to open plastic bag, Mugsy left me with a very positive impression right from the unboxing.
Features
The main feature and selling point of Mugsy Jeans is their comfort. These look like an ordinary pair of denim jeans, but feel like something more akin to sweatpants. In addition to feeling great, they also look great and are available in a variety of styles.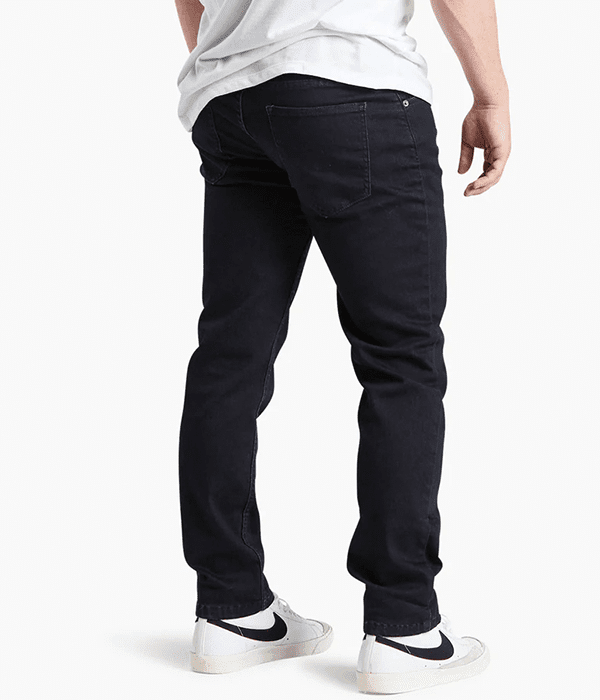 You can wear these jeans at work or just for leisure. They look no different from ordinary jeans so you won't have to worry about any strict workplace dress codes. I really appreciate how Mugsy has managed to create a pair of trousers that look good without having to sacrifice comfort and vice versa.
Mugsy Jeans Test
I figured that the best way to stress test my squid ink black jeans from Mugsy was to bring them to a place where I do a lot of walking and want to be comfortable the entire time, so I took them to a local amusement park. They served me very well there, as it's starting to get a little colder in the autumn months and long pants are now a must.
At first I thought that the jeans were going to be a bit small, but upon putting them on I found that they fit quite perfectly and also looked great when paired with the rest of my outfit. At no point during my visit to the park did I feel uncomfortable or even somewhat chilly while wearing them.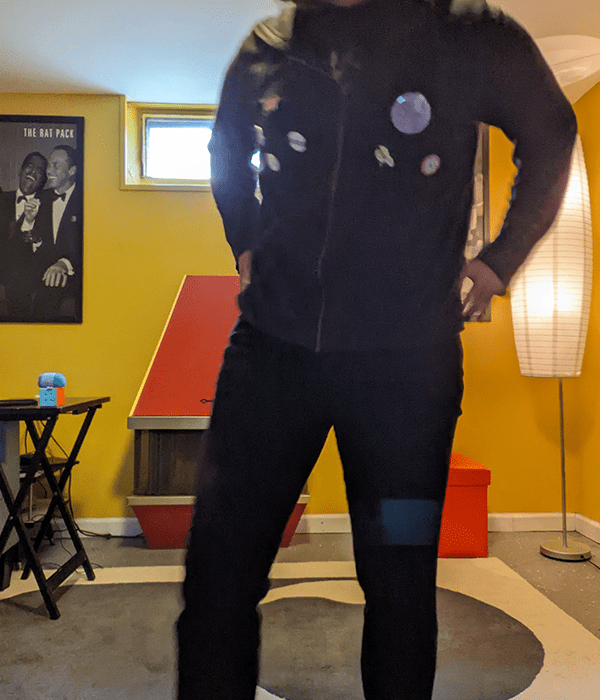 I did have one minor issue at the park regarding the pockets. During some of the more intense roller coasters, I found that my phone and wallet came dangerously close to slipping out of my pockets.
I don't see this a huge issue, however, as I don't think that most people wearing these are going to be experiencing the high speed and thrills of the Millenium Force. But if you want to wear these to a theme park like I did, maybe bring an extra bag or jacket to put your valuables in.
After my trip to the park, I continued to wear the jeans as a regular pair of pants. They came out of the washer looking just as dark as the day I opened the package and these quickly have become my favorite and go to pair of trousers.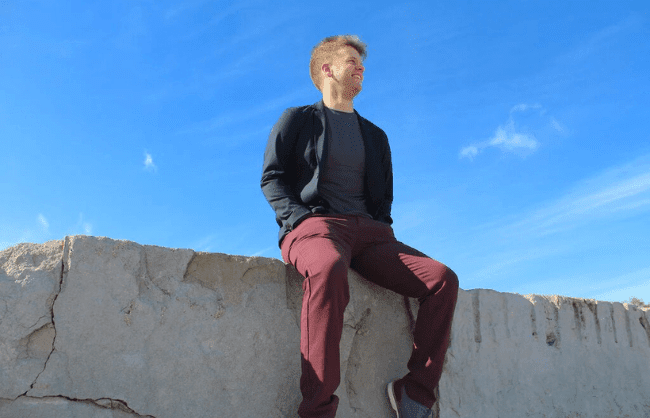 My one complaint however is the price. At $112, these are easily the most expensive pants I own, and I don't really see myself getting more than the one pair anytime soon.
Relatively high price aside, I think that these are well worth the money as you get both style and comfort in one pair of jeans and you can wear them with a variety of outfits. To conclude, I do really like my Mugsy jeans, but I wish they could be just a little cheaper, maybe $80 or so.
How Can You Use Mugsy Jeans? / Who Is This For?
Mugsy jeans are used like any other pair of jeans. The big difference being that these are super comfortable and have virtually no painful break-in period. They can also be washed in a machine just like any other pair of trousers.
Mugsy markets their products mainly towards men and masculine presenting individuals who like the look of jeans but not the feel. This fits me perfectly as I stated before that I don't like the texture of jeans and usually only wear them when I need to.
These jeans can be worn during work or leisure hours and I could imagine the squid ink pair that I got being a decent replacement for dress pants in a pinch.
Web Infrastructure / Branding
I have more than a few issues with the official Mugsy website. For starters, the page seems very amateurish in design and doesn't really give off a professional impression, though that may be the intention.
Not only is there an annoying ad that pops up upon visiting the home page, but it appeared multiple times as I was browsing through the site, asking if I wanted to sign up for a 10% discount. Instead of a simple no option, there is a button that says No thanks, I am independently wealthy, which made me quite upset as it felt very patronizing, like the site was talking down to me.
Also, the site crashed more than a few times as I was browsing, I even managed to get a single screenshot containing both my major issues with this site.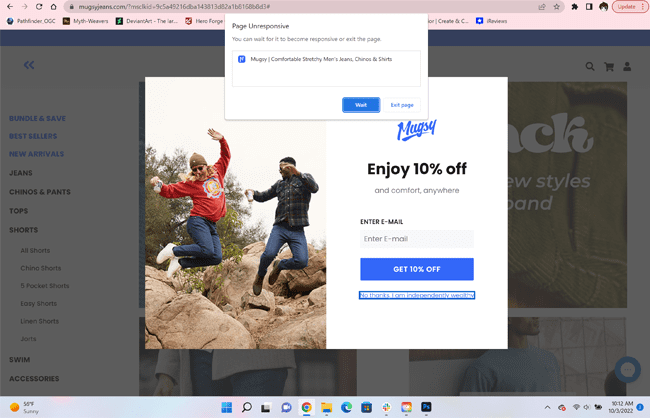 Branding is a bit mixed for me as well. I really like the casual atmosphere which matches the feel of the product, and the shade of blue they use frequently in marketing as well as their logo is very nice.
My problem is that they exclusively market to men and masculine presenting individuals. I feel that Mugsy is missing a huge opportunity by doing this, as both men and women can get a lot out of these products.
There is a lot to like about Mugsy's branding, but just a few things hold them back. In the future I would like to see them either branch out to feminine styles or rebrand with a more gender neutral approach.
Should You Buy It
I was very happy with my pair of Mugsy jeans. They felt super good to wear and served me well during a fun filled trip to the amusement park. They looked fantastic too with pretty much all of my outfits.
The one thing I don't like though is the price. I would suggest buying one, maybe two pairs to add to your wardrobe, second hand or on sale if you can find a deal.
Other products
Mugsy makes more than just jeans. You can also get denim jackets, button ups, sweatshirts, swim shorts, underwear, socks, and many more.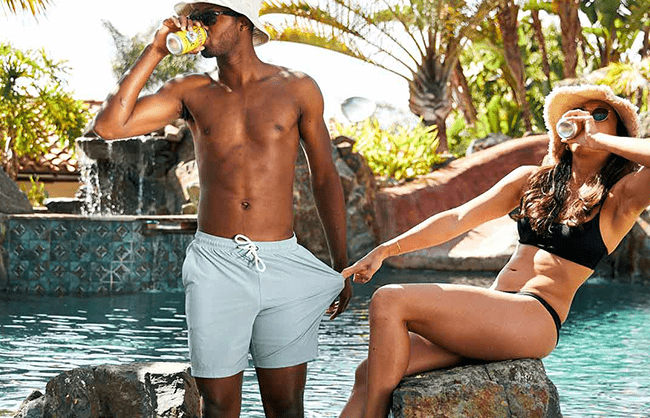 All of these products are made with comfort in mind, much like the jeans, and would make the perfect companion piece to your pair of jeans. I'm particularly interested in swimwear as I frequently have issues finding a pair of shorts that feel comfortable while also looking nice.
With a brand that prioritizes comfort and style, I think if you're looking for a nice feeling and stylish piece of clothing, Mugsy is the place to go.
Where to Buy
As of now, you can only get Mugsy jeans and other products through the official site. I would suggest going to the sale tab first as you can get a pair typically for around $80, which I think is a much more fair price.
Competition
If you want comfortable jeans at a more reasonable price, you have some options. When searching for Mugsy on Amazon, one result I felt worth mentioning is the IZOD men's comfort jeans.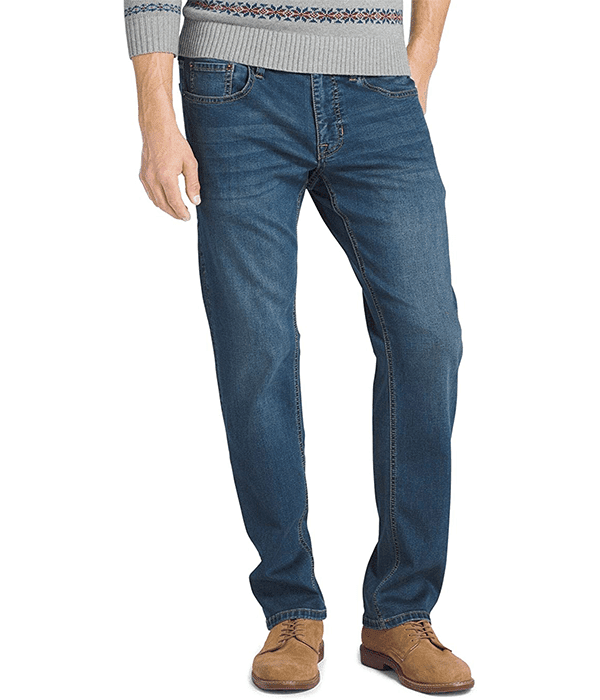 These are in a straight leg design, so they won't conform to your body and look as good as the Mugsy equivalent, but they're still made of a super stretchy and comfortable fabric and look like a regular pair of jeans. They're also a lot more affordable, starting at $29.10.
Other than this though and some smaller one offs, there isn't a whole lot of brands I can compare to Mugsy. This truly is one of a kind brand that produces a fantastic product, though the lack of competition might be why the price for a pair of jeans is so high.
Final Thoughts
Mugsy has been a very interesting brand to both research and review. While I have some issues with the branding, website, and the overall price of the jeans, the product really speaks for itself and the jeans are some of the most comfortable I've ever owned.
If you can manage to find a pair on sale for around $80, I would definitely recommend picking them up. They definitely cost more than a standard pair of jeans, but these are more than just any other pair of pants.
Resources and Further Reading