UMZU Natural Supplements Review
PROS
Made from silicone and surgical-grade stainless steel
Includes 16 reusable tips/heads
Safe alternative to other ear cleaning methods
Suitable for users of all ages
CONS
Only available online
Does not include any instructions
May require a syringe and warm water to finish cleaning your ears
Makes some loud noises that can scare younger users
BOTTOMLINE
To go deeper into your ears than you ever went before, you want Q-Grips. This surgical-grade stainless steel tool comes with 16 tips/heads made from silicone that are reusable to reduce your impact on the environment and help you save money. It helps you clean more of your ears than other tools can.

iReviews Shopping Assistant
Find the best prices for this and many other products with our chrome extension
Product Features
Cost: $15-30+ per product
Shipping: Free on orders of $99+ or if you're a subscriber
Active Ingredients: Aloe leaf, bovine protein, collagen, etc.
Guarantee: 60 days, money back
Returns: With written authorization
Rewards Club: Yes, five to 10 points earned per dollar spent
UMZU Natural Supplements for Hormones and Energy
Some of the best sellers on the site are the UMZU natural supplements designed for those who have hormonal imbalances and need more energy. You may want to start with Redwood, which supports your circulatory system. Thanks to pine bark extract and Vitamin C along with other ingredients, the supplements can increase your levels of nitric oxide and lower your blood pressure. Some men found that it even helped them perform better with their partners. You can buy a single bottle for $39.95 and get 180 supplements that last for 30 days.
Another popular choice is Thyrite, which retails for $54.95 for a one-month supply. Designed to boost your metabolism, this supplement can help you get the energy necessary to work out more and lose weight. It also supports your thyroid, which also helps with weight loss. If you have a hormonal imbalance and lack testosterone, try Testro-X. This natural testosterone booster may help you build strong and healthy muscles as it also gives you more energy and boosts your libido. UMZU sells a one-month supply for $54.95.
Do you often find that you have less energy in the morning and don't want to get out of bed? Morning Miracle is a useful supplement that gives you a boost of energy that lasts for hours. It sells for $49.95 and comes with 30 capsules. You only need one capsule per day to get the full benefits of this energy booster. Those struggling with mood changes may prefer Liquid Vitamin D3, which comes in a small bottle that has a dropper hidden below the cap and retails for $11.95. You only need a few drops each day and can add them to anything you eat or drink. UMZU also makes Zuum Pre-Workout. Available in both Tiger's Blood and Green Apple Flavors, this powder retails for $38.95 and asks you to use one scoop to get more out of your workout.
How Can You Use UMZU Natural Supplements?
All of the supplements from UMZU use natural ingredients that are safe for humans. You have the chance to view all of the ingredients before you buy and read reviews from other customers. Most supplements come with 180 capsules per bottle and ask you to take three of those capsules per day. It's easy to take one with breakfast and the other two with your later meals. If you skip a meal here and there, you may want to take the capsules on a set schedule such as when you wake up and another around noon with your final capsule taken with dinner.
UMZU also makes powders and liquid vitamins that are just as easy to use. Liquid Vitamin D3 is one example. The dropper in the lid helps you dispense the liquid into your favorite drink. You can add a drop or two to a cup of coffee or a glass of water. This liquid provides tons of benefits but will not affect your drink's flavor. The powders such as those designed for pre-workout use are just as easy to use. You only need to use one scoop of the powder that you measure with the included scoop. It comes in two delicious flavors, too.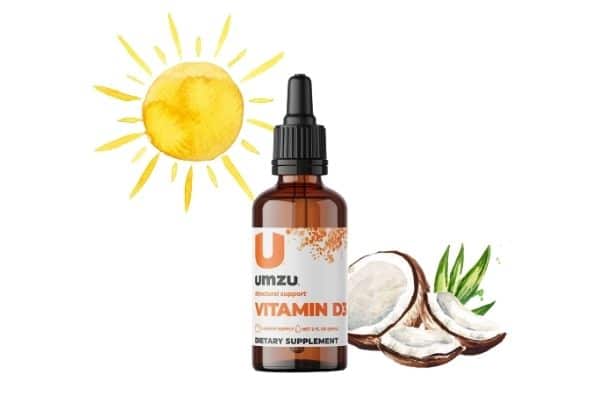 Liquid vitamins go with almost anything you drink.
UMZU Supplements for Digestion and Gut Health
Cleanses are popular among the rich and famous who want to lose weight, but you may not want to follow the strict rules that they do. UMZU knows that a colon cleanse can remove five or more pounds of waste from your intestines, which is why the brand makes zuPoo. Designed to cleanse your colon, this supplement also provides good gut support. It uses ingredients such as aloe and slippery elm along with probiotics. You'll want to take it when you don't have other things to do because the supplement can seriously increase the time you spend in the bathroom. It sells for just $29.95. Some of the other products that we recommend for those who need help with gut health and digestion include:
Floracil50 for $49.95 to get more energy and vitamins from the foods you eat.
zuACV + Prebiotics for $34.95, which helps you harness the benefits of apple cider vinegar.
Belatine HCL for $19.95 that supports your digestion
Do you find yourself using the bathroom once a day or once every other day? This is a sign that you have digestive issues and may indicate that you aren't getting the most from your food. UMZU makes natural supplements that are perfect for digestion and can improve your overall gut health.
Where Can You Use UMZU Natural Supplements?
You don't need to make any major changes to your life to use UMZU natural supplements. As long as you have a few seconds free, it's easy to take one of these supplements. Most come in a capsule form that has all of the ingredients you love inside a small capsule. You might swallow one when you grab a cup of coffee in the morning or with a glass of water before hitting the gym. Other places where you may want to use these supplements include:
In the middle of a busy vacation when you have lots of things to see and do.
If you're at work and have a lot of things on your plate and not a lot of free time.
When you take any medications or vitamins.
UMZU knows that some people have issues with pills, which is why the brand makes other products. There are multiple powders such as zuCollagen that come in a resealable bag with powder inside. You can trust the seal to keep the powder safe between uses. UMZU asks that you mix one scoop of your powder with a glass of water. Some of the powders come in delicious flavors such as Chocolate Brownie to satisfy your sweet tooth, too.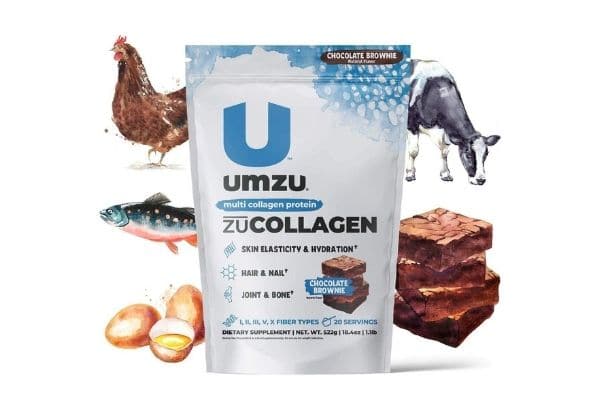 The chocolate brownie flavor tastes just like your favorite brownies but is better for you.
Muscle, Bone and Skin Health Supplements from UMZU
UMZU makes a few products that can help your bones and muscles along with your skin. One is zuRelief, which sells for $44.95 and comes with 90 capsules per bottle. One bottle will last for a full 30 days. Not only can this supplement help you get more flexible and assist with mobility, but it also reduces pain in your muscles and joints. UMZU uses tropical ingredients in the formula like bromelain obtained from pineapples and olive leaf extract. It also uses a healthy dose of turmeric, which studies show can promote healing.
We also like zuCollagen Protein, which is a protein powder. Retailing for $44.95, one bag provides 20 servings. The formula helps with your body's production of collagen to give you better hair and skin. This is available as an unflavored option that has 80 calories and 20 grams of protein per serving. The chocolate brownie flavor fulfills your chocolate craving and has only 90 calories per serving along with 20 grams of protein. This powder uses proteins from different animals and sources, including cows and eggshells. You can add a scoop of the powder to a mug of sugar-free hot chocolate or coffee and use it in cold drinks such as smoothies.
Who's This For?
When you buy from UMZU, you can rest assured that you'll get all of the vitamins and nutrients that your body needs. The founder of the brand started with a single formula designed to help those dealing with hormonal imbalances. He channeled the frustrations that he had with his own imbalance to help others. After hearing from women who had similar symptoms, he expanded the brand to feature dozens of natural supplements that are suitable for both men and women. This brand is best for those who need help coping with mood swings and other symptoms of a hormonal imbalance along with others, including:
Shoppers looking for an easy way to get more energy in the morning that lasts all day.
Those interested in trying colon cleanses at home but aren't sure what they need or where to start.
Customers who want to try more than one product to treat their symptoms.
Anyone looking for an easy way to save money on supplements that use natural and healthy ingredients.
People struggling with mood swings who also have problems with their cognition.
Those looking for help with getting in shape and tackling intense workouts.
Shoppers who want stronger bones and muscles.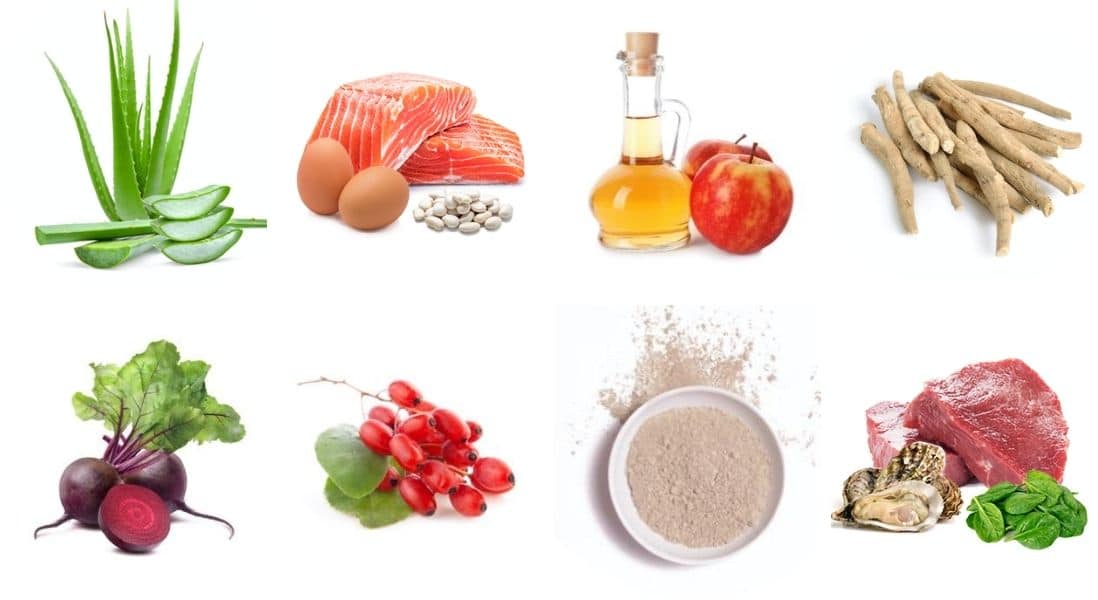 Some of these supplements use aloe or aloe leaf extract that boosts the immune system
Mood and Cognition Supplements from UMZU
Do you have problems with simply cognitive tasks? Maybe you cannot remember the names of people you met before or have issues trying to come up with the names of simple objects. UMZU offers mood and cognition supplements that can help you such as its Coritgon. Available for $39.95, Cortigon comes with 30 capsules that you take one time per day. UMZU recommends this supplement for those with memory problems who also want to improve their mood and become more focused. Mucuna has 90 capsules per bottle with a recommended dosage of two supplements per day. This bottle retails for $24.95 and can improve your mood and memory at the same time that it boosts your libido.
Another option is Choline, which the brand designed to support your nervous system. You get 90 capsules for $15.95 and take three capsules per day. This supplement helps reduce brain fog and maintain a healthy hormone balance. It can also boost your metabolism. Customers also like zuSleep, which gives you supplements in a powder form that you mix with water. One bag sells for $39.95 and has 30 servings. Not only can this powder improve your mood, but it can also help you sleep better when you use it before bed.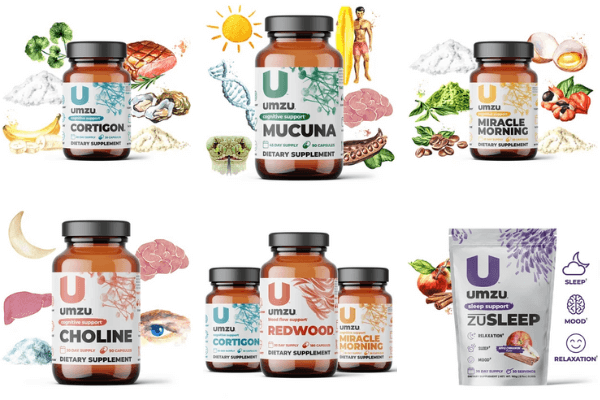 Other Supplements from UMZU
You have loads of other choices when buying UMZU natural supplements, including those designed for general wellness and those who need more protein. If you want an easy way to get more protein into your diet, try zuBroth. Available for $44.95, it has 20 servings per bag with 18 grams of protein per serving. The savory herb flavor is great as a quick snack when mixed with hot water. You can also use it to season rice and other dishes.
Zuum Lytes provide you with all of the electrolytes that you need. When used after a workout, this powder helps your body maintain a healthy balance. For $41.95, you get 30 servings in a delicious strawberry banana flavor. You only need to mix one small scoop with eight ounces of water to hydrate your body and get more energy. UMZU also sells a supplement simply called Immune for $39.95 that uses zinc and Vitamin C. You take two capsules per day and get 60 capsules in each bottle. The ingredients help your immune system during cold and flu season and whenever you need help.
There are also many supplement bundle packs available from UMZU, including:
Male Vitality Optimization Bundle
Low T Bundle
Total Testosterone Bundle
All Day Energy Stack
Immunity Essentials Stack
Brain Bundle
Hormone Bundle for Women
Hormone Bundle for Men
Ultimate Hair Restoration Stack
Thermo Essentials
Should You Buy It?
You should buy from UMZU because the company offers products in addition to its supplements such as UMZU Bars. You get 12 bars for $34.95 and can choose between Brownie Batter and Blueberry Muffin flavors. These bars are suitable as a quick snack and can replace a full meal. They are part of the brand's Thermo Diet and free of gluten, dairy, nuts and soy, which makes them suitable for customers with a food allergy or intolerance. Each bar delivers 15 grams of protein and has less than 200 calories to help you stick to your diet and feel full for longer.
Another benefit of buying from UMZU is that you get help choosing the right supplements through its handy quiz. You will select your age and gender along with how you feel about supplements and any symptoms or problems that you might have such as trouble losing weight or poor sleep. The quiz also asks how committed you are to treating your problems. It then shows you a minimum of three products that can help you along with other products that you might find useful. You can complete the quiz in under five minutes. Some of the other things that we like about UMZU include: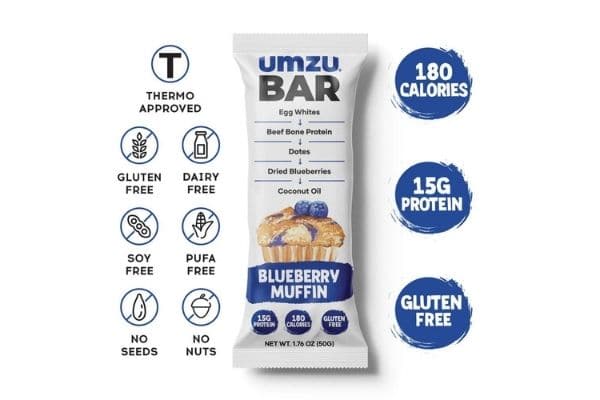 The brand has a chat feature during regular business hours that let you chat with a rep and get more help.
UMZU has a line of personal care products that use organic ingredients, including deodorant and body wash.
You can shop for books that provide inspiration and motivation to help you achieve your goals.
There are supplements that you only need to take once a day and some that you take up to three times per day.
All products and supplements come with a 60-day guarantee that lets you get your money back.
UMZU takes 15% off when you subscribe and lets you earn points on all purchases through its loyalty program.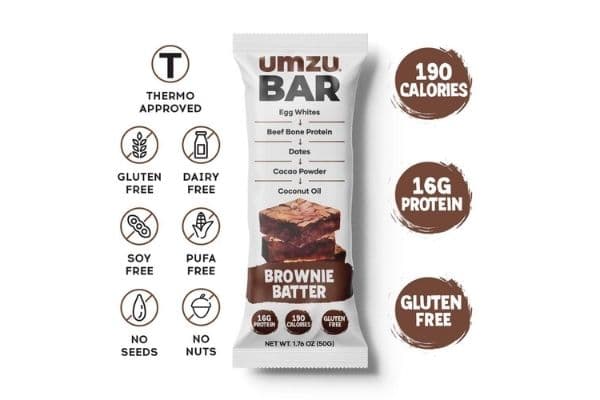 Cons to Consider
When writing our UMZU natural supplements review, we found that the brand has a 1.67-star rating with the Better Business Bureau, which received 13 complaints from former customers.
The biggest issues they had were with the brand's subscription plans. We found several receives that claimed the customer canceled their subscription and still got charged for it. Others said that the brand not only refused to cancel their orders but charged them full price and never sent them anything. Even if you do cancel, it can take weeks or longer until UMZU returns your money. A few of the other complaints about UMZU that we want to address include:
The customer service reps are occasionally pushy and try to sell you more products you don't want or need.
Some customers thought the reps were rude as they made comments about their lifestyles.
Even if you pay extra for faster shipping, it can take a week or longer until your order arrives.
The founder of the brand often talks about how healthy living cured his brain tumor, but doctors point out that this is impossible and found that his claims were not accurate.
Not only are the supplements more expensive than other brands, but you need to spend a lot to qualify for free shipping.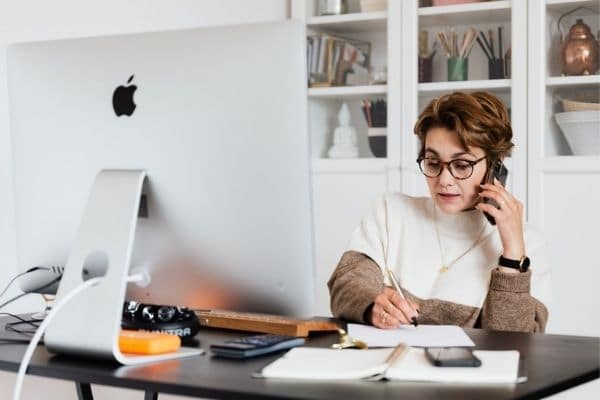 Some customers did not like the way the CS reps acted over the phone.
Where to Buy
Whether you want to buy before you finish our UMZU natural supplements review or want to learn more, click here to shop. We recommend that you check out the U Save club that lets you save on every purchase. Once you become a member, you qualify for both member and subscription pricing. Members get 15% off their orders and guaranteed deliveries by the dates they choose. Most members ask for monthly shipping and get a new delivery every 30 days. You can also request deliveries every 60 days or 90 days.
UMZU also has a rewards program that is free to join. You get 200 points as soon as you join and more points when you buy products. UMZU gives you five points per dollar spent and 10 points per dollar spent through a subscription plan. You can redeem your points for discounts and get as much as $20 off. UMZU often offers special offers that let you redeem your points for free versions of your favorite products and those you want to try. Once you subscribe, you can use your account to cancel a future delivery or make other changes such as swapping out one supplement for another or skipping a month.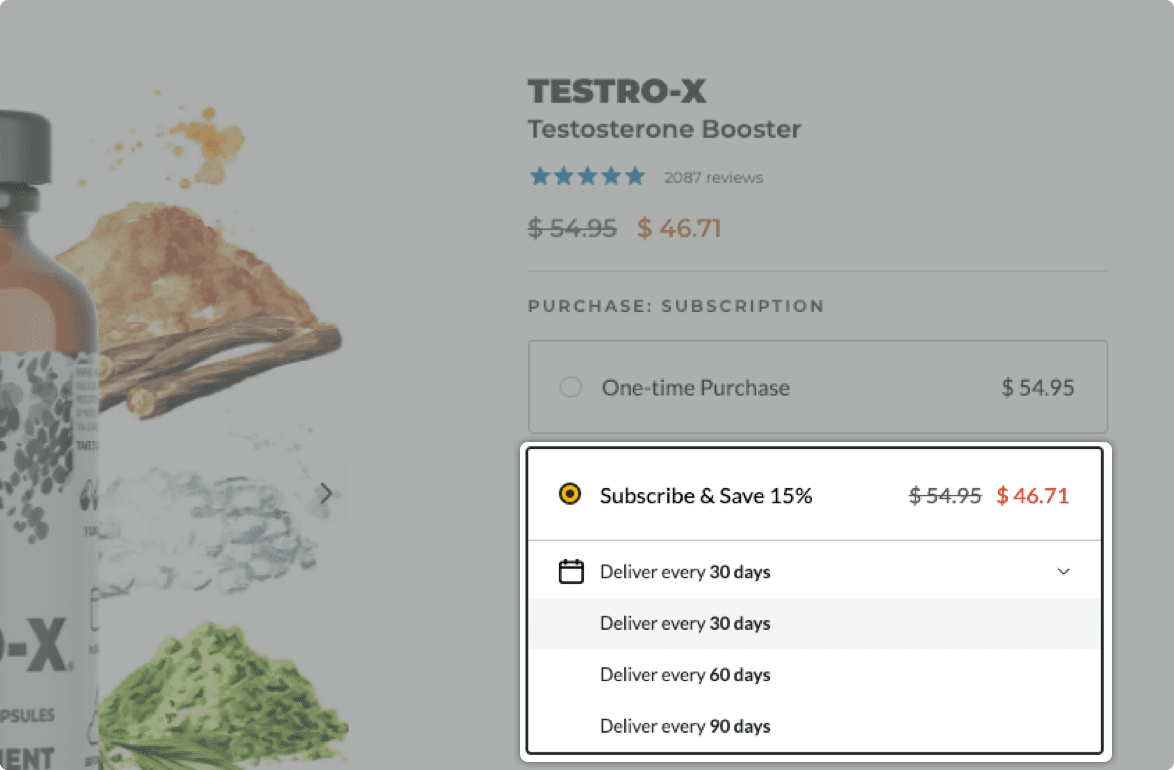 UMZU makes it easy for you to change your subscription whenever you want.
The Competition
UMZU offers an alternative to the traditional hormone treatments that doctors provide. There are other brands that offer healthy supplements designed for those with hormonal imbalances and other conditions that you might consider.
Vitacost
Buying from Vitacost gives you the chance to shop for foods that fit your diet and get natural supplements. The site often runs sales and has deal sections that show you the lowest prices on select products. You can save as much as 15-20% off through those deals. We like that there are different category listings that help you pick the type of supplements that you need such as those for joint health or immune support. While there are some Vitacost branded supplements, others come from top brands such as New Chapter and Garden of Life. Vitacost has a mailing list that offers discounts for subscribers.
PHARMACA
If you want to find a large selection of supplements because you aren't sure what you want, turn to PHARMACA. This site has the Flourish Blog that goes over the symptoms of different conditions to help you find the supplements that will work for you. When we check the site, we found more than 1,400 supplements in stock and available for shoppers. The category listings include antioxidants and amino acids as well as probiotics and fish oils. You might snag a bottle of melatonin to help you sleep or a fiber supplement that helps you stay regular and supports your digestive health.
The Vitamin Shoppe
At The Vitamin Shoppe, you save 10% on your first order when you subscribe to the digital mailing list. The site runs sales a few times a year that take 50% off one item when you buy another one for full price. With the Ship to Me option, you get supplements shipped to your doorstep. If you live near one of the retail shops, you can order online and pick up your order from that store. We like that The Vitamin Shoppe sells branded products at lower prices but also stocks supplements from other brands that come in liquid and other forms.
Steel Supplements
UMZU started as a supplement company for men and shares a lot in common with Steel Supplements. This brand has a virtual chat window that lets you talk in real-time with a sales rep who can help you find the right products and answer all of your questions. All of the site's products come from Steel Supplements and can help with different things, including getting the shredded look that you want and packing on more muscle. Thanks to the free bundles, you can try the products before you start a new fitness routine. The brand offers bundles with multiple samples of its top products for free.
Final Verdict
UMZU is a brand that grows and changes as its customer base does. The founder launched the brand after dealing with a hormonal imbalance that affected his life. After seeing the issues he had with finding good supplements for his condition, he decided to make a brand that would help other men in the same situation. As women saw the useful effects of the supplements, they contacted the brand, which led to the release of supplements that also help women with hormonal imbalances. You'll now find even more supplements that can help with everything from memory problems and a lack of energy to mood swings and immune boosts.
We found that the brand was a little slow to respond to complaints with the Better Business Bureau but that they responded faster to customers who reached out on social media. Though we don't like some of those complaints, we do like that UMZU has a rewards program that lets you earn free products and discounts as you shop along with subscription plans that work with most products. Our UMZU natural supplements review is the best way to find out more about these products and the benefits of the brand before you become a loyal customer.