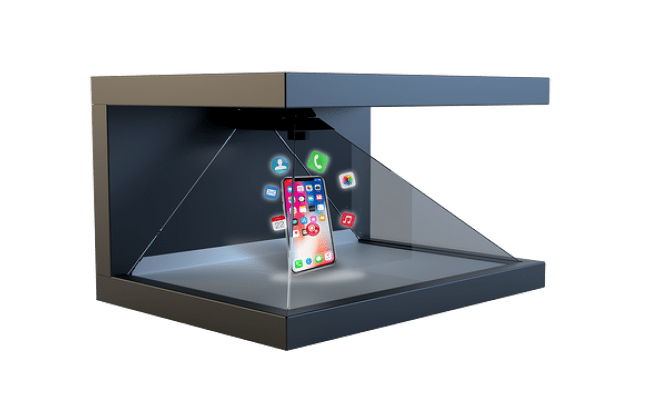 6
If you are looking to differentiate yourself from the competition, 3D holographic display advertising is the answer. Introducing the Dreamoc HD3 display by Realfiction – a modern day display that overlays your product behind an animated scene using mixed reality technology.
People will stop in their tracks when they see the Dreamoc HD3 display. Considered the future of display advertising, and designed specifically for retailers, the HD3 "makes your brand come alive in the most magnificent way." Standing less than two feet wide and slightly more than one foot tall, the Dreamoc platform enhances the perception of your product with remarkable holographic content housed in a 23″ screen and full HD 1920 x 1080p resolution.
Backed by HD3's Custom Content Management system, you can seamlessly move from one product to the next – managed under one intuitive platform. This is perfect for a high-end retailer with an ever-changing product list or the outlet with a season-ending blowout sale of their most sought-after product.
To make it the most immersive experience imaginable, the Dreamoc HD3 comes with built-in speakers and preset animation templates. Whether you want a 3D Glass Screen, a Holographic Fireball, a Water Ball Logo, or simply an interactive product catalog, you can easily use this 3D holographic technology with little to no experience.
From the Dreamoc Flightcase for ease of transport, to the product stand display, users can simply travel to their next trade show with one of the most innovative pieces of advertising equipment on the market. To illustrate the impact Dreamoc HD3 can have on trade show passerby, here is the story of Rosy Blue – a high-end distributor using 3D holographic display technology to sell a $3 million diamond ring.
With a goal to separate themselves from already-tough competition, Rosy Blue hired content experts at Seenspire to help her with the Baselworld Watch & Jewelry Fair in Switzerland. Selling a high-ticket item at an eight-day event was no simple task but Seenspire decided the only way for Rosy Blue to differentiate itself was to use Dreamoc's innovative HD3 display.
After months of deliberation, Seenspire brilliantly told the story of Rosy Blue's rare diamond from rough stone to its premium quality 33.11-carat cushion cut diamond with "flawless clarity grade." By using Dreamoc's display, Seenspire was able to showcase the $3 million diamond behind a captivating backdrop of 3D animation – making the Rosy Blue's brand come to life.
According to the Rosy Blue case study, "A layer of three-dimensional holographic video on top of any physical item is quite unique in terms of viewing experience. Seenspire believed that this would deliver the level of detail they needed."
So what made Seenspire's use of Dreamoc's display so different from the competitor advertising:
It provided a rare insight into the diamond-making process.
It had the dual effect of connecting the brand with the product.
It used brand new 3D holographic technology to tell a story.
The end result: Rosy Blue, with the help of Seenspire, sold the diamond in the first few days of the show. The Dreamoc HD3 display not only garnered the attention of trade show participants but even more importantly, encouraged them to take action.
"Being one of the leaders in our sector, we wanted our booth to stand out and be in line with our reputation," says Tolga Onder Ozel, Digital Market at Rosie Blue. "We wanted to catch the crowd's attention and impress everyone, which is not an easy task when there are hundreds of blazing booths around."
PROS
Combine physical objects with holographic content
High quality 3 mm glass optic
Automatic and manually control spotlight
Bright and sharp picture quality
Easy change of content
Seven push buttons for easy operation
HDMI input for interactivity
Programmable on/off timer