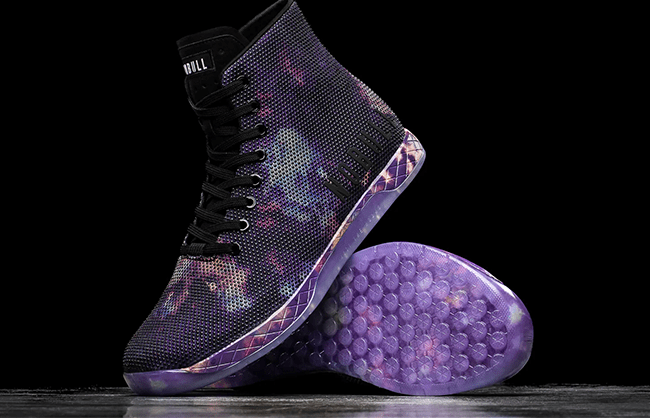 Working out and trying to get fit is quite the task in itself, but it's made harder by the fact that there's so much gear and equipment you need to get. From shorts to wristbands to arguably the most important item in your work out arsenal, the shoes.
You really need a good pair of shoes that will stand the test of time and allow you to get the most out of your exercise. One brand though you can't go wrong with is No Bull.
No Bull produces more than just footwear, however, but for the purposes of this review I will be focusing mainly on their line of workout shoes. In this review I will go over the basics of No Bull shoes, my personal experience with the brand, my thoughts on the company, as well as the competition in order to help you decide if No Bull is right for you.
PROS
Durable
Slash resistant
Ease of use
Variety of styles
CONS
Stiff out of the box
No Bull logo on some shoes is distracting
Slash resistant but not puncture resistant
BOTTOMLINE
No Bull shoes are a great option for anyone looking for a decent pair of shoes to use for working out or running. While they may take some time to break in and get comfortable, they are super durable and will likely serve their purpose for a long time.
What Is No Bull
No Bull is a company and brand that produces several lines of products, mainly focusing on their shoes, aimed at the crossfit and work out community. Created by ex Rebok employees, No Bull strives to create a line of shoes that both look good and hold up after multiple workouts.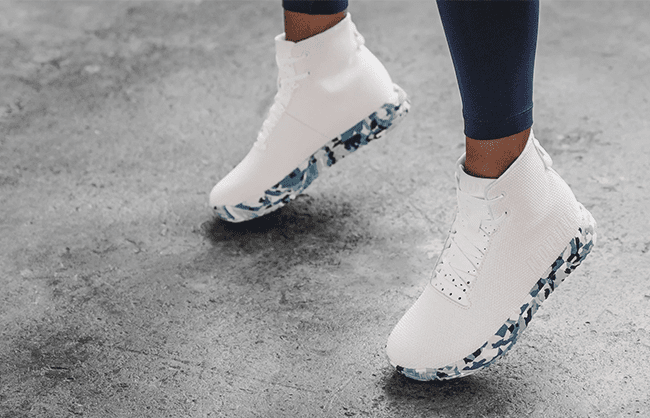 In addition to shoes, No Bull offers shirts, bags, wristbands, socks, and even swim caps made specifically for working out and doing crossfit. Basically anything you would bring with you to a gym, No Bull provides to go along with your shoes.
No Bull Trainers Unboxing
For the purpose of this review I received a pair of hi-top trainers from No Bull in black. These are the shoes the brand seems to be the most known for and promotes heavily in their advertising.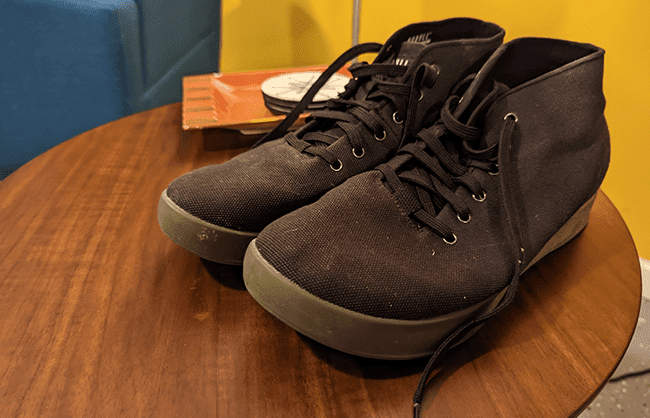 The box the shoes came in was a little different from most other shoe boxes I've seen. Rather than opening from the top, this box used a cardboard outer sleeve that slipped off of the main box at the side. Other than that and the branding on the top and sides, this was a rather standard shoebox, the same size as most others you'd see in stores.
Out of the box I was pretty impressed with the quality of these canvas sneakers. They didn't fold or flatten in shipment and looked just as good as they do on the images No Bull has on their website.
Something I didn't like about a lot of the styles from No Bull is the very large and very loud logo on the sides of many of their shoes. I feel that this is very distracting and ruins the design of a lot of the catalog. Luckily though, the pair I got did have a relatively small logo in a color that matched the rest of the fabric.
Overall, this was a pleasant, albeit simple unboxing process. Nothing else was included in the package which I actually appreciate. Minimalism should be the goal with a name like No Bull.
Features
No Bull shoes come packed with a wealth of features made with hardcore workouts in mind. The main and most notable feature in my opinion is the super durable and slash resistant upper.
If you're doing any kind of long distance running, hiking through a wooded environment, or even just casual work out in a gym, you're going to want to make sure that the shoes you're wearing will hold up after hundreds, if not thousands, of hours of heavy use.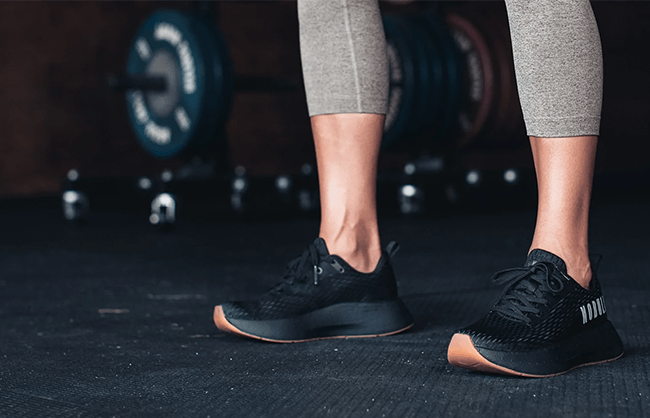 That's why this slash resistant fabric is so important. It keeps the shoes from showing wear and tear over time so that you can get the most out of your workout without having to worry that they're going to fall apart.
In addition to the durable fabric, the soles of many of No Bull's shoes are made with multiple environments in mind. Whether you're running, hiking, or climbing, these shoes are sure to hold up against the challenges.
These shoes also fit nicely and secure so that you don't have to worry about them slipping off or becoming loose during your workout.
No Bull Hi-Top Trainers Test
Immediately after unboxing my pair of No Bull Hi-Top Trainers, I decided to put them to the ultimate test by taking them on a hike through the woods. I made sure to go off the main path a few times to really see how they handled all terrains.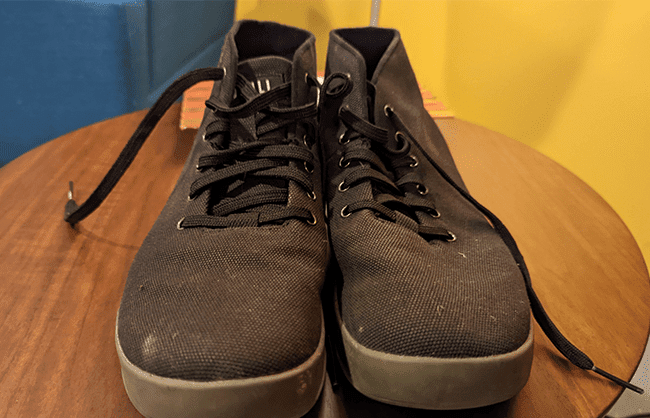 I have to say that I'm very impressed with how well these shoes did with my little test. Not only did they get through the woods with no problems with virtually no scuffs or scratches to the fabric, but the extra grippy soles made sure I didn't slip on anything and helped me traverse some steep inclines.
I will say though that out of the box, these shoes were pretty stiff and I frequently had issues taking them on and off. Even after leaving the top eyelet unlaced, I still struggled to put them on and remove them with ease. I imagine though that this is an issue that will get better with time.
Other than the hiking test, I wore these both casually throughout the month and while doing any sort of exercise, like running and biking. I don't think I would recommend using these as your casual everyday shoes as they're still pretty stiff after breaking in and offer little to no extra padding.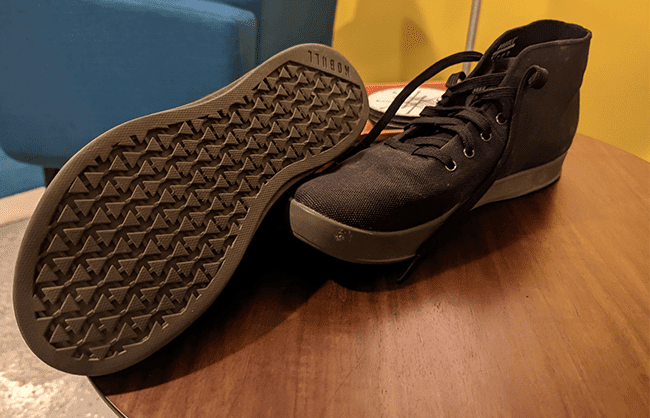 However, these sneakers really excel when used for any sort of exercise. The light padding makes them perfect for weight lifting and the durable construction serves well for pretty much any other activity.
I overall feel that No Bull shoes are great for workout shoes, but not so much for everyday wear. These are the types of shoes I would keep in a gym locker.
How Can You Use No Bull? / Who Is This For?
While you can use No Bull shoes for everyday wear, albeit I wouldn't recommend doing so, these truly are made for runners, weight lifters, and anyone who frequents a gym the most. These are very much constructed and marketed for that specific audience.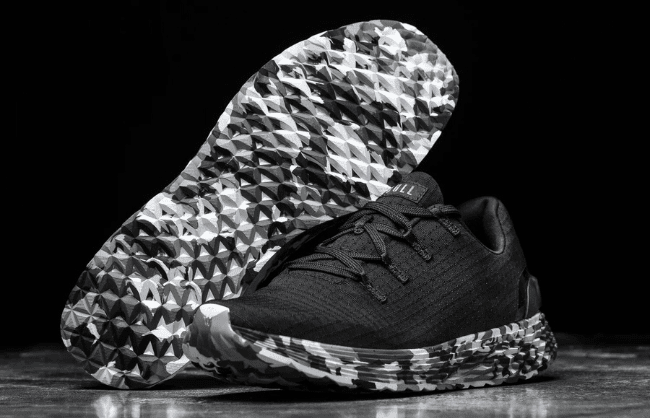 If you're sick of buying a new pair of workout shoes every year or so and don't want to put unnecessary wear and tear on your everyday shoes, then No Bull is for you. No Bull shoes are also fairly minimal in construction, so if you want a pair that don't have too much cushioning, these are your shoes.
Web Infrastructure / Branding
The No Bull official website I feel is a bit cluttered. I'm not sure where to look on the homepage as it's full of links placed without a whole lot of rhyme or reason. Oddly enough, despite this the site seems to lack color, being almost entirely black and white outside of the images.
Unfortunately, the site is victim to some annoying pop ups, one in particular that's active right now asking you to sign up for a sweepstakes. I always have to take points off for pop ups like this as I find that they complicate the buying experience and add more clutter to the website.
The name No Bull is interesting, to say the least. It's a shortened version of the phrase "no bullshit", alluding to the fact that this is a no nonsense brand that doesn't pride itself on gimmicks.
It's interesting to me that they chose this name, though I can't say I'm a fan. It just feels awkward to me to say to someone "I'm wearing a pair of No Bulls".
Other than that though, No Bull takes a minimalist approach with their branding, choosing a relatively simple font for their logo and almost exclusively using black and white in their marketing materials. I find this again interesting, though a bit forgettable.
Other Products
As I mentioned before, No Bull also produces quite a few other products made for workouts. I'd like to take some time here to discuss some of the ones I felt were more notable.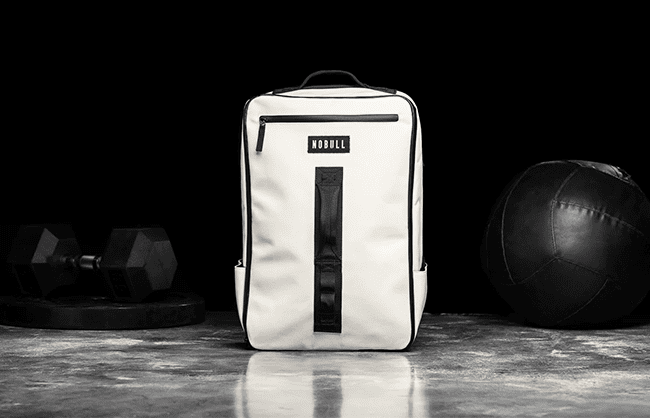 No Bull makes quite a few canvas bags that you can bring along with you to the gym to pack away any extra gear. These come in a variety of sizes, from small over the shoulder bags to large duffle bags, and are water resistant along with being easy to carry.
Athletic socks are also offered and can serve as a perfect pair with your No Bull shoes. They're made moisture wicking yarn and have a seamless construction to hold together against constant stress.
Also available are sweat bands, tee shirts, swim caps, hair ties, and basically anything else you'd want to take with you to the gym.
Should You Buy It
If you're tired of buying a new pair of workout shoes every few months or so and want something that will hold up through hours and hours of continuous use, then No Bull is for you. These truly are some of the best workout shoes you can find and I would highly recommend keeping a pair in your gym locker or your workout room.
If you just want a pair of casual everyday shoes, you may want to look elsewhere. These are really specifically made with gym frequenters and runners in mind. They aren't exactly the most comfortable out of the box, but they serve their intended purpose extremely well.
Where to Buy
As of the writing of this piece, you can only buy No Bull shoes and other products either through the official website or one of their few brick and mortar retail stores. In the future I would like to see No Bull branch out more in terms of locations and buying options, but for now, the website should serve you well.
Competition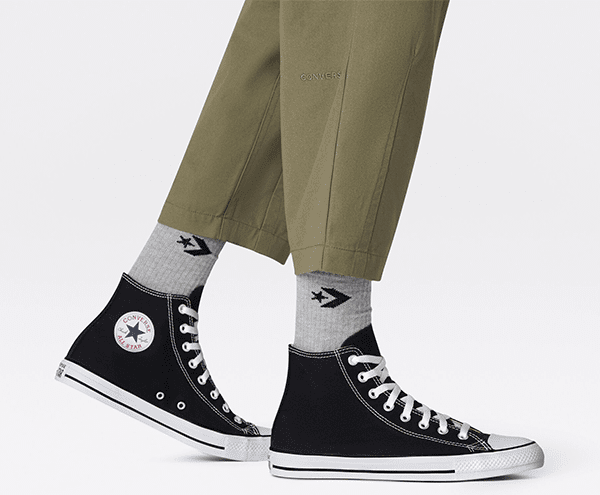 In my research on different work out shoes, I saw a lot of people recommend the classic Chuck Taylor All Stars produced by Converse for weightlifting and general gym use. Lifters say that the light construction and little padding in the soles make these ideal for weightlifting. They're also available at most shoe retailers, come in a variety of styles, and are relatively inexpensive.
However, the problem with these shoes though is in their build quality and durability. I've purchased quite a few pairs over the years and I've found that they don't last too long, I even remember having to buy a new pair every 6 months or so and this was when I didn't work out. While No Bull shoes are a lot more expensive than the Converse All Stars, you will be saving more in the long run since you won't need to buy multiple pairs within a short time frame.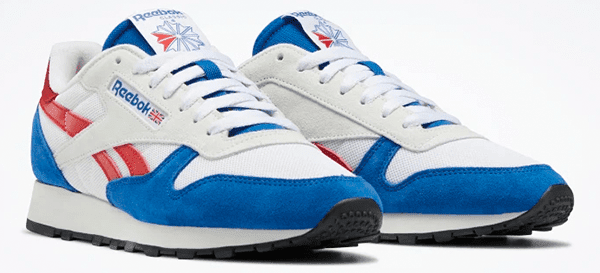 Reebok is the company that No Bull founders left in order to start their own brand. This is an established brand that not only produces decent workout shoes but also a variety of sporting goods.
The problem with a lot of Reebok shoes I've found is that they have a lot of extra features, like foam padding in the soles and additional cushioning, that you either don't need or would be detrimental to your workout. This is the exact bullshit that No Bull aims to cut out of their products.
Final Thoughts
I quite enjoyed my time researching and testing out the products from No Bull. While I have some problems with the name, branding, and website, the product itself is of the highest quality and served me well in everything I put them through, from a hike in the woods to a run on the track.
If you want to get the most out of your work out without needing to buy a new pair of shoes a couple times a year or you don't want to waste time with any extra needless features, then I would highly recommend taking a look at No Bull.
Resources and Further Reading