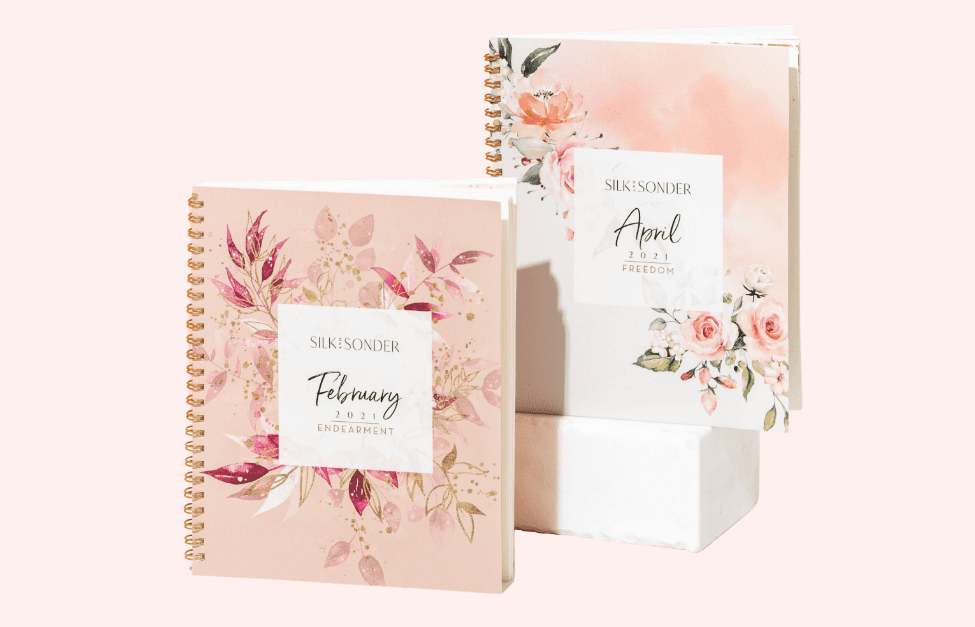 Silk & Sonder's founder created the brand because she felt overwhelmed and unable to manage her daily tasks. Like many of us, she felt that regular store bought planers were not specific enough and did not manage her mind, as well as her to-do list. With this in mind, she creates a more personalized monthly calendar subscription service to help consumers organize their tasks and devote time to themselves.
Many people lose their annual planner within the first few months of the year. They can also be far too thick, overwhelming, and spaced out. This makes monthly calendars much more appealing. The smaller planning books allow more space for detailed organizational tasks, as well as many pages devoted to mental health and goal setting.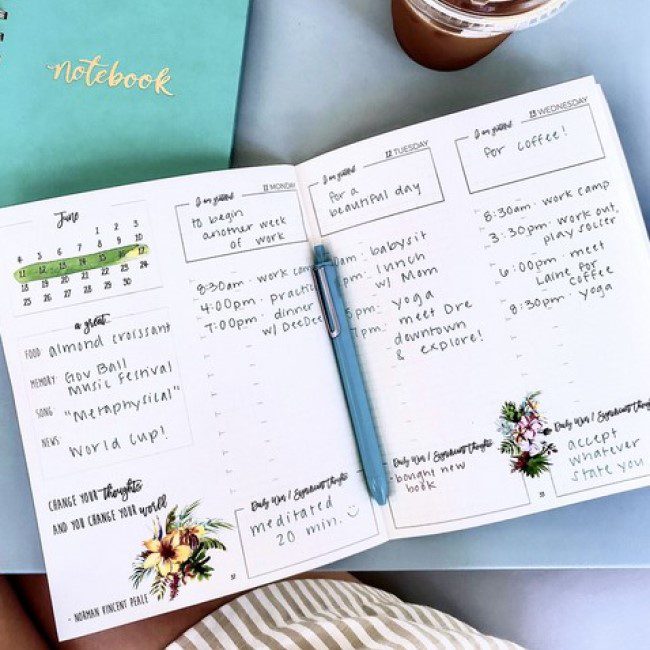 PROS
Aesthetic organization tool
Top notch packaging and free gifts
Monthly Subscription
Mental Health Focused
CONS
No returns or refunds
You cannot purchase planners without a subscription
Shipping issues are rather common
BOTTOMLINE
Silk & Sonder is a monthly planner subscription service that mails aesthetic, organized, and detailed planners to customers once a month. The subscription is available for monthly, quarterly, or annual purchase and includes fun add-ons and gifts from the company!
What is Silk & Sonder?
Silk & Sonder is a monthly subscription planner delivery service that creates detailed, organizational tools to help consumers stay on track. What's unique about the planners is that they prioritize mental health and motivation using their planners in a method that is backed by science. According to Silk & Sonder, their planners are proven to reduce stress and anxiety, boost moods, and increase productivity.
The planner gets delivered every month to subscribers and comes paired with cute wellness themed gifts such as bath bombs, pens, candles, and more. The cute gift boxes are an exciting way to look forward to organizing your life and making your to-do lists.
After receiving your initial starter gift box, Silk & Sonder will continue mailing you monthly planners with pages dedicated to organizing your life, as well as prioritizing your mental health. Many pages include activities such as mood trackers, habit trackers, goal setting sheets, and more.
Silk & Sonder Unboxing
When my package from Silk & Sonder arrived I did not know what to expect. I have always loved the idea of journaling or keeping a planner, but I always lose the planner or it does not have everything I need and I end up more disorganized than before.
Silk & Sonder was delivered in a pretty pastel pink gift box. There was very cute brown crinkle paper in the box and it looked almost like a gift basket. The quality was definitely well above the standards I was expecting and I was excited to uncover what was inside!
First and foremost the planner itself was a soft cover monthly planner which did not have an overwhelming number of pages. It was printed double sided and in color which I think really added to the quality of the product. Every page was uniquely designed and aesthetically pleasing. My favorite feature was that the planner was so detailed and had so many different organizational tools such as weather trackers, shopping lists, and more.
The box also came with a candle, two bath bombs, and a pen. I thought this was a great touch as far as shipping quality goes and I was incredibly impressed. As soon as I was done unboxing the products I drew a bath, lit my candle, and was excited to get to organizing.
Silk & Sonder Features
Silk & Sonder's main goal is to help consumers organize their lives while prioritizing themselves. We often create to-do lists or use regular planners to manage our day, but Silk & Sonder challenges customers to focus on their own growth, set goals, track their moods, habits, and set intentions for the future.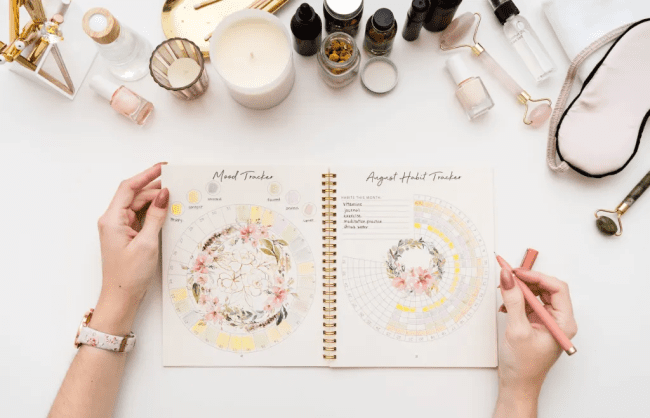 Some of the features I loved about Silk & Sonder were:
Monthly subscription service so I do not lose a big annual calendar
Pretty designs and colored pages
Cute welcome gifts that felt like a present
Pages that inspired me to get organized
Pages that inspired me to prioritize my mental health and personal growth
Pages set up with weekly, daily, and monthly planning tools
Mood trackers, habit trackers, weather trackers, goal setting, intention setting, and emotion trackers
Silk & Sonder Trial
When starting my Silk & Sonder planner for the first time, I used the gifts from the company to create a peaceful, relaxing environment. This is something I normally would not do for myself, so I love that the company promotes creating "me time".
When I lit my candle and used my bath bomb, I started looking over the pages and decided to start with the gratitude log and the priorities wheel. I wanted to go into the organization and planning process with a positive mindset, remembering what I care most about in my life, and being grateful for what I have.
Starting with this allowed me to clear my mind and come in with a positive mindset. Once I got to the actual planning pages, I was much more motivated to write out my shopping lists, to-do list, daily goals, weekly goals, and monthly goals.
This planner really set the scene for relaxing and focusing on organizing my life in a way that felt more like a treat than a chore. All of the products, including the planner, were high quality and worked wonderfully. The pages were all so unique I felt like someone had made this planner just for me, as opposed to the generic, repetitive pages I often see in planners.
Who is Silk & Sonder For?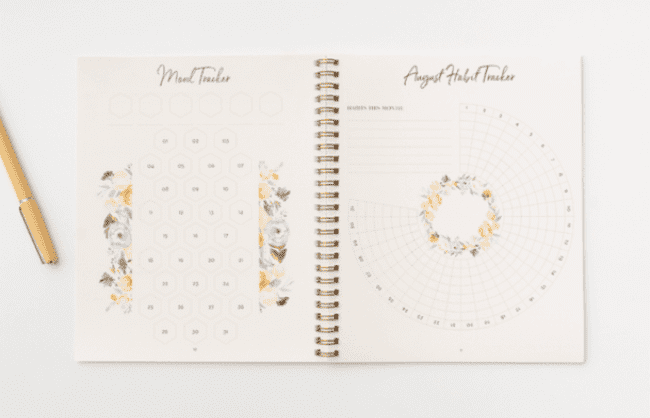 Silk & Sonder is the ultimate planning tool for anyone who feels like they are overwhelmed and struggling to organize their life, while also prioritizing themselves. Any person who has given up on traditional planners due to length, being too general, being bored, or feeling stressed out would benefit from Silk & Sonders proven program.
Silk & Sonder balances organization with mental health perfectly. They understand that planning can be exhausting and emotionally taxing, and for this reason, the planner also dedicates itself to improving mental health and doing positive written exercises. With so many unique designs and pages, anyone could find something that they can benefit from within Silk & Sonder's planners.
What Are the Benefits of Silk & Sonder?
One benefit of Silk & Sonder's monthly planner subscription service is that even if you mess up your entire planner, give up, or lose it, Silk & Sonder sends you a fresh, new planner every single month. Furthermore, instead of just giving you generic pages to plan on, Silk & Sonder coaches customers through the organization process using positivity building activities.
Silk & Sonder's planners not only help you organize your month, but they help you take the time to observe your habits and moods, while improving upon your mental health and setting goals. It is so easy to get caught up in our busy schedules and forget to prioritize ourselves and our goals. Silk & Sonder's planners remind you of what is important to you, allow you time to put yourself first, and help you get organized!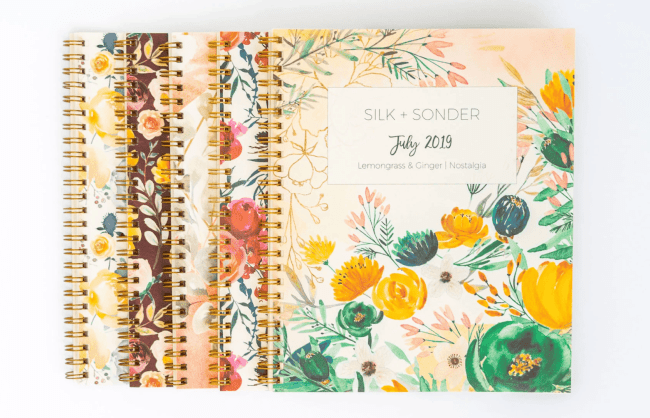 Where Can You Use Silk & Sonder?
Silk & Sonder's planners are rather small, typically 7×8.5 inches, which makes them easily portable. Ideally one would use this planner every day and write things down as they go. For example, if you woke up and found that you were out of milk, you could write this in the shopping list section. You could then journal in bed before work and log the weather, your mood, and your intentions for the day. Then store the planner in your purse and update it with work assignments, workouts, and other updates.
The Silk & Sonder planner allows you the freedom to update your planner wherever you are, regardless, as long as you have a pen to write things down! The planner is not specific to just one area of the user's lives, rather it combines social, work life, family life, and more into one all encompassing planner that can be used to track everything important.
Subscription Service
Silk & Sonder does not offer a single purchase option. While you could technically order a monthly subscription once, then cancel, the product is designed for long term use and customers see the best results when they stick with the program.
Silk & Sonder users can choose a monthly ($19.95), quarterly ($18), or yearly ($14.90) subscription, where the price goes down, the longer you commit upfront. You can also gift your friends a three month subscription so that they can give Silk & Sonder a try!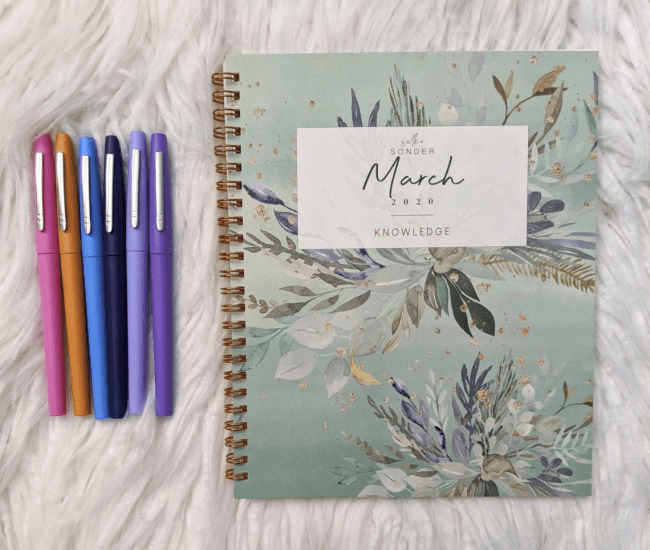 Should You Buy It?
If you struggle with organization and striking to regular planners, Silk & Sonder may be the perfect option for you. People with busy daily lives who struggle with organizing everything they have to do, while still making time for themselves, would benefit most from this product. Personally, I have always lost my yearly planners so I love that this service sends monthly tools as opposed to one big yearly calendar.
Furthermore, receiving a package in the mail every month is something to look forward to. This combined with Silk & Sonder's beautiful pages and fun planning activities gives customers a positive outlook on planning, rather than it seeming like a chore.
How to Buy Silk & Sonder
The best way to subscribe to Silk & Sonder is directly through the subscribe page on their website. Customers will get to choose which subscription length works best for them, and proceed to put in their address and payment information. The process is simple and the website offers a "contact us" tab if you have any questions or concerns.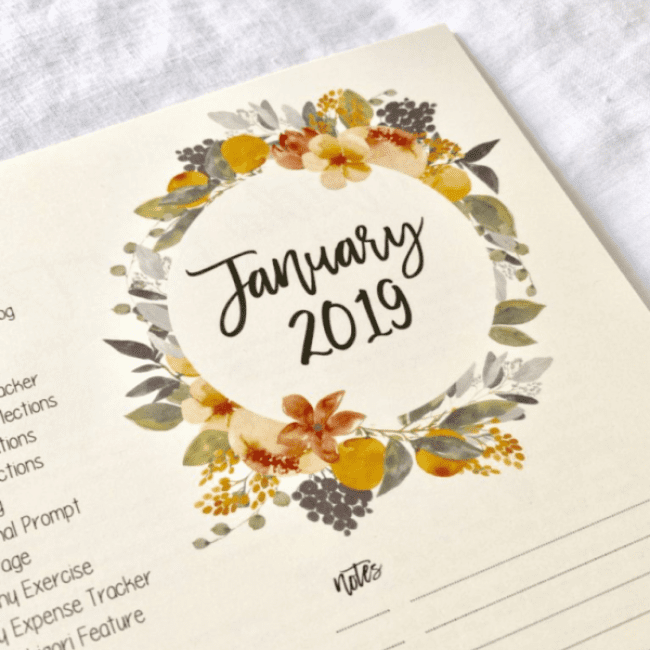 How Does Silk & Sonder Compare to Alternatives?
The Fabulous Planner
The Fabulous Planner is a monthly planner subscription service that sends customers a gift box filled with planning and stationary goods. The company offers their basic box for $24.99 a month, or their luxury box for $30.99 a month. While the planner itself is not nearly as detailed as Silk & Sonder, this service is best for those who love bullet journaling, drawing, stickers, and planning as a hobby.
Crate Joy
Crate Joy is a company that specializes in all sorts of subscription boxes. These range from fashion, to toys, to beauty products, to planners. The website offers users many planner options to choose from every month, ranging $20-$50 per box. The planner subscription boxes are less personalized and more about decorating your planner for fun, rather than getting organized. But the website does offer many fun options to change it up each month and keep things fresh.
Passion Planner
While Passion Planner is not a subscription service, their website does offer several one-time purchase options for detailed organizational planners. Their prices range from $20-$50 and include weekly, daily, or monthly planning options. Their website includes a wide variety of planners for every customer and includes habit trackers, shopping lists, and more. While Passion Planner does not have the same mental health focus that Silk & Sonder does, this may be a good option for those who are not looking to subscribe to a service.
Final Verdict
Silk & Sonder is an enticing planning subscription service that makes organizing and prioritizing mental health something to look forward to. Their low prices and monthly deliveries give customers so much to look forward to. Their gorgeous page design and wide range of lists and activities give every user a tool that they will love.
Resources and Further Reading