Oak and Fort Clothing Review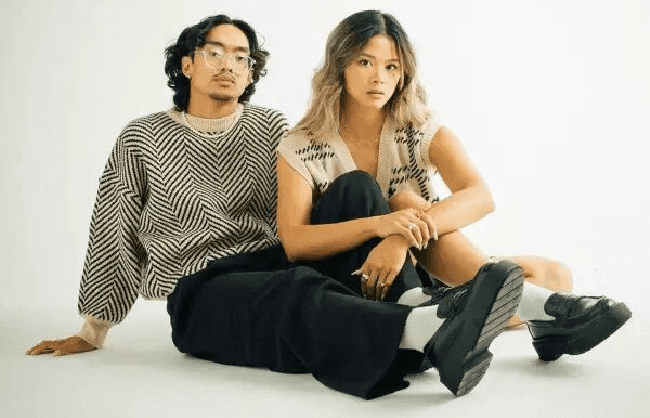 What is Oak and Fort Clothing?
While some people focus on the hottest clothing trends and spend tons of money every season, others stick to the basics and essentials. They know that spending more on high-quality clothing today can help them save money tomorrow. If you're one of those people, you'll love Oak and Fort clothing. Oak and Fort is a clothing brand based out of North America with a focus on minimalist living. Instead of releasing hundreds of trendy items each season, this brand sells clothing that will look as great 10 years from now as it does today. Jessica Alba and Black Lively are just a few of the famous faces who love this fashion brand.
The husband and wife due of Arjuna Thiafarajah and Min Kang launched Oak and Fort as an upscale boutique in Canada that sold the type of clothing they liked. Most boutiques at the time focused more on trendy pieces and not fashion basics. Their brand sticks to a monochromatic color palette that includes pieces you can easily put together or pair with clothing you already own. Eunice Quan joined the duo to help them come up with new fashions that fit the needs of the customers ignored by other stores. The website now lets you shop for looks you saw on Instagram and find apparel for men and women along with lifestyle products. In our Oak and Fort clothing review, we'll look at some of the brand's top merchandise and everything else you need to know before you buy.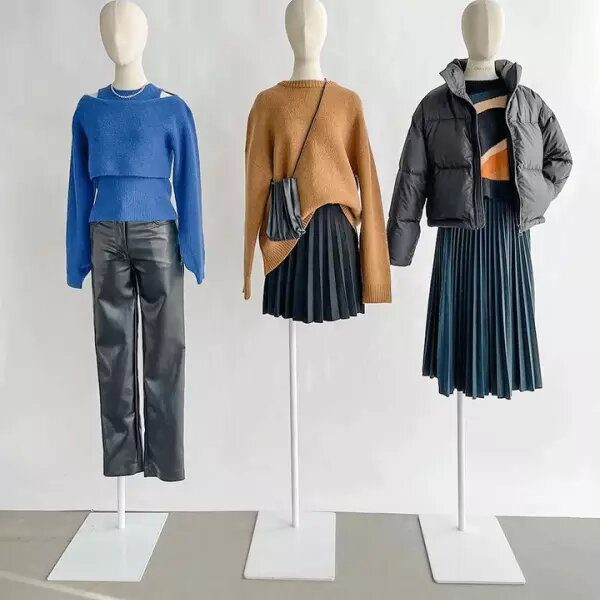 PROS
Offers stunning fashions in minimal colors
Makes it easy for you to mix and match outfits
Includes lifestyle products and home decorations
Has payment plans for shoppers
Orders of $150 or more come with free shipping
CONS
Pretty expensive
No info on where it gets its products
Some clothing isn't as durable as others are
BOTTOMLINE
Oak and Fort makes clothing for shoppers who care about the way they look and don't mind spending more money. You'll find fashions for men and women along with home decorations and gift ideas that all use a muted palette.

iReviews Shopping Assistant
Find the best prices for this and many other products with our chrome extension
Product Features
Product Collections: Lifestyle, men's clothing, women's clothing, accessories
Prices: $50 to $100+
Size Range: XS through XL
Returns: Within 30 days
Store Pickup: Free, same day when you order before 4 pm
Shipping: Free when you spend $78 or more
Oak and Fort Clothing for Women
The best way to find out if Oak and Fort clothing is right for you is with a look at some of the available products. We wanted to look at women's clothing first because most of the customers are women. You'll find several options, including outerwear and denim.
Sweaters and Cardigans
If your idea of the perfect day involves curling up next to a roaring fire with a good book, you'll love some of the brand's sweaters and cardigans. The Plaid Crewneck Sweater retails for $78 and has a simple crew neckline. It falls below the hip and can help you feel cozy and warm. With the Patterned Cardigan for $98, you can rock the grandpa sweater, which is one of the hottest trends around. It has an oversize design and uses two shades of brown along with large buttons down the front. There's also the Patterned Sweater Vest for $58 that you can wear over a tee or button-up shirt to remind you of your junior high days.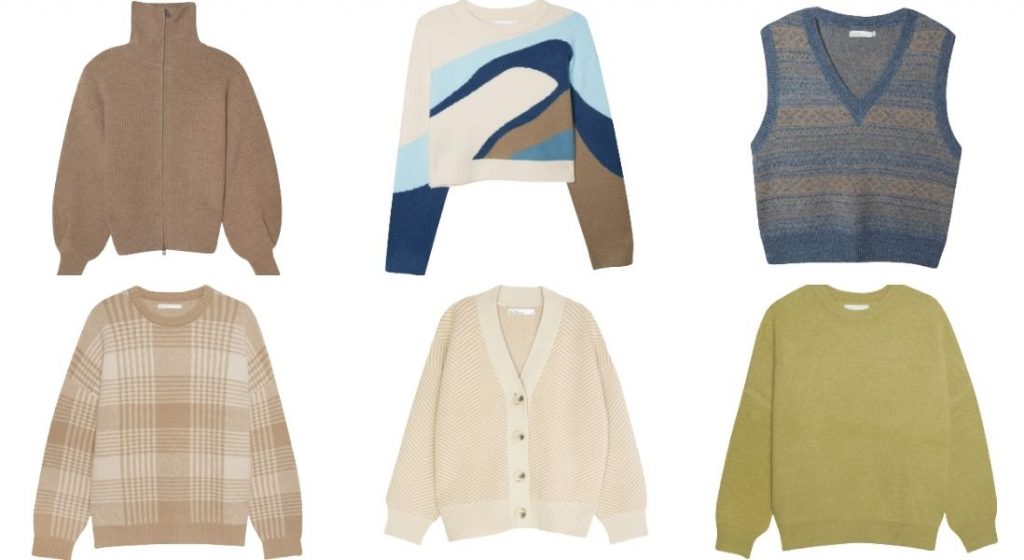 Outerwear
Whether you spend long hours outside in the ice and snow or just need a basic jacket to wear on a cool day, check out the outerwear from Oak and Fort. We like the Cropped Leather Jacket because it has a classic motorcycle jacket look with a cropped bottom that stops at your waist. It sells for $118 and comes in two colors. With the Cropped Puffer for $178, you'll stay warm for hours and still look amazing. This jacket has a cropped design that allows you to show off your figure and layers hidden inside that block out the cold. You might also like the Plaid Wool Coat, which has a classic design and plaid pattern. This coat retails for $268.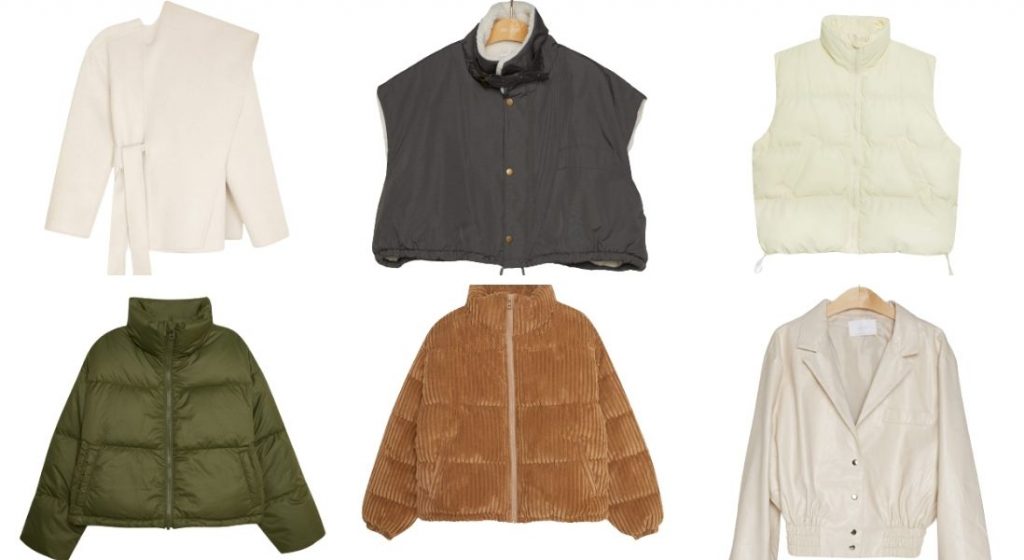 Tees and Shirts
If you think of tees as the basic shirts that you wear to bed or when everything else is dirty, think again. Oak and Fort make tees that would look at home on the runway or a red carpet. Many women love the Animal Print Top for $68, which comes in two colors and has a mock turtleneck. The Striped Turtleneck Top is only $48 and has delicate black and white stripes that go with anything. If you love tanks, the Racerback Top sells for just $24 and goes great with jeans. This top also allows you to show off your upper body and back.
Women's Denim
While most women have different styles, many can agree that they love denim. That is why Oak and Fort makes so many denim options for women. There's the Crossover Front Denim for $88 that mix denim panels with sections made of black in a look that might become your favorite pair of jeans. The Jeans with Fraying cost a little more at $118 but have a look that will catch the eye. This pair has frayed sections down the front to make you look longer and leaner. We're also fond of the Front Seam Straight Leg Jeans that sell for $98 because they have a unique design with seams running from the top to the bottom on the front and large metallic buttons.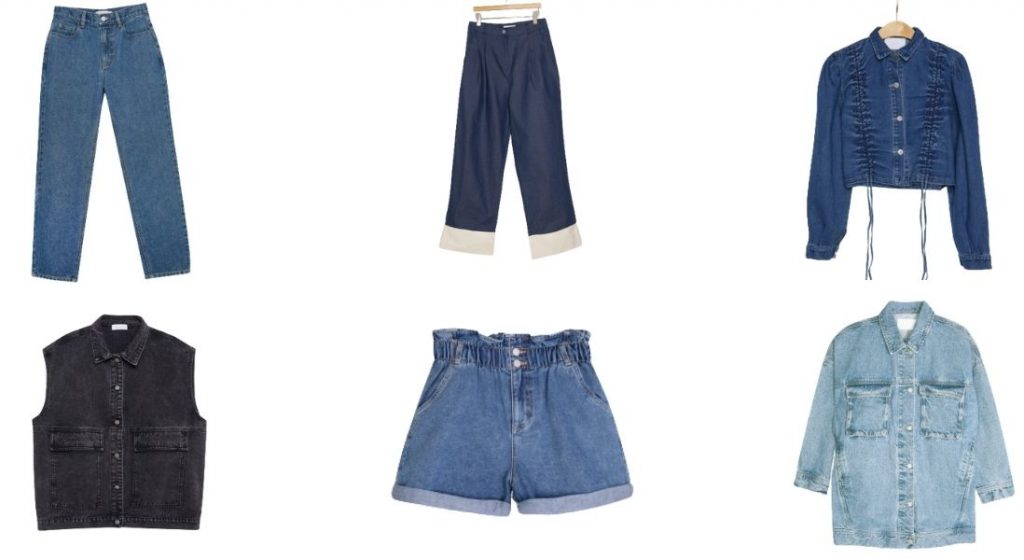 How Can You Use Oak and Fort?
To use Oak and Fort, we recommend that you sign up for a free account, even if you don't plan on buying today. Unlike similar sites that have mailing lists, Oak and Fort will only use the info that you share to get in touch with you. Creating an account makes it easy for you to view your past orders and keep track of your current orders. You can even use the tracking info to see where your order is after it ships. The account also gives you the option of buying online and picking up the order in an Oak and Fort store, which comes in handy if you have porch pirates in your area.
There are a few different ways to use this shop. If you follow the brand on Instagram, use the Shop Instagram option. This page features the same photos that you saw on your feed. Clicking on one will lead you to a new page where you can order the entire outfit or an individual piece. Other buttons on the top of the page direct you to the men's and women's sections as well as the lifestyle page. You can then add anything that you want to your cart and buy them.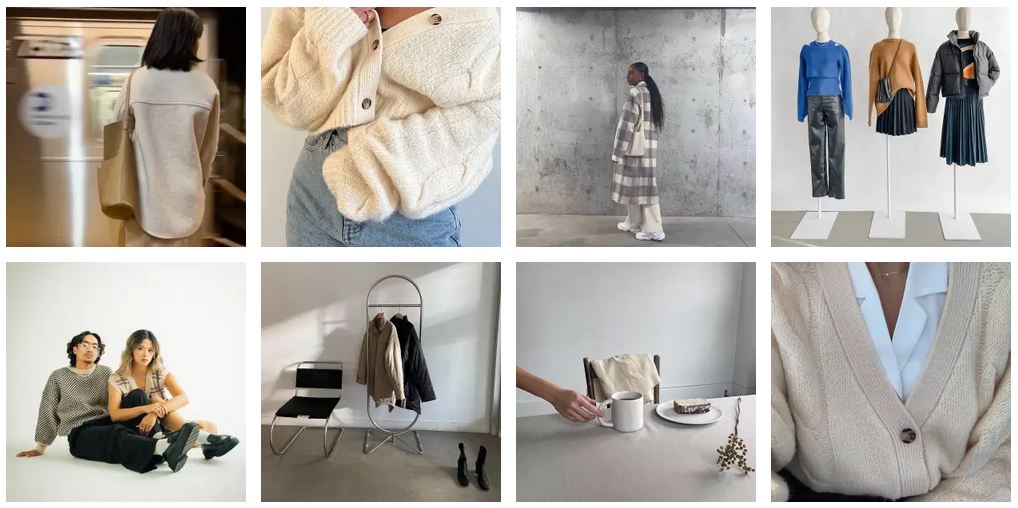 The Shop Instagram page makes it easy for you to find and buy the fashions you saw on social media.
Men's Fashions from Oak and Fort
All it takes is one visit to Oak and Fort for you to realize that it doesn't sell a lot of men's fashions. Though the brand claims that it has clothing for men and women, we found the men's section a little lacking. There are still some great pieces that you can buy though such as the Twill Pants that come in two classic colors. Available for $68, these pants are perfect for wearing to school or work. We also like the Sherpa Shacket that falls below the hips. Though it's a little expensive at $128, this jacket offers tons of storage and has a thick sherpa fleece lining. Some of our other favorites include:
Chunky Cardigan ($98): You won't need a coat when you throw this cardigan on over jeans and a tee. It has an oversize design with tan accents and simple buttons.
Core T-Shirt ($34): This might become the only tee that you ever need. The shirt is available in two colors and is comfy enough for everyday wear.
Zip Up Top with Elastic Hem($98): You'll look fresh and feel comfy in this top. It offers a twist on classic athletic wear with an elastic hem that keeps the shirt from riding up.
Denim Jacket ($98): Whether heading to work or a night out, you'll want to reach for this jacket. While the dark color goes with everything, the large pockets provide needed storage.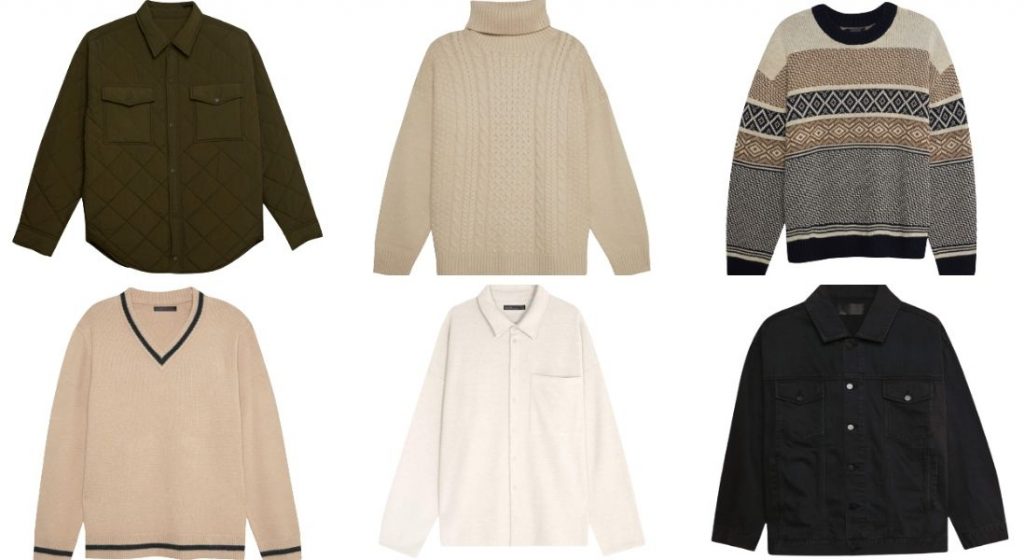 Where Can You Use Oak and Fort Clothing?
Fashion experts often talk about the benefits of a capsule wardrobe. This refers to a wardrobe filled with essential pieces that you can wear anywhere. You can pull together a formal outfit as easily as you can grab an outfit for work. One of the nice things about Oak and Fort clothing is that the brand makes pieces that fit your existing wardrobe or a new capsule wardrobe you want to create. As most pieces use neutral and light colors, it's easy to mix and match them. Once you invest in a new piece, you'll love seeing how you can use it with the clothing you already own.
We noticed that the brand expanded to include new clothing that is suitable for more than just a day at the office or school. Why not snag a vegan miniskirt that looks like real leather and comes in a bright color that you can rock to the club? The brand's jeans use classic denim with fun accents that help you stand out when running errands or hanging out with friends. We also found jewelry and other accessories that add a special touch to an everyday outfit and bags that you can use on the go.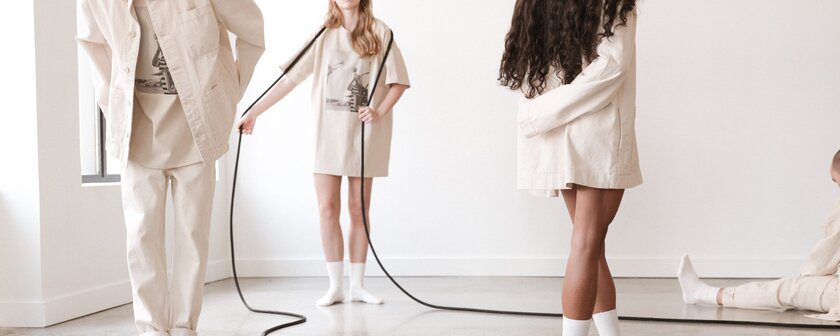 Oak and Fort clothing is suitable for daily wear and works anywhere you go.
Lifestyle Merchandise from Oak and Fort
Many of the shoppers who buy from Oak and Fort start with the brand's clothing and accessories before investing in some of its lifestyle merchandise. We found quite a few pieces from this category that we loved such as the Large Plate Set. Whether you need to replace some broken dishes or need your first full set, these dishes are great for you. They have a larger size that is perfect for meals and sells for $58. You can easily put together a bigger set with some of the matching pieces such as the Stoneware Mug Set for $26 and the Small Ceramic Bowl for $12.
If you want to relax in bed, the Cotton Bedding Set can help you stay as cool or hot as you want. It comes with both flat and fitted sheets for $178 and is available in two colors. The Chunky Braided Blanket retails for $108 but often goes on sale. This blanket is thick enough that you'll want to wrap it around your body on a cold day but light enough that you can use it outside. Other lifestyle products from Oak and Frost to consider include:
Stainless Steel Water Bottle ($16): It holds enough water to get you through an intense workout and keeps it ice cold for you.
Globe ($32): This globe is anything but traditional! Though it has all of the countries and oceans shown, the globe has sharp edges and a geometric design.
Abstract Print Notebook ($5): The convenient size makes this notebook perfect for taking notes at work or home.
Erasable Pen ($4): You don't need to worry about making mistakes with this pen as you can erase the ink.
Honey Onyx Coaster ($11): Keep your drinks from damaging your furniture with this coaster made from real onyx.
Who's This For?
Not everyone who heads to the Oak and Fort website will immediately want to place an order. We want to make it clear that this clothing brand is not for everyone. If you are a fan of bright colors and want to rock the hottest trends, you may not find much on the site that you like. While the brand does try to stock some trendy items, it mainly focuses on classic pieces that might remind you of clothing your boss wears to work. We recommend Oak and Fort clothing to customers who want sustainable pieces that will last a long time. The brand also sells sustainable clothing that is good for the environment.
Did you recently finish college or are about to get your degree? You may find that your wardrobe lacks the basics that you need for job hunting and interviews. Oak and Fort have plenty of clothing that can help you land the job of your dreams and pieces that you can later wear to work. While you won't find many party or club clothes, there are classic pieces with unique twists that will help you stand out. We encourage our readers to visit the website to see if they can see themselves wearing Oak and Fort clothing.

Oak and Fort also have gifts that might be suitable for your friends and family.
Should You Buy It?
As we worked on our Oak and Fort clothing review, we found nearly as many negative experiences as we did positive reviews. The customers who liked this brand really liked it. They weren't shy about handing out five-star reviews. Oak and Fort must be a popular brand as it has more than 80,000 followers on Instagram alone. Many reviews talked about how the clothing used neutral designs and worked well together. You'll have no problem finding new pieces you love that you can also incorporate into your wardrobe. While some customers wished the brand has some trendier options, Oak and Fort recently added some trendy pieces and plans to add even more in the future. Some of the other reasons why we recommend this clothing brand to our readers include:
All of the clothing uses high quality and durable materials that make them last for years.
Oak and Fort has frequent sales where you can take a certain amount off when you spend the minimum amount.
With the Shop Instagram page, you can see all the styles you found on Instagram and order them in your sizes.
The site offers different shipping options and a pickup option if you need your order faster.
It's easy to build a wardrobe that works now and in the future through the site.
Thanks to standard sizing, many customers can choose the sizes that fit their bodies.
As the site uses sustainable materials, you can feel good about your purchase.
You can choose different accessories to breathe new life into old outfits.
Oak and Fort has a wide selection of decorations for your home and lifestyle products.
You can use the Help Center to get in touch with the company.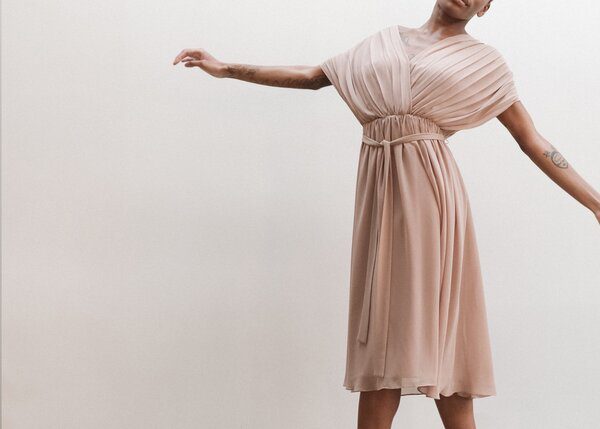 Simple dresses and fashions are among the clothing sold by Oak and Fort.
Cons to Consider
We wanted to mention some of the negatives or cons of buying from this fashion brand in our Oak and Fort clothing review. A story broke in 2019 when an independent designer accused the brand of stealing her designs. Though the brand denied those claims, the designer showed the handmade nail art and beauty products she made and sold online for years, which were highly similar to those introduced by Oak and Fort. If you can move past those allegations, you'll find that the clothing only comes in a limited range of colors and sizes. It's easier to find neutral colors than bright colors. Oak and Fort only sell clothing in XS through XL sizes for men and women, which may not fit your body. Some of the other complaints that customers brought up include:
Oak and Fort makes the return process difficult and may refuse to refund the amount you paid.
When you buy items listed as final sale merchandise, you cannot return them.
The prices that the brand charges are quite high such as $110 or more for a pair of jeans.
Not all items are available online as the brand only sells certain products in its stores.
A few customers thought Oak and Fort clothing would be more durable, especially given the high prices.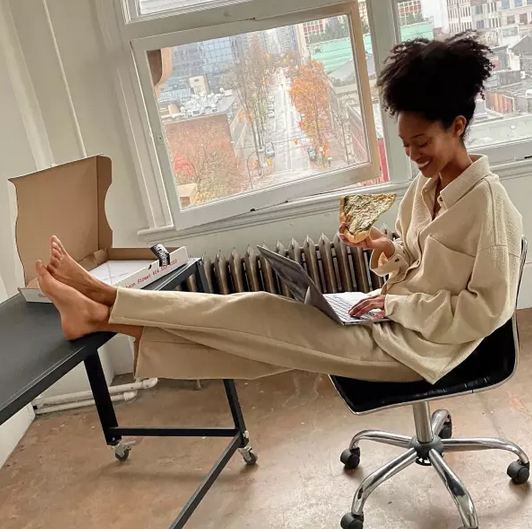 Some customers also complained that Oak and Fort made clothing that was only suitable for older men and women, but younger shoppers often find pieces they love.
Where to Buy
While online boutiques are a dime a dozen, the only place to find Oak and Fort fashions and accessories is when you click here. We provided a link to the site that takes you to the homepage. Always check the homepage first to see if there is a current sale. You might find one of the special events where the brand takes $30 off if you spend $150 and $100 off when you spend $350. As the prices are fairly high, these events help you complete or fill out your wardrobe for less money. Even if you don't shop during a sale, you might get a discount through your account.
Designed for those who want timeless and minimalistic pieces, the Oak and Fort website has a store pickup option, too. This is a good choice if you need a new outfit in a hurry and don't want to wait for a package to arrive. When you order, simply pick this option below the shipping details. You can search for and find the closest store to your home address. If you place your order before 4 pm, it will be ready later that day. Oak and Fort can have your order ready by the following morning, too.

Depending on where you live, picking up your order might be a faster alternative than shipping it.
Competition
Though Oak and Fort can help you find clothing for different occasions, it's not the only brand that offers wardrobe essentials. We'll talk about some of our favorite alternatives below.
GAP
If you can't find the clothing that you need from GAP, it may not exist! GAP has a strong reputation for the denim that it sold in the past but now offers simple and casual clothing along with wardrobe basics for both men and women. Joining the rewards club lets you get free shipping when you spend $50 or more and lets you earn money back when you buy. GAP offers both in-store pickups and curbside pickups if you want to avoid the long lines. You may also want to check out the GAP Outlet, which features merchandise at low prices.

LOFT
Though LOFT only sells clothing and accessories for women, it's a good alternative to Oak and Fort if you're on the hunt for some fashion basics. You'll find tons of clothing in a range of sizes, from cardigans and jeans to dresses and pajamas. LOFT has a rewards program that gives coupons and special offers to frequent customers and a credit card that lets you buy today and pay off your purchase later. We also like that this site has an inspiration section that features some of its newest arrivals. Viewing these photos and following the links can help you create the perfect outfit.

Tory Burch
Many women turn to Tory Burch when they want a casual outfit for hanging out with friends or the right dress for a formal occasion. Known for its unique patterns, the site has dozens of dresses, some of which offer a fun twist on the little black dress such as a net overlay or lace that peeks out from the top. The Tory Burch Ready to Wear line lets you shop for runway fashions from the comfort of your home. Don't forget to sign up for the mailing list as this gets you a coupon for 10% off when you spend $200 or more.

Banana Republic
Owned by the same parent company as GAP, Banana Republic is one of the best places to look for work apparel. Whether you need to wear upscale clothing daily or work in a casual environment, this site helps you find the perfect pants and skirts along with tops and jackets. Unlike Oak and Fort that primarily sells neutral clothing, Banana Republic offers both neutral colors and some bright shades. The Tee Shop features some of the best and most comfy tees around, while the matching sets feature wardrobe essentials such as leggings and jogging pants for casual days and sweaters and tapered pants for the office.
Final Verdict
While we wanted to give Oak and Fort two thumbs up, there were enough issues that we had to give the fashion brand a lower rating than we initially expected. A Vancouver designer accused the company of plagiarism and provided enough proof that the store took down the products that were similar to her designs. Customers were unhappy with the limited size range and wished the site would add some options for plus sizes. Another thing to keep in mind is that the clothing is more expensive than other sites charge. Putting together a whole outfit can easily cost $200 or more.
Despite those issues, there are some things to like about this clothing brand. Oak and Fort make tons of clothing in neutral colors that help you build a capsule wardrobe filled with pieces you can wear to any occasion. The site now includes some trendier pieces that are suitable for fun nights on the town and special events. When you spend a minimum of $78, you qualify for free shipping, but you also have the option of picking up your order from one of the store's locations. If you're on the hunt for quality clothing and accessories and can afford the prices, Oak and Fort might be your best choice.