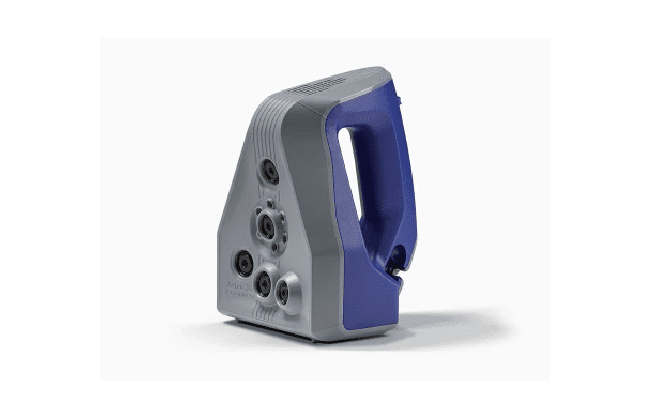 2
So, already I'm in love with the name, I almost want to see Peter Parker team up with this thing in the next Spider-Verse event.
Designed specifically for the International Space Station, the Artec Space Spider is one of the fastest, most reliable precision 3D scanners on the market today. In a portable 3D scanner industry with only a few high-end players (Canada's Creaform and Luxembourg's Artec), the upgrade from Artec's Spider to the Space Spider can only be described as breathtaking.
I'll admit that I was skeptical at first about the product's accuracy, but after seeing a few demonstrations I'm totally convinced that this little thing could replace the traditional desktop 3D scanner.
The new bells and whistles include improved electronics boosting the scanner's start-up time from 30 minutes (Spider) to 3 minutes (Space Spider) and 3D scanning technology based on blue LED structured light – making scanning outside a seamless experience. With NASA in mind, Artec upgraded the 3D scanner's operating temperature to 36.3 degrees Celsius – making it not only easier and faster to use but even more importantly, compatible with all types of harsh environments – similar to the conditions one would see… you guessed it… in space.
Designed for Precision
The Space Spider's 3D scanner is designed for precision. Artec created the perfect solution for users interested in capturing small objects with highly complex geometric edges.
These images can range from a detailed 3D scan of the human ear to an intricate 3D mesh scan of molding parts. According to Artec, the Space Spider's technology is a perfect solution for "rapid prototyping and manufacturing, health care, the automotive industry, aerospace, quality control, heritage preservation and graphic design."
When stacked up against a laser scanner, there is no competition. The speed and precision of the Space Spider enables processing up to one million points per second. Intended to capture images from all angles, the scanner resolution (up to 0.1 mm) and accuracy (up to 0.05 mm) works extremely well with the latest version of Artec's Studio 10 software.
The launch of the Space Spider scanner coincided with the major upgrades of their newest software. The Sharp Fusion feature, for example, is instrumental in smoothing out already super-detailed scans.
Speed & Compatibility
Just as speed and precision seemed to be at the forefront of Artec's design innovation, the Space Spider's portability and compatibility seemed to take center stage as well. The Space Spider 3D scanner is extremely lightweight (only 850 grams or 1.91 lbs) and is battery compatible.
A user would still need to connect the scanner to their computer by USB. As with most of the high-end 3D scanners, wireless technology has yet to introduce itself and is considered by many, one of the only drawbacks.
Another great feature is the Space Spider's ability to scan in real-time. With the frames automatically aligned in real-time, it can scan at 7.5 frames per second – yet another one of its many impressive features.
Two-Year Warranty
In closing, the Artec Space Spider 3D scanner is leaps and bounds above the competition. Designed for metrology and reverse engineering applications, the Space Spider is innovation trapped inside a 3D scanner.
Backed by a two-year manufacturer's warranty, Artec's newest upgrade is fast as it is precise. If you're in the market for a premium portable 3D scanner where quality is of utmost concern, look no further than the Artec Space Spider.
PROS
Speed: Adjusts to environmental conditions in only three minutes
Precision: High Resolution (up to 0.1 mm) and superior accuracy (up to 0.05 mm)
Portability: Lightweight design (850 grams, 1.91 lbs.) and battery compatible
CONS
No wireless feature (but none of the existing portable 3D scanner are wireless)