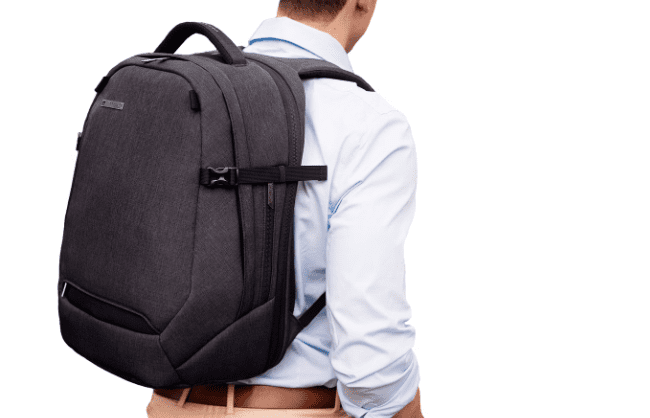 Having a backpack that can serve you well is important if you plan to do a lot of traveling or outdoor activities that take you away from your home a lot. If I were to list what makes a backpack a good backpack I would say it needs to be spacious, rugged, and comfortable. The Barracuda Konzu attempts to be a backpack that falls into all of these categories and then some.
The wirelessly charged backpack comes with numerous smart features that are built on modern technology. All of these usually sensitive components come in a package that performs well beyond expectations as a tough backpack.
The Konzu is a chargeable backpack that has a large list of features that protects your belongings and shields your information. If you're a commuter traveling with a lot of tech gadgets or just someone interested in safeguarding your laptop, the Konzu tries to be one of the best options out there for you.
I want to go deeper into the features of this product and how I see most feel about them. Does it all live up to the expectations of many, or are there problems that need to be addressed? That's what I hope to tell you here.
The Barracuda Konzu Features
Made by the same company that created the Barracuda Carry-On, the Konzu has an effective Push-2-Lock system. The backpack's four external zippers, 2 main ones, and 2 pocket ones are easily locked into place with just a push of a button. By pressing down or up on the conveniently placed button on the strap you can easily keep your backpack secured and safe from anything or anyone that might cause it to zip open.
What if you forget to fully zip your backpack in the first place is something I wondered. However, the Konzu comes with integrated sensors. These sensors make sure that when it's needed the open-bag alert will go off.
All of this lets you know when your backpack is safe and secure, and when you've forgotten and left it open. Whether it's the Push-2-Lock system or the Open-Bag Alert, the Konzu backpack offers a duo-pronged security feature that keeps your stuff safe and sound during your travels.
There are other safety features that are integrated into the backpack as well. Another example is Konzu's RFID-shielded pockets that help keep your most sensitive devices protected from digital hackers.
Konzu's most practical feature, in my opinion, is its 10 mAh battery pack. With the option of wirelessly charging your backpack via its charging stand, Konzu will be fully powered up in 8-10 hours. That means wherever you go, you have an instant power source right on your back.
With the Konzu battery pack, If you need to, you can leave your smart devices inside the bag plugged into Konzu's internal USB port. When you do this it will charge your smart devices alongside your backpack.
There is also the option to upgrade to the Wood-Dual Charging Station. With this addition, you will have a  stand equipped with a transmitter that can charge QI compatible devices. It's quite handy I would like to say.
If you're someone who is known for losing their keys, the Konzu can save you from the frustrating aspect of hunting them down. The backpack comes with a retractable key ring perfectly located in the easy-to-reach key pocket. The heavy-duty cord works with employee IDs, scan cards, key fobs, and other such parts that I feel make it easy to ensure you won't lose anything that's hooked to it.
How Well Does the Kanzu Work?
I've spent a lot of time listing off the numerous extra features that come along with the Kanzu backpack. They all have their uses, but there is one thing that would make the quality of this product fall apart if it doesn't work. How well does it function as just a backpack?
Let's start by looking at the expandable strap system. This allows for extra storage This can be just enough room to fit something like a pair of shoes or a jacket.
There is also the TSA-approved laptop sleeve. With this, you can keep your sensitive and expensive laptop in a safe and secure location even when you're going through an airport. Using this also gives you instant access to a laptop sleeve on the left side of the backpack and a tablet sleeve on the right.
Finally, there is the ease of transporting the Konzu around. I think this is the most important of basic features when it comes to any backpack, advanced or otherwise. There is no point in having a backpack that is as hard to move around as the items inside on their own are after all.
In this regard, I'm happy to say Konzu comes with super ergonomic padding that makes it comfortable enough to carry. It also has a luggage handle attachment which makes carrying it around when it's on the heavy side all the easier.
All of this and more makes me feel that the Konzu is well suited to function as any other backpack. Though, the extra features are the main reason to focus on this product. If they don't interest you at all you might be better off getting a regular backpack with a smaller price tag attached to it.
Final Thoughts
Overall, I can see why a lot of people are happy with what the Barracuda Konzu offers. It's a good quality backpack before even taking into account all the extra features that are its main selling point. With these features, it becomes an incredible, if niche, product.
I think the biggest sticking point I have against it is the price tag. If you're looking for something to just carry things around on a hike, and don't plan on carrying anything too valuable then there are cheaper options out there that will work for you. However, if you keep expensive tech, like laptops, on you then this may be the backpack for you.
If you're interested in all the extra features, and the price of it doesn't deter you, then this is a good product to invest your time in. You can never go wrong with a product that aims to give you at least a little bit more safety and a little bit less worry in your daily lives.
PROS
10 mAh Battery with External USB
RFID Blocking Pockets
Hi-Tech Water Resistant Fabric
Balanced Backpack/Won't Tip Over
Push-2-Lock Zipper Locking System
Retractable Key Ring
CONS
High Cost for a Backpack
The Lock System can be Difficult
Could Have More Design Variety