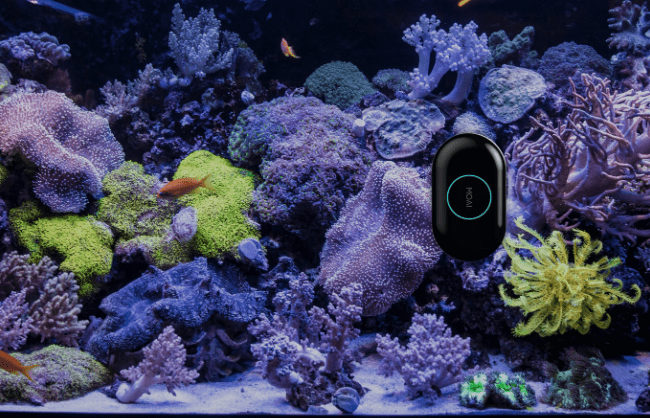 0
If you're an aquarium hobbyist and want to upgrade the entertainment value of your fish tank, the MOAI cleaning robot is a great choice. Capable of cleaning your aquarium while capturing real-time video of all the underwater action, the MOAI Robot gives you complete control of your fish tank whether you're home or at work. You'll never miss what's going on in your fish tank.
Easy Setup
With a mission to make every aquarium connected, MOAI wants to "enhance the natural beauty of everyone's aquarium". By simply connecting to your home's Wi-Fi network, you instantly have access to an intuitive aquarium app that allows you to schedule cleanings and experience real-time wide-angle HD-quality shots of your tank.
With setup taking only minutes, the MOAI Robot comes equipped with state-of-the-art AquaNavi ultrasound technology – so it knows its exact location inside the aquarium at all times and where it has cleaned.
Suitable for both fresh and saltwater tanks, the aquarium robot is a highly versatile device that comes with a charging dock, an LED indicator, a high-density cleaning pad, and an AquaView wide-angle camera. The MOAI Robot will go back to its home base to re-dock after the cleaning job is finished.
Intelligent Design Features
Capable of navigating your tank within a 200 cm range, the MOAI Robot has the ability to capture time lapse shots, explore your tank on auto cruise, zoom into your fish with its close-up view, and shoot wide-angle HD images of all your tank's underwater adventures.
The MOAI Robot gives aquarium hobbyists an entirely new appreciation of their aquascape from anywhere in the world by simply opening up their smartphone app.
If your friends are just as enthusiastic about your aquarium environment, you can easily share all the live streaming action via Facebook, Twitter, Instagram, or Youtube.
MOAI Technology
Outside of experiencing your aquarium from the perspective of being inside the tank, the MOAI robot also has a pretty important job to do: clean your aquarium. Armed with adaptive mapping technology, MOAI is able to prevent algae from building up on the aquarium glass.
Keeping your tank clean and healthy is as easy as setting a schedule inside the app. Using its ultrasound sensors, MOAI will map its way around the aquarium keeping you free from the time-consuming task of cleaning your fish tank. You can set the cleaning area (an underwater geofence) above the sand bed with the mobile app to prevent any navigational problems.
The Difference Maker
So what makes the MOAI cleaning robot a must-have purchase for all aquarium owners? For one, it takes care of the biggest problem people have with owning fish tanks: keeping them clean. Not only is it dangerous for the creatures swimming around your tank to be taken out of the comforts of their environment, it's a rather labor intensive process.
Secondly, if you want to experience close ups shots or live streaming video of your aquarium, the MOAI robot gives you a captivating image from the angle of a fellow fish living amongst other underwater creatures.
For more information, I recommend checking out the official MOAI website here. There you can see videos of the device, look deeper into the specs, and sign up for the email list to get updates on the product.
PROS
Easy-to-Use
Saves You Time Cleaning
Scheduled Cleanings
Low Noise
Smart Docking System
Ultrasound Navigation
Adaptive Mapping