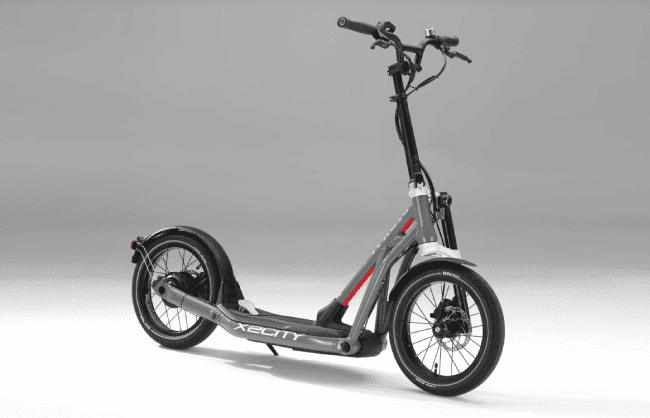 5
With traffic congestion in major cities becoming a growing problem worldwide, urbanites are finding alternative ways to get to work. There's really nothing more frustrating than sitting in bumper-to-bumper traffic just to get to your 9-to-5 job only to face the same gridlock on the way back. And unless you own an eco-friendly car, your combustible engine is spewing CO2 emissions into the atmosphere – making matters worse.
It's time to consider ditching the car for an emission-free transportation alternative. Introducing the X2City by BMW Motorrad. This state-of-the-art electric kick scooter has a range of 15 to 22 miles (25 to 35 km) and is capable of reaching 15 mph (25 km/h). Falling into the category of "Pedelec25" riders over 14 don't need a license to operate the X2City nor is a helmet required (even though it's highly recommended).
If you're within a few miles from the office or live on a large campus, BMW Motorrad's X2City is a great way to skip public transportation, avoid looking for parking spots and circumvent any traffic jams. Weighing only 44 lbs (20 kg), the X2City comes with a foldable steering column making this a versatile mode of transportation even if you have to take it onto the subway. If a road trip is in order, BMW's compact scooter easily fits into any small car trunk.
BMW Motorrad Technology
Designed for with the rider's comfort in mind, the X2City features an electric auxiliary drive strategically positioned in the rear – giving the scooter a low-to-the-ground yet smooth riding experience. Equipped with a brushless motor and five different speeds (8, 12, 16, 20, and 25 km/h), the X2City assists the rider up challenging hills and when asked, lets the rider propel the bike during straightaways. With the option of turning off the electric drive anytime, riders can instantly turn BMW's kick-scooter into a cardio conditioning machine.
Taking only 2.5 hours to charge on an empty battery, the X2City also gives riders access to an easy-to-find exterior charging socket. The 408Wh lithium ion battery is protected under splash-proof housing and is the power behind X2City's 15-22 mile (25-35 km) range.
Premium Quality Components
So what makes the BMW Motorrad X2City one of the premiere electric scooters on the market? It's all about the components and BMW Motorrad is world renown for using only the best.
Whether it's the pneumatic tires designed for stability over uneven surfaces, customizable front/rear Magura disc brakes, the Supernova light units, or the incredibly powerful Marquardt drive system, the X2City is fitted with high-grade components picked from BMW Motorrad's innovative assembly line.
BMW's Commitment To Sustainability
According to BMW Motorrad's press release, the X2City illustrates "BMW's commitment to developing sustainable and innovative solutions for the urban single-track mobility of the future." With early pricing estimates falling somewhere in the $2,850 range, the X2City is going to be a hot item in cities all over the world. It looks as if the movement toward alternative urban mobility is starting to take shape and BMW Motorrad's X2City electric kick scooter is a welcomed innovation.
Source: BMW Motorrad
PROS
Light & Compact
Premium Quality Components
Pedelec25 Classification
Top Speed of 15 mph
15-22 Mile Range
2.5 Hour Charging Time (Empty Battery)
Intelligent Energy Management System
Safety Compliance Certifications