Cubit Smart Measuring Tool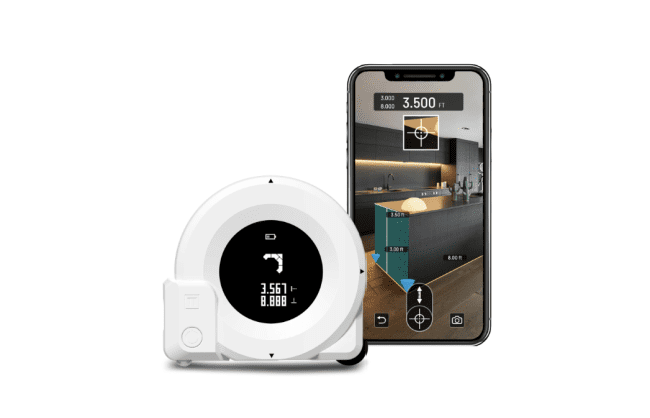 1
Whether you're a DIY'er simply looking to hang wall art in your new apartment or an interior design professional maximizing floor space everyone needs a measuring tool. Cubit by PLOTT claims to be an incredibly accurate measuring tool that uses mixed reality overlays to bring your design creation to life.
Cubit's Features
I think the part about Cubit that most people would enjoy is how it allows users to upload real photos of their home furnishings into its app. After capturing an inventory of objects inside your home, measurements are taken of both the objects and the floor plan using Cubit's laser sensors. Finally, the Visual Design Center transforms your virtual design into a single set of data points.
This process allows for the measurements to seamlessly sync to the objects inside your home This can be a lot ranging from couches, tables, pictures, TV's, bathtubs, beds, dressers, walls, floors, and so much more.
Cubit Technology
What else is it that the Cubit has that I think is worth mentioning? Well, one thing is that the Cubit is equipped with sensor technology that captures measurements. The company claims the accuracy of this is down to a 1/8th of an inch for every 30 feet measured.
The Cubit Smart Wheel Tool, perfect for measuring irregular objects like a Sofa, is accurate to 0.2% in lab tests as well according to the company. With each laser capable of measuring up to 100 feet, Cubit should eliminate inaccurate readings which are so common whether or not you have a digital measuring device.
The Cubit tool simplifies one of the most challenging aspects of interior design work by making accurate measurements simple. This works with both the living space as well as the objects inside the home.
Real-World Application
Outside of the accuracy coming from its laser measurement sensors there are a few uses for the Cubit. Cubit is an all-in-one device that can help anyone with hanging photos, rearranging a room, moving apartments, or undergoing a full home renovation.
From decorating walls to creating floor plans, this versatile measuring tool comes with a full suite of design options. Armed with built-in leveling sensors that connect wirelessly via Bluetooth technology, all measuring data sync's immediately to your smartphone app.
Cubit Design Application
The Cubit app is one of the main features required to make the product work. I don't think anyone would ever get much use out of the Cubit without it.
Housed inside of a user-friendly interface is a Visual Design Center that integrates all of your interior design photos with your measurements. Whether it's overlaying the finalized project onto real-world backgrounds, uploading multiple objects for ease of centering, or simply testing pre-configured layouts for optimizing space, the Cubit Visual Design Center is the centralized hub for creativity.
The app features a wide selection of downloadable designs in case you want to follow a template while mixing in your own ideas. If you need additional inspiration, users have the ability to collaborate with other designers working on projects inside the app and collaborate with friends via social media. You can make your next interior design project as interactive as you would like.
If you want the Visual Design Center to completely take over a project and offer you step-by-step instructions, then Cubit is the perfect device. Applying your virtual design to the real world, the Visual Design software indicates exactly where objects should be strategically placed inside your home.
Called the "Guidance Mode," users start in the corner of their measured space and Cubit, with the help of an arrow, will direct them to the exact positioning of their object. Follow the arrow and see real-time readouts of your points in the background on Cubit's display. Once you hit the right spot and everything is centered, a bullseye will appear confirming your sofa is in the right spot according to the design layout.
Bottom Line
The Cubit Smart Measuring Tool is a good design tool whether you're a DIY'er or an experienced design professional. The super precise laser measuring technology alone is worth the price but when you add the Visual Design Center into the mix, you simply have the most sophisticated measuring tool on the market.
The product has been out for awhile now for people to get their opinions on it, and the common consensus can be a bit mixed at times. It seems to be a product people either love or hate. Take this recommendation with a grain of salt, but it couldn't hurt to give it a try.
PROS
Laser Measurement Sensors
Virtual Drag and Drop Designer
Mixed Reality Visualization
Smart Frame Wall Fastener
CONS
Final price is high
Hard for some to use
Some claim the measurements can be off at times