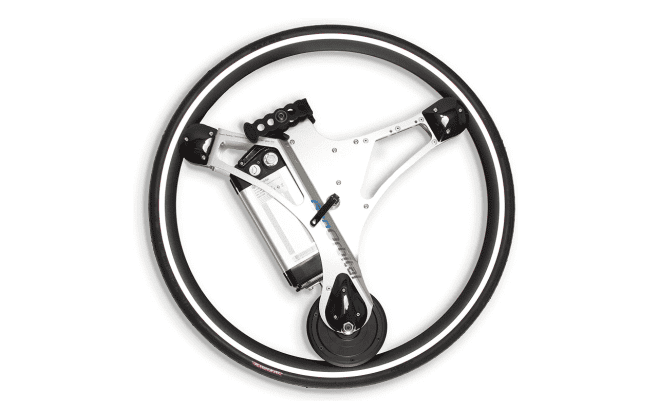 I've seen a lot of changes come to the biking industry over the last few years. For a field of products that seem so simple, there are incredible innovations still coming about to this day, and the GeoOrbital Wheel tries to be one of them.
The era of electric bikes is in full swing. Technology has enabled people to transform a traditional pedal bike into an electric-powered machine. During this time of advancement, the GeoOrbital Wheel has thrown its hat in the ring by being a replacement for a standard bicycle wheel.
The GeoOrbital Wheel is capable of reaching a top speed of 20 mph and a max range of 20 miles (700c). This means that when it works the GeoOrbital Wheel turns your bike into a modern eBike in about 60 seconds. All it takes for a rider to get it going is to pop off the front wheel and attach the new GeoOrbital Wheel.
Technology
There are a lot of goods that I think come with the technology that the GeoOrtibal offers. From assistance up steep hills to switching to a more eco-friendly commute, the GeoOrbital Wheel is equipped to handle a variety of situations.
The GeoOrbital comes with a thumb-activated throttle and gets a pedal assisted range of up to 50 miles per battery, or up to a 30-mile range for the 26″ wheel. Even if you bike for cardio conditioning, you can strategically work in the pedal assist up hills and then manually pedal along straightaways.
I like the little attention to detail with this part of the technology. This means that you can still get the resistance of a traditional pedal bike and the benefits of pedal-assist up challenging hills. This even comes with the bonus of extended battery life when you dedicate time to peddling on your own.
Design
The technology that goes into the GeoOrbital is good, but how does the design and parts of it hold up? I think it's important to know how secure and long-lasting it is after all.
Looking at the materials first, GeoOrbital made its wheel from aerospace-grade aluminum. This means that the material it's made out of is highly durable and won't be damaged easily. This still doesn't mean that the parts inside might not suffer the occasional damage from more blunt applications of force.
The GeoOrbital tire is also made from flat-proof foam and a durable rubber tread. This makes sure that getting hit with a flat tire is far less likely than with a traditional tire. It's not invincible, but anything that would damage this tire would likely do even worse to a regular one.
The GeoOrbital is armed with an impressive 500W motor that gives it a substantial amount of power for a device of its size. Equipped with a Direct Drive system featuring regenerative braking technology, I think this is a lot of parts that work together in tandem to increase the experience of riding.
All of this together means that riders have the luxury of a self-propelled eBike that harnesses energy for longer trips. All of this advancement is powered by a removable Panasonic 36v lithium-ion battery affixed to GeoOrbital's hubless wheel. It's a decent power source, but far from the most impressive thing attached to the bike.
All of this said I think the overall design is durable, but there is an issue to bring up. While most of the bike wheel will last a while, if it's hit just the right way with just the right amount of blunt force then the entire wheel might stop functioning.
This has happened to some and has destroyed their opinions of the wheel, but I also find that far more people have had the wheel last for ages and work perfectly. If you experience highly bumpy roads then it is something to consider.
Compatability
No matter the technology and design, the wheel would be useless to someone who has a bike it won't work with. Looking over the designs, the GeoOrbital Wheel has been tested on hundreds of different 26″, 28″, 29″, and 700c bicycles.
The GeoOrbital Wheel states it is fully compatible with road bikes, hybrid bikes, mountain bikes, recumbents, folding bikes, and kick-bikes. I've found it available in two-wheel sizes, 700c and 26″.
Both of the sizes are on offer in a Boston silver rim color, but not much else. They look good, but if they don't blend well with your bike it might end up causing some color clashing. Thankfully the slick silver hardly clashes with anything.
Other Features
There are a few more features of the GeoOrbital Wheel that I want to look over in rapid succession that didn't quite fit anywhere else. Starting, installation is a breeze. All anyone needs to do to get it running is to clip on the throttle and use it like a gas pedal.
Second, the flat-proof foam tires I touched upon earlier are a unique and impressive design. The added resistance to flats gives peace of mind and ensures that the odds of an extra-pointy rock isn't as likely to cut your biking trip short as it use to.
Lastly, there is the simple fact that the wheel comes with a lot of resistance features. With all of the electronics water-resistant and tested in all types of conditions including rain, snow, dirt, grass, and gravel the GeoOrbital is on the safer side of bike wheels.
Pros And Cons
With everything I've talked about so far, I think it's a good idea to line up the pros and the cons that the GeoOrbital Wheel offers. I want to allow the most informed choices possible to be made, so I'll be giving what I think are the biggest things for and against it.
Pros
500W Motor
Aerospace-Grade Aluminum
Flat-Proof Foam Tire
20mph Top Speed
Compatible with Most Bikes
Cons
Not Compatible with Disc Brakes
High Cost
Components Possibly Broken by Blunt Force
Final Thoughts
I think that the GeoOrbital Wheel is interesting. It's an attempt to step into a potential future of biking, and in a lot of ways, it does good.
The big problem I see coming up over and over from other people is an almost split opinion on the tire that comes down to how long it lasts. Some think it's the best thing ever and works as intended for a long time. Others get hit with one bad bump they had hit a dozen times before, and without warning, the electrical components of the tire don't work anymore.
I think if this minor bump issue were to be fixed and the generally high cost was lowered then it would be a product a lot of people would get. However, the high cost with a small chance it will stop working I think is enough to keep most people at bay.
PROS
500W Motor
Aerospace-Grade Aluminum
Flat-Proof Foam Tire
20mph Top Speed
Compatible with Most Bikes
CONS
Not Compatible with Disc Brakes
High Cost
Components Possibly Broken by Blunt Force