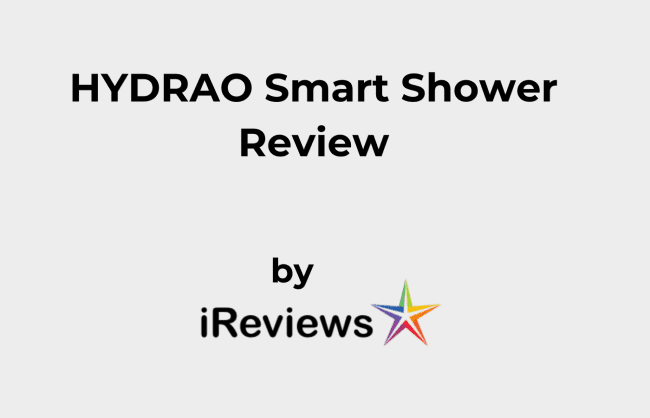 6
The HYDRAO Smart Shower is a new, eco-friendly shower head that aims to reduce our aquatic footprint with an aesthetically pleasing light show. Developed by French firm Smart & Blue, the HYDRAO Smart Shower is a straightforward and elegant solution to minimizing excessive water usage.
HYDRAO Features
The HYDRAO Smart Shower features an integrated LED system that lights up the water based on the amount of water consumed during each individual session. Per their website, the water spray lights up green from zero to ten liters, blue from ten to twenty, purple from twenty to thirty, and red from thirty to forty. Exceeding forty liters of water in one shower session prompts HYDRAO to flash red, indicating that it might be time for you to get out and dry off.
All the color thresholds can be easily customized to fit your personal preferences from their HYDRAO Smart Shower app, which connects to a built-in Bluetooth module. The app supports multiple user profiles, real-time monitoring, and can evaluate water and energy savings of up to 1,000 showers. Although it sounds like it would require batteries or charging, the HYDRAO's lights and Bluetooth are powered by an internal turbine; so, it's essentially just plug-and-play, no fuss.
The HYDRAO Smart Shower effectively turns saving water into a fun and educational game for all ages. It encourages adults and children alike to be more cognizant of their environmental impact and hopefully will inspire eco-friendly behaviors in the future.
Analysis
Coming from someone who has used LED shower heads for close to four years now, I can tell you that this is by no means a revolutionary piece of technology. Internal turbine power is standard for light-up shower heads, and the HYDRAO has merely improved upon that concept by adding a low-power circuit board and Bluetooth technology.
Don't get me wrong, I like their improvements and the environmentally friendly nature of their product, but I'm skeptical of a couple of things. For one, the price point seems slightly steep at $99. I have used comparable products, minus the internal Bluetooth capability, for less than $20 and in some cases, less than $10. They last a long time but are prone to technical failures given the nature of combining water and electronics. This is perfectly acceptable in my eyes given the length of use, but I would not feel the same way if I had paid $99.
HYDRAO features a one-year warranty and my LED shower heads have all lasted over a year, but typically not over two. My hope is that the internal components of the HYDRAO are vastly superior to its competitors and outlast them when faced with heavy use; if so, I would consider picking one up for my own home, as I'm sure it would help me monitor and reduce my environmental impact.
PROS
Plug & Play
Measures the water consumption
Integrated multicolor LED system
No battery needed
4 water usage thresholds
Water consumption visualization
History up to 1000 showers
Memorization of your reference shower
Set up of the water and energy costs
View your water and heating savings