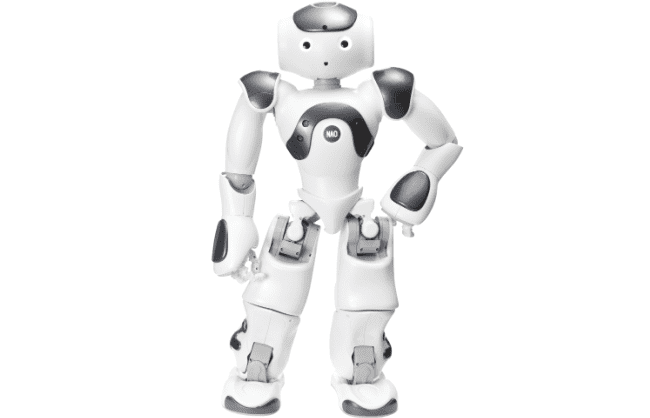 21
NAO Evolution is an action-packed humanoid robot that stands 58 centimeters tall. But don't let its stature fool you – NAO is a personal robot armed with a multitude of sensors, motors, cameras and an intuitive AI platform open to developers. Whether it's being used in a starring role for the "Robotics" show company or as a teacher companion in special education classrooms across the world, NAO is poised to interact with humans on a level never seen before.
With 25 degrees of freedom, four directional microphones, and a highly sophisticated operating system, NAO is only limited by the vision of its developers. Designed mainly for education and research, Aldebaran Robotics created NAO as a way to personalize the learning experience. Equipped with an NAOqi 2.0 operating system and 30% better battery performance, Aldebaran's fifth edition humanoid can engage with users for up to 1 hour and 30 minutes.
The newest version has improved sonar rangefinder capabilities and obstacle detection power of 1 cm to 3 meters. Four directional microphones make finding the source of sounds rather seamless. As for its facial recognition technology, "NAO has a new visual tracking software and it can detect angry and happy expressions on people's faces as well as whether they're standing or sitting," a spokesman for Aldebaran in Tokyo said in a phone interview with PC World. "We've also improved its grip so that his fingers can grasp light objects such as pens and balls."
With more than 9,000 NOA robots being used in over 70 countries, it's safe to say that Aldebaran's humanoid is highly versatile. Whether he's being used in research environments or in grade schools, NAO's skills evolve with immersion. NAO, with his noise dampening soles, bendable joints and grip skills, can easily be programmed to dance or to catch objects. Just imagine the engagement level in a computer science classroom if figuring out the correct program meant activating a robot dance routine. NAO engages students whether they're at the preschool level or in post-doc programs.
For researchers looking for an advanced robotic platform, NAO offers the following skills for conducting research:
NAO is a powerful platform that enables you to conduct your research in situ, whether concerning human-machine interaction, navigation or geolocation, or even movement and travel algorithms.
NAO is based on an interaction-focused operating system, NAOqi, accompanied by a well-documented API as well as a full library of programs to guide you in the creation of behaviors and applications.
Our SDKs also contain a range of functions to help you learn about programming (Python, C++, Java, JavaScript) and develop your own behaviors with NAO.
For higher education instructors and professors alike, incorporating NAO into the classroom offers the following benefits:
NAO will enable your students to study a wide range of subjects: e.g. facial recognition thanks to his 2 HD cameras, 4 directional microphones and the power of the 1.6 GHz processors, or cluster study, by connecting several robots together in order to analyze their reactions to their environment.
NAO is an interactive platform that will arouse your students' interest and motivation for teamwork on projects, problem-solving and an experimental approach.
Coupled with Choregraphe, NAO offers enormous possibilities in terms of the teaching of programming. Choregraphe is an easy-to-use graphic interface that allows you to follow a progressive learning curve in terms of teaching programming to your students.
For special education classroom, NAO's benefits are limitless especially if catering to children with different learning styles.
AO has qualities that are extremely well adapted to the context of special education: he is engaging, predictable, tireless, but also multi-interactive.
NAO is humanoid technological interface who naturally attracts children. He helps to create communication bridges between the child and the people around him.
He is easy to interpret, helps to reduce the children's anxiety, and minimizes the risks of over-stimulation.
NAO offers constant encouragement and never tires of repeating instructions. This helps to win the child's trust who will be happy to pursue his efforts.
Whether through touch, voice, or vision, NAO also offers an extremely wide range of possible interactions.
PROS
NAOqi Operating System
25-Degrees of Freedom
4 Directional Microphones and Loudspeakers
2 High Resolution Cameras
Open SDK for Developers
48.6 Watt-Hour Battery (Power for 1.5 Hrs in Operational Mode)