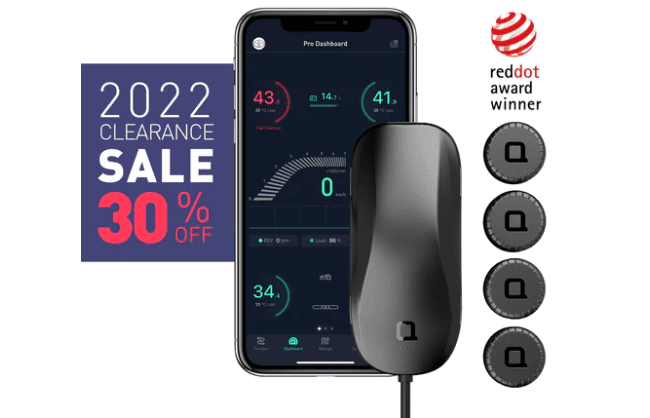 2
Tire pressure is one of the most basic parts of your car that everyone needs to keep track of. I know it can be difficult at times to keep that exact number up to par when the only information your car gives you is if there is too little air pressure in the tires.
According to AAA, you can save up to 11 cents per gallon with properly inflated tires. Monitoring your tire pressure is not just friendly on the wallet, it could also safeguard your loved ones from an accident on the highway.
Slow pressure leaks can be extremely difficult to detect without extra help. That's where a product like the ZUS Smart Tire Safety Monitor comes to try and improve driving safety. How does it work, and how well might it work?
Zus Tire Monitor Technology
The company begins the Zus claims it to be "the first true tire monitor made specifically to monitor slow leaks." From running over a nail while driving through a construction site to erratic changes in temperature, the ZUS monitor has the goal of pinging your smartphone at the first sign of air escaping your tire.
With small holes being so difficult to detect, Nonda estimates around 0.1 percent PSI per hour escaping your tire after running the initial puncture. The ZUS smart app keeps an eye on tire pressure caused by temperature and uses an intuitive algorithm to normalize the pressure fluctuation.
In theory, what all this means is that the Zus systems ensure you get accurate readings and not false alarms. This proprietary technology, called AccurateTemp, is what makes up the ZUS smart tire monitor. Many do complain that the system does not always work as intended after prolonged usage though, so I would keep that in mind.
Zus Tire Monitor Design
Equipping each rider with Bluetooth-connected pressure and temperature sensors for each tire, the ZUS smart monitor is a system that can be installed in under 10 minutes. This is a quick and easy set-up, but I want to highlight one big problem that comes after the fact.
The lack of galvanic corrosion protection means that if not watched carefully, once attached, the system can warp into place. If this happens it will become impossible to remove on your own. So, do plan to keep a close eye on the system if you plan on buying one.
Back to how the system works, you start by attaching it to the tire valves. each sensor transmits data to the in-car receiver, which then speaks directly to your iOS/Android-compatible smartphone app.
Users are able to view individual tire pressures (as PSI, kPA, Bar) and temperature history directly from there smartphones. Designed to catch a leak before it becomes a serious problem at an opportune time, the in-car receiver blinks and sounds an alarm whenever there's a pressure issue.
As far as I've been able to tell this system doesn't fall for the usual concern of being overly sensitive. While a few complaints do prop up about it going off too often, it's nothing to really establish a pattern that would have me worried. At least not in this aspect.
Compatibility
The biggest advantage I see with the Zus and its quick and easy setup is the compatibility this offers with other vehicles. Whatever vehicle you use it's all a three-step installation process. You just plug in the receiver, pair it with the app, and then fastening the sensors.
I would say that you can seamlessly switch ZUS from your car to another for whatever reason you might need. A temporary rental while you're abroad, switching to a friend's car for a while, or any emergency that might come up are all reasons the simple setup process is wonderful.
Along with the order is a set of four locking nuts. These are meant for keeping your sensors safe and secure on your tires to prevent them from either falling off or getting stolen.
Final Thoughts
The original Indiegogo campaign for the Zzue Tire Monitor raised more than $350,000, but I'm sure everyone is wary of start-up products these days. They tend to make massive promises and almost always underdeliver if they deliver at all.
However, the Zus is a simple product that had a defined goal, so the issue isn't nearly as widespread. Honestly, the only issue I have with the product that makes me cautious when recommending it is the corrosion issue. I recommend that if you do get your hands on one you watch it carefully to make sure galvanic corrosion doesn't cause any damage to your car.
Whether you want to ensure driving safety during your next family vacation or improve gas mileage to and from work, there's plenty of reason to get the ZUS Smart Tire Monitor. Just be careful and give it an occasional once over if you do end up purchasing it.
PROS
Slow leak detection technology
Anti-Theft locking system
10-Minute self-installation
Real-Time PSI data
CONS
Complaints of Inconsistent readings
Slightly older technology now
Not designed to resist galvanic corrosion