Whether you just spent several hours on an airplane or climbed out of bed, you might feel a familiar twinge that comes along with neck pain. Neck pain usually occurs because you kept your neck in a specific position for too long. No matter how comfortable your pillow feels when you climb into bed, it may not feel as comfortable in the middle of the night. If the pillow is too flat or too fluffy, you might find that it changes the angle of your neck to the rest of your body. This can cause stress and pressure that only worsens throughout the day.
The Neck Hammock is a product designed to relieve the pain that you experience. Here at iReviews, we looked at what the makers of the hammock said and then put the product to the test. Each member of our team tried the hammock a few times and let us know what they thought. We used those experiences and the information we found on the web to create the ultimate Neck Hammock review. If you have questions about how the hammock works and what it can do for you, where to buy it and how much it costs or the overall pros and cons, you'll want to use our Neck Hammock review.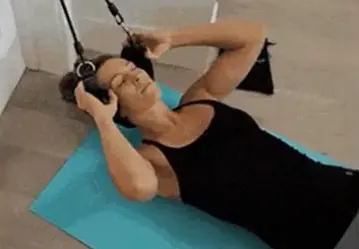 See if this hammock can meet your needs in our Neck Hammock review.
PROS
Easy to use
Helps relieve most forms of neck pain
It works in your home and other places you go
Low and affordable cost
CONS
Only works if you can hang it on/from something
You cannot use it while sitting or standing
Some of the plastic parts can break
It may fall down and injure you
BOTTOMLINE
One of the best ways to relieve neck pain and headaches is with the Neck Hammock. It's easy to use and works on most surfaces around your home. As a traction control device, the Neck Hammock can help you battle tension and stress too.
What is the Neck Hammock?
The Neck Hammock is a product designed to end any neck pain that you have. It is easy to use and brought relief to millions of customers. As long as you can get flat on your back and have a spot to attach the hammock to a wall, you can use it in your home. The idea is that it helps you relax and get calm, which eases some of the tension on your neck. Not only does it work on the random twinges you might feel after a rough night of sleep, but it works for those who struggle with chronic pain. Doctors often refer to your pain as chronic if it lasts for six months or longer.
When using the Neck Hammock, you'll find that it uses both the support of a resistance band with gravity. The makers refer to the process as cervical traction because the hammock essentially stabilizes your neck and keeps you from moving. If you ever dealt with neck pain before, you know that any sudden or abrupt movements can make it worse. With this hammock, you get your neck in the right position and do not move it until you feel relief from your pain.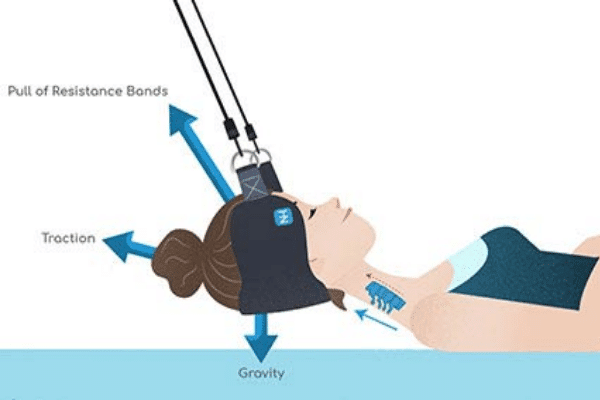 What Causes Neck Pain?
You should know the common causes of neck pain to understand why you experience those aches and pains. Some of the more common causes include:
Muscle strain
Worn joints
Compressed nerve
Certain diseases
Whiplash
Whiplash is a common injury that many people sustain during a car accident. It typically occurs when your head moves forward and then quickly snaps back such as when someone hits you from behind. Muscle strains can also occur in accidents but usually happen when you do more than you should and put more pressure on your neck. A compressed nerve can also cause neck pain, especially if the nerve is in your upper back or shoulder.
Depending on your pain level and the cause of your neck pain, a doctor might recommend that you take prescription medication or go to physical therapy. Therapy helps you learn simple stretches and exercises that can tighten your muscles and relieve tension in your neck.
Not everyone can afford the high cost of those sessions though, which is why the Neck Hammock is such a great alternative. It lightly pulls on the muscles in your neck to stretch them out at the same time that it uses gravity to push your head down. Many people experienced a lot of relief from this simple device.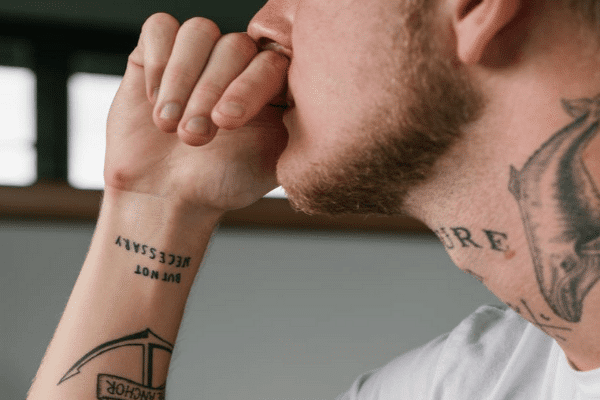 How Can You Use the Neck Hammock?
Using the Neck Hammock is incredibly easy because it doesn't take long to set up. You can use the included instructions to set it up or watch a short online video to see how easily you can use it. Those steps include:
Remove the Neck Hammock from the packaging
Wrap the ends of the hammock around a door in your home
Shut the door
Lay down and place your neck in the hammock
Get into a comfortable position and remain there until you're ready to get up
Though you typically want to wrap the ends of the hammock around a door handle, you can use other parts of the door to secure it, including the jamb. You can also attach it to a nearby railing. The right position to use depends on what feels comfortable to you. Though some like sitting as close to the door as possible, others like laying a few inches away. Once you attach the Neck Hammock, you'll find that it sits between two and four inches away from the ground. You can try a few different positions and distances to see what makes your neck feel better and to find a spot that feels comfortable for your body.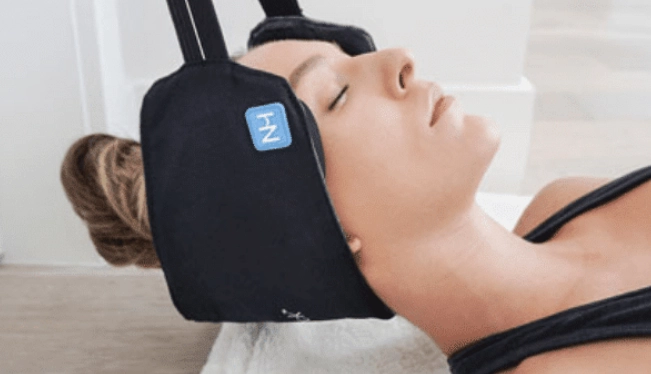 Where Can You Use the Neck Hammock?
At first glance, the Neck Hammock seems like something you would only feel comfortable using at home. While you cannot use it on an airplane or during a long road trip in your car, you can use this hammock on vacation. Let's say that you plan on spending a long weekend away from home but know that it requires a six-hour plane trip. Once you get to the hotel and check-in, you can look at places to use the Neck Hammock. You can easily attach it to your hotel room door and get some rest. Just make sure that you hang the do not disturb sign on your door to keep workers from pushing open the door while you're on the ground.
Depending on where you work, you might find that you can use this hammock too. If you spend long hours working on projects and have the chance to take a few naps, you can use it on your closed office doors. College students will find that they can set up the hammock during midterms and finals to relax in their dorm rooms too. The Neck Hammock works in any room of your home where you have a door that you can close also, including bedrooms and bathrooms.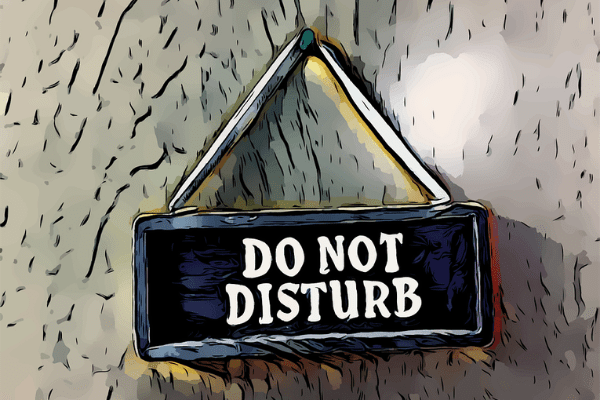 The Neck Hammock and Posture
One reason you might have some neck pain is that you have poor posture. You can do a simple test at home to check your posture.
Remove your shoes and stand with barefoot or with just your socks
Places your buttocks flat against a wall
Adjust your feet until they are shoulder width apart, which is around 15 inches
Take a deep breath as you raise your chest
Lean back until your shoulder blades touch the wall
The position of your head and neck while leaning against the wall will tell you a lot about your posture. If you can stay here comfortably and feel both your shoulder blades and the back of your head touching the wall, you have good posture. You might notice that your head leans forward instead, which means you have something called reading neck or text neck. This often occurs among those who spend a lot of time hunched over a book or electronic screen. Spending long hours on your phone, a laptop computer, tablet or e-reader can cause the same problem. Using the Neck Hammock is an easy and convenient way to rest your neck and improve your posture as well as force your neck into a more natural position.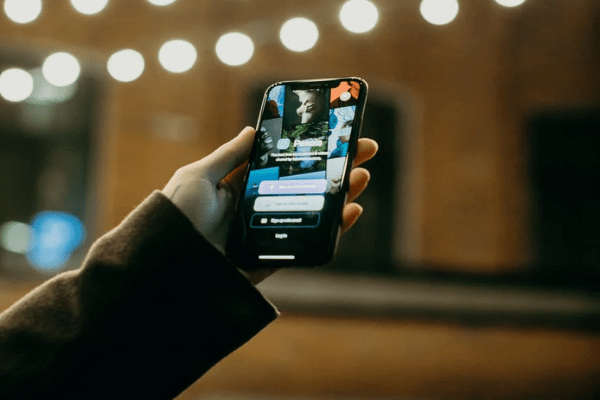 Who's This For?
Have you ever had a rough few weeks at work and found that your neck hurt quite a bit by the time you finished? The reason for that pain goes back to a few things, including the stress that you felt doing that work and the time that you spent hunched over your computer screen. The Neck Hammock is a great product for busy professionals who experience a lot of stress. While it won't end all of the stress that you feel, it can help more than you might expect. You only need to use the hammock for a few minutes at the end of the day to experience all the benefits. Others who might benefit from the Neck Hammock include:
Anyone who experiences stress at home or school
Those who want to relax at home and while on vacation
People recovering from neck and back injuries
Anyone who has problems sleeping due to stress
You can also seek relief with the Neck Hammock if you were diagnosed with a chronic condition that causes pain in your neck. We recommend talking to your doctor first and getting approval to use the hammock, which the doctor might suggest you use with any medications you currently take.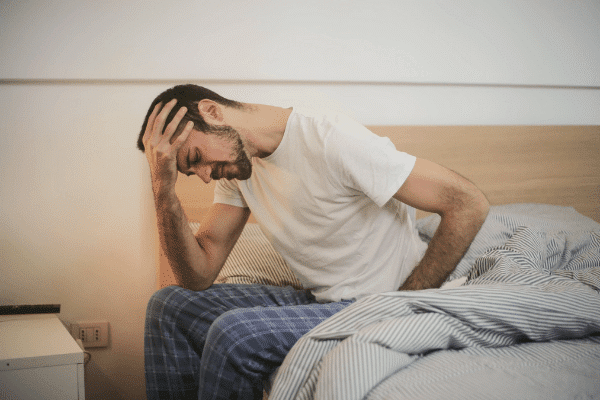 Why Does Cervical Traction Work?
Anyone who visited a chiropractor before knows how cervical traction works. Physiotherapists also use this technique to align your head and neck with your spine. It reduces the tension that you carry in your body and can relieve years of stress in one appointment. The process stretches the muscles and joints to relieve any stress, tension or pressure that you have. If you have a compressed nerve and experienced symptoms for years, you might worry about seeing a professional because you think that you waited too long. The Neck Hammock gives you the same benefits that you would get from an appointment but at a lower cost, which helps those on a budget.
We recommend the Neck Hammock for those who don't want to take medications and want to get relief at home. Cervical tension requires that you keep your head in place and use a device to stretch your neck muscles. This hammock is more affordable than similar tools and is easy to use. You can wrap it around a railing, door jamb or door handle and let it slowly stretch and pull your neck muscles. Gravity will slowly pull your body down towards the ground to provide a stretch that you can feel in your back and neck.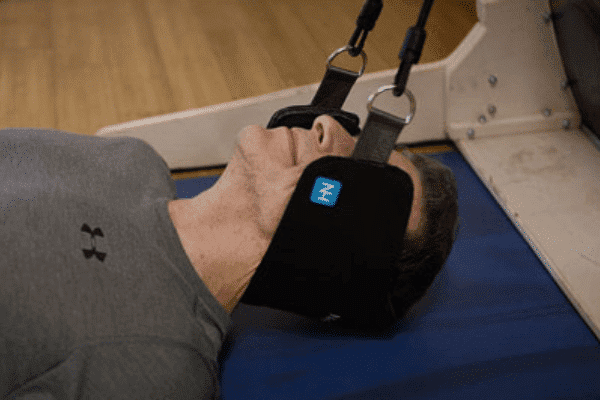 What Comes in the Box?
When you purchase the Neck Hammock from other sources, you typically receive the hammock and nothing else. If you use our link to buy this hammock, you get more for your money. We included a link below where you can buy a single hammock or multiple. Each package comes with multiple things.
Neck Hammock with the attached wraps
Travel bag
Eye mask
Do not disturb sign
If you ever stayed in a cheap motel that didn't have a do not disturb sign, you know that you won't get the peace that you need. That is why the makers of the Neck Hammock included a do not disturb sign in the package. While you can use this on vacation, you can also hang it on a door in your home to let your family know that you need some time alone. The sign will also keep others from tossing open the door.
Also included is a travel bag that keeps the mask in good shape when you want to use it away from home and an eye mask that can help you relax and even nap while using the hammock. The attached wraps make it easy to use the Neck Hammock on any type of door.
How to Set up the Neck Hammock
As we said before, using the Neck Hammock is incredibly easy. Before you use it for the first time, you should read through the instructions and pick where you want to set it up. We recommend a heavy door that can support the weight of the device. Though most use it on the door handle or jamb, it also works on any railings or poles where you have space to lay down. To use it for the first time, you should:
Place the straps firmly around the attachment point and pull to tighten them
Make sure that the cervical traction device is firmly attached to the wraps/straps
Lay flat on the floor and place your head inside the device
Lean back and press your body down to make sure that it can support your weight
Stay in this position for a minimum of 10 minutes to ease tension in your neck
If you do not feel comfortable using the Neck Hammock, try adjusting the distance that it sits off the floor. Being closer to the floor or a few more inches away can help you get the stretch that you need to whisk away tension and stress.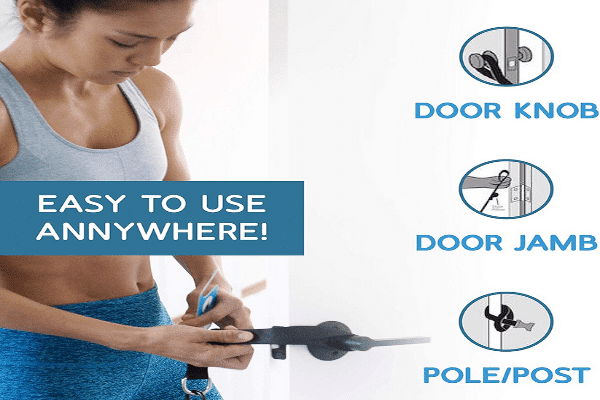 What are the Top Reasons to Use the Neck Hammock Over the Competition?
Cost: When looking at similar products, we found many priced at $100 or more. you may even find some traction devices that cost $1,000 or more too. With Neck Hammock bundles, you can get one of these devices for much less. Even if you buy just one, you can still save money.
No prescription necessary: Medical devices such as those that chiropractors and physiotherapists use can easily cost thousands of dollars. While other tools are more affordable, you need to visit the doctor and get a prescription first. The Neck Hammock does not require a prescription to use and doesn't ask that you go through your insurer to use one.
Portable: Unlike traction devices that are heavy or bulky, the Neck Hammock is perfect for those on the go. You do not need to permanently install it anywhere in your home. It takes just a few minutes to set up and even less time to put away. With the included travel bag, you can make sure that you have the hammock and everything else you need to relax at work or on vacation.
Proven results: With the Neck Hammock, you get proven results. Hundreds of professional athletes and famous faces used it to get relief from stress and end their neck pain problems.
Did You Know?
WWE superstar Sheamus loved the Neck Hammock so much that he posted a video touting its benefits on YouTube.
Does the Neck Hammock Come with a Guarantee?
The Neck Hammock comes with a strong guarantee directly from the makers, but it usually only applies if you buy from the official site, which we linked to above. This guarantee lasts for 30 days and allows you to seek a full return within one month after you buy the hammock. To get a refund, the Neck Hammock must be in good shape and have the original packaging as well as all the materials that you received with it. This includes the instructions and all parts, which should not show any signs of wear or tear. You can request your refund with the following steps.
Check your email to find your order number
Compose an email that includes that number and why you want a refund
Send the email to the customer service department
Place the Neck Hammock and all parts with the instructions in a shipping box
Ship the box back to the makers with the instructions laid out in the email you received
You also have the option of contacting the customer service department over the phone. This number is on the official Neck Hammock website. You'll still need your order number when you call.
How Long Does it Take to Get a Refund on a Neck Hammock Order?
Though it can take several weeks for the makers of the Neck Hammock to issue your refund, it usually only takes a few business days after they receive your package.
Tips for Setting Up and Using the Neck Hammock
Don't stick to one door: Many users found that they didn't like the Neck Hammock because they picked the wrong door to use it. You need a door that is sturdy enough to support the weight of your upper body. Some interior doors are not strong enough, especially those that are hollow. You should try using it on different doors until you find the right one.
Change the height: Adjusting the way the hammock attaches to your door helps it sit up to four inches off the floor or as little as two inches. You may want to try adjusting the height to see what distance is most comfortable for you. Though you want to feel a slight pull in your neck, you don't want to stretch the muscles too much.
Use the eye mask: Using the Neck Hammock without the included eye mask can stop you from getting in the relaxed frame of mind that you want. Once you slip on that mask, you can more easily focus on your breathing and stop worrying about all those pesky thoughts that would otherwise run through your mind. Many users found that they could get comfortable enough when using the mask and hammock that they fell asleep on the floor.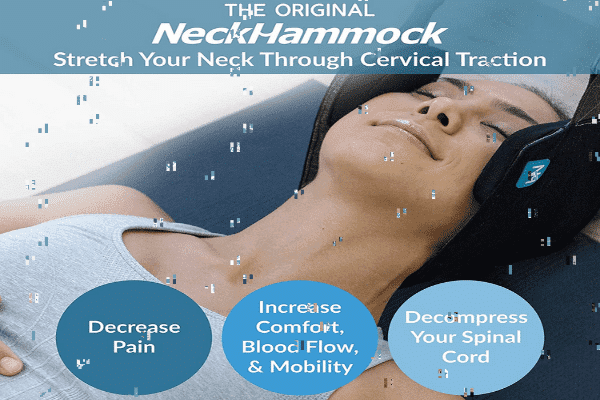 Should You Buy It?
Whether or not you buy the Neck Hammock will depend on how much neck pain you have and what you want to do about it. Some of the reasons that we think this simple device is worth the money is that it is easy to use and provides results that you'll feel the first time that you use it. With other neck traction devices, you might go through multiple sessions before you feel any relief. The Neck Hammock lightly pulls on your neck and uses gravity to push your body down towards the ground to provide an even better stretch.
Thanks to features such as an eye mask and travel bag, you don't need to stick to using it at home. That eye pillow can help you relax in a bright hotel room with curtains that won't close or your bedroom while loved ones watch television in another room. The included travel bag makes taking the device anywhere you go easy. That bag keeps it safe from dangers such as heavy items that drop on your suitcase and dust that can cling to the straps. As long as you stay in a hotel with a door you can close, you can use the Neck Hammock.
Looking at the cons of the Neck Hammock is equally important. One of the biggest that we found is that it isn't always reliable. A few customers claimed that it fell off their doors or that the straps broke, which caused the device to hit them in the head or face. As long as you use caution and check the strength as well as choose the right door, you shouldn't have any problems. Another issue is that you can only use the Neck Hammock in one position. It does not work if you want to sit up and watch Netflix or if you're in a standing position.
Other Things Customers Love About the Neck Hammock.
It comes with a 30-day money-back guarantee from the manufacturer
Those living outside of the United States received their orders in 12 business days or less
Shoppers in the US receive their orders in an average of five business days or less
You can use it to stretch both your neck and hamstring muscles
It works on any door that swings open and shut that has a handle or knob
Where to Buy
Don't waste a lot of time searching the web for Neck Hammock reviews and trying to see where you can buy one. You can click right here to find the best price on the Neck Hammock. Though it retails for $79.99, you can take advantage of a special offer through that link and buy one Neck Hammock for just $49.99 plus the cost of shipping and handling. This comes with everything you need to use the hammock, including a sign that you can hang on the door when using the hammock. That sign ensures that no one will rush into the room and disrupt you.
You'll find even better deals when you shop for a Neck Hammock bundle. The best deal is a buy two hammocks and get one free package. When you pay $99.98 for the package, you'll save nearly $140. This set comes with three of the Neck Hammocks as well as all the supplies needed to use each one. The most popular deal on the site is the two-pack that reduces the cost of the second hammock when you buy one. You get the hammocks and all the supplies that you need for $79.98, which saves nearly $80 off the original retail price.
Product one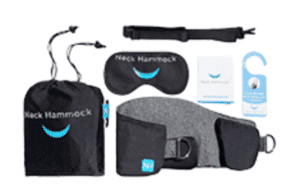 Details Here
1 – Neck Hammock Bundle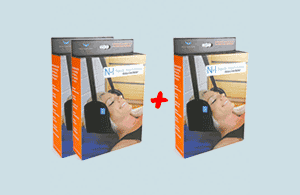 3 – Neck Hammock Bundle
Product one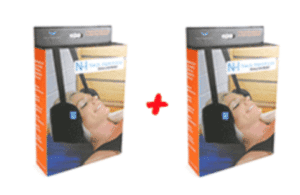 2 – Neck Hammock Bundle
Competition
FlexiBody Cervical Neck Traction Device
One of the top competitors to the Neck Hammock is the FlexiBody Cervical Neck Traction Device, which is an inflatable product. It comes with a device that features three inflatable compartments that you wear around your neck. You also get a pump that attaches to the side, which allows you to inflate the device to a point that feels comfortable. While it does fit all neck sizes, it takes up a lot of space. You can also use this device while sitting or standing because of how much room it needs. It may fit too closely or tightly around your ears too.
Occipital Release Tool 2.0
The Occipital Release Tool 2.0 has a funky design that might grab your attention when surfing the web. Designed for those suffering from TMJ, neck pain and headaches, it can relieve some of your symptoms and help you relax in just 10 minutes of use every day. Made from polyurethane foam, it molds to the shape of your head and fits comfortably around your neck. It uses high-density foam that withstands daily use and features an upper layer that you can remove for a better fit. That foam is so thick though that you may have a hard time getting in a comfortable position when using this traction device.
DMI Cervical Traction Device
DMI makes this Cervical Traction Device for those who don't mind standing upright for a few minutes a day. While it attaches to the door in the same way that the Neck Hammock does, it requires that you stand up and lean back against the door as you place your face inside an attached strap. It comes with an adjustable tool that fits on the top of the door frame, which allows you to adjust the height to fit yourself and other users. This traction device is uncomfortable to use and can put a lot of pressure on your upper back that makes your neck pain worse.
Black Rescue Cervical Neck Traction Device
Those who want a product that they can use in bed and on the ground might turn to this Cervical Neck Traction Device from Black Rescue. It looks similar to those plastic head massagers that you can buy in stores and fits underneath your neck. Designed to target specific pressure points in your neck, it can help with some of the pain that you experience and your other symptoms. This is a popular option because you can use anywhere you lay down. Many found that the plastic was too hard though and that it dug into their necks.
Why is the Neck Hammock Better Than the Competition?
Though the Neck Hammock is more expensive than some of its competitors, it beats those products in many ways, including:
Overall cost as it costs less than the competition
Ease of use because you don't need to jump through hoops to set it up
Comfort as it fits most neck sizes comfortably
Reviews with a higher review score than most of these products
Portability as you can take the Neck Hammock with you
Final Verdict
You won't find many neck traction devices that are easier to use than the Neck Hammock. Most of the competitors have inflatable designs that can puncture when anything sharp touches the exterior. Other similar products require permanent installation in your home. We like that the Neck Hammock works well for those who want to use it at home but that they can also use it on the go. You can easily hook the hammock up on the door in your hotel room or one of the doors in your office.
Another reason to like the Neck Hammock is that it helps with so many conditions. You might use it to stretch your neck muscles after a car accident where you ended up with whiplash or because you suffer from tension headaches or frequent migraines. Many found that this hammock helped them deal with stress from work as well as the tension they felt at home. This is a handy device that you can use anywhere around your home as long as you can attach it to a door or another stable surface. With our Neck Hammock review, you learned about the pros and cons of the traction device and can now use our link to buy as many as you need.