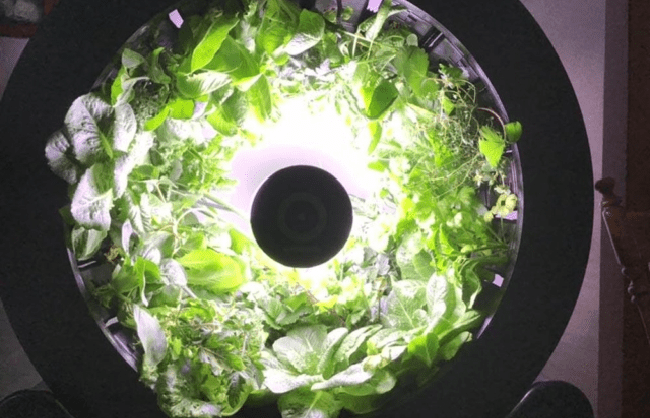 10
If you've ever wanted to harvest fresh vegetables straight from your home or back yard, then the OGarden might be the right product for you. The product resembles a miniature ferris wheel and rotates produce around a light source so that you can grow your own healthy food from the comfort of your house.
It's literally farm-to-table from the next room. From German Thyme to Greek Oregano, you can choose from a selection of 30 different types of organic plants free of pesticides, preservatives, or pollutants.
Intelligent Design Features
With very little upkeep or maintenance, the OGarden fits discreetly on any free wall in your home measuring 90 cm wide, 152 cm high, and 42 cm deep. It also looks like a work of modern art and would pair very nicely with a landscape painting.
Capable of producing vegetables all year round, the OGarden yields good 2-4 vegetables a day from plants that measure anywhere between 5-8 inches.
Minimal Maintenance
So how does the OGarden work? Most of the magic happens in OGarden's revolving wheel. The first step of the process is planting seeds in the provided cabinet space – then watering your plants once or twice per week. After germination takes place (approximately three weeks), simply put your plants in the wheel with the substrate.
According to OGarden's website, the certified organic substrate is composed of potting soil, coconut fiber, and mycorrhiza. The final step is harvesting your plants when they're good and ready and composting the roots.
Durable Organic Growing System
Equipped with a 124W fluorescent light and 20 separate tubes (holding four plants per tube), the OGarden's revolutionary gardening system provides the perfect amount of light for optimal growth. The wheel's motion, according to the company, makes the roots of each plant super durable throughout the growing process.
OGarden's "almost-automatic" home garden lets you grow the following veggies: Bunching Onion Parade, Chinese Cabbage, Dark Purple Onion, Cherril Brussels Winter, Curly Parsley, Garden Chives, Garden Sorrel, Genovese Basil, German Thyme, Greek Oregano, and much more.
Affordable and Eco-Friendly
So why would anyone consider buying OGarden? For one, this is a money saving home gardening system. With the ability to produce close to two to four vegetables per day, that comes out to only $0.30 per plant. You won't be able to find clean organic vegetables anywhere for that bargain price.
Secondly, five minutes a day of maintenance translates into year-around crops right from the comfort of your own home. The convenience factor is top-notch. Finally, this is a sure-fire way to reduce your family's reliance on mass produced groceries – for the betterment of our planet.
Bottom Line
This is one of the most painless, yet affordable ways to grow clean organic vegetables in your home. The OGarden pays for itself by replacing grocery bought veggies with organic vegetables free from pesticides, pollutants, and preservatives. With an easy Ikea-like assembly process and minimal maintenance (5 minutes a day), the OGarden will certainly pay for itself especially since the unit should last a good 10 years.
PROS
4-5 Weeks to Harvest
Grow All Year Around
Clean, Soil-Free Planting
No Pesticides. No Pollution
30 Different Types of Plants
Yields up to 100 Plants per Month
Minimal Maintenance (5 Minutes/Day)
Easy Assembly/Small Footprint