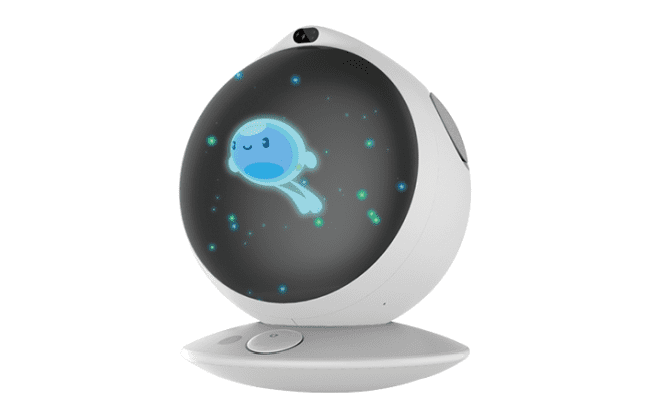 5
Childcare is one of the most difficult aspects of watching after kids. With so many devices out there that claim to be the next big thing to help parents with their young kids, it's hard to know if any of them will actually work.
One example of a device that tries to teach kids is the Orby. The company touts it as "the magic crystal ball for your kid." The Orby aims to provide a technological solution to intimate in-home childcare.
Developed by Ling Technologies headquartered in China, Orby offers a non-traditional method of child-rearing that gives parents peace of mind while offering children a fun and interactive device that helps them grow. Though, that's the claim at least. If it works well in that regard or not is what I want to talk about down below.
Orby's Features
Ling Technologies offered very little information as to the true specifications of its product during the longest stretch of its creation. They merely offer very vague, poorly translated tidbits of information about what Orby offers to both parents and children. This already is not a good sign in my eyes.
Orby features a matte, curved screen designed to reduce eye strain. It is also equipped with a distance sensor to prevent children from viewing too closely and hurting themselves. Parents will have the option to set a timer for their children as well if they want to control usage more closely.
Per their website, Orby is set to allow children to learn as they play as well as develop the relationship between parents and children. It also enhances children's cartoon-viewing experience by providing a portal-like immersion into the fictional world. These are all big yet vague claims with nothing that really backs them up, and is a clear sign that Orby is trying to use big language to catch attention rather than anything inherent to the actual product.
Orby Interactions
Orby claims to interact with children and adapt its entertainment package accordingly. Orby promises to tell age-appropriate stories from its vast repertoire of tales and offers interactive games that help train motor skills and further emotional development. The story claim is the most believable one to hear, as algorithms become more and more a part of everyday life with technology.
Orby claims that it not only provides entertaining education for children, it also offers peace of mind and a sense of security for parents. Orby features real-time video calling and remote control cameras, allowing for monitoring and communication if necessary. Now, these are functions you can also get with a baby monitor, but adding them on top of a product with other features is not bad at all.
It also offers the added functionality of taking photos and videos to share with the entire family via social media. An interesting feature for catching moments. Though, if the parent is there, as they should be then this feature loses a lot of lusters.
Analysis
I don't see the biggest market or future for a product like Orby. It essentially creates an open window into a child's life that any permitted family members or friends can access. How much does that really offer when you get down to it?
From calling to interact with the child via real-time video chat or just watching them with remote control cameras, "the entire family could monitor and intimately communicate with the children anytime, anywhere." This level of control and monitoring without the parents even being around their kids I don't believe that it's genuinely in the best interest of the child. This is regardless of its educational capabilities.
Although this device may not be inherently bad for developing children, I don't think that it would even come close to providing the intimacy and care that it suggests. I believe that this type of product does not have a meaningful place in the modern home and merely cheapens the already diminishing interactions parents have with their children.
Whether this product achieves commercial success will come down to how impactful the educational and entertainment aspects are, as I don't think there will be a large enough market of parents that think this level of technological control is necessary for their children. Though, at this point, considering its initial planned release and how little of an impact it has had on any market, I think it's safe to say that it wasn't the next big thing.
PROS
Stories for the Children
A Teacher Like Device
Video Interaction
Helps Make Family Moments
CONS
Unable to Fulfill Childcare Claims
Does Not Replace Parental Roles
Availability