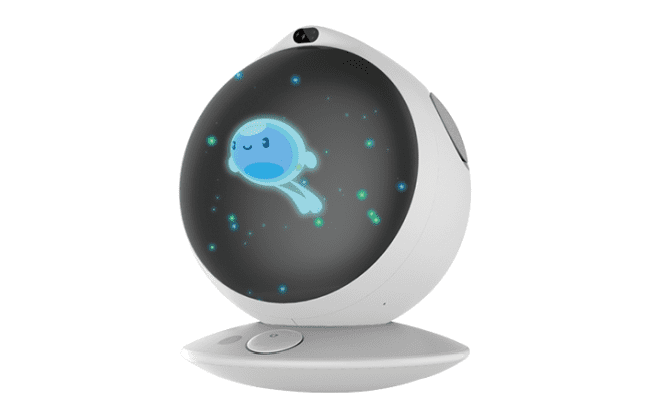 5
Touted as "the magic crystal ball for your kid," the Orby aims to provide a technological solution to intimate in-home childcare. Developed by Ling Technologies headquartered in China, Orby offers a non-traditional method of child rearing that gives parents peace of mind while offering children a fun and interactive device that helps them grow.
Orby's Features
Orby is somewhat mysterious as of January 2017, with Ling Technologies offering very little information as to the true specifications of their product. They merely offer very vague, poorly translated tidbits of information about what Orby offers to both parents and children. Orby features a matte, curved screen designed to reduce eye strain. It is also equipped with a distance sensor to prevent children from viewing too closely and hurting themselves. Parents will have the option to set a timer for their children as well if they want to control usage more closely.
Per their website, Orby is set to allow children to learn as they play as well as developing the relationship between parents and children. It also enhances children's cartoon-viewing experience by providing a portal-like immersion into the fictional world. Orby interacts with children and adapts its entertainment package accordingly. Orby tells age-appropriate stories from its vast repertoire of tales and offers interactive games that help train motor skills and further emotional development.
Not only does Orby provide entertaining education for children, it also offers peace of mind and a sense of security for parents. Orby features real-time video calling and remote control cameras, allowing for monitoring and communication if necessary. It also offers the added functionality of taking photos and videos to share with the entire family via social media. Nobody will miss a moment of their lives, for better or worse.
Analysis
This product honestly seems like a pairing of dystopian novel Nineteen Eighty-Four and lazy parenting. It essentially creates an open window into a child's life that any permitted family members or friends can access. From calling to interact with the child via real-time video chat or just watching them with remote control cameras, "the entire family could monitor and intimately communicate with the children anytime, anywhere." This level of control and monitoring is Orwellian in nature and I don't believe that it's truly in the best interest of the child, regardless of its educational capabilities. Although this device may not be inherently bad for developing children, I don't think that it would even come close to providing the intimacy and care that it suggests. I believe that this type of product does not have a meaningful place in the modern home and merely cheapens the already diminishing interactions parents have with their children. Whether this product achieves commercial success will come down to how impactful the educational and entertainment aspects are, as I don't think there will be a large enough market of parents that think this level of technological control is necessary for their children.
PROS
A Magical Cartoon Experience
Stories That Grow With the Children
A Teacher That Likes To Play
Time Traveling Video Interaction
Your Families Own Moments
CONS
Unable to Fulfill Childcare Claims
Does Not Replace Parental Role