Peak Design Travel Tripod – First Look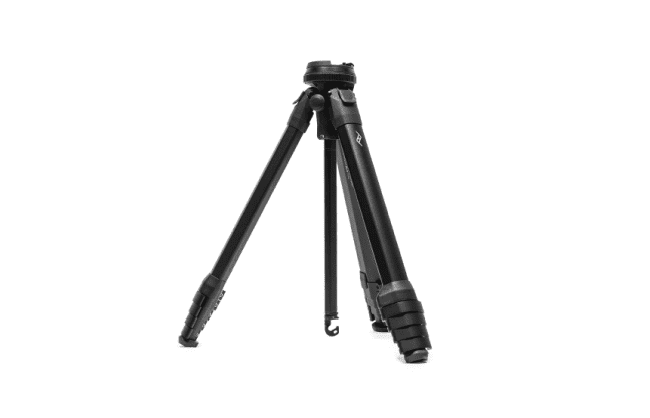 9
The Travel Tripod
Founder of Peak Design, Peter Dering, is said to have been inspired to redesign the traditional travel tripod while on one of his travels. Looking down at his tripod Peter noticed the negative space, as he calls it, in his folded-up tripod and thought there must be a way to remove it, hence why Peak Design created the ultra sleek and functional Travel Tripod.
Design
In their quest to remove the "negative space", it seems as if Peak Design took a cylinder and cut the legs and center column from it.  Folded up, the tripod is as short as the best travel tripods but certainly narrower – thanks to that negative space being removed.  Despite being able to fit in a backpack drinks holder the materials give it a solid feel.
The Peak Design Travel Tripod is available in 2 varieties, aluminum or carbon fiber.  The carbon fiber is for those who are looking for the lightest, highest performing tripod and do not mind paying a bit more for it.
Travel tripods often use legs that fold upward over the center shaft in order to stay compact. The Peak Design takes a more traditional route but makes use of 5 section legs. The integrated ball head has been completely redesigned for an extremely low profile. It fits snugly between the legs when lowered.
Features
Being compact isn't the direct tradeoff with sturdiness that travel tripods were in the past. Today's compact models are easily able to give you sharp images in all but stormy conditions and Peak Design Travel Tripod is no different, with impressive maximum load figures of 20lbs (9.1kg), the tripod is designed to comfortably hold a full frame dslr and 70-200mm combo.
Arca Swiss Compatible
The tripod uses Peak Design standard quick release plate, which is compatible with its other products including a few Arca style heads, but can be easily adjusted for full Arca Swiss and L bracket compatibility.
One downside to the supplied quick release plate is that because it is so compact it requires an allen key to install. Small plates like these also have a tendency to loosen over time so you will probably need to have the hex wrench with you, luckily one comes with the tripod in a convenient slot on one of the legs.
Ball Head
The low profile ball head makes use of a single locking ring to control all movement. It is designed to give smooth movements and quick one handed locking so you can always be ready with your other hand on the camera.
When lowered the head is tucked in between the legs, a bubble level on the head allows you to easily level the legs, but also the head when the column is extended.  Another neat trick is that when you tilt the head over it stops at exactly 90′ with the legs.   Making it easy to level the camera in portrait orientation.
There are three notches at the base of the head, which need to be lined up for it to go flat.  This can be and can also get in the way when turning the head at extreme angles.  Any angle is achievable with this head but you may need to fiddle to find the angle you want.
Maximum Height
The center column extends a further 8″ to give the tripod a maximum height of 60″ (152.4cm).  The column is removable for when you need to get really close to the ground, but again the included allen key is required to do so.
At the end of the center column is a counterweight hook to help keep the light tripod planted or just keep your bag off the ground. Hidden inside the shaft is a phone holder that allows you to attach a mobile device to the tripod. It's these small details that make Peak Design products so special.
The tripod can also be used in inverted mode to capture objects closer to the ground. The camera is hung underneath the tripod, which may be useful for product and macro photography.The tripod comes with a Peak Design soft carry case and includes a pocket for the allen key.
Operation
The tripod is quick to set up, the simple layout means there are no yoga legs folding over themselves, and the flip levers are great for quickly releasing all leg segments at one time.
The single control ring on the ball head is simple and quick to use.  It requires only one hand to control so your other hand can be on the camera at all times. Panning may require some finesse as there is no way to lock tilt only.
The quick release mechanism also requires a bit more care.  A manual lock ring is utilized to avoid accidental release of your equipment, an additional step that some manufacturers with similar systems overcome.
The 5 section legs can be easily adjusted to multiple angles for getting lower to the ground or when adventurously perched between boulders.  Having to remove the center column for those extremely low shots is one drawback as there just isn't any space for a swing out style center column seen on other tripods.
Verdict
The new Peak Design Travel Tripod looks to be a great new product and a viable alternative to existing tripods for those landscape and travel photographers or even casual photographers who don't want to lug around a large heavy tripod.
The negatives, such as the need for an allen key to remove the plate and center column as well as some limited panning ability are more than made up for in the unique design and thoughtful features.  Price is an issue… it sits in the higher end of the market.  It is competitive if you want a high-end ultra-compact tripod and it includes a ball head!
More information, as well as purchasing, is available through Peak's official website.
PROS
Ultra-Compact and Light
Still maintains solid tripod performance
Quality Materials & Construction
Quick setup using leg release levers
Built-in low profile ball head
Simple single control ring
Peak Design Quick release plate, Arca compatible
Nice added features like included bag and cellphone clip
CONS
Price
Requires allen key
Still in development