Vinci 2.0 AI Sports Headphones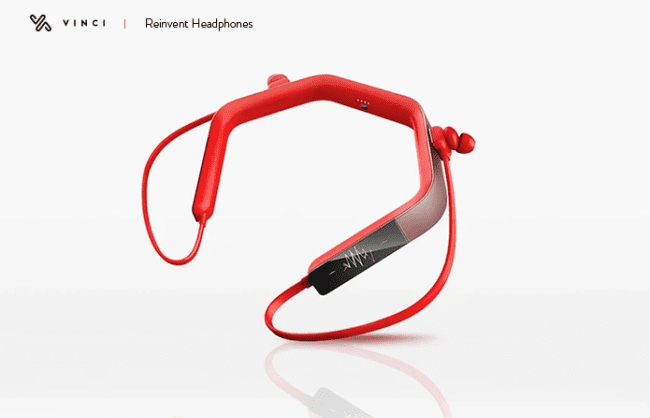 23
Outside of your workout clothes and your membership card, this may be the only thing you need to bring to the gym. Introducing the Vinci 2.0 smart sports headphones by Inspero, Inc. These are not your ordinary earbuds. These are all-in-one, voice-activated, hands-free sports headphones armed with a Quad-Core ARM Cortex A-7 processor. With the option of three different versions (Lite, Pro, and Super), wearers can boost their storage capacity from 8GB to 16GB to 32GB while taking advantage of OLED Touchscreen display for upgraded versions.
Bone Conduction Technology
With a backing of close to $300,000 from its Kickstarter campaign, Inspero has one goal in mind: to reinvent the sports headphone. Mission accomplished. Equipped with bone conduction microphone technology, the Vinci 2.0 delivers crystal clear sound quality while drowning out any ambient noise. Whether you're in a noisy gym or a crowded commuter train en route to work, Vinci has eight different noise cancellation modes (Gym, Bike, Airplane, Subway, Run, Office, Coffee, Park) that seamlessly adjust to your surroundings.
So what separates the Vinci 2.0 Sports Headphones from the competition? The simple answer: it plays nice with others. By syncing Vinci with Alexa, you have a powerful voice-activated digital assistant capable of 15,000 different skills. Whether you want to ask Vinci to make a call, send a text message, set a reminder, or give you directions to the local coffee shop, the state-of-the-art built-in voice recognition technology will work its magic. By integrating Vinci with Spotify, SoundCloud, Amazon Music, and KKBOX, you now have a powerful sound system capable of streaming 42 million songs while you hit the elliptical.
Sports Headphones with AI
If you weren't impressed already, the Vinci 2.0 Sports Headphones are supported by next-generation AI technology. The more Vinci gets to know your music listening habits, the more personalized it becomes. That's the beauty of machine learning – it evolves with you. The Vinci Headphones have the ability to recommend music based on your fitness program, your mood, and the time of day. Better yet, Vinci uses natural language processing (NLP) algorithms to recognize your words to better understand your intentions. In other words, if you have a pattern of needing a pick-me-up halfway through your 5K run, Vinci will suggest changing your Spotify playlist to the Rocky IV soundtrack so you can push the pace. Things have come a long way since the Walkman.
After a rather extensive trial in gyms across the United States, fitness enthusiast loved the fact that Vinci Headphones are completely hands-free. Supported by over 20+ languages, you can either voice activate the Vinci Headphones or use pre-programmed gestures to control volume, change the song, answer an incoming phone call, or access real-time fitness data. The Vinci Sports Headphones come with 10 built-in sensors to accurately monitor your health and fitness performance. Vinci is pretty much your digital personal trainer housed in a set of ergonomic earbuds held in place by a sweat-proof neckband.
Noise-Cancelling Technology
The noise-cancellation technology combined ergonomic design features make the Vinci Sports Headphones one of the most comfortable pairs of hands-free earbuds hitting the market in March/April of 2018. The "Pentagon" shaped design allows for a super snug fit ensuring that the Vinci earbuds stay in place whether you're hitting the Smith Machine or running sprints on a nearby track. The 86 gram Vinci headphones went through 512-point ergonomics test and have a holding force of 150 grams. So, the Vinci Sports Headphones are designed for prolonged comfort and are designed for durability – no matter the physical activity.
Finally, when it comes to Bluetooth technology, you've got to make sure there's a long-lasting battery. If not, all the bells and whistles don't mean jack. Thankfully, the designers at Inspero made this a priority. The Vincent 2.0 Headphones come equipped with a 600 mAh lithium-ion battery lasting 168 hours on standby, 20 hours with Bluetooth playback, and eight hours in local playtime mode. This is more than enough juice to listen to your morning Spotify playlist on the way to work, hit the Rocky soundtrack during a gym session in the afternoon, and then wind down with a little relaxing playlist during your commute home.
Available in four different colors (Red, White, Blue, Black), the Vinci 2.0 Headphones are aesthetically pleasing and are designed for a comfort. Each Vinci package includes a set of replacement earbuds and ear fins in different shapes and sizes.
Source: Kickstarter
PROS
Music, Calls, Fitness Tracker
Noise-Cancellation Technology
Voice-Controlled Artificial Intelligence
Syncs with Amazon Alexa
Integrates with Spotify, SoundCloud, Amazon Music, KKBOX
Bone Conduction Mic Technology
Long-Lasting Battery Life
CONS
Availability (April 2018)