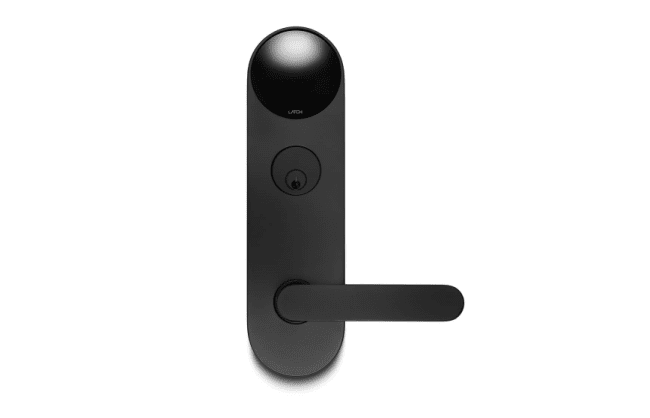 1
If you're a building owner, property manager, or developer, there's a rather affordable way to attract tenants (and keep them): the LATCH M series. Available only to enterprise customers that manage 10 or more units, LATCH works with mortise locks and offers residents a state-of-the-art digital entry system. Gaining access to a unit can be done via an iOS/Android compatible smartphone, a smart card, a special door code, or by the traditional key method.

iReviews Shopping Assistant
Find the best prices for this and many other products with our chrome extension
Smart Lock Technology
With the ability to manage everything digitally, property managers have a full suite of tools at their disposal including a web-based management console, a building guest platform, and a staff/service provider audit trail. Residents benefit from an intuitive smart lock system that gives them optional key access, door code entry, access management for guests, and a full photographic audit trail for guest entries. Simply stated, the LATCH M gives property managers and tenants complete control over every person trying to gain access to their building.
For those who have a tendency to lose their keys, cell phones, wallets, purses (you know who you are), the LATCH M smart lock will save you from late night lockouts or scaling the side of your building. Just simply remember your door code and voila, seamless entry.
Intelligent Design Features
For the compulsive Amazon Prime buyer, the Latch M is especially convenient for accepting mid-day package requiring the oh-so-dreaded signature required delivery. The Latch Mobile app alerts you when there's a UPS/FedEx driver at your door – giving you access to a wide-camera angle of the driver. Authorizing your shipment is as easy as having a two-way conversation with the driver. Your package will be waiting for you in the lobby when you return home from work.
"We've been live with Amazon deliveries at our building since last summer and people can receive packages at their apartment buildings and get it delivered inside the lobby without having to be home," Co-founder and CEO Luke Schoenfelder explained to TechCrunch.
The convenience factor is huge when it comes to the Latch smart lock. You can easily add users or share access to your apartment by setting time stamps – giving authorized personnel access for a set amount of time. Property managers and building owners can give out access codes to delivery companies or authorize access to the on-site gym for certain periods of time. All of this can be done via Latch's intuitive app.
Durability
Powered by six AA batteries, the Latch M lasts up to 12 months before needing a battery replacement. If the power goes out in the building, the Latch M keeps working and since it's connected by encrypted Bluetooth technology, access to the system doesn't require WIFI.
If you're thinking the Latch M system would be an expensive undertaking for any building owner, you would be mistaken. Taking into consideration that apartment locks need replacing every 5-10 years and the willingness to pay higher rents for added security features, Latch M is a cost-effective amenity.
"Building owners already have lots of costs with managing keys and cards and so we actually save them money and add major features for them," Schoenfelder claims. "They get more in rent by having our products installed because if you're a resident you can share access to your friends, family, and cleaners without having to be home."
About LATCH
LATCH is digital access for the physical world. Open your door with a passcode or an app, eliminate keys from your life, and securely manage all the people and things that need to access your space from the palm of your hand. Our team combines decades of experience building the world's best locks with decades of experience designing iconic technology products.
PROS
Web-based Management Console
Base Lockout Support
Building Guest Management Platform
Staff and Service Provider Audit Trail
Optional Key Access
NFC Access
Smart Doorcode Access
Photographic Audit Trail of Guest Entries