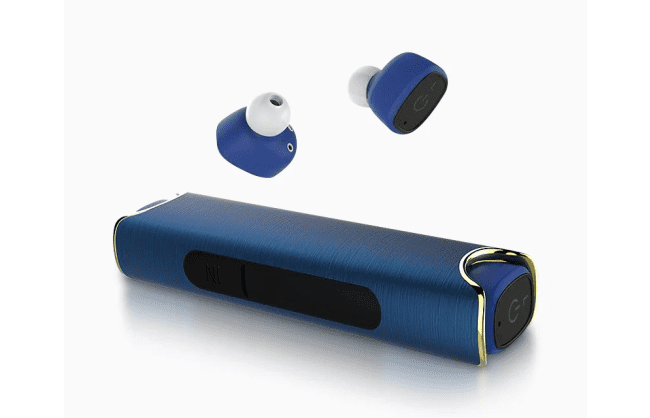 17
Overview
With the debut of Apple's Earbuds – many people have been searching for a high-quality alternative which won't break the bank. Today, we are reviewing the xS2 – xFyro's all-in-one solution to music on the move. Discover why these brilliant headphones might just be the best we've seen this year.
How is the build quality?
The xS2 are built to last – rated to be IP67 waterproof. That means they're capable of being submerged 1 meter deep for half an hour, perfect for those who listen to music while taking a bath, having a shower, or even going for a swim.
Not only that, but the build quality is superb – the body is made of silicon, giving them exceptional impact resistance and making them all the more comfortable. They fit the ear exceptionally well given their shape – ensuring they're not going to fall out of your ears while on the move.
Convenience
The charging station follows the same ethos, holding the headphones in with magnets allowing simultaneous storage and charging all while being the perfect size for your pocket. Shake it as hard as you like, they're not going to fall out. You can even use the dock to charge your phone or any other USB device.
And they're not just good for music too, sporting a high quality inbuilt microphone, these buds enable you to walk and talk with ease. The audio quality of the mic itself is great – capturing voice with clarity and ease while minimizing background noise.
Ease of access is a core concept embraced by the xS2, allowing you to control your device by pressing lightly on either earphone. Press once to pause, play, or answer a call. Press twice on the left earphone to go back a track, or on the right earphone to skip to the next song. You can even change the volume with a generous triple tap on either side. The xS2 brings invaluable convenience features to the table.
Sound
Audio quality is a prime area where the xS2's shine – with booming bass and pristine highs, these headphones accommodate to your music tastes and not vice versa. The driver unit (the part which produces the sound) is strong and loud, easily retaining audio quality even at max volume.
Battery
Whenever you're not listening, you can just pull out the pocket sized dock and charge them up. You can expect to do this after 8 hours straight of listening, more than enough to last a few days. Total charge time for the headphones is about 2 hours.
Range
The xS2 abide by the latest wireless standards, being built with Bluetooth 5.0 – they provide a whopping 10 meter range. These buds will work around the house without a problem, which is ideal for when you need to get away from your device and want the conversation to continue.
Summary
Build quality:
Convenience:
Sound:
Battery:
Range:
Our verdict
8/10
Overall, the xFyro xS2 have proven to be an excellent replacement to much more costly solutions, actually presenting more useful features than the majority of similar products. They look good, feel good, and sound exceptional – all while providing innovative and effective solutions to storage and usability. Priced below $100 with the dock included, these buds are an absolute steal.
We'll definitely be using these, and hope you will too!
PROS
Excellent sound fidelity
Top-notch build quality
Waterproof
Easy to use
Allows you to control your phone with just the headphones
Dock included
CONS
The shape can be slightly strange to adjust to for a few minutes after putting them on, likely due to their unique shape, but once you become accustomed to them (very quickly) they're extremely comfortable