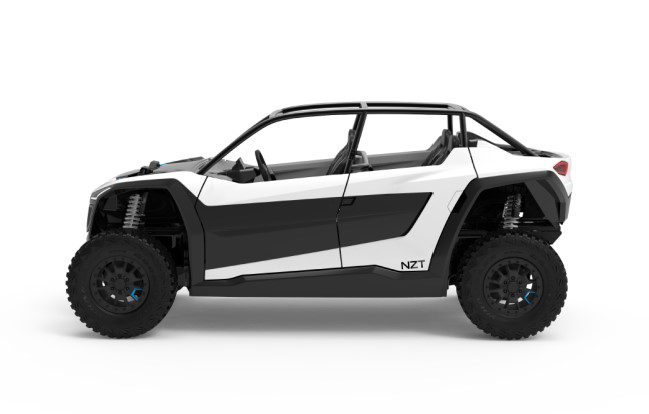 4
Electric vehicles are striking big waves today, and I feel it's a shift that can't be ignored. With so many cars getting the chance to break away from fossil fuels, not only are a lot of these options green, but they're often more efficient.
However, most of the advancements people see are limited to cars. What has the rest of the industry been up to as far as electrical advancements are concerned?
With the having once been promised to splash the market, is the idea behind the Nikola Motors' Zero UTV sound? The product itself was never able to really get out there from the start-up leaving many feeling burnt out by the idea, but is the idea itself still sound?
The 555-hp UTV
Imagine the possibilities of a 555-hp UTV as it rips through a dirt canyon path or remote forest trail. The 400-volt Zero was meant to be equipped with two four-motor powertrain options and at the baseline level come packed with 415 hp and 368 lb-ft of torque.
That's a lot of power for an electric vehicle. If anything managed to release in this state while being electrically powered it would be a big contender in the modern market.
It's really tough to compare the Zero UTV to any other off-road UAV mostly because the specs don't match up. Nikola Motors was meant to break new ground with regard to performance and battery capacity.
The design people were told about would have been capable of 0-60 mph in 3.9 seconds. At the time consumers could choose the elite package which gives the driver a 555-hp and 490-lb-ft option.
The Zero claimed to be way beyond the power levels of existing UTVs on the market. The Can-Am Maverick X3 Turbo, considered by most to be the most powerful side-by-side at the time, is capable of 172 hp. Similarly, the Polaris RZR XP Turbo yields 172 hp.
While these are a far cry from the 555-hp the Nikola Zero touts, they're much more in line with the expectations people have for a powerful UTV. The fact they are actually out there on the market still in some fashion is a good sign for them.
Electric Vehicle Technology
"The advantage of the electric motor is that you only use what you need, when you need it," Nikola Motors said on its website. "You are not penalized by having electric motors with greater horsepower and torque. The motors only take the exact amount of energy they need to perform as directed and not a kilowatt more – so when you need that extra horsepower and torque to climb a hill or towing, you have it. When you don't need it, you don't use it."
Here you can get a good feel for what I feel is the main draw for all electric vehicles. The way they work gives a lot more efficient compared to gas-powered vehicles, at least when they work right.
They tend to be a trade-off in power, however that's a downside that becomes less apparent as the product field continues to advance.
The built-in battery technology would have been impressive, especially for an off-road side-by-side UTV. Nikola Zero's planned to use a lithium-ion battery maxing out at 125 kWh. This claimed to be larger than any electric passenger car on the market at the time.
Switching to the 4 x 4 driving mode would give drivers a good 200 miles of range. For those that don't need the elite power package, they would have been able to drop down to 75 kWh and 100 kWh battery options.
Zero UTV Design Features
If Nikola Motors came through with its predicted performance, it would have become the most powerful UTV on the market. It would beat out the Can-Am Maverick by a half-a-second off the line. The 0-60 mph in 3.9 seconds is an incredible feat yet to be achieved by any side-by-side electric UTV and if achieved, will completely revolutionize the off-road electric vehicle industry.
As for other notable features, Zero would have come with a state-of-the-art front and rear suspension system, 32-inch tires on deadlock wheels, and a 4 x 4 torque vectoring option. Whether it's anti-lock brakes, traction control, anti-roll protection, electric power steering, or LED headlights, Nikola's Zero comes with a running list of available options that were planned for their vehicle.
With the option of adding a 4-kW solar charging system, riders would have the advantage of ripping around the remote backwoods and dirt trails in an eco-friendly electric vehicle designed for incredible performance.
Final Thoughts
With most of the divisions related to this product having been shut down a while back now, it's unlikely that any parts of this product will be hitting the market. If it does by some means manage to come out and keep its promises, it will be an incredible vehicle.
For now though, I would recommend using this as a jumping-off point to look at other options out there that you can actually get your hands on. If the Zero UTV does come out then it's going to be worth another look at, but until then electric vehicles are still the way of teh future.
Source: Nikola Motor Company, New Atlas
PROS
100 – 200 Mile Range
555 Horsepower
4×4 All-Wheel drive
CONS
Price
Availability
The company has shut down many divisions