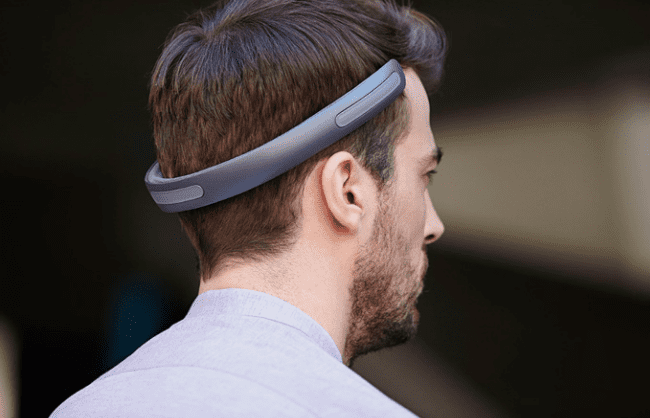 15
The latest and greatest innovation in audio gear, BatBand headphones are bone conduction headphones meant for the modern consumer. Originally designed for military applications, bone conduction is a technique for delivering audio to the inner ear through the bones of the skull. Studio Banana Things, a London-based tech company, has created the BatBand, a Bluetooth headset that utilizes this technology to deliver high-quality sound to users.
BatBand Features
BatBand is ergonomically designed to fit comfortably on the back of your head. The coated spring steel frame and sweat-resistant foam lining make for a durable piece of headwear that isn't going to cause discomfort after prolonged usage. Not only can you listen to your music on the go without traditional headphones, you can also make calls using BatBand's noise-cancelling omnidirectional microphone. BatBand gives you complete control over your device with its touch-sensitive interface, allowing for the use of built-in smart gestures that affect volume, calling, and your personal soundtrack.
Bone conduction frees up your outer ear for access to external sound, allowing you to listen, while still being in tune with the world around you. This feature is perfect for anybody who desires awareness of their surroundings, but loves listening to music or needs access to calls. Bikers and runners can listen to music while remaining cognizant of pedestrians, cars, or any other hazards they might encounter. BatBand also features an app that will allow users to personalize their band, create presets, and equalize music for the best possible experience.
Analysis
The consensus around bone conduction is that the audio quality doesn't truly compare to traditional headphones. Some people have reported that certain sounds or songs can be uncomfortable when experiencing them directly inside your skull, which concerns me as an avid listener of music that spans the frequency spectrum. The band itself looks very futuristic, but I'm not certain that the design is going to appeal to a wide variety of consumers. I personally don't find it to be particularly aesthetically pleasing, but Studio Banana Things received an incredible amount of support on Kickstarter, exceeding their goals by a wide margin. The BatBand has all of the requirements to achieve market success and if perceived well, I expect this product to go far.
PROS
Take Calls On-the-Go
Hold SKYPE Conversations
Vocal GPS Indications
Handsfree
Enhance Your Videogaming Experience
Music Whilst Working Out
Combine with AR/VR Devices
CONS
Questionable Audio Quality
Sound Leakage
No App Support