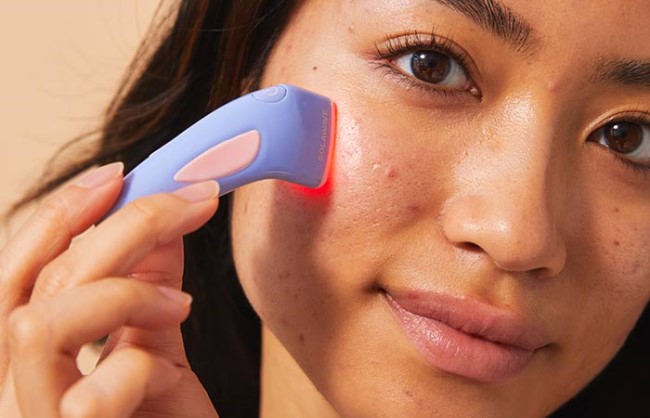 What Is SolaWave?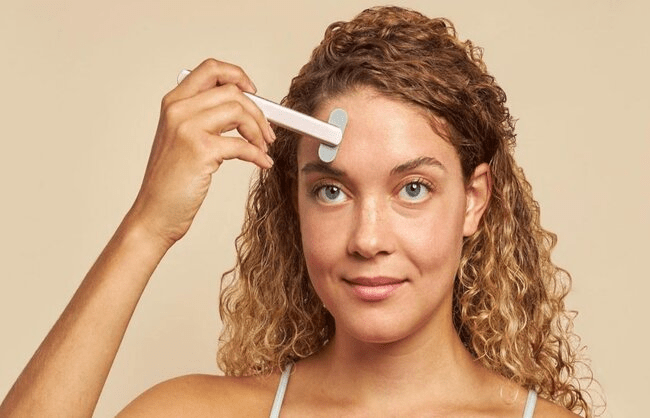 SolaWave's team of entrepreneurs, engineers, and dermatologists came together to create a multi use tool that can be used anywhere to improve skin. The brand created a skincare wand that is intended to reduce time, while increasing benefits to facial care. Using the "Renew Complex Serum", partnered with any of SolaWave's skincare wands, consumers are able to benefit from four different functions that all aim to improve the appearance of skin while also preventing aging.
SolaWave's products focus on using proven science to obtain results quickly and effectively. The wands use red and blue light therapy, microcurrents, facial massaging, and therapeutic warmth to capitalize time and results. Reviews for SolaWave seem to prove this science, with 97% of users stating that their skin looked healthier after two weeks of use.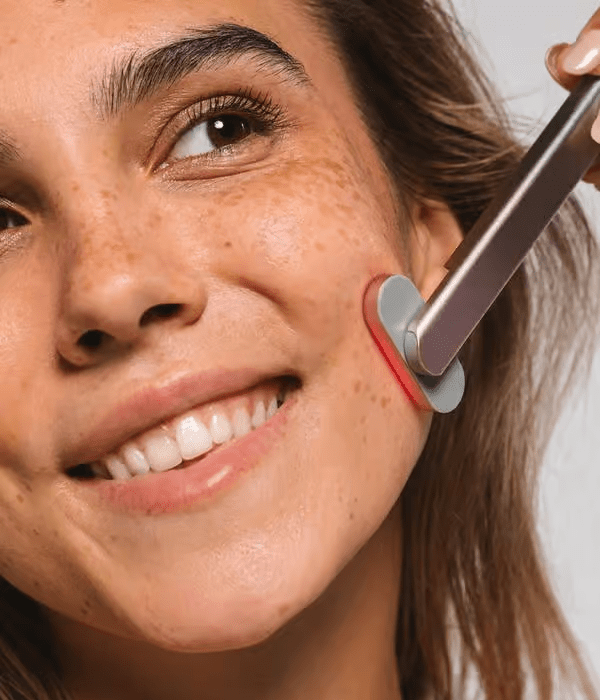 PROS
Notice difference in only a few weeks
Temperature is relaxing, but not too hot
The device is only 6 inches long, making it easy to pack
One charge lasts about 6 weeks
LED light therapy boosts skin radiance
CONS
Some find the serum too heavy and sticky
SolaWave does not give low battery warnings
Rather expensive
Can irritate sensitive skin
Activation can be touchy
BOTTOMLINE
SolaWave is a handheld, technologically advanced skincare tool with four different clinically-proven tools. The device uses microcurrents, facial massaging technology, light therapy, and therapeutic warmth to rejuvenate the face.
SolaWave Features
Devices range from $99 – $181
Uses microcurrents to stimulate the muscles and reduce signs of aging
The facial massage feature gives a relaxing facial massage and reduces puffiness and dark circles
Uses light therapy with red lights to rejuvenate the skin and blue lights that reduce breakouts and blemishes
Uses warmth to reduce redness and create glowing skin
Requires both a skincare wand and a serum for application
Comes with a two week battery life and a charger
SolaWave Products
Advanced Skincare Wand with Red Light Therapy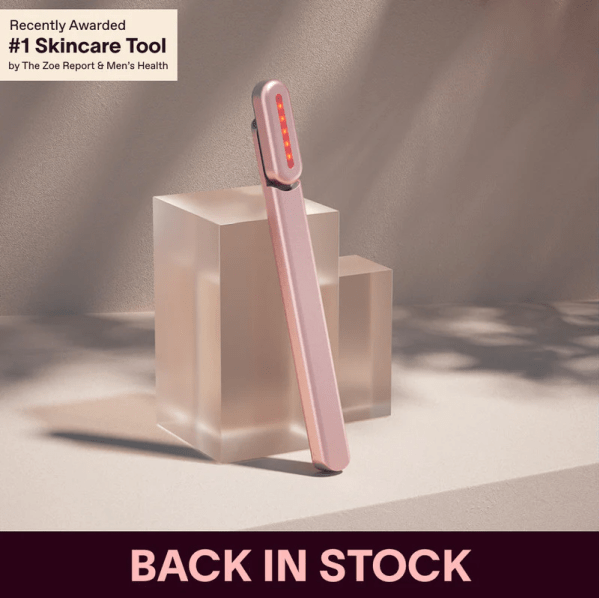 Priced at $181 or 4 payments of $45, SolaWave's most popular product is the Advanced Skincare Wand with Red Light Therapy. This small, portable, rechargeable device is available in rose gold, gold, or silver, and offers a variety of benefits. The wand aims to reduce the appearance of aging, dark circles, blemishes, and dark spots, while also depuffing and rejuvenating the skin. The award winning skincare treatment is intended to be used with the Renew Serum to deliver 4x faster results. This wand uses microcurrents, red light therapy, facial massage, and therapeutic warmth technologies.
Bye Acne: 3 Minute Light Therapy Spot Treatment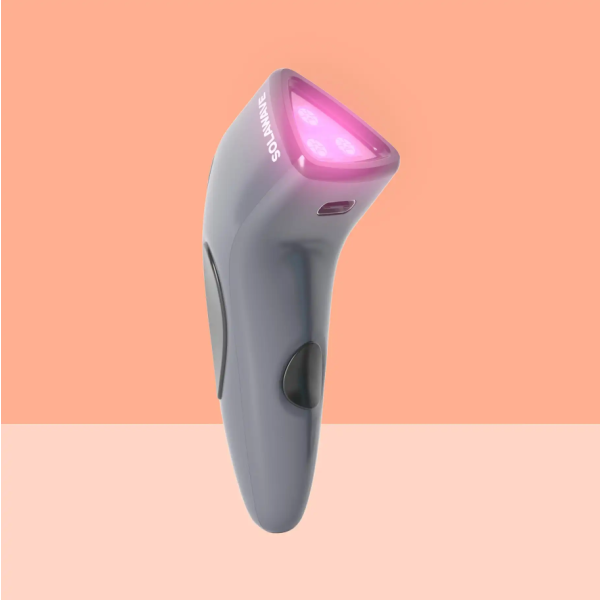 Priced at $99 or 4 payments of $25, the Bye Acne: 3 Minute Light Therapy Spot Treatment is a portable wand available in charcoal or periwinkle shades. The device intends to target acne and blemishes to promote clearer skin. This FDA approved device takes only 3 minutes to use per session. Using both blue and red light therapy, the wand spot treats blemishes, clears active pimples, calms redness, and kills acne-causing bacteria.
Renew Complex Serum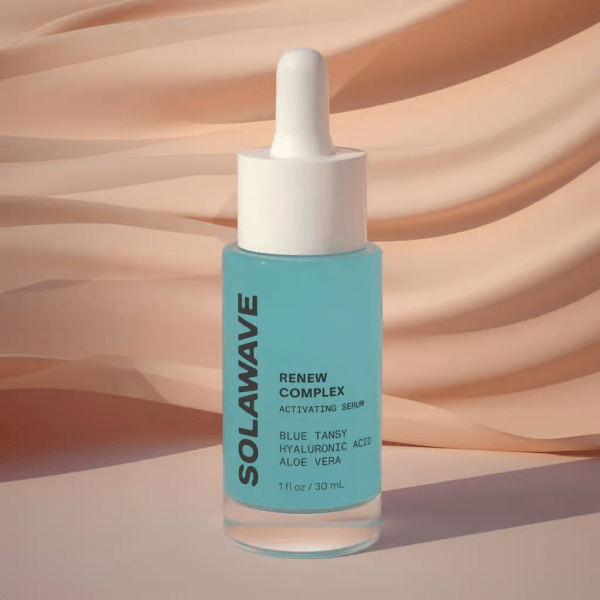 The strongly recommended Renew Complex Serum is available for $32 per 1 fl oz/30 mL. The activating serum is used in partnership with SolaWave wands to expedite and amplify results. 93% of SolaWave users reported rejuvenated, glowing skin in one month, while using the serum. This product contains ingredients such as aloe vera, hyaluronic acid, blue tansy oil, and more. The Renew Complex Serum is also vegan , cruelty free, and fragrance free.
Anti-Breakout Skincare Wand with Blue Light Therapy
The Anti-Breakout Skincare Wand with Blue Light Therapy normally retails for $171, but is on sale for $159. The wand uses three technologies to reduce breakouts and approve the appearance of skin. Focusing on depuffing and energizing the skin, this wand is a great choice for anyone aiming to clear up their skin. The device is used for 5 minutes, 3 times per week.
How to Use SolaWave?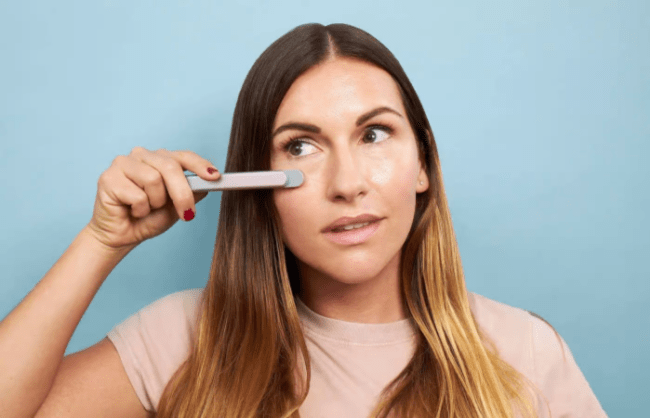 Using SolaWave wands is a relatively simple and fast process to add to your skincare routine. After washing and drying your face, simply apply the Renew Complex Serum or another water-based serum to your skin. After this is evenly dispersed, glide the wand along your skin, and it will automatically turn on. Make sure to use upward and outward motions. You can use this device all over your face and want to make sure to cover all areas. The wands are intended to be used for at least 5 minute increments, unless otherwise specified. You can use this device every day and see results in just a matter of weeks. The device can last on one charge for about 12 uses, but can be plugged into the USB charger and quickly gain battery life.
Where Can You Use SolaWave?
Given that SolaWave is only 6 inches in length, it is extremely portable and easy to use anywhere. Most customers add SolaWave to their daily skincare routine and choose to use this product at home when they wake up, or before they go to bed. With the sleek and modern look, this product could look beautiful on your vanity or stored in your bathroom cabinets. The best part about SolaWave is that you do not have to skip treatments when traveling or pressed for time. The device only takes about 5 minutes of your day and can easily be packed in your toiletry bag. Even if you are going camping and do not have a charger, one full charge can last for 12 uses.
Who Is This Product For?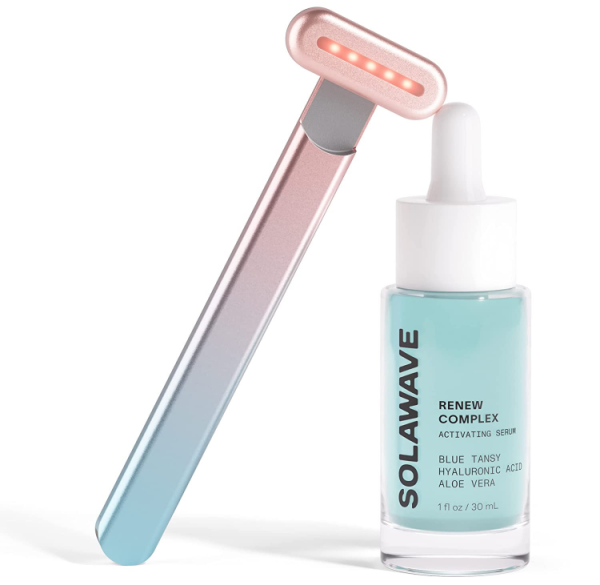 SolaWave is a great product for anyone looking to speed up their skincare routine and gain maximum benefits in minimal time. If you are looking to reduce the effects of aging, improve skin appearance, and target breakouts, discoloring, or blemishes, SolaWave is a great choice for you. While the device is fairly pricey, it can last for years and is easily rechargeable. Taking only 5 minutes, and using 4 different technologies, SolaWave speeds up your facial care and improves the overall health of your skin. Furthermore, SolaWave's massage and heat features make for a relaxing part of your day that can contribute to your self care and help you to pamper yourself a bit. Some people who may benefit from trying SolaWave may include:
College girls who are pressed for time and want their skin to appear glowy
The 30 or 40 something woman who is worried about the effects of aging
Anyone who has a busy schedule and wants to maximize time and results of their skincare routine
The traveler who needs a small skincare product to take on the road
Should You Buy It?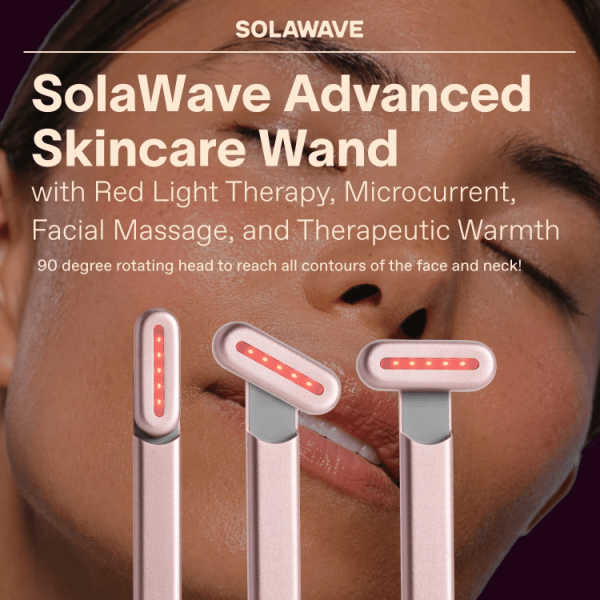 Even though SolaWave seems rather pricey, it is still much cheaper than many other products on the market. With this being said, if you already stick to a skincare routine, this is a great product to include in your routine to get results in an efficient manner. If you are new to skincare and do not stick to a schedule, this product may not be a great fit for you. But if you think you truly will use this wand on a daily basis, I think it is well worth the price tag. The positive reviews and ease of use speak for themselves. With the amount of skincare issues that this device targets, it truly is revolutionary.
Where to Buy
The easiest place to purchase SolaWave is directly from their website linked above. This allows you to view all of their products and learn more about the clinically-proven science behind the devices. The site often offers sales, and has options for installment payments. If you want to look for SolaWave elsewhere, the wands are also available at Neiman Marcus, Cargo, Bluemercury, Milk & Honey, Saks Fifth Avenue, and more. This could allow you to see the device in person or use gift cards or accounts you may already have.
The Competition
Laduora – $119.95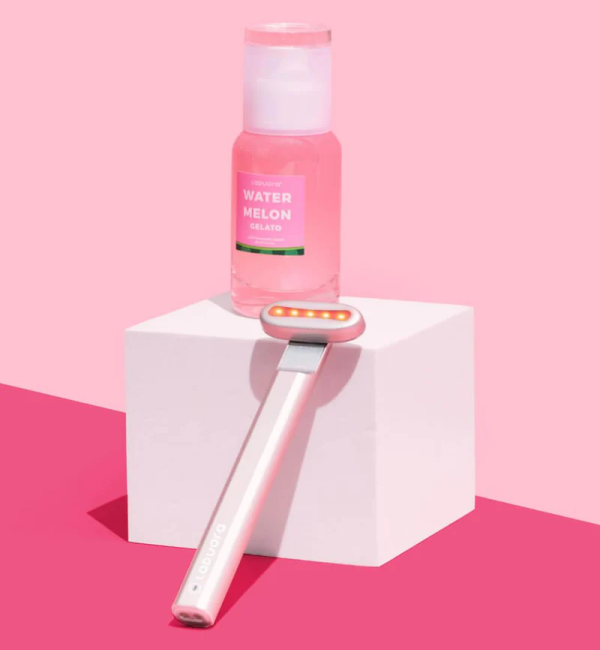 This red light therapy skincare wand is extremely similar in appearance and price to SolaWave. The wand serves to reduce puffiness, dark circles, blemishes, fine lines, wrinkles, and breakouts. Laduora uses dual-wavelength technology with both blue and red light therapy to destroy acne-causing bacteria and improve skin health. This five star product shows great results and is loved by customers.
Dr. Dennis Gross Skincare FaceWare Pro – $435.00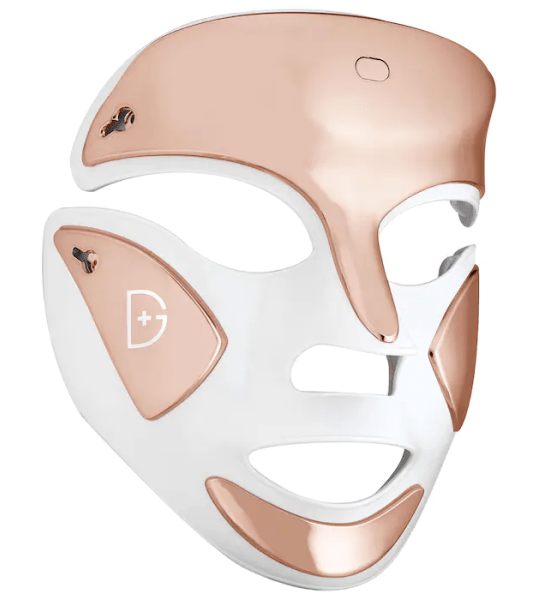 On the more expensive side of the spectrum, Dr. Dennis Gross' red light therapy facial mask is a Sephora fan favorite. The device is very pricey, but also extremely popular amongst influencers. While the product only has 3.8 stars, it can be appealing to those who would rather let an entire facial mask sit on their face, rather than use a wand. This device is not as portable, but does look rather sci-fi-esque, providing a unique and luxurious experience.
Usuie Red Light Therapy Skincare Wand – $79.99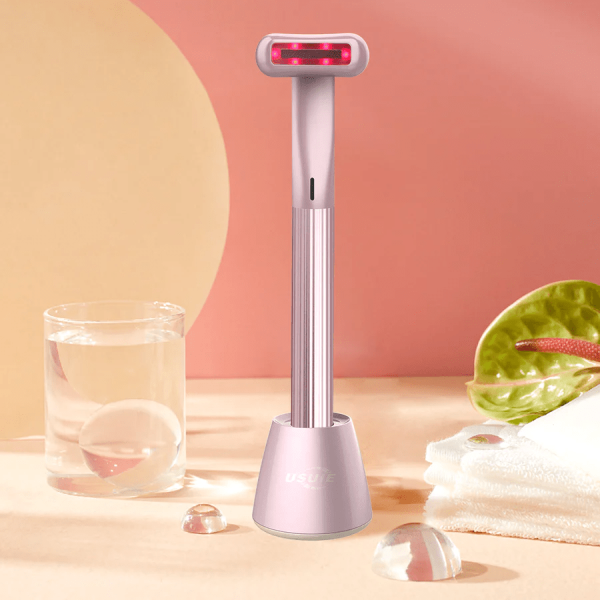 A more affordable option for those who are not ready to spend a small fortune on red light therapy is Usuie's skin care wand. The device does not have many reviews but currently ranges about 4.5 stars. Using LED red light to rejuvenate the skin, this wand is portable and fast working. The product is available on Amazon which makes returns and fast shipping options simple.
Final Verdict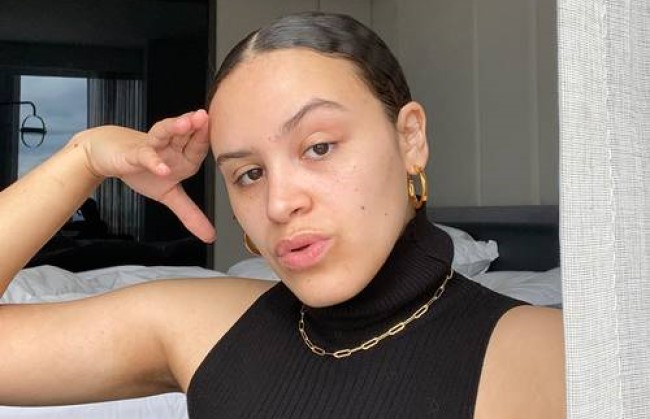 Between SolaWave's science based technology and 4 different skincare features, I truly believe this device saves time while maximizing results. This middle of the price line product is a great option for skincare lovers who are looking to shorten their skincare routine. I would only recommend this device for skincare lovers who stick to a schedule and know they will use the device, given that it is rather pricey. With lots of red light therapy devices on the market, make sure to compare prices, look for sales, and choose what works for you.
Resources and Further Reading