The Classy Home Review: Featuring the Coaster Company Snack Table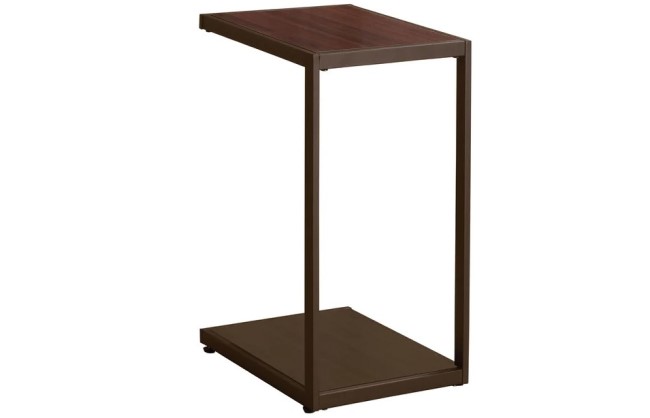 What Is The Classy Home?
The Classy Home was started in 2006 and has grown to be one of the largest online suppliers for home furniture. The Classy Home features products from over 50 different suppliers from brands you already know and trust, such as: Acme, Ashley, Crosley, Home Elegance, and more.
The Classy Home is dedicated to making sure their customers receive the lowest prices possible. So much so that they even offer price matching if you find a cheaper price for something!
The Classy Home is very transparent about their pricing and how they're able to offer such low prices. They attribute their hard to beat deals by having great relationships with their manufacturers and cutting out middleman costs. Another reason the prices are affordable is due to the fact that they only have one actual storefront, so operational costs are kept to a minimum.
Although The Classy Home is primarily an online marketplace, there is a physical location you can visit in Brooklyn, New York.
PROS
There are always additional coupons and discounts available
Great variety of name-brand furniture to choose from
Price matches
CONS
Slower shipping
Pieces may be delivered seperately
The pans burn easily
BOTTOMLINE
The Classy Home is a great option for anyone looking to furnish their home, redecorate or even just purchase a single new addition to their home at an affordable price.
Product Features
Price: $55.37
Faux wood top
Extra bottom shelf
L 15.75 X W 12.25 X H 23.75
Weight: 11.44 lbs
With over 170k products currently available on their website and ten product categories, The Classy Home has something for everyone's home. The decor categories they feature on their website include:
Living Rooms
Bedrooms
Mattresses
Kitchen, Dining and Bars
Occasional Tables
Entertainment
Home office
Decor
Kids
Outdoor
Now that I've covered the basics of The Classy Home, the following section will go over my experience actually assembling and using one of The Classy Home's snack tables. Keep reading to find out how the assembly went and how the table is holding up after 3 months!
Assembling the Snack Table
I tried out the Caraway Fry Pan – which can be found in the full set of cookware that is currently retailing at $545. Or, you can purchase the frying pan by itself for $95.
Personally, I get easily overwhelmed when it comes to assembling anything. Even something as small as a snack table. So, I asked a friend to help me out with assembling my new snack table.
Although a lot of furniture that needs to be assembled out of the box can be overwhelming and confusing for most people, I wasn't intimidated by the instructions and assembly of this snack table.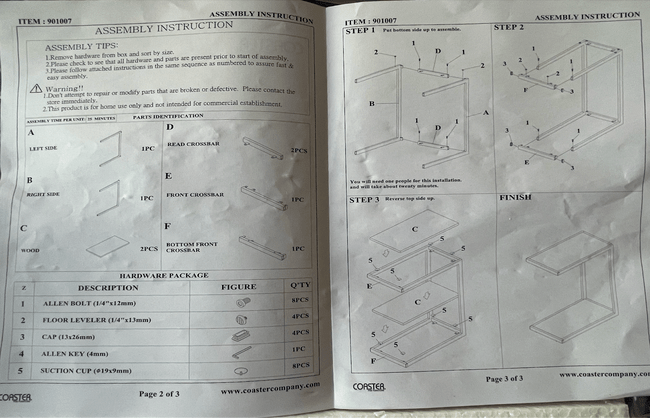 The first page of the instructions includes a picture and description of each part that also includes how many of each part you should find in the box. It was just a matter of putting the parts together, I didn't even need a screwdriver to put it together!
However, the instructions were only pictures so there were some misinterpretations along the way (which would technically be considered user error on my end). The only actual complaint I have in regards to parts and assembly is just one of the Allen bolts was a tad misshaped, making it a bit of a challenge to fully secure it in.
The table itself took around 30 minutes to completely assemble, even with the mistake I made while assembling it. the photo instructions during a step.
The Finished Product
Once the snack table was fully assembled, it looked great! The wood finish was dark and glossy – even better than the picture shown on the product page!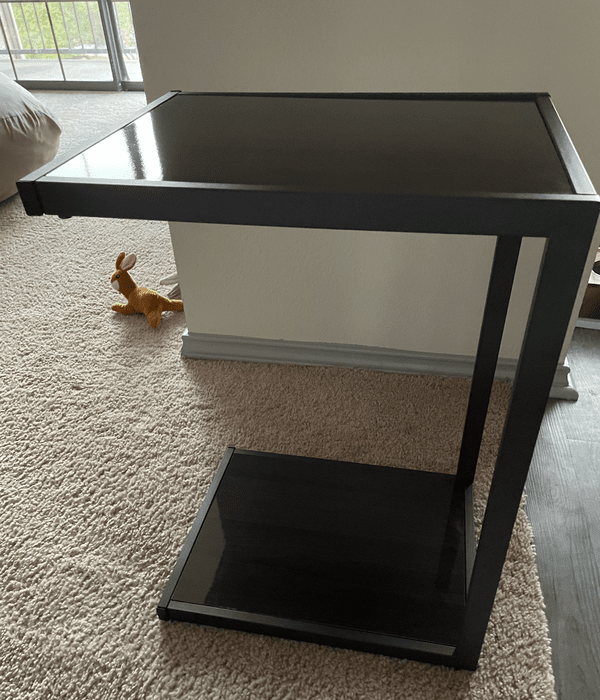 However, after I assembled the table, I noticed a small scruff. I can't say whether or not that happened during delivery or while I was assembling, but it's just something to note! Aside from that, I'm overall very satisfied with how it came out.
I've been using it for a few months now and the only thing I've noticed is one of the bottom cap pieces will sometimes easily pop out.
I am currently using the table to support a storage box as well as my internet modems, So, it's getting gentle daily use and the table is holding up well, with no scratches or scuffs aside from the one I noticed the day I assembled it. Ass an accident-prone person, I'm pretty happy about how the table has held up with no issues, and still maintains the same shine it had the day I received it.
On a dunactionaly standpoint I'm not sure I would actually like this as a snack table since it's a bit high and would have some awkward placements if you are looking for a small table that would be used for convenience.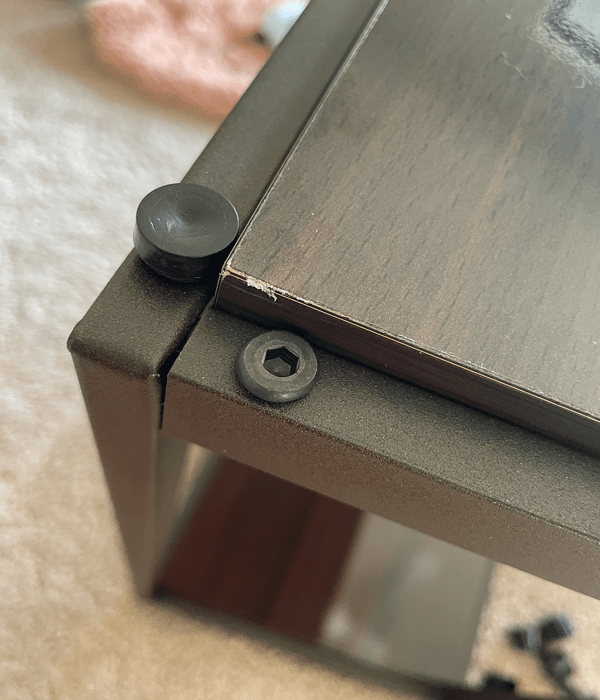 Should You Try the Classy Home's Furniture?
I have not seen many bad reviews for The Classy Home, but the ones I do see typically mention the shipping time or just not receiving the delivery at all.
There are also mentions of some products being sent with missing pieces – so be mindful that some pieces may be delayed while others have already arrived.
A representative of The Classy Home usually will reply to the comment with a reason and assurance the problem will be solved. The Classy Home is very responsive to all customer complaints and makes an effort to rectify it – so that's always a pro for me to see!
Seeing as the product I ordered is exactly what I expected, holds up well, and is a great price I have nothing but good things to say about The Classy Home, and would recommend to my friends and family to order from there as well.
Another big pro is even though The Classy Home's prices are extremely competitive and affordable, they still offer even more ways to save with additional coupons and promotions.
Shipping & Return Policy
The Classy Home advises on their FAQ page that orders can take up to 4-6 weeks to arrive. If you're located in NYC, you can get free shipping with a minimum order of $200.
As for returns, The Classy Home's policy states that: "You may return your purchase 15 days of receipt for an exchange or a refund as long as the furniture is good condition and in the original packaging. Altered, Used, or assembled products may not be returned."
It's also important to keep in mind that if you are returning an item, a 25% restocking fee will be deducted from your return.
If you would like to cancel the order, you can do so for free as long as you do so before the item ships.
*The Classy Home does not process orders from Friday evening through Saturday.
The Competition
Although The Classy Home offers unbeatable prices, there's still so many other furniture stores to choose from that may be more up your alley. So in this section, I'll go over some alternative options to check out.
Ashley
Although The Classy Home features items from Ashley's catalog, the official Ashley site offers a lot more variety. Ashley is also the only store on this list that has physical locations in 48 states, and even has physical warehouse stores to visit for even more savings. However, most of Ashley's furniture takes on a more contemporary style and doesn't have as much style variety as the other options.
Living Spaces
Although there are only stores found on the west coast of the United States and Texas, Living Spaces has great options and even allows you to customize some items to your liking! Another thing I love about Living Spaces it that they stage their store in a way to where it's easy to envision what you like and don't like. For those who are unable to go into a physical store, they offer inspiration guides.
Wayfair
There have been a few times where I've heard Wayfair be referred to as "the Amazon of furniture", and shipping does seem to be typically fast here, but can vary depending on the item and if it's in stock. This is a website I've ordered from myself in the past. Wayfair offers a large variety of furniture in many different styles, so there's definitely something for everyone here.
Overstock
Overstock is another online option that gets their com… But unlike The Classy Home, Overstock also offers kitchen appliances and home improvement items such as sinks, wallpaper, and even bathtubs.
Final Verdict
Ultimately, I think trying out The Classy Home is worth it if you don't mind possible longer shipping times. Even if the shipping time is longer than you'd prefer for certain things, they still have great deals on items like rugs, lamps, and more.
Resources and Further Reading