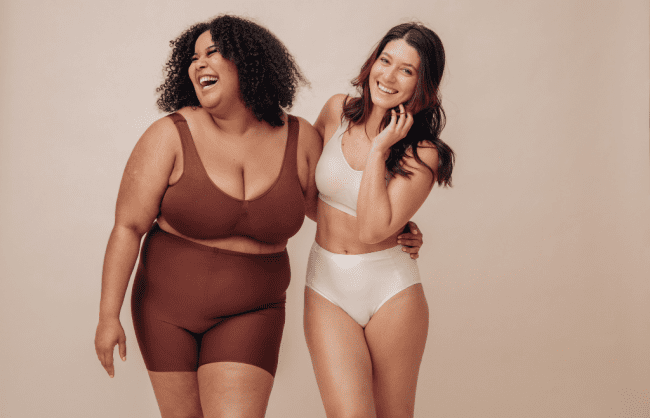 What are Truekind Bras?
Is there anything worse than a bra with an uncomfortable fit? You'll find yourself tugging and pulling on it every time you wear it. Truekind is a bra brand that wants to make it easier for shoppers to find comfortable bras that come in the right sizes.
Shapermint is a large company that sells bras through its website, and is also the parent company of Truekind. Buying from Truekind allows you to see dozens of models in many sizes and skin tones. All bras use soft fabric that supports your breasts without the use of wires. The bras are seamless and will not show under your clothes. Truekind even helps you find the right size before you buy with a helpful size guide.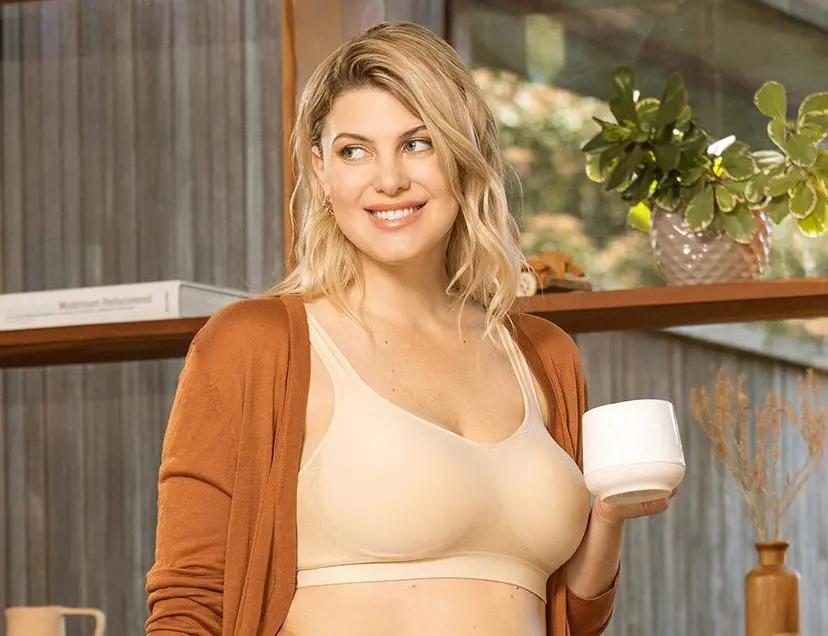 PROS
Available in sizes XS-4XL
60-day return policy
Assistance in finding the correct size
Ships from locations around the country
CONS
Charges a fee on returns
Some customers complained about quality
Customer service could be better
BOTTOMLINE
Designed to fit women of all sizes, Truekind bras are affordable and come in many different colors and sizes. You have 60 days to request a return if you have any issues and can easily find panties that match your new bras.

iReviews Shopping Assistant
Find the best prices for this and many other products with our chrome extension
Product Features
Price: $38-$50 per bra
Returns: Within 60 days
Return Fee: $4.95 for shipping
Shipping Cost: Free on orders of $70 or more
Customer Support: Online, over the phone
Guarantee: On fit
Truekind Everyday Throw-On Wireless Bralette
Designed with comfort in mind, this bra uses a soft fabric that is breathable, to keep you from overheating during long days. The structured design gives you both the lift and support that you need to make your girls look their best. As there are no wires, you don't need to worry about metal pieces digging into your skin.
Available in XS through 4XL sizes, this bra fits similar to a sports bra. You can easily wear this bra under a thin tee shirt. It comes in black and white as well as soft pink and deep brown options. Though Truekind sells this bra for $40, it is often on sale for as little as $20 to help you stock up without spending a bundle.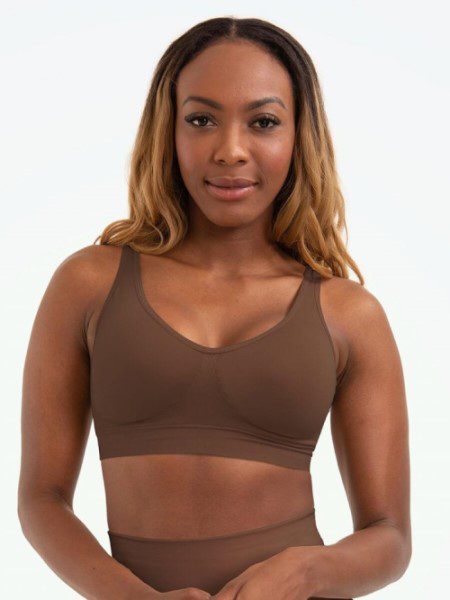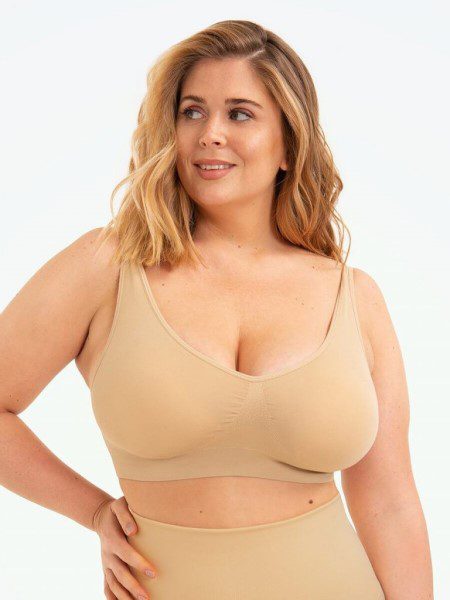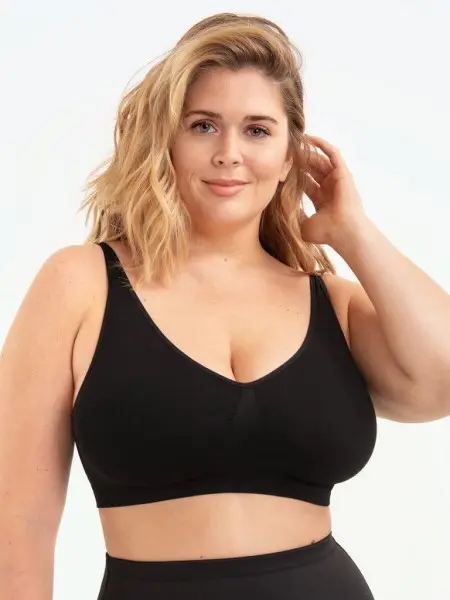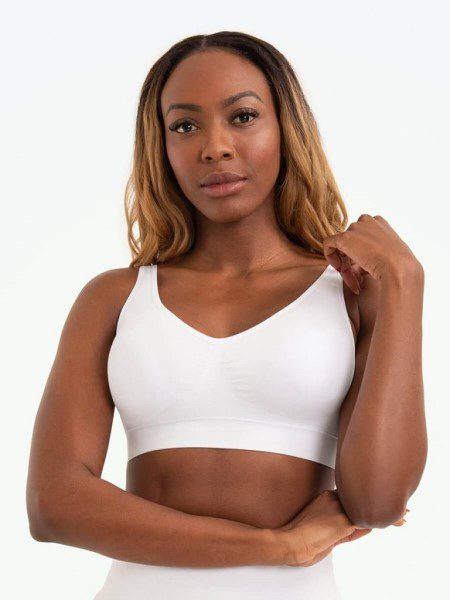 How Can You Use Truekind Bras?
We encourage our readers to check out the Truekind Bra & Fit Guide before they order a bra. Truekind shows you how you can use a tape measure or a simple piece of string to find both your cup size and band size. If you have problems using that guide, Truekind has sizing experts who can help. They can help you find your size and see what Truekind bra size will fit you.
Cleaning your Truekind bras is simple, as they are machine washable. Simply place your bras in a bag designed for delicates. Use cold or lukewarm water and a lower setting on your washing machine. Once you clean your bras, let them air dry. No matter which method you use, always skip the dryer, and let your bras air dry. Regular washing extends the life of Truekind bras.

Truekind Daily Comfort Wireless Shaper Bra
With the Daily Comfort Wireless Shaper Bra, you get a bra that is just as comfortable at the end of the night as it was at the beginning of the day. Available in S through 3XL sizes, this bra sells for $45. You can snag this comfortable bra in black or white or go with a soft pink color. Around 96% of customers said that it had the fit they wanted.
Truekind uses a fabric blend that includes both elastic materials and nylon. This ensures that the bra matches your movements and that it has a breathable design that supports you for hours. The cups on the front provide support and give you more lift. Thanks to the hook and eye closures on the back, you can easily slip into this bra. Truekind also added foam inserts to each cup for more padding, as well as thick straps that won't dig into your skin.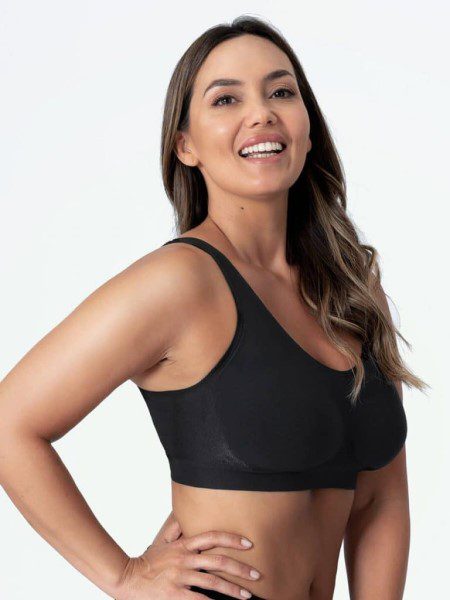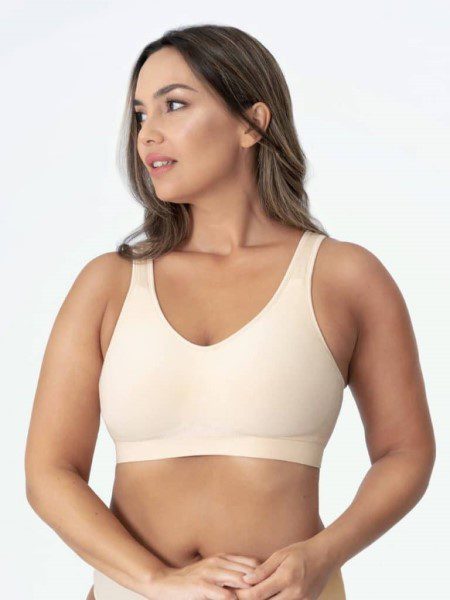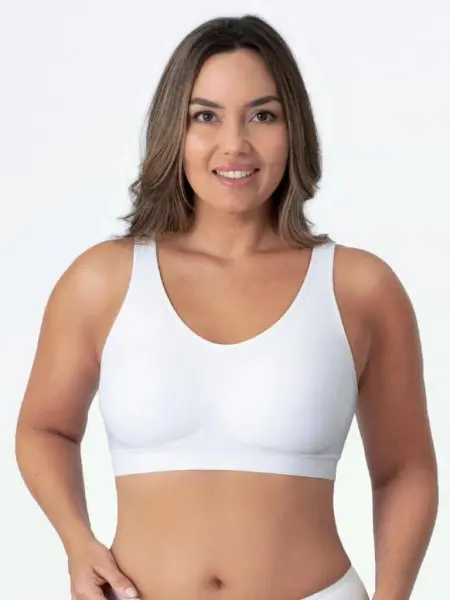 Where Can You Use Truekind Bras?
Truekind has a simple sports bra that is perfect for wearing to the gym or when you want to exercise at home.
Other places where you can wear these bras include:
When you're out with a day of fun with your friends and don't want to struggle with your bra.
If you want to hit the town and look amazing while still feeling comfortable as you dance the night away.
On vacation, especially if you need to spend hours in a car or on a plane and want to avoid discomfort.
In situations where you need to get your bra on and off as quickly as possible.
On date nights to wow someone special.

Truekind bras are so comfortable that you may want to wear one as a crop top under a jacket to show it off.
Truekind Enhanced Comfort Wireless Shaper Bra
Shaper bras are great for women with larger chests who require more comfort and a better fit. Truekind designed this bra with those women in mind. Each cup uses three separate foam layers that give your chest the support it needs. Those layers both lift and separate your girls to give you a small hint of cleavage.
As this bra can make your chest look larger or fuller, it's also a good option for women who have a smaller bra size. It comes in small, medium and large sizes and in black, white, pink and brown. You'll have no problem finding a shade that works with the clothing you wear. Truekind sells this bra for $50 and often puts it on sale for around $35.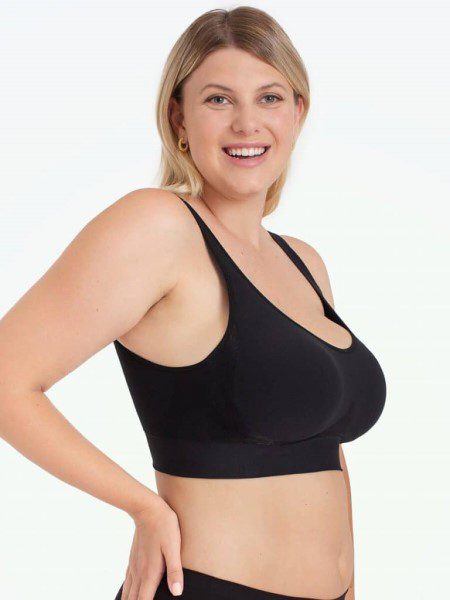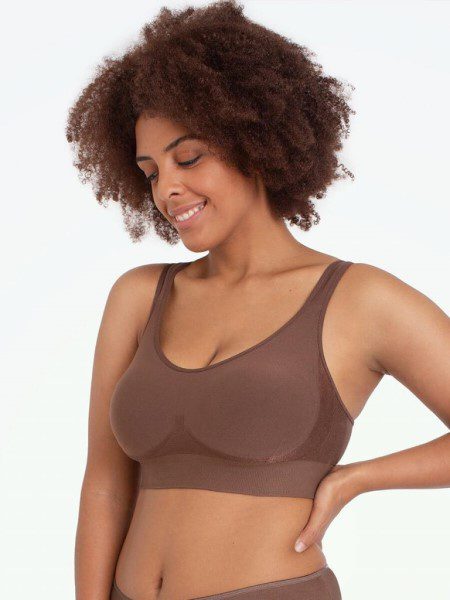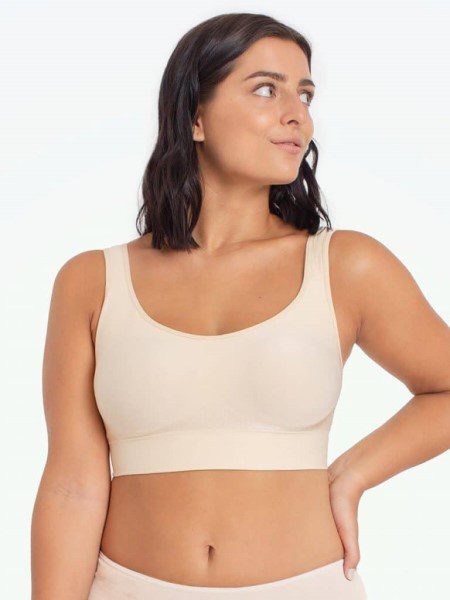 Who's This For?
These bras are suitable for many women, including:
Those who wear any of the standard bra sizes that go along with the Truekind sizing guide.
Shoppers looking for comfortable bras that feel just as good after hours of wear.
Customers who like working out but don't want to feel their chest jumping around as they move.
Anyone needing a bra that lasts through all of their daily activities.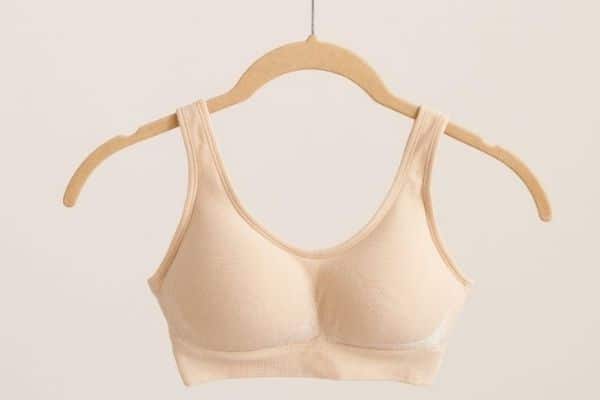 Truekind Reactive Sport Bra
Truekind designed its Reactive Sport Bra for women who want both comfort and support. It uses spandex and nylon to ensure that the bra stretches to fit your body. Though your breasts can breathe, they won't bounce all over the place.
This bra is suitable for most sports. You can safely wear it when taking a jog around the block. If you have a fitness class and need to run errands, this bra will move with you. It is available in black, white, gray and blue to match your athletic apparel. Truekind offers the Reactive Bra in S-3XL sizes and sells it for $38.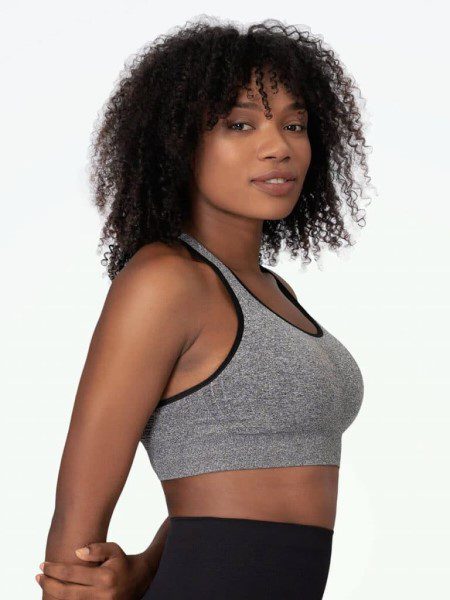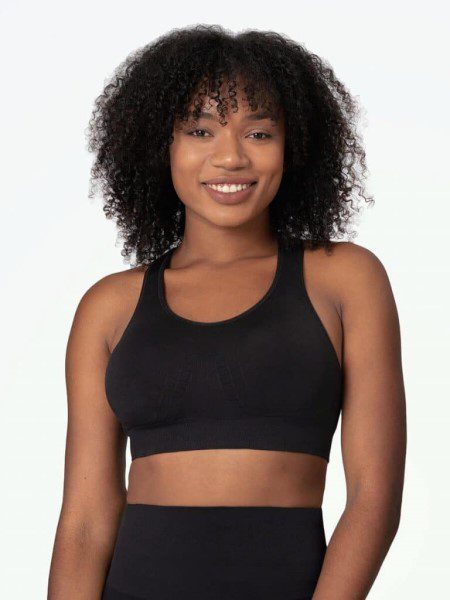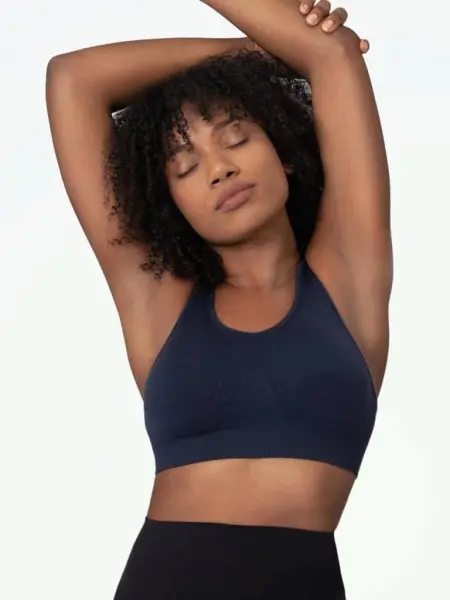 Truekind Seamless Stretch Mid-Waist Brief
After hearing from women who wished they could match their bras and panties, Truekind introduced the Seamless Stretch Mid-Waist Brief. These panties come in two sizes: S-XL and 2XL-4XL. You can also find your size based on your hip or waist measurements. Simply compare your measurements to those found on the Truekind size guide, which you'll find on the product page.
Though you might think that the $26 price tag is too high, keep in mind that they have a mid-waist design that allows the top to stop right at or below your belly button based on your torso length. You can choose black and brown pairs that match your favorite Truekind bras or a neutral shade. This shade may hide the visible lines that often appear under your clothes. A cotton gusset and breathable fabric help you stay cool and keep you clean.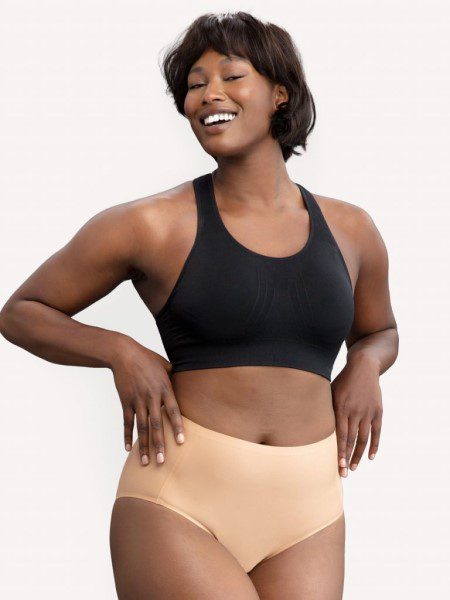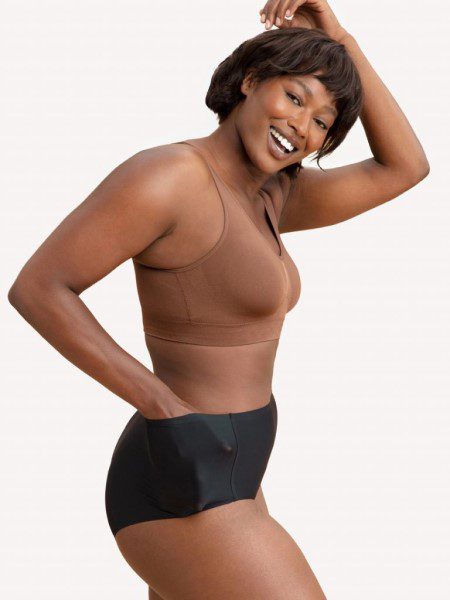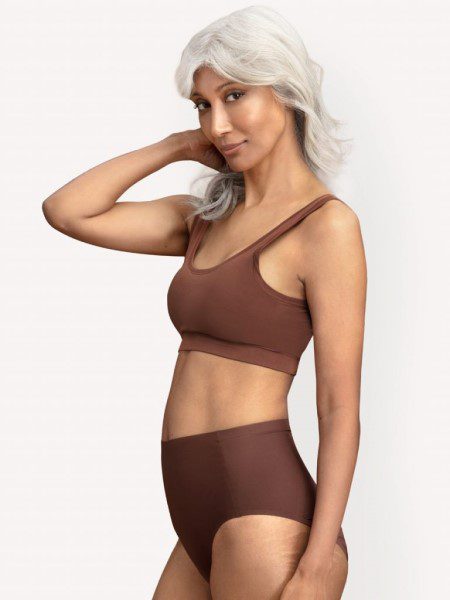 Should You Buy It?
In our opinion, you should try Truekind bras. If you find that you fit the cups perfectly but that your band is a little too tight, try using a Truekind extender. The site sells a three-pack for $12 and lets you pick from white, pink, and black colors. You can use one or all three extenders attached to your band to make the bra fit the way you need.
Other top reasons why Truekind is worth your money include:
The bras use materials that are breathable, keep you cool, and feel like a second skin.
You can choose between bras that have closures for securing behind your back and those which slip over your head.
All of the bras are wireless to help them last longer and keep metal wires from poking out.
You can now choose panties that come in some of the same colors as your bra.
Truekind offers free shipping if you spend a minimum of $70 on a single order.
Expert fitters are available to help you find the right size.
The brand guarantees that the bras won't cause skin irritations or any other issues.
You can wash your bras in a standard washing machine or by hand in your sink.
Many of the bras feature wider straps that won't slip down or off your shoulders.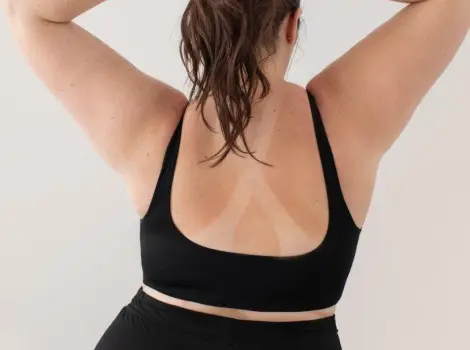 Truekind believes in helping women feel confident and find the right bras, no matter what size they wear
Cons to Consider
Some Truekind customers received bras that had quality issues such as frayed hems or uneven stitching. Others complained about the customer service reps who didn't understand their questions and weren't very helpful. Another major issue is that Truekind charges you if you return an item. Though the brand claims that it has a 60-day return policy, it holds you responsible for paying the $4.95 fee to ship back a bra.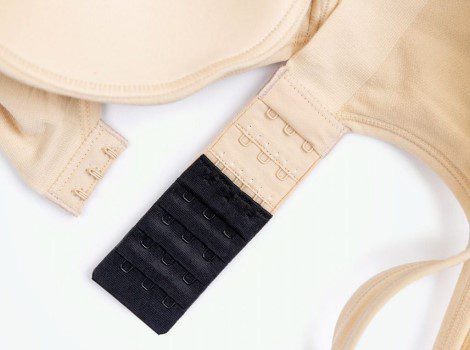 If you find that your bra has the right cup size but is too tight around your body, Truekind extenders can help.
Where to Buy
Truekind bras are available on the Shapermint website as well as on Amazon or at Walmart. The problem with purchasing from these sites is that they may not stock all sizes and colors. We recommend that you click here and use our link to explore the products from Truekind.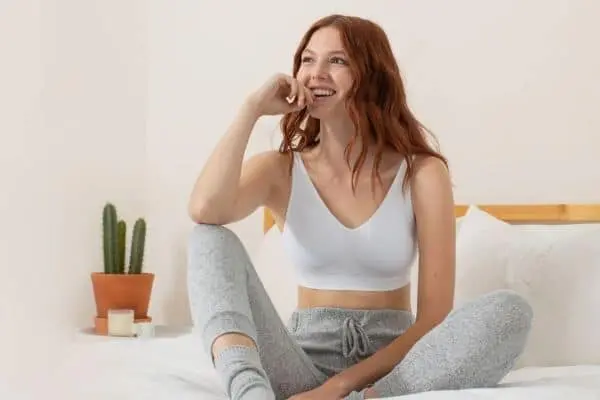 Truekind bras are so comfortable that some customers even sleep in them.
Competition
There is a lot of competition in the bra market and tons of brands that promise they make products that you will love. We'll go over some of these brands to help you see who competes with Truekind.
Parade
When you compare products from Parade and Truekind, you'll find that they are quite similar. Parade offers three bralettes such as scoop bras that offer just a hint of cleavage and triangle bras that offer less support. There are also plunge bras that ensure all eyes reach and stay on you. Thanks to the five for $40 sale, you can get all of your favorite bras and matching panties for around the same price that Truekind charges for one bra. Though Parade bras come in some fun colors and unique prints, they don't offer as much support as Truekind bras do.
Her Room
The founders of Her Room were women who wanted to eliminate the hassles of lingerie shopping and give customers a better experience. With the Bra Finder, you select your band and cup sizes to find all matching bras. This feature also allows you to choose the type you like or the color you need. Thanks to the mailing list, you get a Her Room coupon for 10% off just for signing up. Her Room has bras with seamed cups and plunge bras along with plus-size bras and lace bras. You'll also find swimwear and sexy lingerie on the site.
Adore Me
You might see Adore Me ads online that claim this brand can help you find the perfect bra. Adore Me allows you to shop from home and order matching bra and panty sets. There are plunge and push-up bras that highlight your assets and bras that you can wear under tees and when working out. You get the most from this brand through the elite program, which turns you into a VIP. Adore Me pairs you with a stylist who helps you find the best bras and any other items that you want. It costs $39.95 per month for this service.
MeUndies
If you hate shopping for bras and underwear, you'll like that MeUndies has membership plans that allow you to get new items every month. As a member, you get $4 off all panties and $10 off all bralettes. Though you can go online and pick the styles you want, you can also pick a subscription plan and let the site choose for you. The bralettes come in a T-design that has adjustable shoulder straps and a T-back or a U-design that has a scoop neck and a U-back. MeUndies can also help you pick a bra made from breathable fabric or one that feels weightless.
Final Verdict
Truekind makes bras that are suitable for workouts, office days, special occasions, and daily use. Truekind uses XS-4XL sizes that fit a range of breasts. We had a hard time finding any negative reviews about Truekind. Most of those reviews focused on the lack of products or customer service. Many customers loved the bras they bought from Truekind so much that they bought multiple during the next sale.