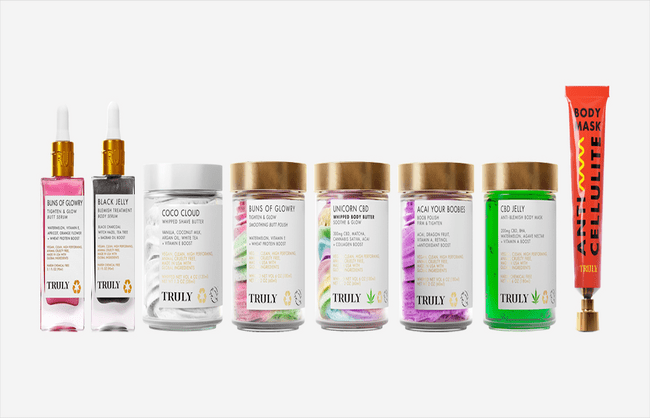 What is Truly Beauty?
Truly Beauty produces organic skin and hair care products. Many customers appreciate that the brand uses unique containers and colorful ads that please the eye. Known as Truly Organic for many years, Truly Beauty has millions of followers on social media and has appeared in hundreds of magazines and blogs.

PROS
Lots of organic beauty products that use natural ingredients
Fast shipping in the United StatesFast shipping in the United States
Unique colors and product names
Suitable for all skin types
Offers a rewards program for frequent customers
CONS
Shipping can take a long time
Some ingredients are not organic
You may find that the products don't work as well as you expect.
BOTTOMLINE
If you're in the market for vegan or organic beauty products, Truly Beauty has you covered. You can buy dozens of products for your skin and earn points to unlock discounts through the rewards program.

iReviews Shopping Assistant
Find the best prices for this and many other products with our chrome extension
Product Features
Cost: $20+
Shipping: 7-12 business days
Refund Policy: All products but can take five business days to process
Rewards Club: One point or more per dollar you spend
Gluten or Cruelty Free: Yes and Yes
Truly Beauty Mission
Truly Beauty is very upfront about its mission to provide clean beauty products. The company looks for ingredients that do not harm the environment and are safe to use. They also look for ingredients that improve the way products work to make your skin glow.

Truly Beauty wanted to create a line of beauty products that did not require customers to compromise their needs. Elle named the company one of the top brands making a mark in the beauty industry. If you want a beauty company that cares about you as much as they care about their profits, Truly Beauty is your best option.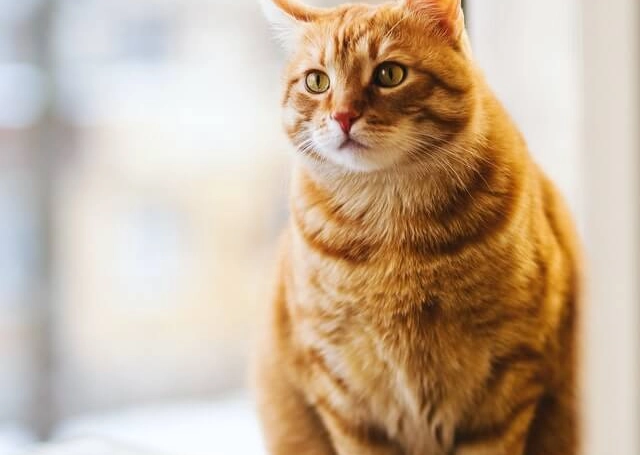 Truly Beauty offers cruelty-free products that aren't tested on animals.
How Can You Use Truly Beauty?
Truly Beauty can be used to level up your skin/hair care routine. The Unicorn Fruit Whipped Body Butter gives you a smooth and silky application. You simply apply a dab to your skin and rub it in with a circular motion.

With the Coco Cloud Whipped Luxury Shave Butter, you can get a closer shave than you ever thought possible. You simply apply a small dab while you're in the shower or tub before you shave. The butter leaves behind a trace of fragrance as it dries.
If you suffer from dry skin, try the Buns of Glowry Smoothing Butt Polish. You'll put a small amount of the polish on your skin and rub it in before rinsing it away. It removes dry skin and can make your skin feel and look tighter.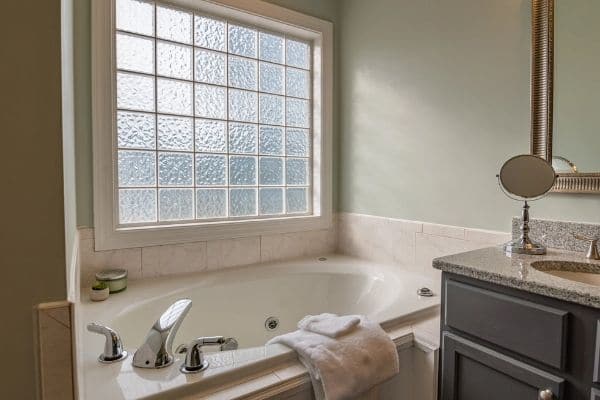 You can use most of these products in your bathroom or on the go.
What is the Truly Beauty Rewards Program?
To give back to its top customers, Truly Beauty launched a rewards program. You can sign up for free and slowly earn points that help you get free products and discounts. As soon as you sign up and register your email address, you earn 50 points right off the bat. Truly Beauty gives you one point each time that you spend $1. Some ways to earn points include:
Refer a friend and get 100 points when they make a purchase
Like or follow Truly Beauty on social media and earn 10 points
Write a review of the company for 100 points
Add your birthday and shop on that date to get 50 points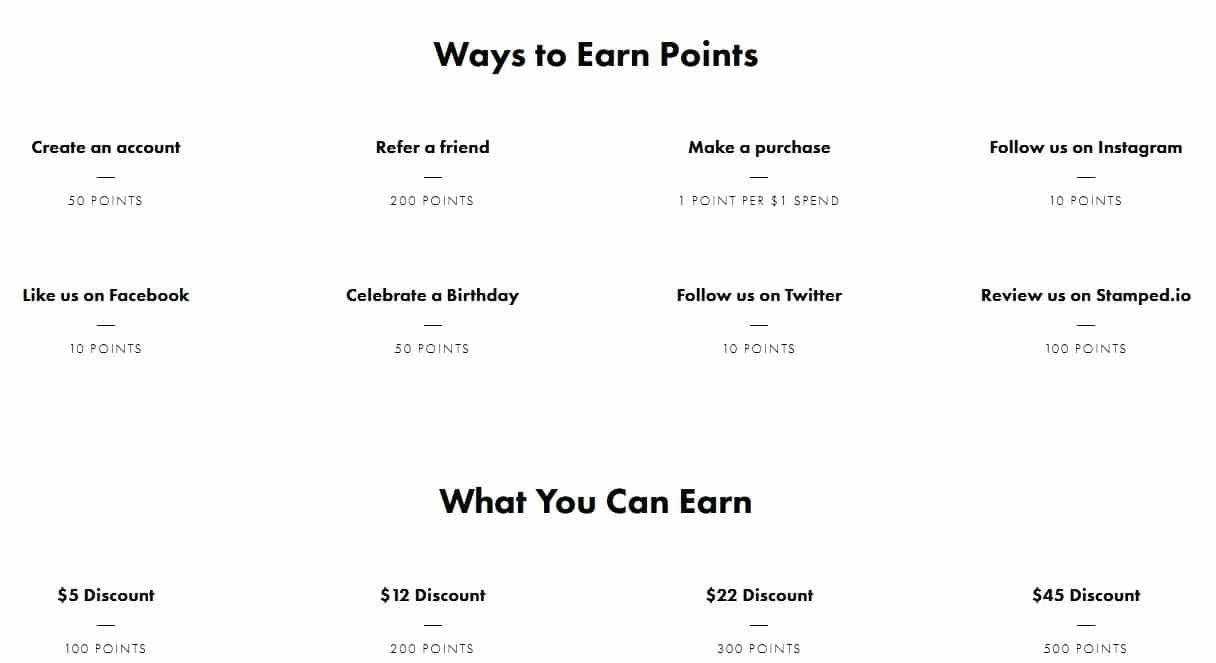 Where Can You Use Truly Beauty?
Truly Beauty believes that beauty has no boundaries, which is why the company allows you to use their products anywhere you go. Why not take some of your favorites on the road? Getting ready for a big work presentation on a business trip is easy with a few products that make you glow. If you love vacations, make sure that you pack a few essentials before leaving the house. Truly Beauty can help you forget about all of the hassles you face while on the go.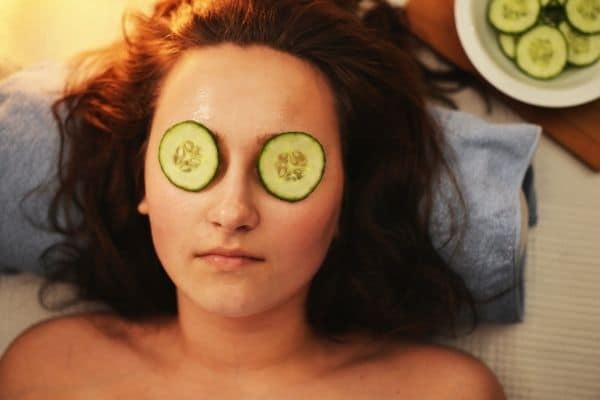 There are tons of products from Truly Beauty that let you pamper yourself at home.
Our Experience (Unicorn Fruit Body Butter):
As someone who has purchased Truly Beauty before, I was excited to review their online order process and popular products. Previously, I have seen many Truly Beauty reviews blow up on TikTok due to their gorgeous presentation and vibrant colors. I once even purchased Truly Beauty as an impulse buy at Ulta, simply because the colors and whipped looking texture were irresistible.

Upon arrival, I was excited to see that the product came wrapped in a cute little twine tissue paper material. It was very aesthetically pleasing, which I expected from a brand who puts so much effort into their presentation. I love that the container is clear glass and I could easily see and enjoy the beauty of the product.
Truly Unboxing
The labeling is very minimalist on the Truly Beauty packaging, which allows for the bright colors and fun texture of the product to do all the talking. Upon opening the Unicorn Fruit Body Butter, I was instantly hit with the fruity, almost cotton candy-like fragrance. I later found out that even from just applying a small dab of the butter to my hands, the pleasant scent lingered all day. While I loved this fragrance, it was definitely strong and very sweet and would not be suitable for anyone sensitive to strong smells.
I was simultaneously so excited to test this product, but so hesitant to mess up the beautiful whipped swirl that looks almost like frosting. I have used Truly Beauty's Unicorn Fruit Body Polish in the past, which looks whipped, but has a much harder texture. I was pleasantly surprised to find that the body butter, on the other hand, actually has a buttery, frosting-like texture.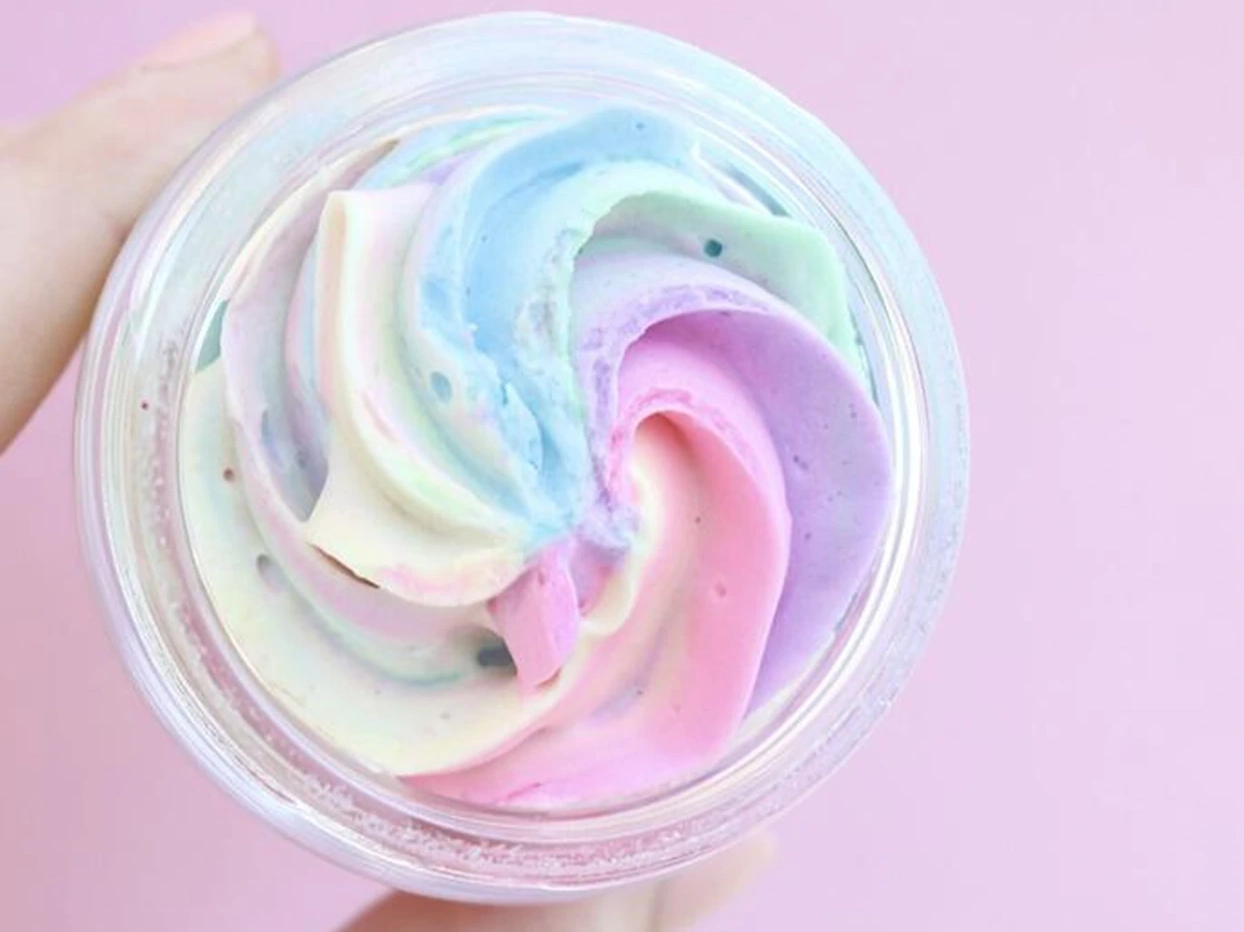 The body butter was truly softer, more fragrant, and applied smoother than any product I have used. It did not feel cold and slimy like other lotions or butters, and felt much better on my skin. I also chose to use this product after a shower and shaving my legs. My legs felt so soft and moisturized, it was incredible. My only complaint about this product is that the container is rather small for the price (20$), as it would likely only last a few weeks or a month if used regularly.
Truly Beauty Bundles
Though we'll look at some of the bestsellers, we also wanted to discuss the bundles that Truly Beauty offers.
Ultimate Body Bundle
With the Ultimate Body Bundle, you get all the top products designed for your body. Use the Buns of Glowery to firm your your backside and keep you looking youtr best. With the Acai Your Boobies Butter, you can hydrate your breasts and make them look amazing in a low-cut shirt. You can use this after applying the Acai Your Boobies Polish, which removes dead skin. The bundle comes with a matching serum designed to restore your skin and make it look younger after a shower.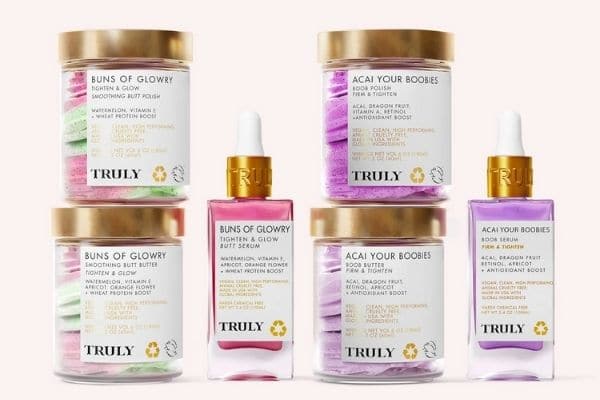 CBD Jelly Baby Bundle
It's almost impossible to go online without hearing about the wonders of CBD. Truly Beauty lets you try natural CBD in this bundle. It features a bottle of CBD Jelly Anti-Blemish Body Cleanser to eliminate acne all over your body. With the matching body mask, you can apply a small amount and let it sit to treat blemishes. The included facial cleanser is easy to use whenever you need to wash your face, while the facial serum hydrates your skin as it treats acne. You'll also like the CBD toner, which can tighten the skin on your face quickly.
Blueberry Kush Bundle
You can't go wrong with the Blueberry Kush Bundle, which comes with some effective tools infused with hemp. Designed to hydrate, the products can calm flare-ups and make your skin look luminous. Thanks to the illuminating face oil, you can moisturize your skin at night or in the morning. You get a body scrub infused with hemp and CBD that exfoliates and removes dead skin along with a matching body lotion.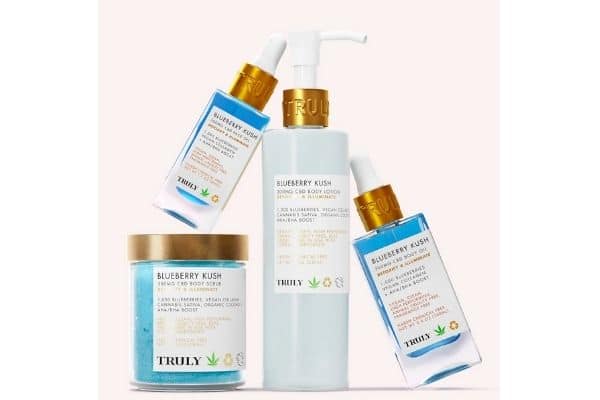 Vegan Collagen Bundle
As you age, you'll likely notice that your skin isn't as tight as it once was. Truly Beauty designed the Vegan Collagen Bundle for those who do not consumer animal products and are worried about their loss of collagen. The bundle includes an anti-aging face wash that tightens your skin. You can use this mask several times a week and notice some big changes in the first few weeks. With the facial serum, you can treat problem spots or use it all over your face. You also get a body cream that firms and tightens.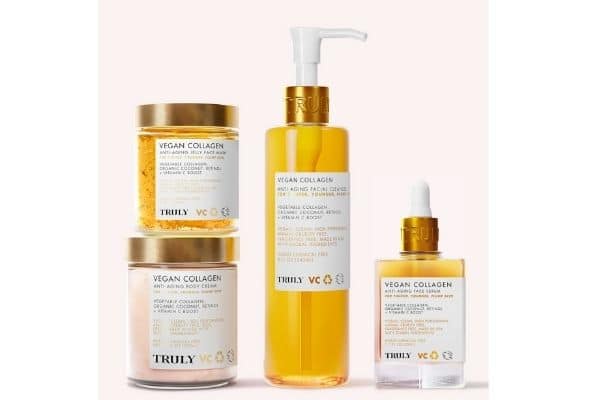 Pore Shrinking Kit
Thanks to the Truly Beauty Pore Shrinking Kit, you can finally shrink your pores and make your skin look healthy. All of these products use salicylic acid that targets your pores. You get a Match Scrub that uses sugar and green tea along with a toning solution that uses CBD oil. With the Purple Rain Facial Oil, you can fight the signs of aging. This oil works well with the CBD facial serum.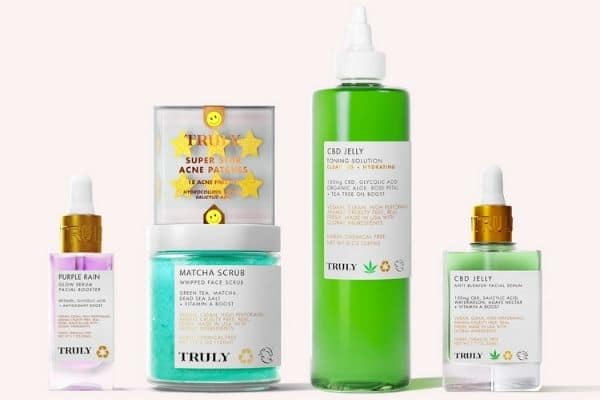 CBD Jelly Bundle
The anti-blemish body cleanser is safe to use all over your body to remove acne. With the anti-blemish facial cleanser, you can safely battle breakouts. Also included is a toning solution. In addition to CBD oil, this toner uses other organic ingredients that make your skin look tighter and feel firmer.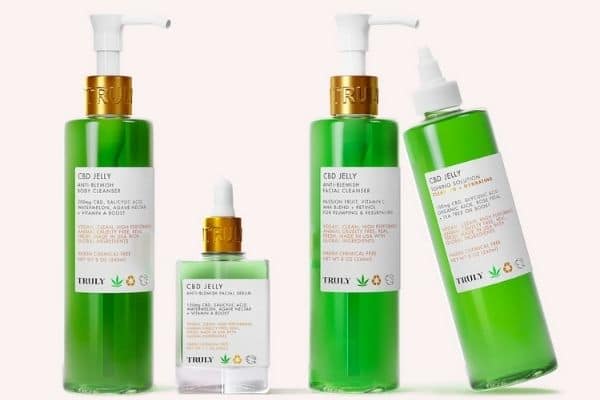 Pineapple Haze Bundle
Named after the popular strain of marijuana, the Purple Haze Bundle is perfect for those who want to hydrate their skin. With the Pineapple Haze All-Purpose Skin Salve, you can spot healing within weeks. It works well with the Extreme Repair CBD Hand and Foot Cream. You can use this on your hands and feet to treat cracking and peeling. This kit comes with lip butter and lip polish, as well.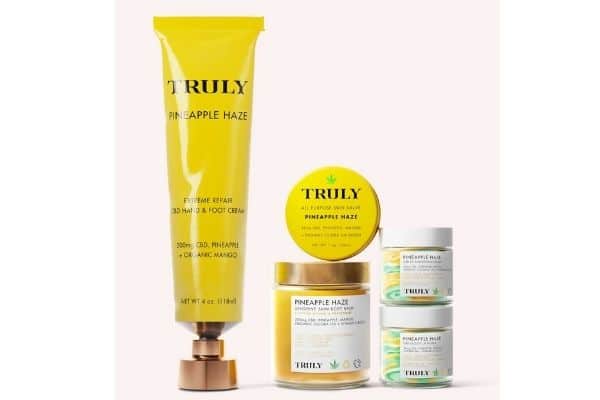 Ingrown Aftercare
Do you suffer from ingrown hairs that cause inflammation and red spots? With the Ingrown Aftercare kit, you can avoid those problems in the future. You get the Black Jelly Blemish Treatment Body Serum that treats your skin from the inside out to reduce ingrown hairs. It comes with a jar of the CBD Jelly Anti-Blemish Body Mask. The mask is safe to use on red or inflamed skin to heal ingrown hairs faster.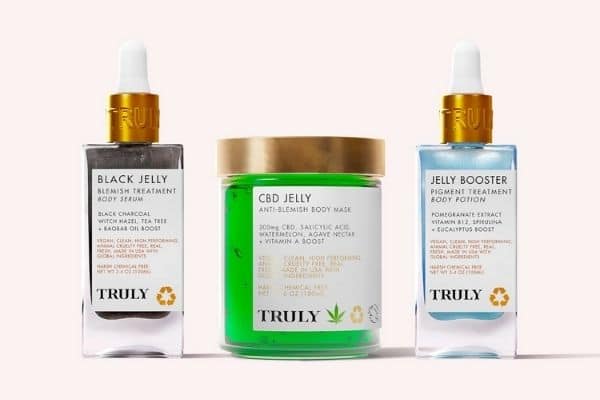 Glow Up Kit
If you want dewy and youthful skin with a natural glow, try the Glow Up Kit. Thanks to the Sugar Heart Patches, you can take care of acne and keep it from coming back. These patches are easy to wear as you sleep at night or relax around the house. You can use the Mary Jane Glow Mask when you see the first signs of blemishes or if you want to keep acne from coming back. The kit also comes with Mary Jane Glow Serum, which uses ingredients designed to make your skin glow and look healthy.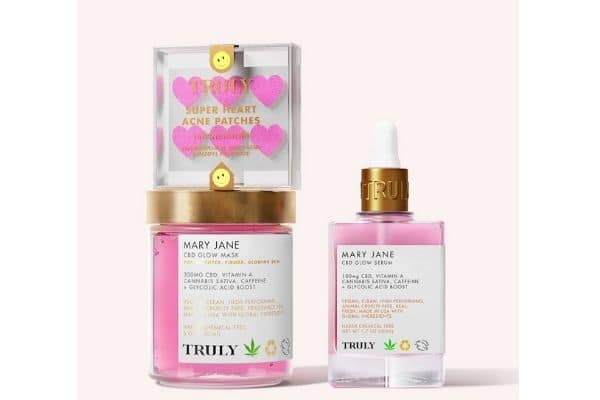 Flawless Skin Care Bundle
Truly Beauty gives you three products in fun jars that use white, pink and blue pastel shades. The Cream Skin Moisturizer comes in a pink jar, it moisturizes your skin to give a youthful glow. With the Glass Skin Facial Serum, you can make your skin appear softer and smoother. You also get the Eye Candy Anti-Puff Eye Cream to eliminate puffy spots around your eyes.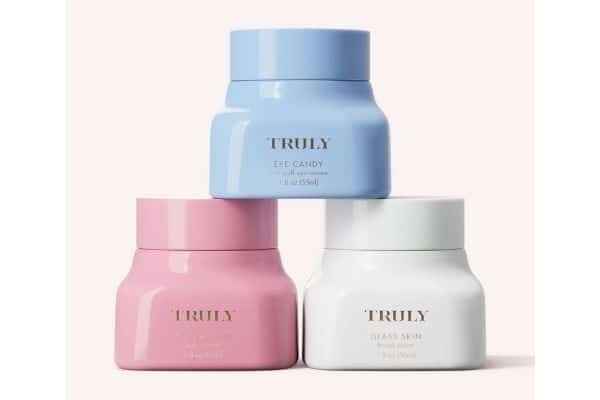 Super Flower Bundle
Though Truly Beauty makes many skincare products, it also makes some useful hair care products. One example is the Super Flower Bundle, which includes bottles of both shampoo and conditioner. The combination of the two products can restore dry or damaged hair. Each one comes in an eight-ounce bottle with 200mg of hemp.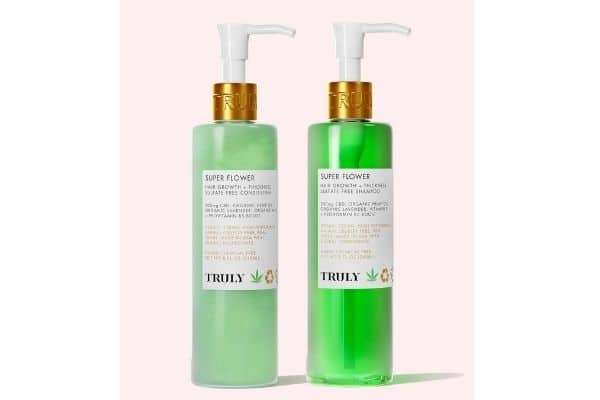 Other Truly Beauty bundles that you might love include:
Tik Tok Bundle: Get all the products that you may have seen on Tik Tok, including the Acai Your Boobies Polish and Moon Rocks Body Scrub.
Deluxe Body Bundle: This set features customer favorites to tighten and firm the skin on your breasts and boobies.
CBD Bundle: Experience the benefits of CBD oil with Hemp Acne Patches and the other products included in this bundle.
Bacne Routine: Take care of the acne on your back with this set that includes facial toner and similar items.
Ultimate Skincare Bundle: Truly Beauty helps you treat and care for your skin with the face cream, mask and cleanser included in this kit.
KP Treatment Kit: You get body butter and a sleep mask in this bundle, which also includes a bottle of facial oil.
Super Star Bundle: Save money on this collagen bundle, which features patches, a face mask and serum.
Booty Bundle: With the three products included in this bundle, you can tighten and moisturize your butt in weeks.
Boobie Bundle: Take care of your boobies with the creams and products included in this set.
Glowing Skin Bundle: Improve the texture of your skin and moisture it with this bundle of three products.
Pineapple Haze Restoring Bundle: This bundle comes with some of your favorite Pineapple Haze products to restore your skin.
Face and Boobies Night Routine Bundle: Treat the dry skin on your boobies and the signs of aging on your face with this kit of three products.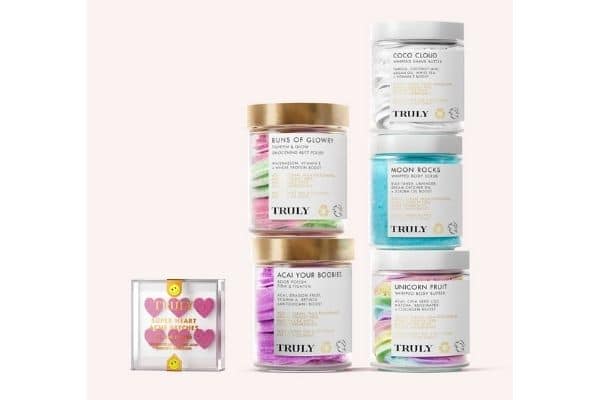 Who's This For?
Truly Beauty is a beauty brand designed for women who stay on top of current trends. These products are great for those who have sensitive skin and worry about the effects of harsh chemicals on their skin. Others who may want to use Truly Beauty products include:
Customers who want to firm or tighten their skin.
Those who want to save money through one of the subscription plans that the site offers.
Shoppers who love the idea of using organic beauty products but aren't sure which brands are the best.
Customers who want strong support and service when shopping online.
Anyone who wants to try multiple products at the same time through the bundles that are available online.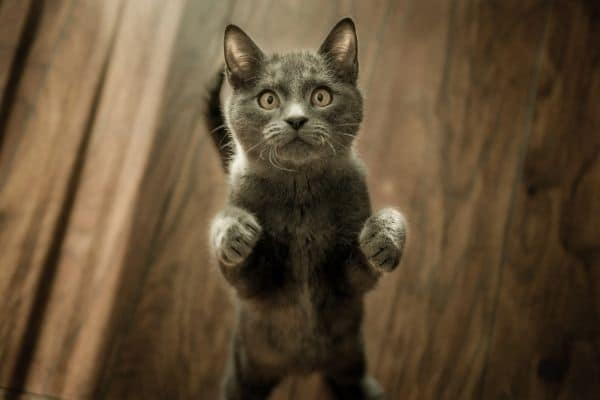 You can feel confident that the company never tests its products on your furry friends.
Patches from Truly Beauty
Out of the dozens of products available online, some of the more popular options are the patches that the site offers. The Hemp Acne Patches use natural hemp to fight acne. With the Sugar Heart Patches, you get small patches in heart shapes that drain the puss inside blemishes to help them disappear. Other popular patches include:
#Heart Your Imperfections Patches: Designed to treat blemishes, these heart-shaped patches come in a soft pink color.
Super Star Patches: Use these star patches as soon as you see blemishes. They help drain the pimples to reduce their appearance.
Our Stars Prevent Scars Acne Patches: Take care of pimples before they appear with these patches shaped like stars. They eliminate blemishes without leaving scars in as little as 24 hours.
Super Hemp Patches: Get the benefits of hemp in these patches that look like little leaves.
Super Acne Trio: With this kit, you get three different types of patches that let you try each one to see which works best for your breakouts.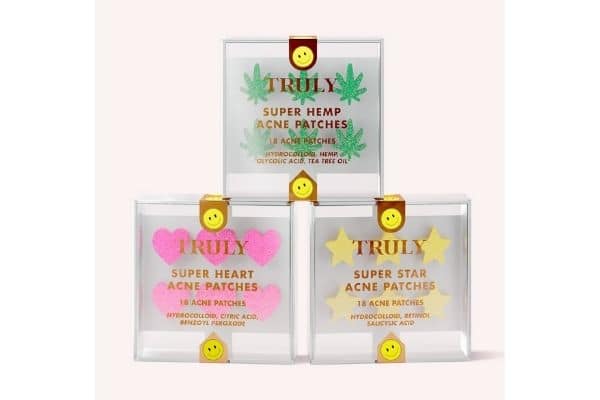 Cleansers from Truly Beauty
One popular option is the CBD Jelly Anti-Blemish Facial Cleanser that uses natural hemp to fight blemishes. Acne can appear on your back or chest and in dozens of other spots. If you live a stressful life, consider the Moon Jelly Adaptogenic Body Cleanser. It has a light scent that can help you beat stress and ingredients that reduce the effects that stress has on your skin.

Those dealing with dry skin may prefer the Super Matcha Facial Cleanser, which uses both sugar and green tea. Though it smells like your favorite drink, this cleanser hydrates and moisturizes your skin. It works on both patches of dry skin and large areas of dry patches.
Truly Beauty Masks
Whether you have dry skin or damaged hair, you can easily find a mask from Truly Beauty that works for you. One example is the Star Fruit Hydrate & Shine Hair Mask, which you can apply to your hair right after getting out of the shower or whenever you want.

There are many masks that you can purchase online, including:
Anti-Cellulite Mask to remove toxins and hydrate your skin while getting rid of cellulite.
Golden Leaf Resurface & Brighten Face Mask, which uses CBD and can both remove problem spots and make your skin look brighter
Unicorn Locks Repair Hair Mask that helps you restore the natural look of your hair while you repair damaged locks
Starface Jelly Sleep Mask, which is easy to use and perfect for those who want to treat their skin as they sleep
Coco Rose Milk Hair Mask to strengthen your locks and make your tresses healthier.
Who Would Benefit from Truly Beauty?
Those who would benefit from Truly Beauty include those with problem spots who don't know how to treat them. You may have skin that is so dry it flakes off when you change clothes or rub your face. Oily skin is just as much of a hassle because the oils can rub off on your clothing and pillow.

Truly Beauty offers moisturizers and other skincare products that are suitable for all types of skin. You'll even find serums and cleansers that help you develop the perfect skincare routine.

The fun colors and great fragrances make these products appealing to all types of shoppers.
Truly Beauty Moisturizers
Using a moisturizer every day is the key to making your skin glow and appear healthier and youthful. Truly Beauty has dozens of moisturizers and creams that are safe to use on your body and face. The most popular is the Unicorn Fruit Whipped Body Butter. Both the name and the colorful appearance led to this product becoming a favorite amongst influencers.
Body Scrubs
Truly Beauty offers body scrubs that are easy to use. They contain ingredients that exfoliate your skin and let the healthy skin underneath shine. Acai Your Boobies Polish has provided customers with amazing results. This scrub is perfect for giving you smooth and supple cleavage that you'll want to show off. In similarity, the Buns of Glowry Smoothing Butt Polish that gives you the smother and firmer butt that you desire.
Get Serums from Truly Beauty
Serums hydrate your skin and help with problem spots but do not wear off the way moisturizers can. You'll also find that a small bottle lasts longer as you only need to use a drop at a time. With the Hemp Oil Facial Serum, you get all the benefits of hemp oil in an easy-to-use product.

Truly Beauty makes quite a few serums, including:
Blueberry Kush CBD Body Oil to help your skin glow in a natural way
CBD Jelly Facial Serum to help you fight the signs of aging with natural CBD oil
Mary Jane Collagen Serum to boost the creation of collagen that your body makes
Purple Rain Facial Oil, which targets the wrinkles on your face and reduces their appearance
Anti-Cellulite Serum to reduce the appearance of cellulite anywhere on your body
Vegan Collagen Facial Serum, which uses no animal byproducts and can boost the collagen that your body makes as you age
Truly Beauty Toners and Mists
The CBD Jelly Toning Solution works on its own or with other CBD products from the brand. You don't need to worry about the oil giving the toner a musky scent as it has a light and natural fragrance.

There are also different mists that you can use such as the Moon Shower Adaptogen Spa Mist. This mist helps heal your skin and recover from injuries. There's also the Volcanic Rosewater mist that provides the balance that your skin craves, leaving behind a light floral scent.
Accessories from Truly Beauty
As the brand grew, Truly Beauty expanded into accessories that you can use as part of your beauty routine and in other ways. Some of our favorites include:
Rose Gold Hair Comb: Get rid of tangles and make your hair looks its best with this comb, which comes in a pale pink color and has wide teeth.
Pour le Visage Face Towel: Keeping your face clean and away from toxins is easy with this towel that comes in a box to safely store in your bathroom.
Hand Sanitizer Germ Killing Gel: Available in a small bottle that fits anywhere, this hand sanitizer kills up to 99.9% of common germs and has a lighter scent than similar products do.
For Luscious Locks Hairbrush: The small bristles on this brush mimic the texture of boar hair, using a vegan alternative.
Skincare Travel Bag: Keep track of your favorite products that you use every day with this travel bag that features the Truly Beauty logo across the front.
Bacteria-Blocking Face Mask: You'll feel safe outside in this mask that blocks bacteria and features a fun design with a bright red pair of lips on the front.
Should You Buy It?
We spent a long time looking at the products you can purchase and deciding who would benefit from them. If you still aren't sure whether to spend your money on these products, look at the top reasons why we think the site is worth your money:
Organic ingredients: Many of the top products use organic ingredients that won't harm your skin or dry it out. We recommend reading through the product description to see which ingredients each product uses.
Suitable for all skin types: If you have dry skin that gets worse during the winter, Truly Beauty has you covered. You'll also find products that are suitable for your daily routine if you have normal or oily skin.
Rewards program: Through the Truly Beauty rewards program, you earn points on all purchases. Your points are good for 12 months and allow you to save up to $45 off your future purchases.
Text message club: You can sign up for the Truly Beauty text message club. Not only will you get news about beauty product sales, but you will also receive some exclusive discount codes.
Shop by body part: Thanks to the body part categories, Truly Beauty lets you find products designed for specific parts of your body.
Subscription plans: Save money on your favorites through the site's subscription plans. You get 5% off (or more) and can decide if you want shipments every month or less often.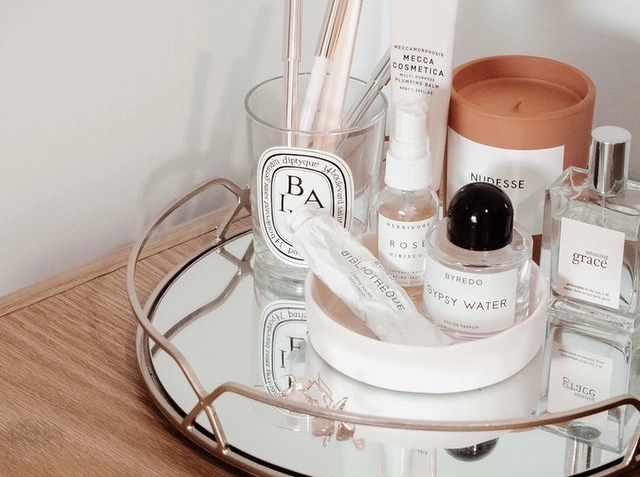 Truly Beauty offers dozens of skincare and beauty products that are suitable for daily use.
Cons to Consider
The biggest con we found surrounding Truly Beauty concerned its claims that all its products used organic ingredients. When confronted by customers who found this wasn't true, the company refused to release a statement, which led to a lawsuit. Rather than admit that some products used chemicals and that not all ingredients were natural or organic, the company settled and paid a fine.

Some of the other cons of Truly Beauty that we found include:
Though the site claims that shipping can take more than 10 business days, some shoppers waited more than a month for their orders to arrive.
If you are unhappy with your purchase, Truly Beauty may offer only 20% of your order price back rather than a full refund.
It's often hard to get through to the customer service department if you have an issue or complaint.
A handful of customers complained that they didn't like the products and that they didn't work the way the site claimed.
You may receive an order with broken products or products that leaked during shipping.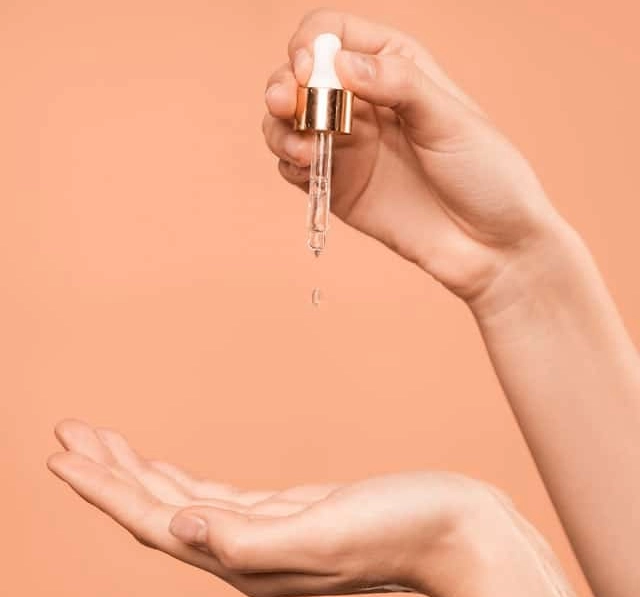 You need to contact Truly Beauty if any of your products leak during shipping.
Where to Buy
When you shop for Truly Beauty online, you'll find that some of the products are available from different websites such as Sephora and Ulta. We recommend that you order right here from the official website. This ensures that you buy directly from the company and that you get the benefits of shopping from the site.

Some of the benefits that you get when you use our link to Truly Beauty include:
The blog offers helpful articles from experts.
Truly Beauty allows you to sign up online and become a brand ambassador.
You can sign up for a subscription plan and save money on your favorite individual products or bundles.
There is an option to sign up for text messages and save 10% off when you order from Truly Beauty.
You can contact customer service about any problems you have and get answers to your top questions.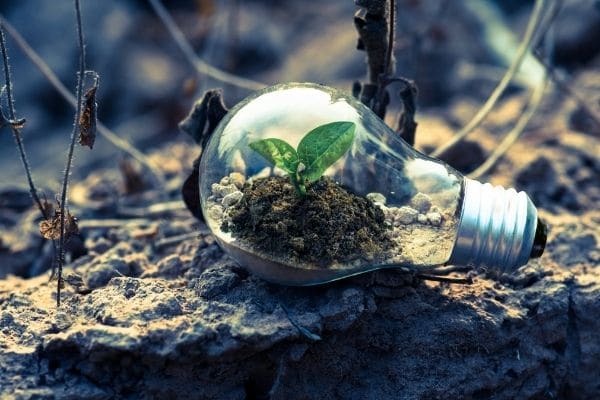 You can avoid damaging the environment with products from Truly Beauty.
The Competition
If you need organic beauty supplies but aren't sure if you should order from Truly Beauty, take a look at some of the similar beauty brands on the market.
Beauty Pie
Shop Beauty Pie for organic skincare at big discounts. This website acts as a wholesale club to help members save money. You sign up for an account and instantly unlock low prices on hundreds of items. With the monthly pass, you pay only $10 and get one month to try out the site. The annual pass has no limits and lets you order as much as you want for a fee of $59. You will find products from top brands along with products that use natural ingredients.
Organic Cosmetica
With Organic Cosmetica, you can shop for hundreds of organic items that are safe for your skin. Their night serum helps your skin look more youthful and lasts for months as you only need a small amount before heading to bed. Many customers like the lip conditioner that reduces the appearance of fine lines and wrinkles around their mouths. There's even an insect repellent that you can use while outside.
ONOXA
Another option is ONOXA. The brand's blog offers tons of tips on healthy living along with solutions to common skin problems. If you aren't sure about the available products, you can order a trial kit. You can opt for a kit with four samples or one that includes up to 17. Though ONOXA works with top brands, it removes their labels from the packages to help customers save money. The site offers both hemp and CBD products along with supplements and skincare essentials at low prices.
Juice Beauty
Juice Beauty uses the nickname of The Organic Solution and claims that it offers solutions to the top skin problems of its customers. As a new shopper, you qualify for two free samples and get free shipping if you spend $30. The site sends free samples with all orders to help customers find new products that work for them. You'll find kits designed to eliminate blemishes in 90 days or less and bundles with daytime and nighttime creams.
credo
Known as credo, this website is similar to Truly Beauty in that it offers organic beauty products and has a rewards program. Through the rewards program, you earn one point per dollar spent. As you spend more, the site will increase your points up to two per dollar spent. You also get a gift on your birthday and offers to earn more points on select products. At credo, you'll find moisturizers for as low as $30 per bottle and products designed for different skin types.
Final Verdict
Truly Beauty gained a lot of attention on Tik Tok and other sites as beauty influencers obsessed over their line of products. Though they faced some issues in the past with the ingredients that the company used, it continues making great products that are suitable for all users and people of all ages. If you're vegan and don't wear or use anything made from animals or animal byproducts, you can rest assured that the site has products for you.
The website features dozens of items that range from facial and body serums to body scrubs and shampoo. Some of those products use hemp or CBD oil along with other ingredients that repair damaged skin and restore your hair. You can shop by body part or skin type. There are also loads of accessories that you can add to your order and a rewards program that allows you to earn points towards discounts.