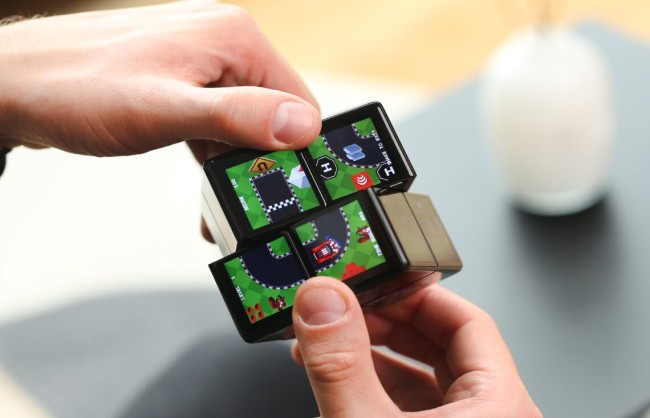 Puzzle cubes have been around and popular since the early 1980s, with the classic 3 by 3 Rubik's cube being one of the best selling products of all time and still seen as a symbol of popular culture. But not much has changed since the 80s, and the puzzle cube you can find on store shelves today is almost identical to the ones you could buy in the age of glam rock and car phones.
WowCube is different though. While it may resemble a 2 by 2 puzzle cube upon first glance, the technology packed into this little cube makes it several steps above a cheap dollar store novelty.
In this review, I will go in depth on the Wow Cube, its features and technology, to help you decide if you want your next puzzle cube to be a Wow Cube.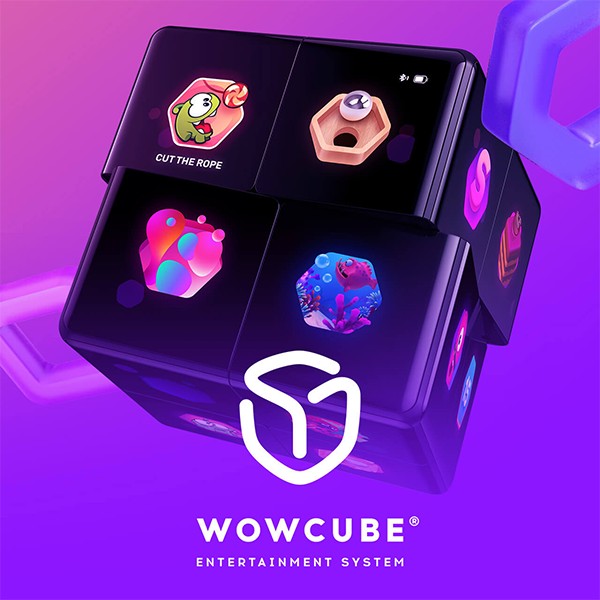 PROS
Impressive technology packed into each individual square
Lightweight and portable
Perfect for puzzle fans
BOTTOMLINE
The Wow Cube is a neat little device, but the high price tag prevents me from outright recommending a purchase. The cheapest Wow Cube bundle is still more expensive than a brand new Nintendo Switch OLED model, and other cheaper smart puzzles exist on the market.
Features
Puzzle cube like design
8 individual computers
Gyro tilt controls
Tap controls
App store
Bluetooth and wifi capable
What Is Wow Cube?
Wow Cube is a handheld gaming device made in the style of a 2 by 2 puzzle cube, or Rubik's cube. The device uses its unique form factor and build to deliver a gaming experience not possible on other consoles like Sony Playstation or Nintendo Switch.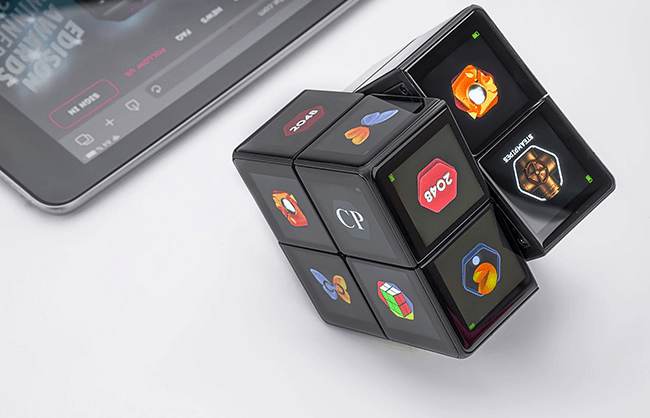 Being a device built like a puzzle cube, most of the Wow Cube's software consists of puzzle games that challenge the mind and challenge your 3D spatial awareness. In addition to games, Wow Cube also offers other apps that let you use the cube to check the weather, recent events, and even just as a fun desk decoration.
Features
By far the most unique and interesting aspect of the Wow Cube is in its Rubik's cube like design, resembling the 2 by 2 or pocket cube. But instead of stickers or colored plastic, each of the 8 cubes that make up the Wow Cube has 3 OLED screens that display HD video.
Each of the blocks that make up the cube are actually their own computer, with separate operating systems and batteries, that all work together to make games and software work seamlessly on the device. This makes for an extremely impressive and eye-catching toy to have on your desk or bedside.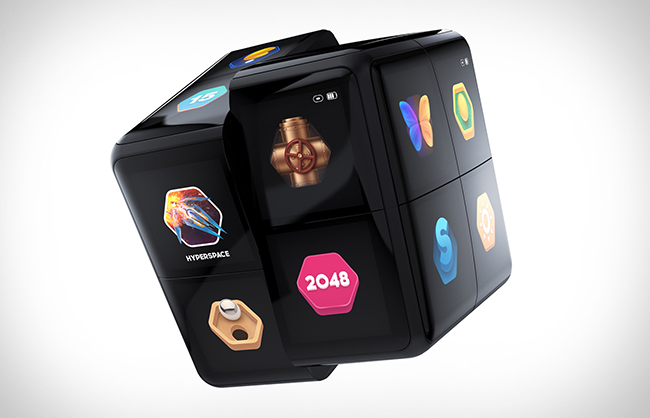 Wow Cube does more than the simple twisting and turning of a regular puzzle cube, however. The device also contains gyro controls, similar to those found on the 3DS or Nintendo Switch Joy-con, so it can also play games that require you to physically tilt and turn the cube in your hands.
Because the cube is something that you'll be holding and touching all the surfaces of, Wow Cube opted not to make the screens touch capable. Instead, many of the cube's features require you to physically tap the device. You can tap the cube to select an app and to exit whatever game you're playing you can shake it 3 times.
Wow Cube comes with some games and software pre-installed, but you can get even more out of the cube from the official marketplace. To download more apps, you can connect the cube to your phone via bluetooth. Then you can gain access to not only the app store, but leaderboards for games and real time updates for news and weather, right on your cube.
Wow Cube features unique takes on some classic games, like exclusive versions of Cut the Rope and Space Invaders, original games like Ladybug and Track Record, and even a version of the classic 2 by 2 Rubik's cube as an homage to Wow Cube's inspiration.
How Can You Use Wow Cube? / Who Is This For?
If you've ever used a classic puzzle cube, especially the 2 by 2 pocket cube, then the Wow Cube should come naturally to you. Other than twisting and turning the individual blocks on the cube you can also tilt and tap the cube for additional inputs.
Connecting the device to your phone opens it up to online leaderboards, live updates, and the app store so you can download more games and software. This device is perfect for fans of classic puzzles like the Rubik's cube who want something that can do more than just offer one puzzle.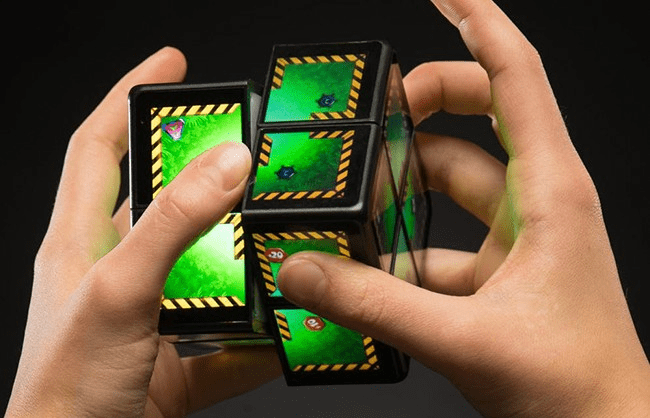 While the Wow Cube has excited many puzzle fans, gaming enthusiasts aren't as excited. The cube offers a unique control scheme for puzzle games, that's all it can really run. Without button inputs, the Wow Cube won't be able to play action games, like Mario or God of War.
The biggest downside to the Wow Cube is its price. The most basic package retails for $499 without any sales going on. For the same price, you can get a new OLED model Nintendo Switch, which can run action, puzzle, and sports games from the biggest named franchises.
Web Infrastructure / Branding
The official Wow Cube website is extremely well put together and professional. All links I tested worked and went to where they should and at no point did the site slow down my computer, impressive considering the amount of interactive elements embedded.
One thing that kind of confused me, however, was how many images on the site showed very young children operating the Wow Cube. While I think the Wow Cube would be a fun toy for kids, its high price especially would keep me at least from letting a child play with it. The high price I assume would also keep most kids from buying their own.
The Wow Cube website also succeeds in telling you anything you'd want to know about the device, from how it works physically to downloading apps. The site also looks fantastic, with plenty on screen to keep your eyes busy but not too much as to overwhelm you.
Should You Buy It
I really like the Wow Cube, I think it's a fun take on the classic puzzle cube and I could definitely see myself getting a lot of usage out of it as I'm a puzzle fan. The thing that prevents me from giving my glowing recommendation, however, is the price.
$400 is a lot to fork out for a gaming device that can only play certain games, especially seeing how you can get the most feature packed Nintendo Switch for $350 brand new. The Wow Cube does have a lot of tech packed into its small geometric form, but I still feel that it's more limited in what it can do than other consoles.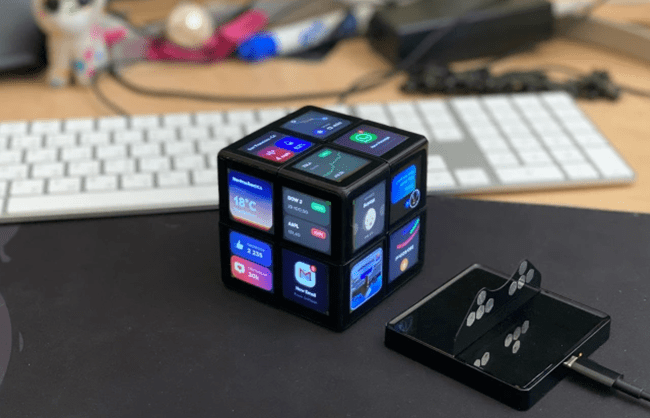 Nintendo has a history of creating handheld gaming consoles with less than cutting edge technology that's used in the most fun and effective way possible. This is how they are able to create some of the best selling handheld consoles of all time, like the Game Boy, DS, and Switch. I think that Wow Cube should take inspiration from Nintendo in this way to create a device that's similar to the premier cube, but made with cheaper materials at a lower cost to the consumer.
Where to Buy
As of now the only place you can get your own Wow Cube is from the official website. As I stated above, the starting price is pretty high, but you can also get more expensive bundles that include more games, gift cards, and carrying cases.
Competition

If you want a true gaming console that you can bring with you on the go while playing the latest hit games, then the Nintendo Switch Is for you. I won't spend too much time on this as most people are aware of the console by this point, it being one of Nintendo's best selling consoles.
With the Nintendo Switch you can play a wide variety of titles including puzzle games, action games, sports games, and even other applications like Hulu and Youtube. The Switch can also be played as both an at-home game console and a portable handheld.
Currently, there are 3 models of Nintendo Switch to pick from. The original, which is the one that I still use personally, for about $300, the Lite, which is strictly a handheld at $200, or the upgraded OLED at $350.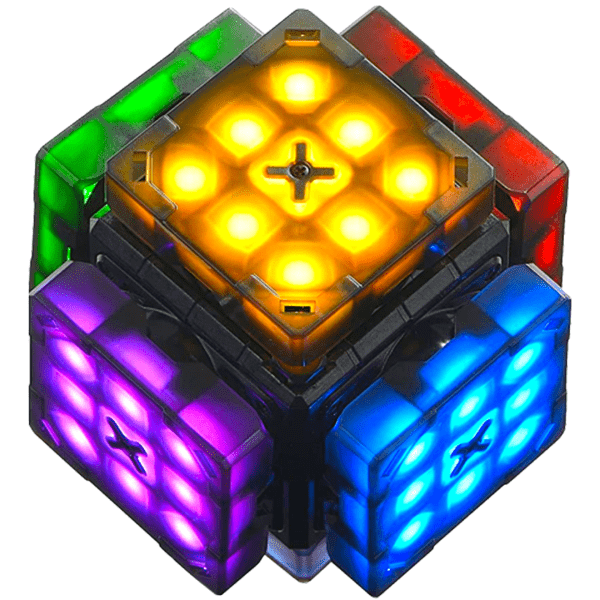 For puzzle fans who want something that has more tech than a standard Rubik's Cube, I would recommend the eX-Mars Smart Cube. This device looks like a Rubik's Cube from the future and uses motorized faces and LED lights to deliver a Tron-esque puzzle experience.
This device sells for $120, still rather pricey for a puzzle cube but much better than even the cheapest Wow Cube bundle.
Final Thoughts
As much as I would love to give Wow Cube my glowing recommendation and commend its use of technology to give a unique puzzle experience not possible on other game consoles, the high price tag prevents me from doing so. I feel that, while the technology is very impressive, some of it could and should be scaled back in order to make it more accessible to its target market.
I'm a gamer and a puzzle fan myself and, while I would like to one day be able to try out the Wow Cube myself, I don't believe I will do so as things are now. Nintendo Switch offers more puzzle games and then some, not to mention how the most expensive Switch model is still cheaper than the most affordable Wow Cube.
Resources and Further Reading