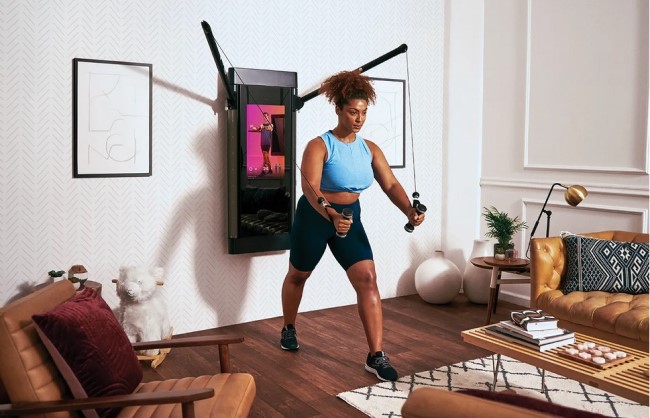 What Is Tonal Gym?
The Tonal smart home gym is a science backed, technologically advanced system that can be installed in your house to take your workouts to the next level. Tonal founder, Aly Orady created this smart gym with the goal of creating a more convenient, time effective way to workout.
By using electromagnetics to create electronic resistance, Tonal is able to replace gym equipment and offer a wide variety of home workouts. These resistance and strength workouts are a great option for anyone who has a smart gym in their budget and is looking to save time.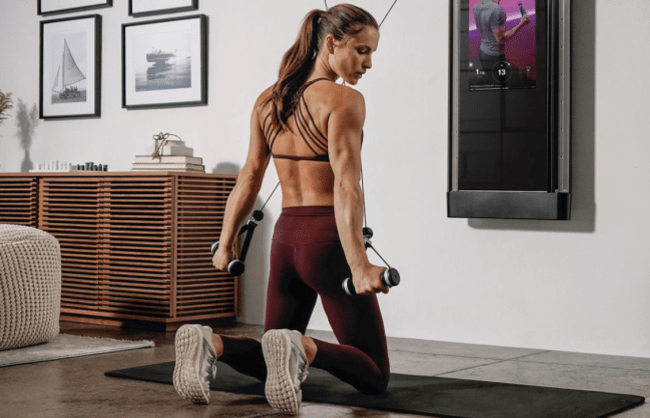 PROS
Convenience of working out at home
Not worrying about the germs from sharing gym equipment
Wide variety of workout programs
At home, virtual personal training
Step-by-step form instructions
Automatic weight adjustment
Progress tracking
CONS
Very expensive
Delivery time can be very long
No live classes
No spotter
Cost does not include accessories or installation
BOTTOMLINE
Tonal is a technologically advanced, at-home, smart gym system. The revolutionary fitness system offers virtual strength and resistance training, perfect for anyone looking to enjoy interesting workouts at home.
Product Features
Tonal gets smarter the longer you use it
Digital weight monitoring system
Changing resistance at the touch of a button
Virtual group workouts
Adaptable workouts and alternate options
Progress tracking
Wide variety of options
How Can You Use Tonal?
After ordering your Tonal Gym and having the system installed, you will be guided through a strength evaluation to help understand your body's needs and personalize your fitness journey. After setting your goals, you are able to browse a wide assortment of resistance based workouts and order additional accessories and equipment.
Using the adjustable arms and weight settings, you can follow form and workout instructions to create a completely personalized workout plan. With virtual group workouts, classes, and individual workouts, Tonal provides a 24/7 virtual personal training experience.
Where Can You Use Tonal?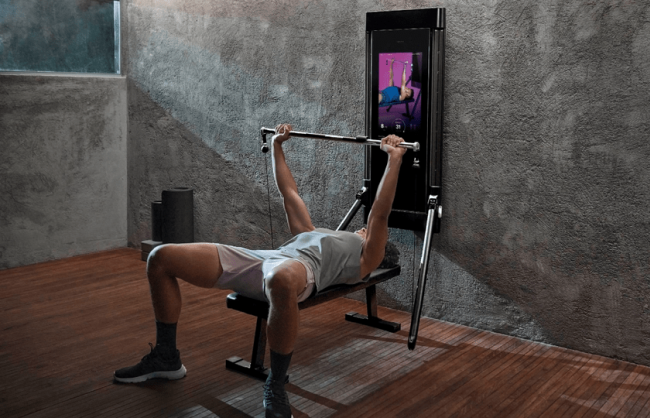 The beauty of Tonal is that it is an entirely at-home, gym system. This saves the time of commuting to and from the gym, while being able to workout from the comfort of home. Tonal can be installed anywhere with wall space in your home. After choosing a spot with ample space to workout, you can workout at any time that fits your schedule.
Should You Buy It?
During the pandemic, people had to quickly adjust to working out at-home. While the comfort and ease of home workouts is a major plus, exercises you can do at home are incredibly limited. The Tonal smart gym amplifies your resistance and strength training experience with personalized technology.
The major downfall of smart gyms is their expense. Tonal retails for $3,495, which is an extremely high price tag. But if you have it in your budget to splurge a little, investing in your health is never a bad choice. Consumers are incredibly pleased with their Tonal experience, making it a great decision for anyone with some extra spending money.
Cons to Consider
Although Tonal is extremely popular amongst customers, their have been a few complaints that are worth noting:
Delivery time can be extremely long
Installation and accessories are not included
Only up to 200lbs of resistance
Loose the social experience of the gym
Laid off about 35% of employees (low employee satisfaction rate)
Where to Buy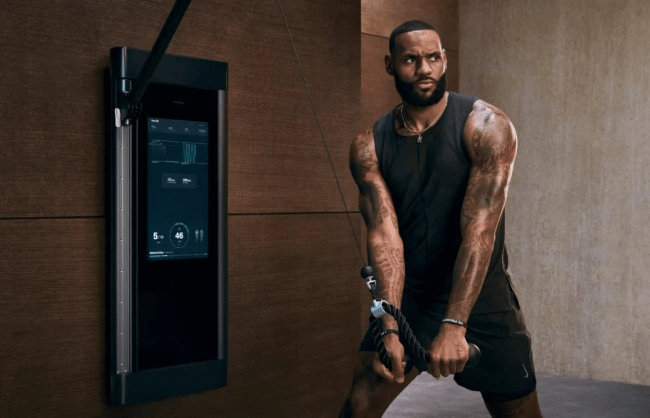 The only place to purchase a Tonal Gym is directly from their website. You can choose to pay the $3,495 price tag up front, or pay as little as $73 per month for 48 months with Affirm. With additional installation fees, membership fees, shipping, and $495 for smart accessories, the home gym can be set up and put to use.
After purchasing your home gym, shipping and installation can take quite some time. Fortunately, Tonal offers a 30 day free membership trial before you have to set up monthly payments. With a 3-year limited warranty, you can rest assured that your Tonal purchase is protected.
The Competition
The Mirror: LuLuLemon Studio – $1,495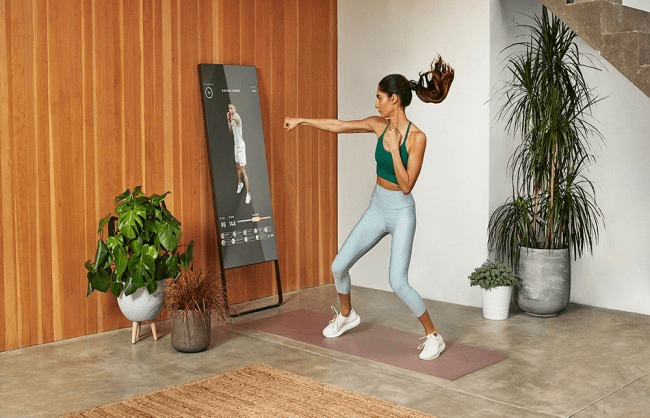 At a much more affordable price, the LuLuLemon Studio mirror is a fan favorite. While the mirror does not offer resistance training or electronic weight adjustment, the mirror is much more aesthetically pleasing and offers tens of thousands of home workouts. Starting at just $17 per month with Affirm, this smart home gym may be a better option for those who do not want to spend a fortune working out from home. The mirror is also much more moveable and does not require installation
Tempo – $2,495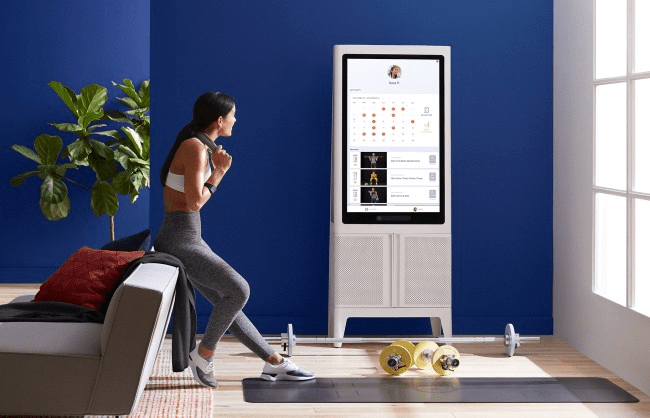 Coming in at a middle of the line price tag, the Tempo Studio mirror is a smart home gym that includes a weight set, as well as a wide variety of virtual workouts. Customers love that equipment and accessories are included in the price. From $52/month plus a membership fee, Tempo offers many specials and discounts. This strength training mirror is a great option for those who love free weights and lifting.
Final Verdict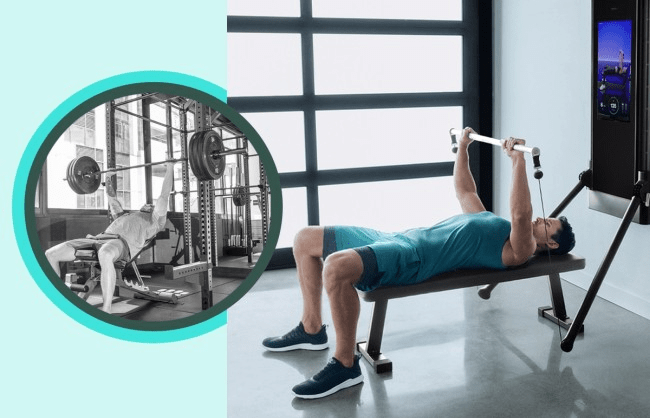 While there are many more affordable options for working out, including gym memberships, other smart mirrors, or home gyms, Tonal customers are extremely happy with their purchases. The main downfall of this smart gym is the price tag and additional fees. If you have it in your budget to purchase a luxury home gym, Tonal is the way to go. The extremely consistent positive reviews from happy customers speak for themselves.
Resources and Further Reading