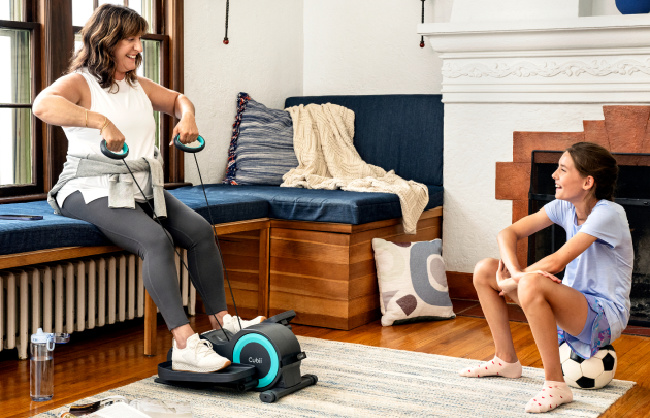 Staying healthy and getting plenty of exercise can be difficult, especially as we age. Senior citizens can often find it difficult to stay active in a way that doesn't put too much strain on their bodies, as most equipment doesn't cater to them.
Cubii is different, however, in that they produce easy to use and portable under-desk ellipticals that you can use to get fit while you sit. In this review I will go over Cubii, their products, website, marketing, and even some of the competition, to help you decide if this is a brand worth looking into.
PROS
Lightweight
Portable
Easy to use
Durable construction
CONS
Can be noisy after a while
Price on some models
BOTTOMLINE
Cubii ellipticals are best for older individuals with limited mobility who want an easy and quick way to get exercise in their day to day lives. Devices are portable, lightweight, and track progress through app integration.
Features
Convenient and accessible
App integration
Social community
Progress tracking
Multiple levels of resistance
What Is Cubii?
Cubii is a line of small and portable ellipticals meant to give your legs a workout while you sit. The products are mainly marketed towards older individuals who want a way to exercise and burn calories while they watch TV, read a book, or get work done.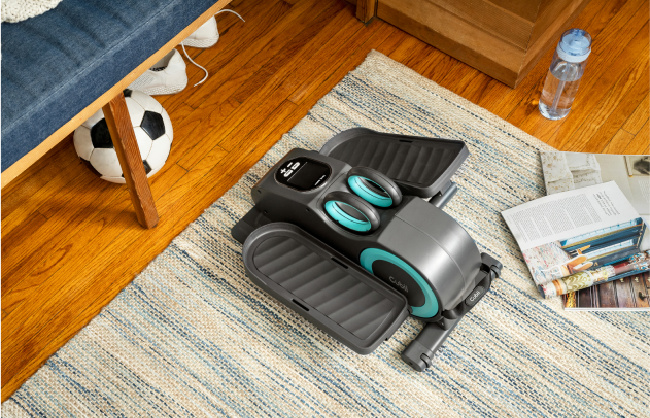 Cubii produces 5 different models of their device, but they pretty much all serve the same purpose. I will go more into detail on each elliptical in the next section, but basically all Cubii devices are placed under your feet and have you pedal on them with your legs to stimulate those muscles.
Features
All Cubii models feature portable and relatively lightweight designs. Some models may be more difficult to carry around from room to room for people with mobility issues, but they are still much smaller and much easier to transport than most standard pieces of exercise equipment, like a bike or a treadmill.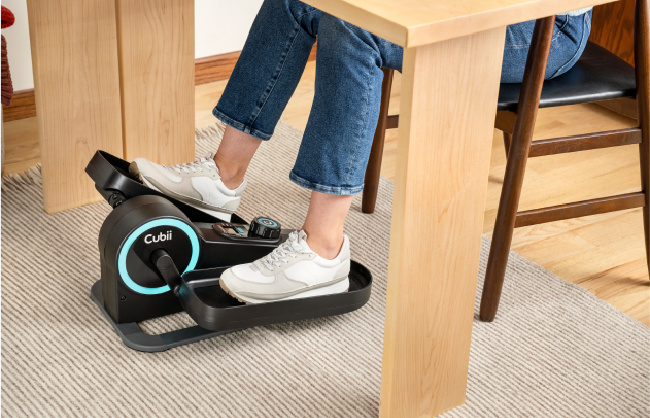 There are 5 different models of elliptical machines offered from Cubii, the cheapest being the Cubii Move. Cubii positions this as their budget or starter model, retailing for $199 and featuring an LCD monitor for tracking calories burned and RPM along with 6 levels of resistance.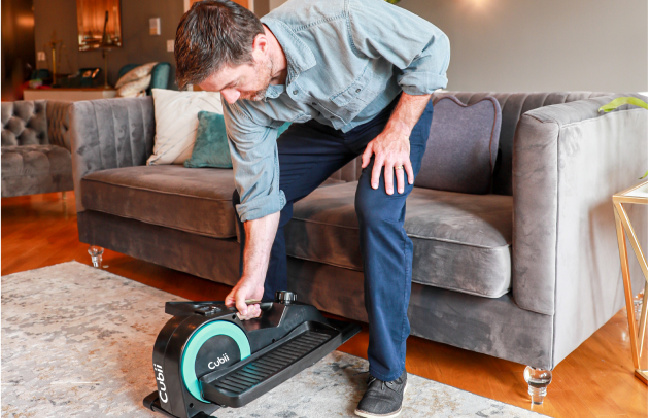 The next step up from the Move would be the Cubii JR2. This model sells for $229 and comes with a convenient carrying handle for extra portability, 8 levels of resistance, and the same LCD monitor as the Move.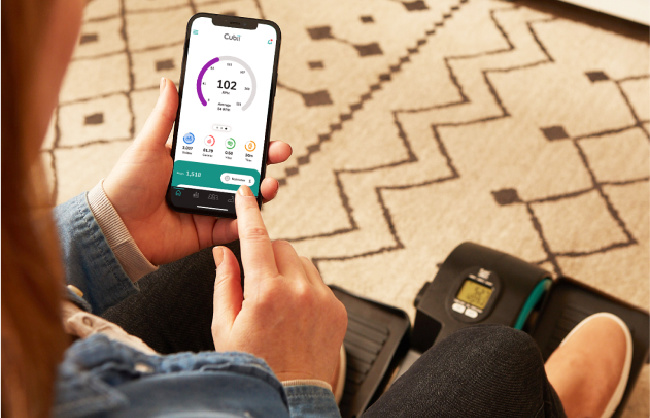 The upgrade from this would be the JR2+ for $249, which has all the same features as the regular JR2 but with the addition of bluetooth connectivity. This way you can keep track of the time spent on the device, among other things, through the official Cubii mobile app.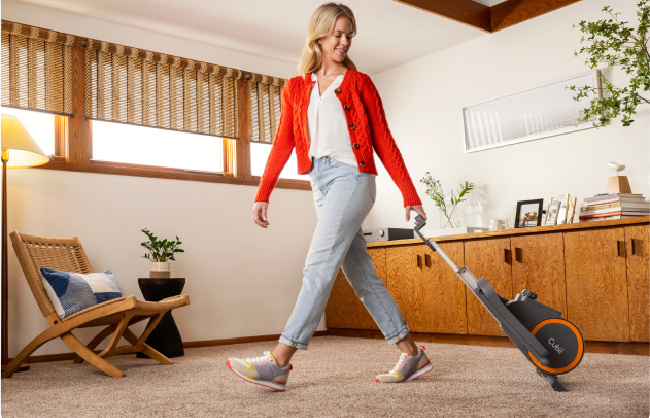 And finally, the most feature packed model from Cubii is the Total Body+, which sells for $449. This version has bluetooth pairing, a backlit screen, wheels and a handle for portability, 12 levels of resistance, and retractable handles to give your upper body a workout as well as your lower body.
All Cubii models purchased through the official site also come with a 30 day trial, a 2 year warranty, free returns if you're not satisfied with the product, and 100% satisfaction guaranteed. Whatever your budget or workout needs require, it should be easy to find a Cubii that's right for you.
How Can You Use Cubii? / Who Is This For?
Cubii devices are very easy to use. Simply place the device under your feet as you sit and pedal them as if you were riding a bike. There's no complicated installation or building process so you can use your elliptical right out of the box.
Cubii also offers a mobile app to help you keep track of your workout and even a video service with instructional workouts you can follow along to. Not all models connect to the app via bluetooth, but the ones that do pair easily so you can have your data sent right to the app. You can also use the app to connect with other Cubii users and create a community among them.
Cubii markets their ellipticals mostly to an older audience, particularly the type of person who wants to add a small workout to their life but struggle to do so because of mobility problems. Cubii devices are also really good for those of us who work from home, like myself, so that they can burn calories while they get their work done.
Web Infrastructure / Branding
I really have to commend Cubii for creating a website that is both good looking and easy to use. It was super simple to compare each Cubii model and see their individual strengths and weaknesses for the purposes of this review.
Cubii markets heavily to an older, less tech savvy audience, so it's important that they have a website that's easy to use and displays all the relevant information. Cubii excels at doing this, though a couple of links I tested didn't appear to go anywhere.
I really like how Cubii chooses to use real, average looking and older actors to appear in marketing materials. Too often for exercise equipment, media associated with it features the most physically fit and attractive looking actors.
Cubii is different in that the people in the marketing material match the audience they want to cater to. I really like this as it's a nice change of pace from the type of marketing usually associated with exercise equipment.
Should You Buy It
If you're in the target market for Cubii ellipticals, that being older individuals who want a quick and easy way to burn some calories in their free time, then I would absolutely recommend the products. Devices are relatively lightweight, portable, and encourage movement in a way that's easy and fun to do.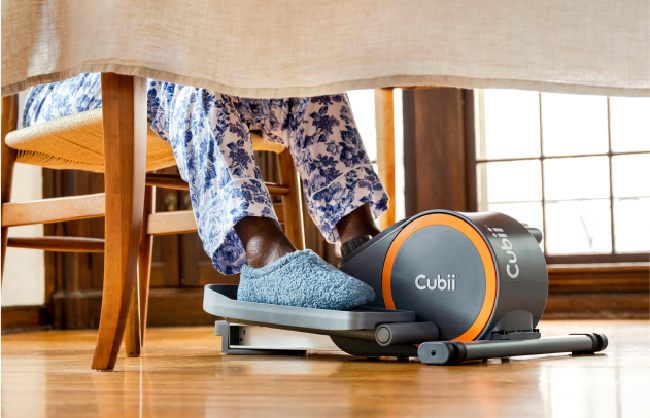 There are some cons to consider, however. While these ellipticals are lighter and easier to carry than other exercise equipment, some people with limited mobility may have trouble transporting the devices from room to room. It's also worth noting that many customers have complained that after just a short time, the devices become very noisy and make an unpleasant squeaking noise when in use.
Still, I believe the pros outweigh the cons and would recommend a Cubii device for anyone who wants to get fit while they sit.
Where to Buy
Cubii ellipticals, along with other products like weights, exercise apparel, and the video service, can be purchased through the official website. Additionally, you can buy a Cubii device from Amazon, most models being available with free 2 day shipping with a Prime account.
Competition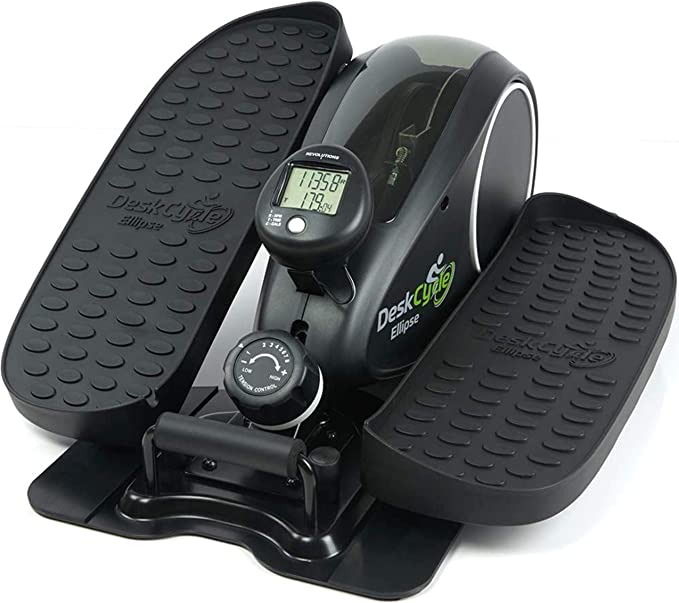 DeskCycle is another solid option for an under-desk elliptical, though it's aimed more at office workers than older people. These devices have much of the same features as those from Cubii, with 3 models that all feature LCD screens, multiple levels of resistance, and app integration.
However, I feel that DeskCycle falls flat in a few areas, mainly in their online infrastructure. Many links I tested on the official website didn't work at all and the site itself was sort of confusing to use. Cubii also has the advantage in terms of aesthetics, as all models look far better than those from DeskCycle.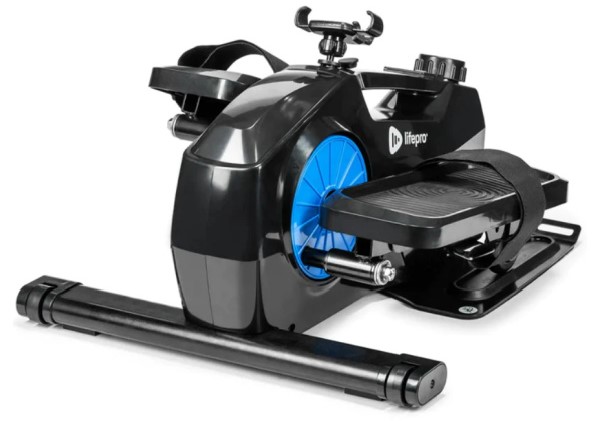 While the DeskCycle leaves a lot to be desired, the Rove Elliptical from Lifepro may be the best option for an under desk elliptical. This device is quite a bit cheaper than the Cubii Total Body+, at $260, and has all the same features and then some.
The Rove features the resistant handles for upper body workouts, a much sturdier design, and even a phone mount. This is definitely for a younger, more fit audience, whereas Cubii caters to an older audience, so seniors may be better choosing Cubii for their elliptical needs.
Final Thoughts
I think that Cubii excels greatly in terms of design, price, variety, and functionality. There's 5 different models that I feel would suit just about anyone's needs and each model is packed with features that help you get fit.
Where Cubii really excels though is in their marketing. When looking at the competition, I noticed that they all seemed to use the same fit looking models and attempted to sell the product just like any other piece of exercise equipment. Cubii goes for a different, and more fitting audience, choosing to use older and less fit looking actors for marketing, something that I really appreciate.
If you're in Cubii's target market, this is the brand I would recommend. You can definitely get other devices that do more, but I feel that Cubii best serves this demographic.
Resources and Further Reading